Top Summer Surfing Destinations of 2021
The go-to resource for planning your surf camps. Find all you need to know about the top destinations and take your surfing to new heights.
Discover Surf Camps now
There's nothing like the thought of summer to trigger your wanderlust. The allure of sandy beaches, warm waters, and crashing waves seems more powerful than ever.
After more than a year of ups and downs, there's hope on the horizon for the entire travel industry. Between vaccination campaigns, travel corridors, and safety rules in place, some countries are already welcoming travelers. With spirits high, optimistic travelers have already started to plan their summer trips.
There's no denying that summer and surfing go together. Sure, this is when the beaches are most crowded, but the weather is gorgeous, the days are long, and the water is at its warmest.
Can't wait to go surfing once travel gets the green light? Read on and find out what are the top surfing destinations where you can surf all summer long. Because sometimes, all that gets you through the day is planning your summer vacation.
» READ MORE: Traveling Safely: Your Guide to Surf Camps in the COVID-19 Era
Image credit: Avela Boutique Experience
From Baja California and Cabo San Lucas to Nayarit, Sayulita, Michoacán, Troncones, and Puerto Escondido, Mexico is the go-to destination for Californian surfers for a reason.
With crystal-clear azure waters, charming surf towns, classic point breaks, tubing beach breaks, epic barrels, chilled vibes, and warm water all year round, it is a tropical paradise only a short hop from the United States.
Mexico is a year-round surfing destination. However, most of its western coast is exposed to South Pacific swells, which means that many surf breaks only fire up in summer.
In Southwest Mexico, in the state of Oaxaca, Puerto Escondido is on any surfer's bucket list. This is where you'll find the legendary Zicatela, a hollow and fast beach break that's better known as "Mexico's Pipeline", famous for its rad barrels.
Beginners shouldn't be discouraged, as there are waves for all levels next to Zicatela. For example, La Punta is a renowned intermediate wave and Playa Carrizalillo is great for beginners.
You can expect some heavy line-ups at the most popular breaks, but there are some lesser-known surf spots near town that hardly ever get crowded.
The peak surfing season in Puerto Escondido starts in late April/early May and runs all the way through September. The best waves can be found between May and July, when offshore storms and hurricanes produce waves that can reach 30 ft (9 meters) or more. So, if you want to witness Puerto Escondido in full swing, summer is the best time to go.
» READ MORE: Surfing in Mexico: Your Guide to the Best Waves
Surfing conditions in Mexico in summer
Summer in Mexico means hurricane season. This is when the waves are at their biggest, but you'll also find sheltered spots that are beginner-friendly.
In Southwest Mexico, the main surfing season lasts between March and October, with the best waves firing up in June and July. August is the hottest month, often humid, and with the warmest water temperature.
In summer, water temperature in Central and Southern Mexico can reach 84-86°F (29-30°C). Boardshorts and a rash guard are enough any time of the year.
Traveling to Mexico in 2021
Mexico is open to international travelers. A negative PCR test is not required, nor is quarantine. Travelers must complete a health declaration form, a "Questionnaire of identification of risk factors in travelers", and scan the QR code it generates on arrival.
The land border between the US and Mexico is closed for non-essential travel until at least April 21, 2021, but air travel is allowed. American travelers must present a negative PCR test taken within 72 hours of travel in order to return to the US.
You can find more details from official sources.
Image credit: Gota D'Água Surf Camp
Portugal has earned itself a reputation as one of the world's best and most affordable surfing destinations. Its surfing scene has seen an exponential growth in the last couple of decades, and its sunny coastline is lined with surf camps, chic surf towns, and world-renowned surfing contests.
Portugal is a swell magnet and a year-round surfing destination. That said, the most reliable conditions can be found in autumn and winter. But that doesn't mean you can't surf in Portugal in summer. You just have to pick the right spot.
There are great surf spots close to Lisbon that work in summer, so you can easily combine some wave riding with soaking in the vibes of Portugal's vibrant capital.
However, Ericeira and Peniche remain your safest bets during summer.
Ericeira boasts the highest concentration of quality waves in Europe, so it's no surprise that it's often the first choice among surfers. The waters surrounding Ericeira have been declared a World Surfing Reserve, as they are home to some of the richest in biodiversity on the planet. The reserve protects seven world-class waves, the environment around them, and the remarkable surf culture along this stretch of coastline.
Home to the famous Supertubos and with an astounding variety of waves for all levels, Peniche is often dubbed the surfing capital of Portugal. With numerous surf spots facing both north and south, there's always a wave to be surfed here. And even better, it's almost always offshore!
» READ MORE: Ericeira vs. Peniche: Which One Is Right for You?
Surfing conditions in Portugal in summer
Image credit: Gota D'Água Surf Camp
Summer, between May and September, is the best time for beginners to surf in Portugal. The waves are smaller and less consistent than in autumn and winter, but there's still plenty of fun to be had.
The beaches can get very crowded in July and August, especially those near Lisbon. If you're thinking of visiting this part of the country, a good option would be to go in late summer/early autumn. Starting September, the crowds begin to disperse. This is also when the water is at its warmest, more consistent swells start to kick in, and the weather is still sunny.
Thanks to the constant cool breeze, Ericeira and Peniche don't get as hot in summer as other places in Portugal. In fact, the average daytime temperature in the hottest months is 26-27°C (79-80°F).
Water temperatures remain rather cold in Central Portugal, even in summer. In July and August, the average water temperature hovers around 18°C (64°F). Therefore, you'll need a 2mm long-sleeve shorty or a 3/2mm wetsuit if it's windy.
» READ MORE: All You Need to Know About Surfing in Portugal
Traveling to Portugal in 2021
As of May 17, flights to Portugal are allowed for European Union Member States, non-EU Schengen area countries (Iceland, Lichtenstein, Norway, and Switzerland), as well as the UK. All passengers must present a COVID-19 (RT-PCR) test carried out within 72 hours before boarding.
As of June 15, all travelers from the United States can enter Portugal if they provide a negative COVID-19 PCR (performed in the last 72 hours) or a rapid antigen test (performed within 24 hours of boarding). For mainland Portugal, no additional testing or quarantine is required. Additional requirements may be in effect in the autonomous regions of Madeira and the Azores.
Those who may enter must present an electronic Passenger Locator Card upon boarding (except if you are flying into the Azores or Madeira).
You can find more information from official sources.
Image credit: Tamarindo Backpackers
With an inspiring Pura Vida philosophy, chilled vibes, and a reputation for being the most stable and safest country in Central America, Costa Rica is one of the world's most coveted surfing destinations. The country's lush Pacific and Caribbean coasts attract an international crowd in search of that pure stoke delivered by the wide variety of waves.
Costa Rica is a year-round surfing destination, but the seasons vary between its two coasts. The surf on the Pacific Coast works best with a southern swell, which is why the best conditions can be found between May and November.
Therefore, the Guanacaste and Puntarenas provinces are where you want to be in summer.
Divided into two provinces, Guanacaste and Puntarenas, the Nicoya Peninsula is the most visited region in Costa Rica and the least populated. With easy access to the beaches and dotted with charming little surf towns, it's also a preferred place for expats.
Sunny Tamarindo, Nosara, and Santa Teresa are among the top surfing destinations in Costa Rica, surrounded by an outstanding variety of surf breaks for all levels and tastes, as well as a good number of world-class waves.
Surfing conditions in Costa Rica in summer
Image credit: Selina
In Costa Rica, the rainy season falls between May and November.
While the high chances of rainfall can put some people off, you should know that frequent storms in the Pacific during summer can produce some of the best waves all throughout the year.
The swells are more powerful and the waves are bigger in summer, but there are plenty of surf breaks for beginners too. Accommodation is cheaper during this time and the beaches are less crowded. Plus, in early summer, it usually only rains in the afternoon or at night, the rainiest months being September and October.
Costa Rica has year-round warm water. In summer, the average water temperature in the Nicoya Peninsula is 84°F (29°C).
» READ MORE: All You Need to Know About Surfing in Costa Rica
Traveling to Costa Rica in 2021
Costa Rica currently welcomes international passengers without having to present a negative COVID-19 test result. Before traveling, all passengers must fill out a digital Health Pass. Travelers must have valid travel insurance that covers potential quarantine accommodation and medical expenses.
Kindly note that visitors must abide by the re-entry rules of their country of origin (including the need to show negative tests upon boarding the return flights).
You can find more information from official sources.
Image credit: Line Up Fuerteventura
The Canary Islands are a melting pot of European, African, and American influences. Closer to Africa than to Europe, each island has its own personality, with a patchwork of varied sceneries that never ceases to amaze – lunar landscapes, sand dunes, volcanoes, lush vegetation, black-sand beaches, and more.
More similar to Hawaii or the Caribbean than Europe, the archipelago is often referred to as "Europe's Hawaii", thanks to its year-round sunshine, mild climate, laidback vibes, fun surf towns, warm water, consistent swells, and insane barreling waves.
While advanced surfers are drawn to the heavy and hollow reef breaks, which are among the best in Europe, beginners will find a fun and safe playground. In fact, the Canary Islands are a great place to learn to surf, especially in summer.
Exposed to the full force of the Atlantic, the Canary Islands have a large swell window and are a year-round surfing destination. You can find a wave on any given day.
Even though all the islands in the archipelago have surf, Fuerteventura, Lanzarote, Tenerife, and Gran Canaria are the prime destinations.
Surfing conditions in the Canary Islands in summer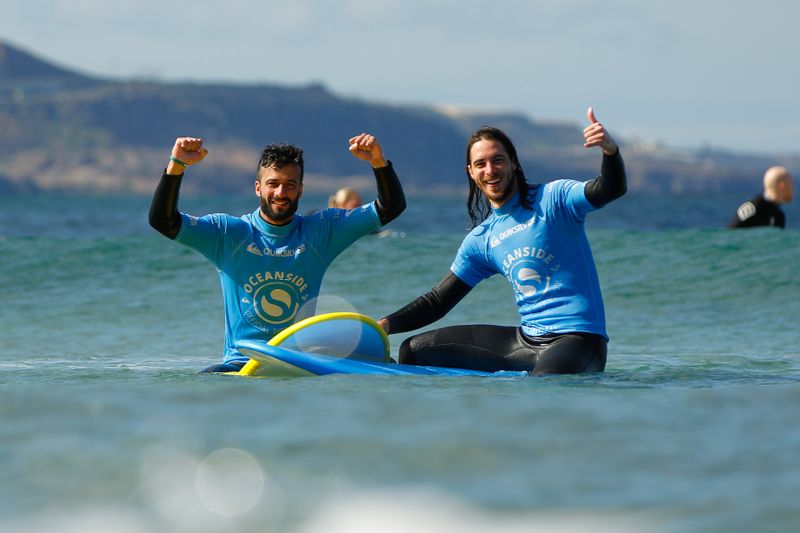 Image credit: Oceanside Gran Canaria Surf
Summer is the best time for beginners and intermediates to surf in the Canary Islands.
You shouldn't expect epic conditions, though. The waves are smaller and less powerful in summer, but they are nevertheless fun and the water is warmer.
The Canary Islands have pleasant summers, warm and dry, without extreme hot temperatures. The average daytime temperature is 23°C (73°F), with highs around 30°C (86°C).
Water temperatures reach 22-24°C (72-75°F) in late summer. You can surf in boarsdhorts and a rash guard on some days, while a 2mm shorty might be necessary if it's windy and for longer sessions.
On the downside, the Canary Islands get strong trade winds in summer, which can sometimes ruin the waves. Northeasterly winds tend to pick up in the afternoon, so it's best to go surfing in the morning.
» READ MORE: All You Need to Know About Surfing in the Canary Islands
Traveling to the Canary Islands in 2021
On June 7, Spain reopened for international tourism, allowing fully vaccinated people from all over the world to enter, including EU, UK, and US citizens. Cruise ships are also allowed to enter in Spanish ports.
Fully vaccinated travelers don't need to provide any additional diagnostic test. Unvaccinated travelers must present a negative coronavirus test (PCR, TMA, LAMP, NEAR) or rapid antigen test (RAT). Passengers who have recovered from COVID-19 may present a certificate of recovery. (source)
All visitors must complete an FCS Health Control Form.
You can find more details from official sources.
Image credit: Le Bon Mot Tours I Language Travel
Summertime in Europe is a magical time, and ever more so in glamorous Southwest France. Home to Biarritz, the birthplace of European surfing, a place where culture, art, traditions, food, and wine meet, this part of France is almost synonymous with sandy beaches and summer vacations.
The Nouvelle-Aquitaine region is a global surf hub. From Lacanau to Mimizan-Plage, Seignosse, Hossegor, Anglet, and all the way to Biarritz, you'll find one surf spot after the other. There are mellow, longboard-friendly waves, steep, hollow, and powerful rollers, as well as some notoriously heavy barrels to suit every taste.
This is also where you'll find some of the best beginner surf spots in France, which are at their best during summer.
Thanks to its exposure to the Bay of Biscay, France receives year-round swell. The French Basque Country gets consistent waves even in summer, albeit smaller in size.
Surfing conditions in Southwest France in summer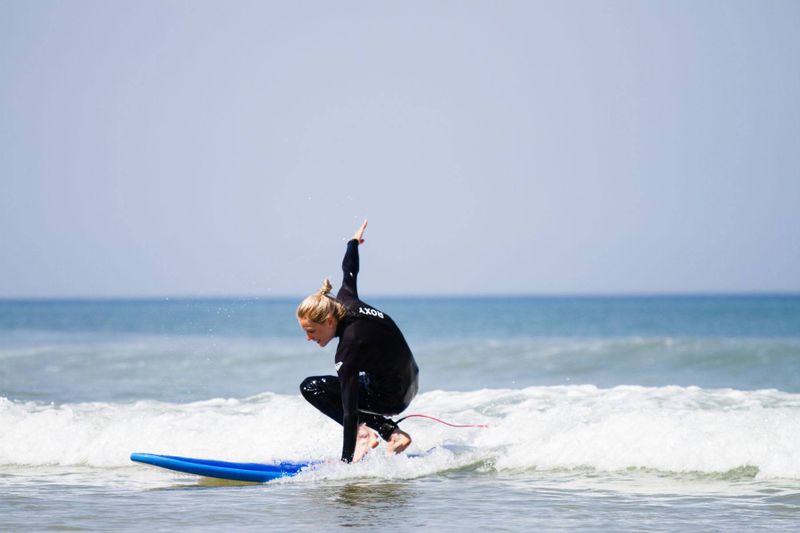 Image credit: Pura Vida Lodge
Summer is the best time for beginners and intermediates to surf in Southwest France. The waves are smaller and gentler between May and August, and the water is at its warmest. In September, the waves start to pack more punch and the swells are more consistent.
As far as crowds are concerned, when the swells are pumping, surfers will go out and take advantage of the conditions. Furthermore, between June and August, the beaches get crowded with tourists. In September, the crowds start to thin out.
Southwest France has some of the warmest weather in the country, with average maximum temperatures of 27°C (81°F).
Water temperature can reach 22-25°C (71-77°F) in summer. Therefore, you can get away with only boardshorts or swimsuit with a rashguard on the warmest days. You'll need a 2mm shorty for all the others, or a 3/2mm wetsuit for early morning sessions and if the wind is up.
» READ MORE: All You Need to Know About Surfing in Southwest France
Traveling to France in 2021
On June 9, France reopened for international tourism, removing the need for a negative test for vaccinated Europeans and allowing vaccinated tourists from most of the rest of the world to enter with a negative test.
Vaccinated European visitors and those from seven "green" countries – Australia, South Korea, Israel, Japan, Lebanon, New Zealand, and Singapore – will no longer need to undergo testing.
Vaccinated visitors from "orange" countries – including the United States and the United Kingdom – no longer need to quarantine on arrival but they must present proof of a negative PCR test (taken no longer than 72 hours prior to arrival) or a negative antigen test (taken no longer than 48 hours prior to arrival). (source)
South Shore, Oahu, Hawaii
Being the most isolated landmass on the planet, Hawaii is a swell magnet and a year-round surfing destination. However, the conditions on the north shores differ from those in the south, which is why there are two main surfing seasons – winter and summer.
Oahu is, without a doubt, on any avid surfer's bucket list. In fact, when most people think about surfing in Hawaii, they usually have Oahu's shores in mind.
While the North Shore often steals the spotlight with its legendary gnarly waves, the South Shore has a lot going for it too. In Honolulu, the world-famous Waikiki Beach is the birthplace of modern surfing and one of the best places to learn to surf in Hawaii.
The waves on Oahu's South Shore come alive during summer months. Sure enough, they're not as big and consistent as those on the North Shore. But hey, it's summer and the North Shore only gets going during winter.
The swells are mostly in the small to fun range. But when there is a swell, there are bound to be barrels. Plus, you can expect offshore tradewinds all day long during this time of year, which means extra clean waves.
And while the North Shore is mostly for intermediate and advanced surfers, the South Shore has something for everyone, from those who've never hopped on a surfboard before to downright pros.
Surfing conditions in Hawaii in summer
Summer is the best time to surf on the southern shores of the Hawaiian Islands. The swells pack less punch, but occasional large swells can arrive along the south-facing coastlines. Between July and September, surf spots like Waikiki on Oahu's South Shore can occasionally reach double-overhead.
Hawaii has warm water and balmy temperatures all year round. Between July and August, the water is at its warmest, averaging between 80 and 81°F (26-27°C).
April to October is the dry season in Hawaii. However, in summer, places like Honolulu can get hot and humid, with air temperatures hovering around 82-90°F (28-32°C). June through November is hurricane season, but big storms are rare.
» READ MORE: All You Need to Know About Surfing in Hawaii
Traveling to Hawaii in 2021
Hawaii welcomes travelers with a pre-flight COVID-19 test, in accordance with the state's Safe Travels program.
As of June 15, all restrictions on inter-county travel have been lifted. Trans-Pacific travelers entering the state, who have been vaccinated in Hawaii, can bypass quarantine without a pre-travel test. The vaccination record document must be uploaded to Safe Travels or printed and presented upon arrival.
All other travelers, including those who have been vaccinated outside of Hawaii, must present a negative COVID-19 test before boarding for the final leg of their trip to the State of Hawaii. Those who arrive without a confirmed negative COVID-19 test within 72 hours of departure are subject to a mandatory 10-day quarantine.
For international travelers arriving directly from Japan, Canada, and Korea, only tests from Trusted Testing Partners will be accepted. Travelers from any other international destination and coming directly to Hawaii will not be able to test and bypass the 10-day quarantine.
*Cover image credit: Slide Surfcamp
---
Can't wait to get away? You don't have to hold back until you take a longer vacation. Just go on a surf weekend somewhere closer to you.