All You Need to Know About Surfing in Morocco
The go-to resource for planning your surf camps. Find all you need to know about the top destinations and take your surfing to new heights.
Discover Surf Camps now
Mint tea, tagine, couscous, colorful bazaars, fascinating medinas, bold flavors, camel rides, Saharan sands, and flawless waves… Morocco is a sensory overload!
A melting pot of cultures, religions, and traditions only a stone's throw from Europe, Morocco is a preferred getaway as soon as it starts to get colder on the Old Continent.
This is the land of the right-hand point break. Most of the waves are very user-friendly, even the more challenging ones. Add to that the abundance of surf camps in Morocco and you have a paradise for all levels of surfers, from beginners to pros. In fact, this is one of the best places on the planet to learn to surf and to take things to the next level.
From the surfing seasons and top destinations to what to eat and useful travel tips, here's all you need to know about planning your surf trip to Morocco:
Traveling to Morocco in 2021
Travel to Morocco is partially allowed. Entry requirements differ based on two lists of countries compiled by the Moroccan authorities (subject to change every two weeks). You can find the up-to-date lists on the Moroccan Ministry of Health's webpage.
Travelers from countries on List A can enter Morocco either with a vaccination certificate or a negative COVID-19 RT-PCR test taken 72 hours before entering Morocco.
Travelers from List B countries must obtain authorization from the Moroccan government before traveling and present a negative PCR test taken 48 hours before entering Morocco. You can check if you need authorization to travel here. Unvaccinated or incompletely vaccinated travelers from List B countries are subject to a 10-day quarantine and must show proof of payment for the hotel stay in one of the hotels designated by the authorities. A PCR test is required on the 9th day.
On arrival, tourists must present a completed and signed Public Health Passenger form.
Surfing seasons in Morocco
Image credit: Saltskin Surfhouse
Morocco is widely considered a year-round surfing destination. While it's true that there are waves all throughout the year, the best conditions can be found between October and March. This is when powerful Atlantic swells deliver bigger and more consistent waves. The weather is not as hot as in summer, but still warm and with plenty of sunshine. Plus, the beaches are not as crowded.
Spring is slightly less consistent, while summer can have periods of flat surf.
For beginners, any time is a good time to surf in Morocco. There are numerous sheltered surf spots, and novice surfers will find whitewater and small waves all year round. That being said, the waves are much friendlier in spring, summer, and early autumn.
For experienced surfers, winter months bring in the big game. This is when the pros gather round to ride the waves at Anchor Point, Killer Point, Boilers, Dracula's, and Desert Point, often described as freight trains.
All through the year, the wind doesn't get too strong and is almost always offshore. Morning is the best time of day to surf in Morocco, when the waves are ultra-glassy.
Wetsuit requirements
Image credit: Blue Waves Surf House
Water temperatures hover between 16 and 23°C (61-73°F), so you'll need a wetsuit to surf in Morocco.
On the stretch of coastline between Essaouira and Agadir, water temps peak in the range of 20-23°C (68-73°F) in late summer and drop to 16-18°C (61-64°F) in mid-winter. The water starts to warm up in May and begins to cool down in October.
During summer and autumn, you'll need a 2mm shorty. If the wind is up or you go surfing early in the morning, you might need a 3/2mm wetsuit. In winter, grab on a 4/3mm wetsuit. Out of the water, you can chill on the beach in swimwear even in winter.
The best surfing destinations in Morocco
There are surf spots all along Morocco's coast, but the stretch of shoreline between Essaouira and Agadir is simply dotted with powerful points, mellow rollers, rippable waves, and everything in between.
Taghazout & Tamraght
Image credit: Dfrost Almugar Surf House & Yoga Morocco
Agadir itself doesn't get much swell and its surf lacks quality. But only a short drive north you'll find Taghazout, the capital of surfing in Morocco.
The best surf spots for beginners in Taghazout are Panorama Point, Hash Point, and La Source. But it's names like Anchor Point and Killer Point that are on every surfer's lips, the most famous waves in Morocco. When they're firing, they can hold some gnarly barrels. Even if you're not up for the challenge, they're both must-sees.
South of Taghazout, Tamraght is a small fishing village that is quickly emerging on the surfing scene. It's known for its many banana plantations and for its two famous surf breaks – Banana Point and Devil's Rock – with waves for all levels against a stunning backdrop, less crowded than those in Taghazout.
Wanna take it to the next level? Check out our pick of intermediate surf camps in Morocco.
Tiguert, Tamri & Imsouane
A little north of Taghazout, check out the world-class waves near Tiguert – Boilers, Dracula's, and Desert Point. Further north, Tamri is the most reliable wave in the area and a safe bet when everything else is flat. In Imsouane, Cathedral Point and The Bay are two of the longest right-handers in Africa.
Essaouira & Sidi Kaouki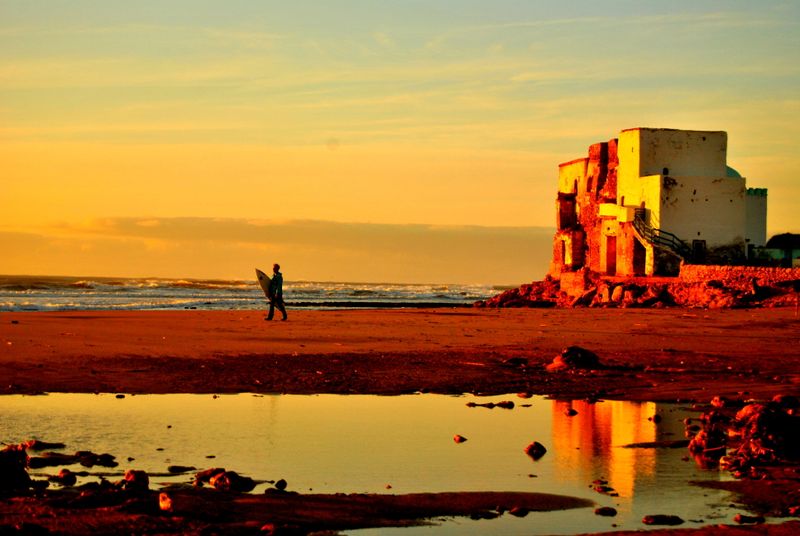 Image credit: Sidi Kaouki Surf Station
The area around Essaouira is a great destination for beginner surfers. Essaouira itself is more renowned for its strong winds and is a popular kitesurfing destination. When the wind drops, it also has a beginner-friendly beach break. South of Essaouira, Sidi Kaouki offers a variety of waves and is an excellent place to learn to surf and polish your skills.
For more on the waves, read our guide to the best surf spots in Morocco.
The surf vibes
Image credit: Atlanticzin Watersports
Morocco has a big surfing scene. Both Taghazout and Essaouira have been on the surfers' radar since the 1960s, and they exhale surf vibes at every corner.
Essaouira is an artsy and lively surf town with a historic port and medina, while Taghazout is Morocco's surf capital. The small fishing village turned bustling surf town is a preferred base camp for surfers looking to ride the many world-class waves in its vicinity. After all, Anchor Point and Killer Point are within walking distance from town.
The population is predominantly Berber, but you'll meet surfers and travelers from all over the world, regardless of the season. There's not much nightlife in Taghazout, but you'll find cafes, beach bars, surf shops, surf camps, and laidback vibes. You won't help but play to the tune of its bohemian lifestyle.
How to budget your surf trip to Morocco
Morocco is a very affordable country to travel and one of the world's cheapest surfing destinations. The cost of living is much lower than in most European countries.
And if you're heading to Taghazout, you're in luck. It's one of the best backpacker destinations in Morocco.
Accommodation
Image credit: Dfrost Almugar Surf House & Yoga Morocco
New places to stay just keep popping up in Taghazout and Tamraght. While there are a few hotels and hostels, most accommodation options are in fact surf camps.
Being such a popular coastal town, Essaouira has more places to spend the night.
You can find budget accommodation as low as €4 per person night. In a dorm room, you can expect to pay between €5-10 per person/night.
Surf camps
Image credit: Wave Gypsy Surf Yoga
For traveling surfers, the most convenient and affordable option is to join a surf camp.
You'll have accommodation, surf lessons or guidance, surfing equipment, and transfer to the surf spots all in the same package. Many surf camps also offer airport transfer, breakfast, or all daily meals. Some even include day trips to the souk in Agadir, to a local hammam, or to Paradise Valley. More on these attractions further down.
» You can join a budget surf camp in Morocco for as little as €30 per day.
Surely, learning to surf does not depend on where you sleep. But by joining a surf camp, you'll immerse yourself in the surfing spirit, mingling with like-minded people from all over the world, sharing stories and tips, and improving together.
Food & drinks
If you're staying at a surf camp, you might be tempted to have your meals there. But it would be a shame to travel to Morocco and not have a taste of the food at the local joints. Don't worry, the best food in Morocco can be found at street stalls, not restaurants.
Yes, you can gorge on delicious Moroccan food without breaking the bank! Just try one of the many street stalls called snaks, where you can grab a kebab, calamari, grilled sardines, barbecued corn on the cob, huge sandwiches, merguez (homemade lamb sausage), and various types of tagines.
You can have a filling tagine with Moroccan pita bread for €3. And you can have a meal in an inexpensive restaurant for €2.50-€5. In coastal towns like Essaouira and Taghazout, fish will cost between €9 and €14.
You can have a coffee for €0.75-€1.50, while a pot of mint tea costs €0.75-0.90. Beer and drinks are more expensive and harder to find (keep in mind that Morocco is a Muslim country). A beer will set you back €3-€5.
What to eat
Moroccan cuisine conjures images of couscous and tagine. But there's so much more to it. Here are a few staple foods you have to try in Morocco:
Bissara – a popular soup made from fava beans topped with garlic, olive oil, pepper, and cumin, traditionally served for breakfast.
Briwat – deep-fried pastries in the shape of triangles, traditionally filled with meat, cheese, lemon, and pepper.
Tagine – the Moroccan staple stew, cooked in traditional conical clay pots, always served with fresh bread.
Shawarma – lamb or chicken roasted on a spit and served with tahini (sesame sauce) or yogurt and optional vegetables and spicy sauces.
Fish chermoula – grilled fish seasoned with chermoula, a marinade made from herbs and spices, also used as a dip.
Harira – a rich soup with tomatoes, lentils, chickpeas, lamb, lemon juice, and coriander, usually eaten at sunset to break fast during Ramadan. It is also a popular starter at lunch.
Sesku – Berbers call couscous sesku. The national dish of Morocco is very different from what you may have eaten at home. The fine wheat pasta is rolled by hand and cooked in broth.
Makouda – deep-fried potato balls dipped in spicy harissa sauce, a very popular street food in Morocco.
Jiben – fresh goat or cow's milk cheese.
Khobz – Moroccan bread, present alongside every dish except couscous, baked in a wooden-fire oven.
Vegetarians and vegans don't have to worry about eating in Morocco. In fact, they're in for a treat. Try the taktouka, (tomatoes, green pepper, garlic), the zaalouk (smoked eggplant dip with paprika, garlic, and cumin), or the simple salade marocaine (tomatoes, cucumber, lemon juice, pepper, and salt). There are numerous pastries, meat-free soups, and vegetables-only tagines, like the chickpea stew.
Image credit: Zen Surf Morocco
Everyone drinks mint tea. All day long. You won't be able to resist the temptation, and you'll soon find yourself sipping this fragrant tea packed with mint leaves that's usually heavily sweetened.
And there's nothing like a freshly-squeezed orange juice (aseer limoon) from one of the juice vendor's carts to help you recharge after a surfing session.
More useful travel advice
Image credit: Zen Surf Morocco
Getting there
If you're going to surf on the central coast, in the Essaouira-Taghazout area, then you'll have to fly into Marrakech Menara Airport (RAK). From here, you can rent a car and drive down the coastal highway to Essaouira or all the way to Agadir.
Buses (CTM or Supratours) are the cheapest way to travel around Morocco. From Marrakech, it's a 3-hour drive to Essaouira and about five hours to Agadir.
For surfing in the Taghazout area, the most convenient option is to fly into Agadir-Al Massira International Airport (AGA). From there, you'll have to take a grand taxi (larger shared taxis) to Agadir and then a bus to Taghazout. If you're staying at a surf camp, check with your hosts whether they can arrange airport transfer. Most of them do.
Feeling overwhelmed with choices? Check out the top year-round surf camps in Morocco.
Image credit: The Surf Hotel Morocco
Getting around
Morocco doesn't have an extensive train network, so the best way to get around is by bus or taxi.
If you're staying in Taghazout, then you don't really need any mode of transport besides your own two feet. Everything is within walking distance – the beach, the waves, the cafes, the market, etc. If you're staying at a surf camp, they can arrange transfer to the neighboring surf spots.
Currency: Moroccan dirham (MAD).
Language
There are several languages spoken in Morocco, including Moroccan Arabic, Berber, and French. While the official language is classic Arabic, the population speaks a unique Moroccan Arabic dialect. French is the unofficial second language. English is growing in popularity and is spoken in most tourist hubs.
Remember that Morocco is a Muslim country, so please be respectful of their culture. That being said, Morocco is one of the more liberal countries in North Africa, and they're quite used to tourists.
Wearing beachwear in Taghazout is fine, all thanks to its multicultural vibes. In general, men don't have to worry about what they wear. However, women should dress more conservatively and cover up their shoulders and knees outside the beach and when visiting other places in the country.
Friday is a holy day, so many shops and attractions are closed. During Ramadan, eating in public during the daytime is frowned upon. Also, there aren't many places to drink in Morocco.
ATMs are scarce in Morocco, especially in the more rural areas, and there are no ATMs in Taghazout. If you're staying at a surf camp, most of them can charge you directly from your credit card. However, you'll need cash at hand if you wish to grab a taxi or a meal at one of the local joints.
What else to do
Even if the surf doesn't go flat, it's still worth taking a day off to visit the souks in Agadir, with their many spices, fragrances, local foods, crafts, and goods from all over Africa.
Image credit: Wave Gypsy Surf Yoga Surf
Ride a camel on the beach in Taghazout. If there are no waves, or you simply want a change of scenery, head on over to Paradise Valley, only a 40-minute drive from Taghazout. This oasis in a desert canyon is famous for its spectacular cliff jumping and crystal-clear natural pools. Many surf camps offer organized trips to Paradise Valley.
Wander around the medina in Essaouira in the evening and watch the sunset from the old port. Marrakesh is three hours away and is definitely worth a two-day trip. And if you'd like to sink your toes in the Saharan sand, that's worth at least two days as well, with an overnight stay under the stars.
And of course, no surfing trip would be complete without a little pampering to rejuvenate the body and spirit. And what better place to do that than a local hammam?
Top-rated surf camps in Morocco
Note: BookSurfCamps offers a flexible cancellation policy. Should you not be able to travel as scheduled, we'd be happy to help you alter your booking with the same organizer or a different organizer.
Availability: All year round
Skill level: Beginners and intermediate surfers
Price: From US$494
Stay in an authentic Moroccan surf retreat only minutes away from the famous Devil's Rock surf spot. Other famous spots like Banana Beach, Hash Point, Anchor Point, and Killer Point are only a short drive away. Each day, the instructor will take you to the best waves according to the conditions of the day and your skill level. If you're new to surfing, you'll start in the whitewater and, as you progress, you'll eventually catch green waves.
There will be six days of surfing lessons, with maximum five guests per instructor. This affordable surf camp also offers daily delicious meals.
Availability: All year round
Skill level: All levels
Price: From US$245
Join this affordable surf camp in Aourir and enjoy a warm and welcoming atmosphere as you learn to surf or take your skills to the next level.
There will be four days with surf lessons. After a joint breakfast in the riad, you'll be taken to the best surf spots of the day for your skill level. The lessons last about three hours each and will be followed by lunch on the beach. All the necessary surfing equipment is provided and you are free to spend the afternoons either surfing on your own or chilling at the beach or on the surf house's rooftop terrace.
The package includes all daily meals, as well as surf photo analysis to help improve your technique.
Availability: All year round
Skill level: Beginners and intermediate surfers
Price: From US$770
Be part of a traditional Berber family experience and learn to surf at the best beginner surf spots in Morocco. There will be five days of surf lessons and five yoga classes during your stay. The lessons will be held in the morning after breakfast, followed by lunch on the beach. You'll benefit from surfboard and wetsuit hire for the entire week, meaning that you can spend the afternoons surfing on your own. In the evening, join the yoga class and then enjoy a delicious homemade dinner and relax on the rooftop terrace.
All daily meals are included, as well as airport transfer from Agadir. You'll also get photos of your surfing adventures.
*Prices can change depending on the date of arrival.
**Cover image credit: Swell Surf Morocco
---
We are not responsible for any sudden desire to go surfing in Morocco. But if that happens, make sure you join a surf camp in Morocco for the best experience!