All You Need to Know About Surfing in Hawaii
The go-to resource for planning your surf camps. Find all you need to know about the top destinations and take your surfing to new heights.
Discover Surf Camps now
While other locations may have been the true birthplaces of surfing, one thing's for sure – Hawaii is the spiritual home of surfing and the birthplace of modern surfing.
Hawaii is a dream holiday destination and one of the best surf spots on the planet. Sure enough, it owes much of its popularity to its incredibly heavy waves, the likes of Pipeline, Haleiwa, Waimea, and Jaws (just to mention a few), which have written surfing history. But that's not the only reason. Hawaii's surf culture is without rival.
With warm, turquoise-blue water, stunning beaches, and a wide variety of waves for all levels of surfers, the Aloha State always delivers. You'll find a good number of surf camps in Hawaii scattered along the stunning coastlines, as well as the surfing world's ultimate playground – Oahu's North Shore.
From the surfing seasons and the top destinations to what to eat and more useful travel advice, here's all you need to know about planning your surf trip to Hawaii.
Traveling in Hawaii in 2021
Hawaii welcomes travelers with a pre-flight COVID-19 test, in accordance with the state's Safe Travels program.
All restrictions for vaccinated domestic travelers have been lifted. U.S. travelers entering the state, who have been vaccinated in the U.S., can bypass quarantine without a pre-travel test. All vaccinated Trans-Pacific travelers must upload their proof of vaccination to Hawaii's Safe Travels website in addition to presenting the original upon arrival.
Domestic travelers who aren't vaccinated, as travelers from Canada, Japan, the Philippines, South Korea's Incheon International Airport, Tahiti, and Taiwan, can skip the mandatory 10-day quarantine if they present a negative COVID-19 test before boarding for the final leg of their trip to the State of Hawaii. Travelers who have been in the European Schengen Area, the United Kingdom, Brazil, China, Iran, India, Ireland, and South Africa in the past 14 days are not allowed to enter.
Travelers from other countries must quarantine for 10 days upon arrival.
Surfing seasons in Hawaii
Image credit: Daniel Ramirez
The archipelago is the most isolated landmass on Earth, exposed to a 360-degree swell window, as well as currents and winds from all directions. Therefore, surfing in Hawaii is possible all year round.
That being said, the conditions on the northern shores differ from those on the southern shores. That's why there are two main surfing seasons in Hawaii:
Winter surfing season (October – April)
Winter months are the best time to go surfing on the northern shores of the Hawaiian Islands.
Winter is the rainiest and windiest season. From October through April, powerful swells sweep these coasts, while on the southern shores the waves are much smaller and can even go flat.
For beginners, winter is a good time to visit the southern shores, as the waves are much tamer. Do take note that they are also far less consistent. Luckily, there are some sheltered surf spots for beginners even on the northern shores, as well as on the eastern shores.
For intermediate surfers, October through November is a great time to surf on the northern shores.
For advanced surfers, December through and February sees the biggest and most powerful waves on the northern shores. Waves are on the menu every single day. This is also when the prestigious surfing competitions on Oahu's North Shore are held.
Summer surfing season (May – October)
Summer months are the best time to go surfing on the southern shores of the Hawaiian Islands.
In summer, the ocean is typically calmer than in winter on all the shores, but frequent large swells do hit the southern shores.
For beginners, the waves are smaller on the northern shores during summer. Do take note that there can be long periods with no swell at all, when the northern shores are flat as a lake. The southern shores have plenty of sheltered spots and mellow waves for beginners during this time of year.
For advanced surfers, July through September see commonly known beginner surf spots on the southern shores, like Waikiki, reaching double-overhead.
Hawaii has year-round warm tropical weather, with water temperatures hovering around 22-27°C (72-82°F) throughout the year. Therefore, you don't need a wetsuit to surf in Hawaii!
Hawaii's surfing scene
Surfing is deeply rooted in its history and lifestyle. Although surfing is believed to have originated in Polynesia, it flourished in Hawaii.
Captain James Cook was amazed at the locals' ability to ride the waves, and King Kamehameha I was renowned for his surfing skills. Back then, the sport was reserved for the alii (Hawaiian royalty). In 1819, with the end of the kapu (taboo) system, commoners were finally allowed to practice surfing freely.
In 1866, Mark Twain tried surfing in Hawaii. In 1907, Jack London rode the waves at Waikiki. In 1920, Edward, Prince of Wales, was photographed riding the waves in Hawaii.
In the early 20th century, Duke Kahanamoku was teaching visitors surfing and canoe, reviving the sport that had been bashed by western missionaries and was nearly facing extinction by the end of the 19th century.
In the 1950s, surfers began to ride the gnarly waves on Oahu's North Shore. The legendary Banzai Pipeline was first surfed in 1961 by Philip Edwards. Maui's Jaws was first ridden in the early 1990s.
Since 1982, each year in December the Vans Triple Crown of Surfing takes place on Oahu's North Shore. The last three stops on the WSL Championship Tour are held at the legendary Haleiwa, Banzai Pipeline, and Sunset Beach.
Nowadays, surfing still brings people together in Hawaii, where it's seen as much more than a pastime. It is a means of connecting with the ocean and one's cultural heritage.
Many travelers in Hawaii have surfing on their agenda; or to at least give it a try. The surfing industry has flourished in the Aloha State, with numerous prestigious surf brands setting up shop here, surf schools and surf camps operating in all the top spots, surfing competitions, and all-around surf vibes.
The standards have been raised pretty high on Oahu's North Shore, with many pro surfers fighting for the waves, but there are many surf spots in the archipelago with mellow waves and chilled vibes where it's all about having fun and the joy of being in the water.
Best surfing destinations in Hawaii
Hawaii is the land of the reef break. There are a few sandbars and points scattered here and there, but reefs abound. Don't be alarmed, though. There are waves for all levels, from long and mellow rollers all the way to double-overhead, spine-tingling barrels.
Out of the eight main islands of Hawaii, only four offer good surfing conditions all year round: Oahu, Maui, Kauai, and Big Island.
Oahu
When people think about surfing in Hawaii, they usually have Oahu's shores in mind.
The North Shore is the ultimate testing ground for surfers, while on the south shore, Waikiki is the most sought-after destination for beginner surfers.
Regardless of your surfing skills, the Seven Mile Miracle is a must-see on the North Shore of Oahu. Between Haleiwa and Velzyland, the seven-mile (11km) stretch of coastline truly lives up to its name, as it's home to 36 world-class surf breaks, including Banzai Pipeline, Backdoor, Sunset Beach, Haleiwa, Waimea, Off the Wall, and Gas Chambers. It is widely considered the world's surfing mecca.
The North Shore is home to the world's most impressive surfing competitions and gnarliest barrels. When it's on, Pipeline is one of the most dangerous yet also most sought-after rides on the planet. Its huge barreling waves break over underwater caves with razor-sharp reefs. Waimea is one of the few surf spots in the world that can hold 50ft+ (15m+) waves that are still rideable.
» Join a surf camp in Oahu.
On the south shore of Oahu, Waikiki Beach is one of the best places to learn to surf in the world. The conditions are best during summer, between June and September. But you won't just find mellow waves on the south shore. There are reef breaks that can handle large swells, which will test the skills of experienced surfers too.
Maui
Maui is the windiest in the archipelago, which is why it's also a renowned kitesurfing and windsurfing destination. However, the island is most famous for its big wave surf spot Pe'ahi, aka Jaws, located on the north shore of the island. Jaws is one of the most dangerous waves on the planet, and waves in the 80-foot (24.3m) range have been attempted here.
Also on the north shore of Maui, Ho'okipa is the most consistent wave on the island and Honolua Bay is home to a right-hand point break that is said to be the embodiment of perfection. On the south shore, Ma'alaea Pipeline is considered the world's fastest rideable wave.
Luckily, Maui has more beginner surf spots than the other Hawaiian Islands, and most of them can be found on the west shore, near Lahaina.
For more on the waves, read our guide to the best surf spots in Hawaii.
Kauai
"The Garden Island" is famous for its incredibly scenic landscapes and deserted beaches, with numerous surf spots still waiting to be discovered.
On the north shore, Hanalei Bay is the most famous surfing destination in Kauai, offering waves for all levels. On the south shore, Kiahuna Beach is a great beginner surf spot in summer.
The Big Island
Image credit: Mike
There aren't as many surf spots on the Big Island of Hawaii as there are on Oahu, Maui, and Kauai, mainly because its north shore is blocked from swells by Maui. But its south shore is exposed to summer southern swells.
Kahalu'u Beach Park in Kona has small to medium waves, which are great for newbies. North of Kona, Pine Trees is an exposed reef break that works all year round.
How to budget your surf trip to Hawaii
Image credit: Steven Worster
As previously mentioned, Hawaii is the most isolated landmass on Earth. It's also one of the most coveted holiday destinations. Put those two together and you get a hefty price tag.
Make no mistake, Hawaii is expensive. But there are ways to travel and surf in Hawaii on a budget.
The peak travel season in Hawaii is between mid-December and mid-April. That's when prices are at their highest and the islands are most crowded. Mid-June thought late August are also crowded months.
Mid-April to mid-June and September to mid-December are the off-seasons. This is when you'll find fewer crowds, the best rates, and also gorgeous weather.
Surf camps
Image credit: Lani Surf Lessons
For traveling surfers, the most hassle-free option is to join a surf camp. This way, you'll have accommodation, surf lessons or guidance, surfing equipment, and transfer to the surf spots all in the same package. Some surf camps also offer airport transfer.
Accommodation
The cheapest way to spend the night is in a camp, which will set you back around $10 per person/night. The next option is a hostel, for about $30 per person/night. You can expect to drop $50-$100 per person/night in a hotel. There are also numerous high-end places to stay.
You can also find surfer friendly accommodation in Hawaii, with prices starting at $35 per person/night in a shared dorm.
Food & drinks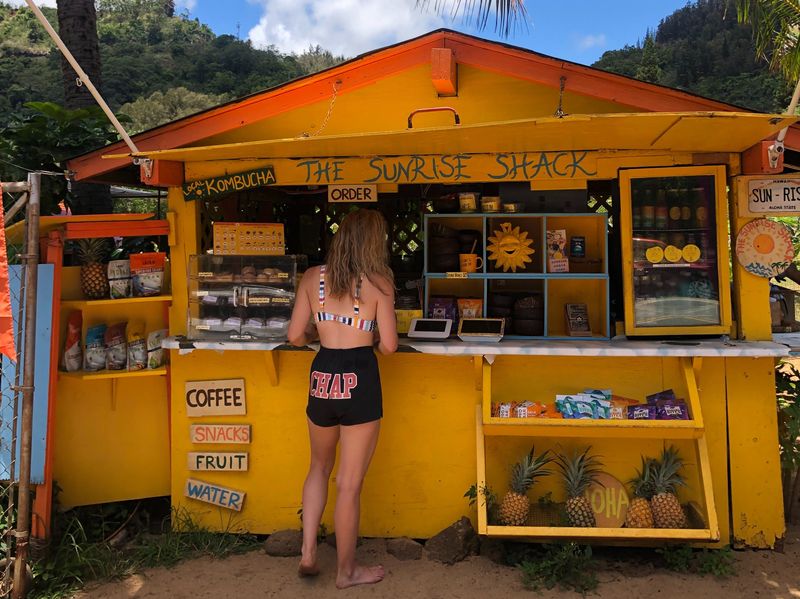 There are plenty of dining options in Hawaii. But if you opt for international cuisine, note that most ingredients are imported, and that is reflected in the price. If you decide to eat local meals, you can save a considerable amount of money.
The cost of food in Hawaii is higher than in mainland USA. But that doesn't mean you have to pay an arm and a leg for a meal. For example, you can opt to have lunch at the many food trucks serving delicious fresh food at affordable prices. Food trucks are particularly popular on Oahu's North Shore.
You can expect to pay $15+ per person for a meal in a restaurant.
What to eat in Hawaii
The archipelago's many cultural influences are reflected in its dishes. Hawaiian cuisine is a true fusion – you'll find anything from Portuguese to Southeast Asian and Japanese influences.
Staple foods you have to try in Hawaii:
Hawaiian plate – a scoop of rice with either kalua pork, chicken laulau (wrapped in ti leaves), pipikalua (dried beef), or lomi lomi salmon.
Loco moco – rice, hamburger patty, thick brown gravy, and an egg on top.
Poke – raw fish salad, similar to ceviche
Saimin – an iteration of the Chinese egg-noodle soup
Portuguese sausage – typically sliced and inserted into fried rice.
Luau Stew – Hawaiian comfort food made with kalo (taro) leaves, beef brisket, coconut milk, limu (seaweed), and other ingredients depending on the recipe
Shave ice – an iconic frozen treat
Manapua – baked or steamed buns filled with sweet char siu pork
More useful travel advice for your surf trip to Hawaii
Getting there
Most visitors arrive at Honolulu International Airport (HNL) in Oahu. There's also the option of flying into Kona (KOA) on the Big Island.
The best way to get from one island to the other is by plane. There are currently several companies that offer inter-island flights.
If you're staying at a surf camp, check with your hosts whether they can arrange airport transfer for you.
Getting around
Getting around on the Hawaii Islands is pretty straightforward – you can hire a car, take the bus, or get a taxi. However, the best way to get around the islands is by car. Expect to pay $35-70/day for a car rental.
Each island also has its own bus system, but these are more geared towards locals and not tourists.
Leeward or windward?
When locals talk about directions or certain parts of the islands, they use "leeward" to refer to the dry side of an island, which faces south or west and gets abundant sunshine. They use "windward" for the wet and rainy side, which faces north or east. All the islands have both a leeward and a windward side.
Live aloha!
Aloha is more than just a greeting. Aloha is a way of life! Hawaiians are friendly, welcoming, and compassionate, and they encourage everyone to follow their example. That's one of the things that make Hawaii so special.