All You Need to Know About Surfing in Costa Rica
The go-to resource for planning your surf camps. Find all you need to know about the top destinations and take your surfing to new heights.
Discover Surf Camps now
With both Pacific and Caribbean coastlines, delicious food, and miles after miles of white sandy beaches, Costa Rica, the "rich coast", certainly lives up to its name.
There are numerous beach breaks with sandy bottoms and mellow waves, as well as reefs and points, rights and lefts. Add to that the year-round warm water and consistent swells, plus the abundance of surf camps in Costa Rica for all levels, and you have one of the best places in the world to learn to surf, improve your skills, or ride world-class waves.
From the surfing seasons and the best destinations to what to eat and more useful travel advice, here's everything you need to know about planning your surf trip to Costa Rica.
Traveling to Costa Rica in 2021
Costa Rica currently welcomes international passengers without having to present a negative COVID-19 test result. Before traveling, all passengers must fill out a digital Health Pass. Travelers must have valid travel insurance that covers potential quarantine accommodation and medical expenses.
All airline passengers returning to the United States from Costa Rica, ages two years and older, must provide a negative COVID-19 test taken within 72 hours of departure. Alternatively, they may provide documentation from a licensed health care provider of having recovered from COVID-19 in the 90 days preceding travel.
Surfing seasons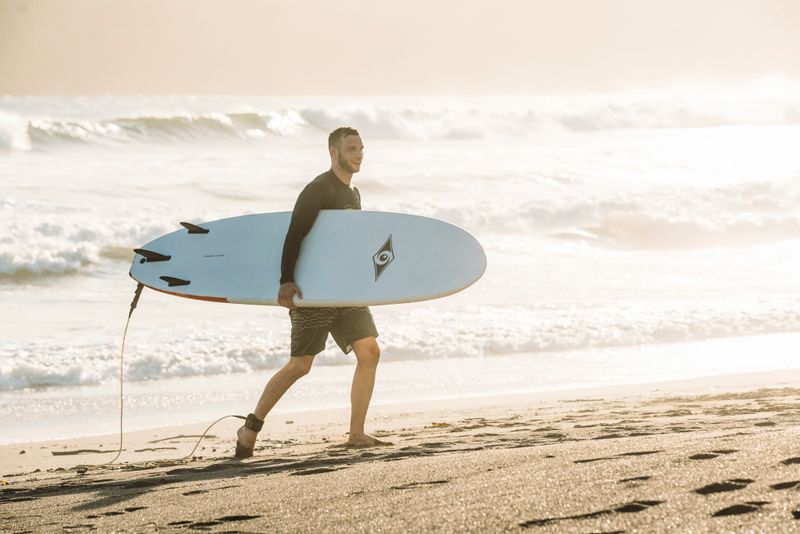 Image credit: Selina
Thanks to its two different coasts and balmy weather, you can surf in Costa Rica all year round. However, depending on which destinations you'd like to visit and your surfing skills, some months are better than others.
The Pacific coast works better with a south swell, and the most consistent conditions can be found between April and November. Please take note that this is the rainy season in Costa Rica. The swells are more powerful and the waves are bigger, but beginners will find plenty of mellow waves too.
The dry season has the loveliest weather and can deliver some epic surfing conditions as well, but the waves are typically smaller. Between December and April, northern swells arrive. They are more fickle, but when combined with offshore winds, they produce ultra-clean waves. Typically, the wind is offshore in the morning and slightly onshore in the afternoon. If you want to score some perfectly glassy sessions, you'll have to get up early.
The best time to surf on the Caribbean coast is between December and April. But there are some spots that work all year round and occasional tropical storms off the coast of Mexico can bring in huge swells.
Costa Rica has a year-round tropical climate and warm water. Water temperatures stay between 77-86°F (25-30°C). Therefore, you don't need a wetsuit. Swimwear and a rashguard to protect you from sunburns will suffice.
» READ MORE: Traveling Safely: Your Guide to Surf Camps in the COVID-19 Era
The surf vibes
Image credit: Selina
Costa Rica has an all-around relaxed atmosphere and its Pura Vida culture is simply contagious. The people are friendly, the coastlines are dotted with surf camps and surf shops, while chic cafes and restaurants abound.
Surfers from all over the world arrive on these shores all throughout the year and there are numerous expats living in the famous surf towns of Tamarindo, Nosara, Santa Teresa, and Jacó. These days, it's hard to tell who is a "local" anymore, as everyone speaks many languages and seems perfectly adapted to the laidback vibes.
Costa Rica has a reputation for being the safest and most stable country in Central America. Even though tourism is booming, many villages are growing in a sustainable manner. You'll find small surf towns that are not over-commercialized yet, such as Santa Teresa and Nosara, where not much goes on except the surf.
While sometimes there may be many tourists and the beaches become crowded, the surf breaks are usually large and the beaches wide enough to accommodate many surfers without feeling crammed. And there are still off-the-beaten-path places left to explore. For example, the surf spots in the far north and south are hard to access and remain uncrowded.
The best surfing destinations in Costa Rica
Image credit: Surf Inn Hermosa
Surfing in Costa Rica is spread across three provinces: Guanacaste, Puntarenas, and Limón. There are four main surfing destinations: the Northern Pacific coast, the Central Pacific coast, the Southern Pacific coast, and the Caribbean coast.
The Northern and Central Pacific coasts are your best bet when surfing in Costa Rica for the first time. You'll find many beach breaks offering both lefts and rights, as well as reefs and points, all easily accessible from the airports in Liberia (Daniel Oduber Quirós International Airport LIR) and San José (Juan Santamaría International Airport SJO). Most roads are well maintained, so you can explore many different surf breaks in a short time.
Northern Pacific Coast
Image credit: Selina
The Guanacaste province is the most visited tourist destination in Costa Rica, yet also one of the least inhabited. The capital of surfing on the Northern Pacific coast is Tamarindo, perhaps the most famous surf spot in the country and a great base camp for exploring the breaks north and south of town.
Playa Tamarindo is one of the best places to learn to surf in Costa Rica. This beach break is very consistent and offers waves for beginners and intermediate surfers all year round.
» Join a beginner surf camp in Tamarindo.
North of Tamarindo, Witch's Rock and Ollie's Point are two of the most famous waves in the country, less crowded and recommended for intermediate and advanced surfers. Playa Grande receives constant swell all throughout the year and offers something for all levels.
South of Tamarindo, Playa Langosta is suitable for experienced surfers, while Playa Avellanas can handle big swells and offers excellent conditions for beginners as well as advanced surfers.
Further south, Nosara is a chic little surf town, quieter and less crowded, home to a few beach breaks. The most famous is Playa Guiones, a wonderful beginner surf spot.
Central Pacific Coast
Image credit: Pura Vida Surfers
In North Puntarenas, on the tip of the Nicoya Peninsula, Santa Teresa is one of the most popular surfing destinations in Costa Rica. This laidback surf town is a swell magnet and has several surf spots to choose from, delivering something for all levels of surfers.
» Join a beginner surf camp in Santa Teresa.
Jacó is Costa Rica's biggest surf town and one of the best places to learn to surf in the country. South of town, Playa Hermosa is a very reliable surf spot with waves that are typically more powerful. This is a great place for intermediate surfers to score some epic barrels.
Southern Pacific Coast
Image credit: Pura Vista Eco Villas
Playa Dominical is home to some of the biggest and fastest waves in Costa Rica, but it offers something for all levels. Nearby Dominicalito is great for beginners.
In South Puntarenas, Pavones is recognized as the second-longest left point break in the world. Don't be intimated, though. Pavones is considered one of the best intermediate surf breaks in Costa Rica.
Caribbean Coast
Image credit: Selina
In the Limón province, Puerto Viejo is the main surf hub on the Caribbean coast, a small and laidback seaside town that's home to the legendary Salsa Brava, a fast and hollow reef break that produces Hawaiian-style barrels, reserved for experienced surfers.
Some of the most powerful waves in Costa Rica are found on the Caribbean coast, but there are plenty of surf breaks for all levels as well. Cahuita and Playa Cocles accommodate all levels of surfers, from beginners to advanced.
For more on the waves, check out our guide to the best surf spots in Costa Rica.
How to budget your surf trip to Costa Rica
Image credit: Selina
Let's face it, Costa Rica isn't exactly cheap. In fact, it's one of the most expensive countries to travel in Central America. But don't be discouraged – whether you're looking for a budget-friendly trip, an all-inclusive surf camp, or a luxury vacation, Costa Rica has something for every pocket.
Luckily, Costa Rica receives year-round swells. If you wish to save money, you can plan your travels according to the low/high travel seasons. Also, keep in mind that the Caribbean side is slightly more affordable than the Pacific side.
The dry season, between December and April, is the high travel season in Costa Rica. The weather is sunny almost every day and the surfing conditions are great for all levels, especially beginners. But the prices are at their highest, the beaches are more crowded, and accommodation should be booked well in advance.
The rainy season, between May and November, is the low season in Costa Rica. This coincides with some of the best surfing conditions, while the prices are at their lowest. It doesn't rain all the time and the temperatures are pleasant (averaging around 77°F/25°C), which is why many surfers prefer to travel during this period.
The shoulder season (May, July, and November) is a great time to travel to Costa Rica thanks to the reduced prices, fewer crowds, and the decent weather – a blend of the dry and rainy season, typically sunny in the morning and rainfall in the afternoon or evening.
Accommodation
Image credit: Pura Vida Surfers
There's a wide range of accommodation options that cater to all budgets. Hostel dorm beds usually cost $10-15, while a double room in a budget hotel will set you back $30.
You'll also find surfer-friendly accommodation in Costa Rica near the famous breaks.
Surf camps
Image credit: Selina
The most convenient option for traveling surfers is to stay at a surf camp. These include accommodation, equipment rental, and surf lessons or guidance in their packages, so you're all covered. Some also offer breakfast or even daily meals, as well as other extra activities like yoga or trips to nearby attractions.
You can join a budget surf camp in Costa Rica for as little as $50 per person/day.
Food & drinks
Image credit: Funky Monkey Lodge
You can eat on the cheap or you can splurge in fancy restaurants. If you're on a budget, opt for sodas – small and inexpensive family-run restaurants – where you can have a meal for as little as $1-5. You can find famous Costa Rican dishes like gallo pinto, casado, or olla de carne at any soda.
If you eat at sodas or buy food from the market and cook your own meals, you can spend as little as $15 per day on food. If you eat out for every meal and have some drinks too, you can spend $35 per day on a mid-budget.
What to eat in Costa Rica
Image credit: Next Level Om
In Costa Rica, rice and beans go hand in hand and the food is known for being tasty rather than spicy.
You'll find the best varieties of traditional Costa Rican food at sodas, and here are some staple foods you should try during your trip:
Gallo pinto – black beans and rice with cilantro and onions, traditionally served for breakfast with eggs and tortillas.
Casado – perhaps the most traditional Costa Rican dish, it contains rice, black beans, vegetables, a tortilla, and a protein (fish fillet, charcoal-grilled chicken, or pork chop).
Arroz con… – rice is served with almost every meal in Costa Rica, and the most popular combinations are arroz con pollo/camarones/vegetales/mariscos (chicken/shrimp/vegetables/seafood).
Olla de carne – the very definition of comfort food, this slow-cooked stew contains beef, potatoes, carrots, green plantains, sweet plantains, chayote, and yucca.
Picadillos – the Costa Rican version of tapas, often served as a side dish or starters, but can be ordered as a main dish as well. Usually consists of diced vegetable and meat, but the combinations are endless.
Chifrijo – a layered dish made from two main ingredients, chicharrones (fried pork rinds) and frijoles (beans), served with tortilla chips.
Pico de gallo – tomato salsa with onion, cilantro, and lemon.
There are many expats living in Costa Rica, and they've brought their traditional cuisines and recipes with them. Therefore, you'll find many options, from Italian and sushi to vegetarian and vegan.
Don't forget to sample the local coffee! The country's beans rank as some of the best in the world, and there's no better way to kick start your surfing session than with a Costa Rican cup o' joe.
You'll see many kiosks that juice fresh tropical fruits. Choose your favorite combination and enjoy a delicious glass of naturales, also called refrescos, to recharge after a surf sesh.
More useful travel advice for your surf trip to Costa Rica
Getting there
There are two international airports: Juan Santamaria Airport (SJO) in capital San José and Liberia International Airport (LIR) in the Guanacaste region. Tamarindo is only an hour's drive from the airport in Liberia and Jacó is a 1.5-hour drive from San José.
Getting around
The most affordable way to travel around the country is by public bus. Costa Rica has a great public transport system, with buses running frequently throughout the day.
If you want flexibility, car rentals are reasonably priced; you can play as little as $5 per day. The main roads are paved and well taken care of. However, if you go off the beaten path, you'll come across dirt roads and a 4x4 will come in handy. During the rainy season, the roads get muddy in rural areas.
If you'd like to save time, you can opt for domestic flights, but do keep in mind that they are pretty expensive.
Currency – Costa Rican Colón ($1 = 583 colones / €1 = 637 colones)
Language
Spanish is the official language in Costa Rica. Jamaican patois (a Creole-English language) is spoken on the Caribbean coast.
Immerse in La Pura Vida!
When in Costa Rica, go with the flow and live the Pura Vida, the "pure life". You'll quickly find that the term is used everywhere and with many different connotations ("hello", "goodbye", "everything's okay", etc.), but never a negative meaning.
*Cover image credit: Pura Vida Surfers