Surfing in Hawaii: Your Guide to the Best Waves
The go-to resource for planning your surf camps. Find all you need to know about the top destinations and take your surfing to new heights.
Discover Surf Camps now
Hawaii is the most isolated landmass on the planet, a chain of volcanic islands exposed to all swell and wind directions. For surfers, this means one thing: year-round waves for all skill levels.
Whether it is exposed and powerful reef breaks or sheltered coves, gnarly barreling waves, glassy peaks, humongous freight trains, or fun and slow rides, Hawaii delivers. If you travel here, it's almost mandatory that you surf too. By joining a surf camp in Hawaii, it will be easy to do so.
Hawaii has eight main islands. While each of them gets its fair share of swells, only Oahu, Maui, Kauai, and the Big Island stand out in terms of consistency and quality.
From Banzai Pipeline to Waikiki and Jaws, let's have a look at some of the most epic waves in Hawaii.
Traveling in Hawaii in 2021
Hawaii welcomes travelers with a pre-flight COVID-19 test, in accordance with the state's Safe Travels program.
All restrictions for vaccinated domestic travelers have been lifted. U.S. travelers entering the state, who have been vaccinated in the U.S., can bypass quarantine without a pre-travel test. All vaccinated Trans-Pacific travelers must upload their proof of vaccination to Hawaii's Safe Travels website in addition to presenting the original upon arrival.
Domestic travelers who aren't vaccinated, as travelers from Canada, Japan, the Philippines, South Korea's Incheon International Airport, Tahiti, and Taiwan, can skip the mandatory 10-day quarantine if they present a negative COVID-19 test before boarding for the final leg of their trip to the State of Hawaii. Travelers who have been in the European Schengen Area, the United Kingdom, Brazil, China, Iran, India, Ireland, and South Africa in the past 14 days are not allowed to enter.
Travelers from other countries must quarantine for 10 days upon arrival.
Surfing in Oahu
The third largest of the Hawaii islands, Oahu is the most visited surfing destination in the archipelago. Each winter, the surf world migrates to the North Shore, the proving ground for the best surfers on the planet.
During winter, the island's north shores receive powerful swells. During this time, beginners should aim for the spots on the southern shores. In summer, the southern shores get bigger swells than the north.
To make the most of your time here, regardless of the time of year, join a surf camp in Oahu that will show you the best surf spots for your level and help you make real progress during your stay.
North Shore
Home to the biggest and heaviest waves in the world, the surf spots on the North Shore of Oahu should not be taken lightly. This is the ultimate surfer's proving ground.
Between October and March, northerly swells constantly pump 2 to 50ft (0.6-15m) waves that are reserved for intermediate surfers and above. They are unpredictable too – they can go 2 to 15ft (0.6 to 4.5m) in a matter of hours.
Summer months offer much friendlier conditions – the waves are tamer and more suitable for intermediate surfers and sometimes even beginners. Unfortunately, some spots can go completely flat in summer.
In December, the annual Vans Triple Crown of Surfing is a series of professional surfing events held at Haleiwa, Sunset Beach, and Banzai Pipeline, the last three stops on the WSL World Championship Tour.
The stretch of coastline between Haleiwa and Velzyland is known as the "Seven Mile Miracle". It is home to 36 surf breaks, including world-famous Haleiwa, Waimea, Off the Wall, Banzai Pipeline, and Sunset Beach. Let's take a look at the most famous ones, from west to east:
Haleiwa
Photo credit: Kanaka Rastamon
Recommended for: Advanced surfers
At the western end of the Seven Mile Miracle, Haleiwa is one of the world's best surf towns. This is the North Shore's commercial center and the preferred base camp for the infamous surf breaks. Haleiwa is where most surfers shop, eat, and sleep.
The main surf break at Haleiwa forms about 300 yards from the beach. This tricky reef break is a rippable peak with hollow rights, long lefts, and powerful closeouts. This outer reef is reserved for advanced surfers.
On the inside, a few yards from the shore, beginners and longboarders can ride the shorebreak reforms.
Laniakea
Photo credit: Robert Linsdell
Recommended for: Intermediate and advanced surfers
The only legit point break on the North Shore, Laniakea, or simply Lani's, is a long, heavy, and tube-spitting wave.
Lani's breaks 400 yards offshore and has several take-off spots. On normal days, when the swell is anywhere between 2-12ft (0.6-3.6m), the peaks are relatively user-friendly and suitable for intermediate surfers. With a big northerly swell, it becomes a freight train – fast, with super hollow sections and crazy currents. That's when the pros come for a piece of the action.
Waimea Bay
Recommended for: Experts
One of the only bays in the world that can hold 50ft+ (15m+) rideable waves, Waimea is an iconic (and terrifying) wave. Its reputation precedes it – surfers have died riding it, many have been injured, and localism can be an issue.
Waimea is a classic big wave spot. Waves over 40ft (12m) are a common sight. And the wave itself is not the only challenge. To get to the take-off, you need to paddle through the notorious Waimea Shorebreak, which is usually powerful and fast, and can really smash you down. Once you get to the line up, you'll have to commit to the drop and be ready to ride some gnarly barrels.
Off the Wall
Recommended for: Advanced surfers
At the western end of the Banzai Pipeline reef, Off the Wall is Pipe's unpredictable cousin. Also known as Kodak Reef, this classic right-hander breaks more boards than egos, and is one of the scariest surf spots on the North Shore.
During winter, Off the Wall is super crowded and ultra-photographed. Epic barreling waves roll over a shallow and unforgiving reef, and wipeouts are guaranteed. Whatever you do, don't dive head first when wiping out!
Banzai Pipeline
Recommended for: Experts
The capital of the Seven Mile Miracle, Banzai Pipeline is one of the biggest and heaviest waves on the planet, often referred to as "one of the greatest natural wonders of the surfing world" and an "infamous guillotine". Pipeline, or simply Pipe, is the benchmark by which all other waves in Oahu are measured.
Huge, steep, and fast waves break in shallow water, above underwater caves formed in razor-sharp reef. Believe it or not, that sounds pretty inviting to some surfers.
Pipeline was surfed for the very first time in 1961 by Philip Edwards. Up until then, it was considered an unrideable wave, a place where you would only go to get your surfboard smashed and your bones broken. Edwards opened the doors to a new chapter in surfing history, and Hawaii became the birthplace of big wave surfing and tube riding.
It is the most dangerous wave on earth – it has sent hundreds of surfers to the hospital and has claimed more lives than any other surf break (at least 11, most of them pros). Despite its notoriety, it is one of the most sought-after waves in the world, the ultimate surfer's testing ground.
Pipe was normally surfed as a left-hander until one guy decided to go right. That's how Backdoor was discovered, the right-hander at the other side of Pipeline.
Sunset Beach
Recommended for: Advanced surfers
One of the world's most famous right-hand waves, Sunset Beach is located two miles east from Pipeline and is yet another famous big wave surf spot on the North Shore.
Sunset Beach is intimidating. It's not just the wave itself that's big, but the sheer size of the arena can easily make you lose your grit. This surf spot offers a lot of variety, and there are several peaks to choose from.
Even when small, it is fast and hollow. Sunset forms quickly from deep water, and it is unpredictable. It can hold 15 to 30ft (4.5-9m) walls. These thick waves are difficult to get into, so your paddling techniques must be up to par. Also, there's a good chance that you'll get caught inside.
Backyards
Recommended for: Experts
Sunset's shallow brother, Backyards sits on the eastern end of the wide reef flanking Sunset Beach. This fast and steep wave picks up swells from every direction, but works best with a northwesterly swell. It gets seriously big in winter, when it should only be attempted by advanced surfers.
Those willing to take on Backyards should be ready to take a beating. It attracts a lot of swell, even more than Waimea, and 50ft+ (15m+) waves are on the menu.
South Shore
Oahu's North Shore is often in the spotlight, but the South Shore does get its fair share of iconic waves. In Honolulu, Waikiki Beach is a resonant name in the history of surfing, and offers a different scenery from the rather intimidating conditions up north. This is one of the best places in Hawaii to learn to surf.
The surf on the South Shore of Oahu is at its best during summer, between June and September, when consistent swells in the 2-8ft (0.6-2.5m) range roll towards the shore.
Here, you won't just find beginner-friendly surf spots. Note that waves can sometimes reach over 12ft (3.6m). In 1917, Duke Kahanamoku rode a 35ft (10.6m) wave for 1.25 miles (2km) at Waikiki. On rare occasions, big swells can link several waves into one incredibly long ride.
Waikiki
Recommended for: All levels
Once a surf spot reserved for the Hawaiian royalty, Waikiki Beach is home to the most beginner-friendly reef breaks on Oahu. Duke Kahanamoku taught tourists how to surf at Waikiki Beach and today, a large bronze statue of "The Duke" welcomes visitors with open arms.
There are several surf breaks at Waikiki, and Canoes and Queens are the most popular for beginners.
Canoes breaks offshore from the beach, can handle bigger swells, and offers long rides. It is a favorite among longboarders, and on small days, it is friendly enough for first-timers. With a bigger swell, it spits challenging right-hand barrels.
Queens is the closest to shore and the most beginner-friendly of the bunch. It is also considered one of the best waves at Waikiki, and it is always crowded. Queens can hold rippable walls of up to 6ft (2m), breaking over a forgiving reef.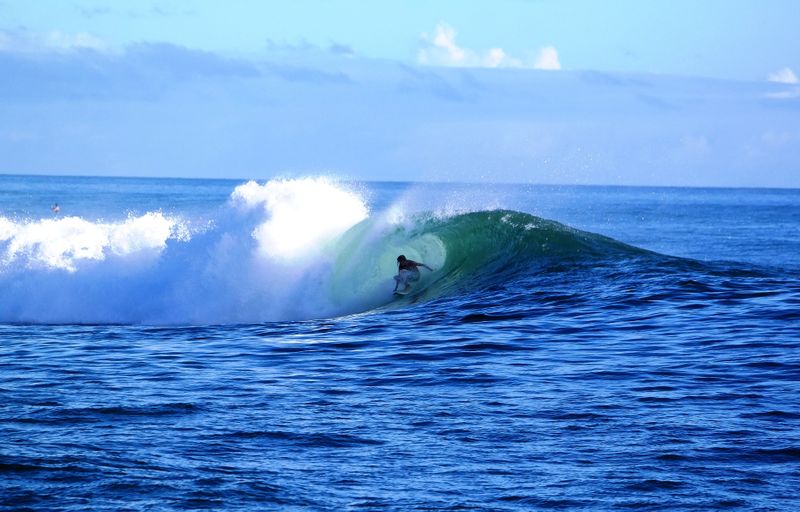 Waikiki doesn't only serve tame waves. During summer, the outer reefs fire up and start to barrel like you won't believe it, posing a challenge even for highly-skilled surfers. More advanced waves can be found at Ala Moana Bowls, where most of the pros go out to play.
Surfing in Maui
Photo credit: BirdsEyePix
The windiest of the Hawaii islands, Maui is also a renowned kitesurfing and windsurfing destination. Most of the surf spots in Maui are located on the north and west coasts, and work best between October and March.
Pe'ahi / Jaws
Recommended for: Experts
Pe'ahi, aka Jaws, is one of the most dangerous waves on the planet. Unlike Pipeline, it has not claimed any lives yet, but that's no reason to underestimate it. Truth be told, only a handful of people are able to ride it.
The wave became accessible to surfers after the introduction of tow-in surfing by Laird Hamilton in the early 1990s. In terms of height, there are other waves that compete against it. But its sheer perfection remains unparalleled.
Its name, Jaws, is not a reference to sharks, but to the massive waves that quickly change from small to large and can devour surfers. If you survive the terrifying rock jump required to get into the water, you still have to move fast, as the wave travels very quickly. There are also many other hazards that you have to navigate, and getting out is no walk in the park either.
During winter, with big northerly swells, Jaws fires 25 to 50ft (7.5-15m) peaks. Waves in the 80-foot (24.3m) range have been attempted here. At any size, Jaws is a sight to behold. When big swells hit the north shore of Maui, head on over to the headland at Pe'ahi and enjoy the show below.
Ho'okipa
Photo credit: Jim Mullhaupt
Recommended for: Advanced surfers
On the north coast, Ho'okipa is the most consistent wave in Maui and one of the best windsurfing spots in the world. It is a swell magnet, but also catches a lot of wind. Therefore, the best time to surf Ho'okipa is in the morning, before the winds pick up, and in the afternoon, after they've settled.
Honolua Bay
Photo credit: BirdsEyePix
Recommended for: Advanced surfers
On the northwestern tip of Maui, Honolua is a flawless right-hand point break that offers several overhead barreling sections, which can get superfast. It gets almost as crowded as Oahu's North Shore, and this alone says a lot about the quality of the wave.
Ma'alaea Pipeline
Recommended for: Advanced surfers
One of the few south-facing surf spots in Maui, Ma'alaea is one of Hawaii's most famous summer surfing destinations. In Ma'alaea Bay, a breakwater created what is widely considered the world's fastest rideable wave.
Unfortunately, this spot is fickle and only works in summer, with a huge S-SW swell. When it does work, this legendary right-hander is always crowded.
Surfing in Kauai
Also known as "The Garden Island", Kauai is an incredibly scenic destination, with numerous deserted beaches, year-round surfing conditions, and dozens of waves that have yet to be mapped.
Hanalei Bay
Recommended for: All levels
The epicenter of surfing in Kauai, Hanalei Bay offers the best conditions on the island. There are several waves along this two-mile (3.2km) crescent-shaped beach, offering something for all levels. This surf spot is ideal for the entire family.
The main wave here is a right-hand point break that can offer long rides and several barreling sections. Hanalei Bay is located on Kauai's north shore, and the best conditions can be found in winter. With a smaller swell, it is a great longboarding spot.
---
Retrace the steps of the world's first surfers and ride some of the world's best waves on a surf camp in the USA.