Top Places to Learn to Surf in France
The go-to resource for planning your surf camps. Find all you need to know about the top destinations and take your surfing to new heights.
Discover Surf Camps now
The birthplace of surfing in Europe, France is home to some of the best beach breaks on the planet.
Its southwestern coast simply has one world-class surf spot after the other. With waves that just keep rolling in all year round, this is indeed beach break heaven. But don't be fooled – beach breaks can get powerful. Luckily, summer swells are not as big and the waves are usually gentle and safe enough for beginners to feel comfortable and progress fast.
If you've never surfed before, simply join a surf camp for beginners in France and you'll be standing on the board in no time! And if you're wondering what are the best places to learn to surf in France, this article will answer your question.
From the French Basque Country to Landes, Gironde, and Brittany, here are the best surf spots for beginners in France:
Traveling to France in 2022
Vaccinated travelers must present proof of their vaccination status and a sworn statement certifying the absence of COVID-19 symptoms and of any contact with a confirmed case.
Vaccinated travelers arriving from a Member State of the European Union, Andorra, Iceland, Liechtenstein, Monaco, Norway, San Marino, the Holy See, or Switzerland don't need to show a negative PCR or antigen test result.
Unvaccinated travelers must present proof of recovery or a negative PCR or antigen test dated less than 48 hours or less than 24 hours prior to departure, depending on the country of departure.
Unvaccinated travelers from green-list countries are not required to quarantine.
Vaccinated travelers from orange and red-list countries must also present a negative PCR or antigen test result dated less than 48 hours prior to departure.
Unvaccinated travelers from orange and red-list countries must give a compelling reason to be allowed in the country and must self-isolate for 7 days (followed by a PCR test at the end of the isolation period). They must also present a negative PCR or antigen test taken less than 48 hours (less than 24 hours for United Kingdom) prior to departure.
Visitors from EU member states need to fill in the EU-PLF form to enter France. Travelers from orange and red countries must fill out the Eos electronic form.
» Read more from official sources
When is the best time to surf in France as a beginner?
Image credit: Ujusansa
Thanks to the low-pressure systems in the north, France has year-round surf. However, for the best experience as a first-timer or beginner surfer, go in summer or early autumn.
During summer, between May and August, the waves are smaller, slower, and not as heavy. Plus, the water is at its warmest.
In Southwestern France, water temperatures peak in the range of 20-25°C (68-77°F). You can surf without a wetsuit on most days, but you'll still need a 2mm or 3/2mm spring suit in the morning and if the wind is up.
In northern France, the water is colder. The maximum water temperature hovers around 16-20°C (60-68°F). Therefore, a 3/2mm wetsuit is necessary even in summer. In autumn, a 4/3mm wetsuit is required for early morning or late evening sessions.
In late September/early October, things start to heat up. Metaphorically, of course. During winter, powerful northern swells hit the west coast of France, which becomes the go-to destination for the more advanced surfers.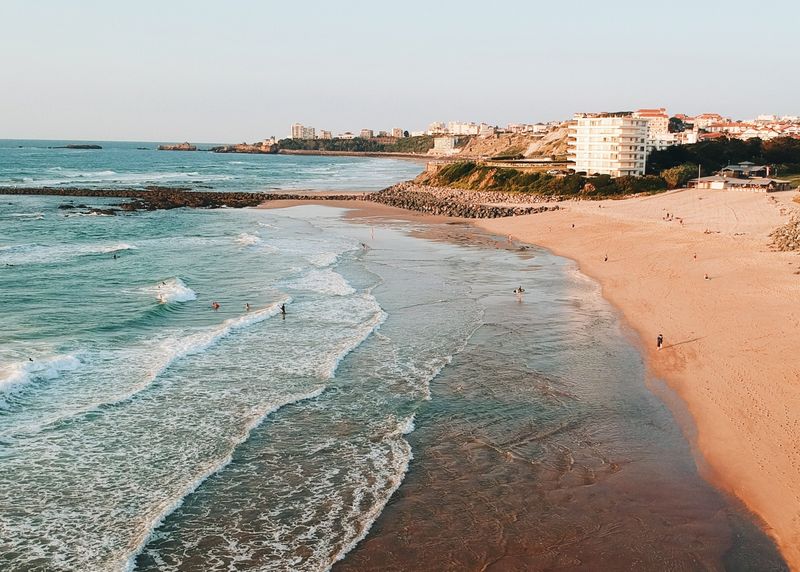 One of Europe's most iconic surfing destinations, Biarritz is a chic seaside resort that exhales an interesting mix of Southern Californian and French surf culture. No wonder it's often referred to as the "Pearl of the Basque Coast."
Historically speaking, Biarritz is Europe's surfing capital. Côte des Basques, the magnificent beach to the south of town, is the birthplace of surfing in France and Europe. The first surfers arrived here in the 1950s and immediately recognized the spot's potential.
Today, Biarritz is home to fancy vacation homes of the rich and famous, turn-of-the-century architecture, charming cobbled streets, surf camps, surf shops, hipster eateries, and waves for all levels. In fact, the wide beaches at Biarritz are a great place to learn to surf.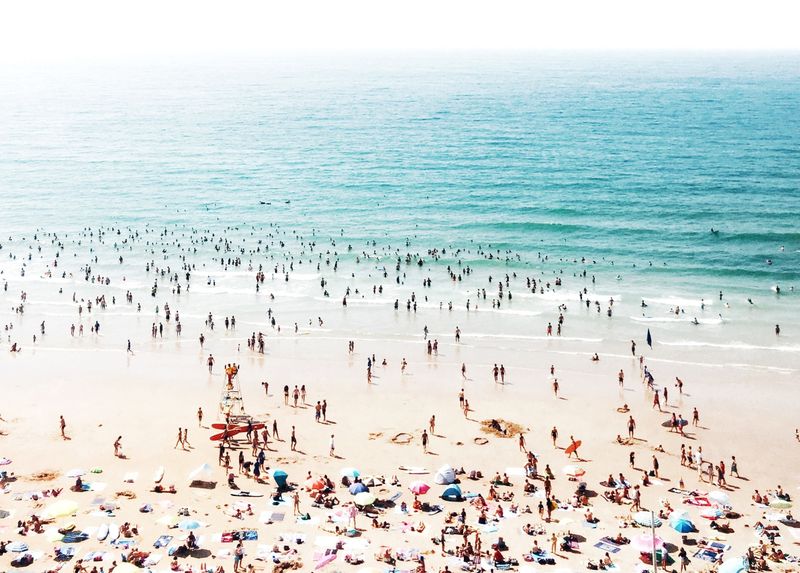 Biarritz Grande Plage is the main beach in Biarritz, with great conditions for beginners and intermediate surfers during summer. This crescent-shaped beach is protected by rocks and offers fat, gentle peaks. Due to the immediate access from town, it often gets crowded during summer.
Without any doubt, one of the most chilled-out surfing experiences in France can be had at Côte des Basques. This long golden sand beach is sheltered from northern winds and powerful swells.
Côte des Basques is a laidback beach break with mellow lefts and rights, preferred by longboarders and beginners. The beachfront is lined with surf schools and surf shops. To add to its charm, a medieval castle overlooks the waves.
Anglet, Pyrénées-Atlantiques, French Basque Country
Image credit: Sofi 64
There's a good reason why American pro surfer Tom Curren moved to Anglet in 1988. Hint: it wasn't for the croissants!
West of Bayonne, Anglet is the most consistent surfing destination in Southwest France, renowned for its high concentration of waves. Along 4.5km (2.8mi) of coastline, there are 11 surf spots. From La Barre in the north to Le VVF in the south and the many peaks in between, this is beach break paradise.
You'll find anything from challenging peaks to mushy rides, and a little bit of something for everyone, from beginners to pros.
Join a surf camp in Anglet!
Take a stroll along Anglet's Boulevard des Plages, an iconic seaside promenade dotted with surf schools, surf shops, hotels, restaurants, and patisseries. You can literally walk your way to all of the 11 surf spots and choose those that tickle your fancy.
The most beginner-friendly waves at Anglet are La Barre, Les Cavaliers, Le Club, Les Sables d'Or, La Madrague, and Marinella.
Hossegor, Landes, Nouvelle-Aquitaine
Hossegor is a charming surf town on La Côte d'Argent (the Silver Coast), famous for its lively nightlife and its beach breaks, which are considered some of the best on the planet. It also earned a reputation for its two board-snapping waves – La Nord and La Gravière. Worry not, you will also find beginner waves.
At low to mid-tide, La Sud is the most beginner-friendly wave in Hossegor. This sheltered surf spot is an A-frame beach break that never gets too big.
The best time to go for beginner surfers is summer and autumn. The water is warm during summer, allowing for up to four months of rubberless surf.
The constantly shifting sandbars mean that the conditions are always changing. The waves can go from mushy to perfect peaks in a matter of hours. Join a surf camp in Hossegor that will take you to the right waves at the right time.
Beginners can also opt to go further south, towards Capbreton, where they will find the protected surf spots Le Prevent and Santocha.
Seignosse, Landes, Nouvelle-Aquitaine
Image credit: Seignosse Surf Yoga Villa
North of Hossegor, the waves at Seignosse are more forgiving. The area is a swell magnet, and therefore your best bet when the other spots aren't working. It also has some of the best beach breaks in the world, most of them offering beginner conditions during summer and early autumn.
The most beginner-friendly waves in Seignosse are Les Bourdaines and Les Estagnots, both with easy access and small, fun waves on a low tide.
If you happen to go in autumn, take some time to watch the pros fighting for the world title during the Quiksilver Pro France. The event on the World Surf League (WSL) Championship Tour is held each year at the end of September/beginning of October at Hossegor, Seignosse, and Capbreton.
Discover more waves by reading our guide to the best surf spots in France.
Lacanau, Gironde, Nouvelle-Aquitaine
Image credit: SanctuarySurf
An hour-drive east of Bordeaux, Lacanau is the most popular surf spot in the Gironde department, and also one of the most consistent in France. Home to 14km (8.5mi) of golden sand beaches, there's room for everyone!
You can choose between La Nord, La Sud or Super Sud, which you can observe from the boardwalk at Plage Centrale. With a small swell, they are all suitable for beginners.
Summer is the best time to visit Lacanau, and that's also when beginners will find the best conditions, as well as several surf schools and board rental facilities lining the beach.
Moliets, Landes, Nouvelle-Aquitaine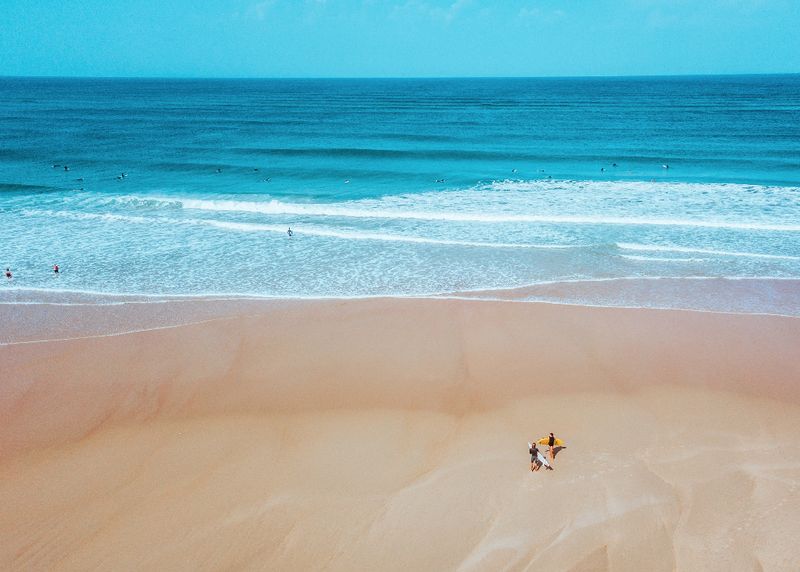 Image credit: Star Surf Camps
North of Seignosse, Moliets-et-Maa is a lively beach resort that comes to life between June and September. Moliets Plage is a large sandy beach dotted with surf schools, campsites, and holiday homes. It has a very reliable beach break that offers something for all levels, from beginners to advanced.
The surf is smaller in summer and starts to build up in autumn. Therefore, if you're looking to learn to surf and also enjoy the buzzing nightlife that Moliets is famous for, summer is when you need to go.
Moliets Plage is known for its shifty sandbanks. This means that the waves are constantly changing. If you're just starting out, join a surf camp in Moliets that'll show you the best peaks for your abilities.
Mimizan, Landes, Nouvelle-Aquitaine
Image credit: Pura Vida Lodge
One of the best places to learn to surf in France, Mimizan is a laidback surf town located halfway between Bordeaux and Biarritz. The 10km (6mi) long Mimizan Plage is lined with beach breaks for all levels. There are four main surf spots – La Garluche, Goëlands, Mouettes, and Plage Sud.
During summer, you'll find beginner-friendly conditions, surf schools, board rentals, and campsites along Mimizan Plage. Plus, it doesn't get as crowded as the other surf spots in France. Beginners will find gentle waves and whitewater close to shore, while those looking to improve can head further out and try to catch the green waves.
In summer, the best conditions can be found in the morning. The waves break onto soft sandbars, which are constantly shifting and can affect their shape from one hour to the next. To save yourself some hassle and make sure you score the best waves for your level, join a surf camp in Mimizan.
La Torche, Finistère, Brittany
In southern Brittany, at the southern end of the Bay of Audierne, Pointe de la Torche is a famous promontory that protects a large west-facing beach, perhaps the best surf spot for beginners in Brittany.
While most surf beaches in France have golden sand, the white sand beach at La Torche will have you fooled thinking that you are in the Caribbean. This is one of the most consistent beginner surf spots in the country, offering a wide variety of waves, both rights and lefts. After the surf sesh, head to the quaint little village perched atop the cliffs and feast on some crepes and baguette.
La Torche gets crowded during summer. During weekends, the beach is packed. Further north along the beach of the Bay of Audierne, there are several other beginner-friendly waves near Penhors and Plovan.
Now you see why France is the cradle of surfing in Europe. With so many waves lining the coast, friendly beach breaks for beginners, and great year-round surfing conditions, France is one of the best places on the planet to learn to surf.
*Cover image credit: Star Surf Camps
---