All You Need to Know About Surfing in Southwest France
The go-to resource for planning your surf camps. Find all you need to know about the top destinations and take your surfing to new heights.
Discover Surf Camps now
With surf spot after surf spot, rights and lefts, steep and powerful, mellow and long, hollow and rippable waves, you are spoilt for choice in Southwest France.
This is the home of Biarritz, the birthplace of European surfing. It's also where you'll find the best places to learn to surf in France. And if those aren't good enough reasons, rest assured that the notoriously heavy barrels, big wave surf spots, mellow rollers, delicious food, and highly-acclaimed surf camps in Southwest France will keep you coming back for more!
The Nouvelle-Aquitaine region is a global surf hub, and some of the world's best beach breaks are scattered along the stretch of picturesque coastline between Seignosse and Biarritz.
From the surfing seasons and the top destinations to what to eat and how to budget your trip, here's all you need to know about surfing in Southwest France:
Traveling to France in 2022
Vaccinated travelers must present proof of their vaccination status and a sworn statement certifying the absence of COVID-19 symptoms and of any contact with a confirmed case.
Vaccinated travelers arriving from a Member State of the European Union, Andorra, Iceland, Liechtenstein, Monaco, Norway, San Marino, the Holy See, or Switzerland don't need to show a negative PCR or antigen test result.
Unvaccinated travelers must present proof of recovery or a negative PCR or antigen test dated less than 48 hours or less than 24 hours prior to departure, depending on the country of departure.
Unvaccinated travelers from green-list countries are not required to quarantine.
Vaccinated travelers from orange and red-list countries must also present a negative PCR or antigen test result dated less than 48 hours prior to departure.
Unvaccinated travelers from orange and red-list countries must give a compelling reason to be allowed in the country and must self-isolate for 7 days (followed by a PCR test at the end of the isolation period). They must also present a negative PCR or antigen test taken less than 48 hours (less than 24 hours for United Kingdom) prior to departure.
Visitors from EU member states need to fill in the EU-PLF form to enter France. Travelers from orange and red countries must fill out the Eos electronic form.
» Read more from official sources
When is the best time to go surfing in Southwest France
Southwest France is exposed to strong northwesterly and westerly swells from the Bay of Biscay. However, the best conditions occur with northwesterly swells.
This part of the country offers more protection from huge swells during winter months, which can ruin the waves in northern France. Especially in the French Basque Country, you'll find something to ride even when the swells are big and the winds are howling.
For beginner surfers, the best time to go is in summer and early autumn. Between May and August, the waves are smaller and mellower. Please keep in mind that June through September are the busiest months, and the beaches are usually packed with tourists.
Find out what are the best places to learn to surf in France.
For advanced surfers, autumn and winter bring bigger swells and produce more challenging waves. During spring, the swells are less reliable.
That being said, for both beginners and experienced surfers, the absolute best time to go is September, October, and November.
There are a few reasons for this. The swells are most consistent during this time of year; they are big enough to produce perfectly-shaped waves, but not too huge to ruin them. Therefore, there'll be something for all skill levels. Furthermore, the wind is mainly offshore and the water is still pretty warm. But most importantly, it's a lot less crowded!
Wetsuit requirements
Image credit: Surflife
Water temperatures in Southwest France peak in the range of 20-25°C (68-77°F). You might get days of surfing without a wetsuit during summer, but you'll need a 2mm springsuit or a 3/2mm wetsuit for early morning sessions and if the wind is up.
You can surf in a 3/2mm wetsuit in October and November, but come winter, you'll have to put on a 4/3mm or 5/4mm rubber, together with booties, hoodie, and sometimes even gloves. Water temperatures drop all the way to 12°C (53°F).
The surf scene
France's southwest coast is dotted with chic little surf towns. There are surf shops, rental facilities, and surf camps. Each and every corner exhales surf vibes. And you'll always find surfers in the Biarritz/Anglet area, no matter the time of year.
Furthermore, Southwest France hosts numerous prestigious surfing competitions and festivals, the most famous of which being the Quiksilver Pro France, an event on the WSL Championship Tour held each year at Seignosse, Hossegor, and Capbreton at the end of September/beginning of October.
Surfing in Europe started in the glitzy beach resort of Biarritz in 1957. Today, its surf scene remains without rival on the Old Continent. It's home to numerous trendy surfer hangouts, thumping clubs, and great restaurants. Plus, many popular surf brands are based in Biarritz.
Southwest France is synonymous to laid-back vibes. The local surfers are generally welcoming and eager to meet and help foreigners. That being said, they can become overprotective of their "home" surf spots, especially if they're lesser-known. Remember to always show respect and wait your turn.
The best surfing destinations in Southwest France
Surfing in Southwest France is spread across Gironde, Landes, and the French Basque Country. You'll find endless beaches flanked by pine forests, with sand dunes and the occasional WWII bunkers, turquoise water, and barreling waves.
From north to south, let's have a quick look at the best surf spots:
Gironde
Image credit: Ujusansa
In Gironde, Lacanau is a 45-minute drive from Bordeaux. The bustling surf town is home to a number of beach breaks scattered in between the famous La Nord and Super Sud surf spots.
Many surfers skip Lacanau in favor of the more famous surf spots further south. But there are excellent conditions all year round, and as proof to the quality of its waves, the Lacanau Pro is held here each year, a prestigious event on the WSL Championship Tour.
Landes
Image credit: Star Surf Camps
Landes is home to some of the best beach breaks in Europe. And as an added bonus, the water here gets warmer than in other parts of the country.
Mimizan-Plage is one of the best places to learn to surf in France, and Moliets-et-Maa is home to a number of legendary barrels.
On the south coast of Landes, Seignosse has some of the best beach breaks on the planet: Casernes, Le Penon, and Les Culs Nuls (in translation, "bare bums"). The most beginner-friendly beaches in Seignosse are Les Bourdaines and Les Estagnots.
Image credit: Seignosse Surf Yoga Villa
Just south of Seignosse, Hossegor is renowned for its heavy beach breaks and fast, spitting barrels, and is the proud venue of the annual Quiksilver Pro France. Its two board-snapping waves La Graviére and La Nord enjoy international recognition.
The most beginner-friendly surf spot in Hossegor is La Sud. This southern surf beach offers more protection from big swells. To give you a better picture, the waves can be double the size on the northern beaches.
Capbreton has the sheltered surf spot of La Miramar, with its mellow waves, as well as the famous punchy tubes of La Piste.
» Join a surf camp in Capbreton.
French Basque Country
Image credit: Sofi 64
Just north of Biarritz, Anglet is a freak of nature. Along 4.5km (2.8mi) of coastline, there are 11 surf spots! From the fast tubes at Les Cavaliers and the pumping waves at Chambre d'Amour to the steep walls of La Madrague, Sables d'Or, Le Club, and Le VVF, Anglet is a must-see surfing destination in France.
» Join a surf camp in Anglet.
Image credit: Pierre (Rennes)
In summer and autumn, Biarritz is a magnet for surfers of all levels. There are five beach breaks in total, and the most beginner-friendly waves can be found at Grande Plage and Côte des Basques.
For big wave chasers, the French Basque Country has the gnarly offshore reefs at Guéthary and Belharra.
Saint-Jean-de-Luz is home to the classic and perfectly-shaped point break Lafitenia.
At the border with Spain, the Basque Country's southernmost surfing destination is Hendaye, a sheltered spot that's ideal for beginners and intermediate surfers.
For more on the waves, check out our guide to the best surf spots in France.
How to budget your surf trip to Southwest France
If you go during the peak season (July and August), everything will be more expensive. Luckily, the best time to go surfing in Southwest France is between September and November, which coincides with the off-season, meaning lower prices.
Surf camps
Image credit: Pura Vida Lodge
For traveling surfers, the most convenient option is to join a surf camp. This way, you'll have accommodation, surf lessons or guidance, all the necessary equipment, transfer to the surf spots, and sometimes even daily meals all in one package.
A surf camp is also a wonderful opportunity to meet like-minded people and surfers from all over the world, share stories, get advice, and improve together.
You can join a budget surf camp in France for as little as €40.
Accommodation
Image credit: Pura Vida Lodge
You can find surfer-friendly accommodation in France with prices starting at €25 per person/night. Accommodation in a hotel typically starts at €35 per night/person.
Food & drinks
You can have a meal in an inexpensive restaurant for €12. A local beer at a bar/restaurant will set you back at least €6.
You'll find many street markets. Take advantage of this to have an inexpensive but delicious pique-nique on the beach. Or if you have access to a kitchen, you can save money by cooking your own meals.
What to eat in Southwest France
Image credit: Star Surf Camps
What better way to wrap up a good surfing session than with some fresh baguette, blue cheese, and a glass of red?
A word of warning, though, you might put on some weight while here. The food is delicious and the restaurants are top-notch. The French are very proud of their cuisine, and that's reflected in the way they cook.
The cuisine in Southwest France is centered around meat products. Goose, duck, lamb, beef, oysters, and fresh fish are predominant. Vegans will have a tough time eating out in this part of the country, but vegetarians need not despair. In fact, vegetarians who eat cheese will be in heaven.
Besides the croissants, baguette, and patisseries, here are some staple foods you have to try in Southwest France:
Cassoulet – thick sausage and bean stew with duck, pork or mutton.
Ttoro – fish soup packed with fish and shellfish.
Chipirons – grilled squid.
Marmitako – traditional Basque soup made with tuna and potatoes as the main ingredients.
Coq au vin – chicken in red wine.
Poulet Basquaise – chicken pieces sautéed with onions and peppers and cooked slowly with a glass of white wine.
Axoa de veau – veal and sweet pepper stew, prepared with le piment d'Espelette (spicy chili pepper), a predominant ingredient in the French Basque cuisine.
Périgold truffles – a local specialty, very popular in omelets.
Chevre tiede – grilled goat's cheese.
Chabichou de Poitou – regional cheese from Poitou-Charentes goats.
Charentes butter – butter with a nut-like flavor because of the nature of the soil.
L'ouillade – hearty soup made from pig trotters, cabbage, and turnips.
Touron – Basque marzipan rolls, made with pistachios, hazelnuts, and candied fruits, which come in various colors and re usually sold in slices.
Southwest France is an important wine-producing region. In fact, Bordeaux is France's wine capital, and is particularly famous for its red wines. Speaking of drinks, make sure you have a glass of sagarno, the traditional Basque cider.
More useful travel advice for surfing in Southwest France
Getting there
There's a small international airport in Bordeaux (BOD) and a national airport in Biarritz (BIQ).
Obviously, the biggest international airport in France is in Paris (CDG). From here, you can take the TGV (France's high-speed rail service) to Bordeaux (3hrs) or Biarritz (5hrs). Traveling through France by train has many perks. It's very fast and also cheaper to transport your surfboards. Furthermore, by booking your train tickets in advance, you can save a lot of money.
Getting around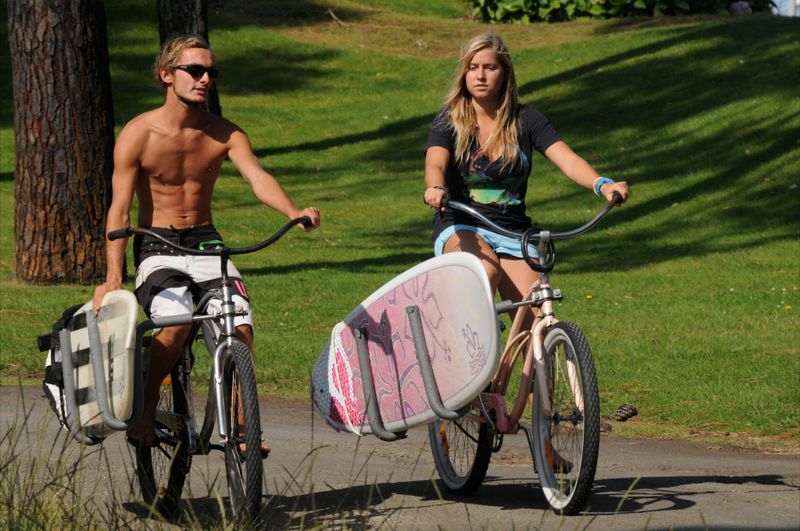 Image credit: Pura Vida Lodge
Some surf camps also offer airport transfer (from the nearest airport). Check with your hosts to see whether they can arrange this for you.
Once in Seignosse, Hossegor, Capbreton, Hossegor, or Biarritz, you'll find that the surf beaches are within walking distance from one another. And if you'd like to get from one surf spot to the other faster, you can rent a bike. Most of them are equipped with surf racks.
If you decide to rent a car, Southwest France is a paradise for a surfing road trip. And if you'd also like to explore the surf in Spain, you're only an hour's drive from San Sebastian.
Bayonne is only a five-minute drive from Anglet, and is a stunningly well-preserved medieval town and a cultural overload, definitely worth a day-trip.
Bask in the Basque culture! Being so close to the Spanish border and sharing a similar mentality and attitude as Spain's Basque region, it's quite different from the rest of France. In fact, its uniqueness and strong cultural identity are part of its charm.
*Cover image credit: Sofi 64
---
Travel and surf. Embrace the culture and laid-back vibes. Learn a little French. Enjoy the patisseries. There's no better place to do all that than on a beginner surf camp in Southwest France!