Surfing in Australia: Your Guide to the Best Waves
The go-to resource for planning your surf camps. Find all you need to know about the top destinations and take your surfing to new heights.
Discover Surf Camps now
To call Australia a surfing mecca is already somewhat of a cliché. Surfing is deeply rooted in Australian culture, and the country is home to some of the world's best surfers and waves.
Australia is exposed to a wide swell window, which means great consistency. There are all kinds of waves for all levels and tastes. Plus, you'll find numerous surf camps in Australia that will help you take your first steps on the surfboard, as well as offer guidance and assistance for the more challenging breaks.
But where do you go to find the best waves? Every surfer has heard of Byron Bay, Bondi Beach, and Bells Beach, but there are many more worth adding to your bucket list. Let's have a closer look at them:
Surfing in New South Wales
From Eden in the south to Byron Bay in the north, New South Wales is on top of every surfer's must-see list. Teeming with point, reef, and beach breaks, it is one of Australia's (and the world's) most popular surfing destinations.
New South Wales attracts a lot of swell throughout the year, but the most reliable conditions occur during the Australian winter, between May and August. The summer cyclone season can produce epic northeasterly swells that last up to seven days. The weather is great and the water is warm all year, between 19 to 25°C (66-77°F).
Let's have a look at some of the best surf spots in New South Wales, from south to north:
Aussie Pipe, aka Black Rock
Recommended for: Advanced surfers
On the south coast of New South Wales, in the Booderee National Park south of Jervis Bay, the Aussie Pipe goes by many names – Black Rock, South Coast Pipe, Wreck Bay, Summercloud Bay, or simply Pipeline.
This epic spot is one of the most hollow and most photogenic waves in Australia. To add to the thrill, the left-hander breaks over a shallow cunjevoi, and the bottom is infested with urchins. It is powerful and super hollow, short but intense, and is reserved for experienced surfers.
Best time to go: The best conditions can be found in winter, with southeasterly swells and a northeasterly wind, at mid tide. Black Rock is a very consistent break, which also works in summer, and it's often crowded.
Bondi Beach, Sydney
Recommended for: All levels
Only a 20-minute bus drive from Sidney's city center, Bondi is a regional classic and one of the most popular beaches in the world. There are numerous schools operating here, as well as board rentals, and many beginners choose this spot to learn to surf.
The southern end of the beach is where the serious surfers go to find more powerful right-handers. Beginners will have fun riding the sandbanks near the beach's middle and further north.
The crowds are out of control at Bondi, so you might want to avoid the weekends.
Just south of Bondi Beach, Tama Reef is a little less crowded. This very consistent and hollow left-hander is reserved for experienced surfers. Further south from Tamarama, Maroubra has some of the most consistent waves in the area. This beach break is recommended for advanced surfers and is less crowded during the week.
Best time to go: All year round, with a southerly or easterly swell on a low and mid tide.
Northern Beaches, Sydney
Recommended for: All levels
The 20-kilometer (12mi) stretch of coastline north of Sydney, between Manly and Palm Beach, is home to some of Australia's most iconic surf beaches. Getting to Sydney's Northern Beaches is easy by public transport. Luckily, the further north you go, the thinner the crowds get.
Manly is one of Australia's most famous surfing beaches. Extending for 1.3 km (0.8 mi), it is a great place to learn to surf, but also to take your skills to the next level. There are several breaks for all levels and numerous surf schools.
Freshwater Beach is a historical spot, the very place where Hawaiian surf legend Duke Kahanamoku gave a surf demonstration in 1915, thus introducing Australia to surfing.
Dee Why Point is a very technical and sucking right-hander, frequented by local hardcore surfers. This exposed point break is reserved for advanced riders.
North Narrabeen offers world-class waves and is one of Sydney's premier surfing destinations.
Long Reef Bombora is an offshore break for big wave surfers. Hollow and powerful, it can offer long rides between 150 to 300 m (500 to 1,000 ft).
The northernmost of Sydney's Northern Beaches, Palm Beach is home to a mellow beach break that offers something for all levels.
Best time to go: In winter, between April and September, with southerly or southeasterly groundswells. Most Northern Beaches also work well with northeasterly swells, which are generated by cyclones in February and March. Aim to surf with an incoming tide.
Angourie
Recommended for: All levels
In northern New South Wales, near Yamba, Angourie is a world-class wave and the home break of Aussie surf legend Nat Young. In 2007, the spot was declared a National Surfing Reserve, the second in Australia and the first in NSW.
There are two breaks here – The Point and The Left. Angourie Point is a world-class wave that is suitable for all surfers, considered the best right-hand point break in Australia. Angourie Left is reserved for advanced surfers.
Best time to go: All year round. Angourie Point works well with northerly and easterly swells on a low and mid tide. It can get crowded during weekends. Angourie Left is less crowded and also less consistent.
Byron Bay
Recommended for: All levels
Mainland Australia's easternmost tip, Byron Bay was once a sleepy fishing town that has now become a veritable coastal city dotted with holiday homes of the rich and famous. Despite the glitz, it remains one of the world's best surf towns.
There are seven surf beaches at Byron Bay. Climb up to Fisherman's Lookout for a bird's eye view of the entire bay; see the conditions and the crowd level, and have your pick.
The Pass is the northernmost break, and is considered the best in northern NSW. This classic right-peeling point break produces long waves, hollow, fast, and fun, recommended for experienced surfers.
The Wreck is a unique tidal break formed by the shipwrecked SS Wollongbar just off the Main Beach at Byron Bay. It works all year round and is recommended for more advanced surfers because of the treacherous rips and tides. Main Beach also has a shipwreck of its own and is suitable for all levels of surfers.
The beach break at Tallows is usually less crowded and is recommended for advanced surfers. Belongil is a quieter beach break that is good for beginners when the swell is not too big.
South of Byron Bay, Lennox Head is one of the most famous waves in Australia, a powerful right-hand point break with fast walls and long tubes for experienced surfers. Lennox Head was declared a National Surf Reserve in 2007 and is currently the third largest site in Australia for recreational surfing.
Best time to go: Between April and September, when the main winter swells hit the coast. Between December and April, cyclone swells from the Coral Sea can sometimes produce great conditions. Water temperatures stay around 21-26°C (70-79°F), so you can surf in boardshorts or a springsuit.
Surfing in Queensland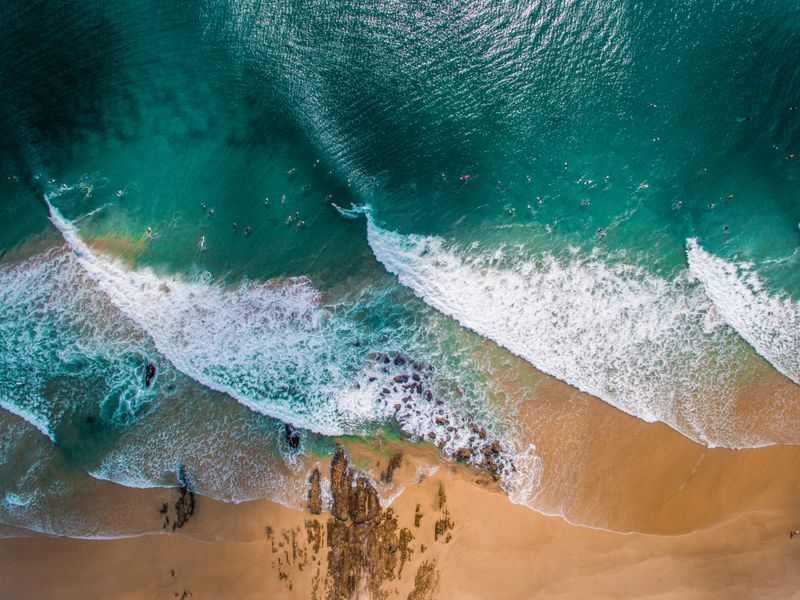 It's safe to say that Australia's Gold Coast is one big surfing destination in itself. The countless surf beaches on this stretch of coastline are teeming with surfers at almost any given time. Further north, the Sunshine Coast is the northernmost stretch of coast with reliable surf in Australia. It is also the home of the fabled Noosa Heads.
The best conditions can be found during the cyclone and storm season, in summer and early autumn, from December to mid-April. Winter attracts slightly smaller swells and offers good conditions for learning to surf. There's usually no surf between September and December.
Duranbah
Recommended for: All levels
Although technically in New South Wales (it is the northernmost surf spot in NSW), Duranbah is also the southernmost surf spot on the Gold Coast. Located on the north side of the Tweed River, D-bah is an exposed river break. The jetties help form powerful peaks and long-lasting tubes, which make it one of the most popular surf spots on the Gold Coast. Unfortunately, this also means that the crowds can get insane.
Best time to go: Duranbah is a very consistent break, and there's almost always a wave to be surfed here. The best conditions can be found in autumn, with southerly and southeasterly swells.
Snapper Rocks, Coolangatta
Recommended for: Intermediate to advanced surfers
At the southern tip of the Gold Coast, just outside the beach town of Coolangatta and only a 10-minute drive from the Gold Coast Airport, Snapper Rocks is the famous starting point for the world-renowned Superbank.
The Superbank is a man-made surf break and one of the longest points in the world, consisting of multiple barrels. When the conditions are just right, you can take off at Snapper Rocks and ride through Rainbow Bay and Greenmount Point all the way to Kirra, summing up 1.97 km (1.22 mi). Tasman Sea and Coral Sea swells fuel the sand-bottomed breaks that, when connected, form the Superbank.
Snapper Rocks hosts international surfing events, like the annual Quicksilver Pro Gold Coast and Roxy Pro Gold Coast. It's no wonder that surfing superstars Mick Fanning, Stephanie Gilmore, and Joel Parkinson call this break their home.
Best time to go: The Superbank puts on its best performance between February and May, with an easterly swell and a southwesterly or southerly wind, and works best on a low tide. The Superbank doesn't always work. Therefore, when the conditions are favorable, expect some heavy crowds. The line-up at the Superbank is often described as a "human soup."
Burleigh Heads
Recommended for: All levels
Located between Coolangatta and Surfer's Paradise, Burleigh Heads is renowned worldwide as having "one of the most beautiful and mystical point breaks."
It is one of Australia's best surf breaks, offering incredible barrels breaking over sand. When the conditions are right, Burleigh Heads offers a little something for beginners too. Furthermore, when the rest of the Gold Coast closes out, Burleigh Heads will still be working.
The break has several sections, and the most famous is The Point, located at the southern end of the beach, which produces long spinning tubes that are simply out of this world.
Best time to go: Burleigh Heads is more reliable between February and May, and works best with a southeasterly swell and a southerly offshore wind on a mid to low tide.
Noosa Heads
Recommended for: Beginners and longboarders, but all surfers can have fun here
Located on the Sunshine Coast, north of Brisbane, Noosa is a beginner's paradise.
The main point break here, aptly named First Point, is one of the most sought-after longboard waves in the world. With a small swell, it is an excellent wave for learning to surf or for longboarding. The waves are never too harsh even when it's big, but they are a lot of fun.
Noosa is great for more experienced surfers too, who are looking to develop their techniques or simply have a relaxing time on the waves. On a good day, you can score rides of 200 m (650 ft).
A 30-minute walk from Noosa Heads Main Beach, Tea Tree Bay and Granite Bay welcome surfers of all levels, with steeper and more hollow waves.
Best time to go: Prime time to go surfing at Noosa is summertime, between December and April, when cyclone swells produced off northeast Queensland hit the coast. Noosa is not as consistent as other surf spots in the country. Therefore, when it does work, it gets seriously crowded.
Surfing in Victoria
On Australia's south coast, the Great Ocean Road is one of the world's most scenic coastal drives, covering 400 km (249 mi) from Torquay to Nelson, passing by world-renowned landmarks and surf spots.
Victoria gets regular swells between April and October, and has numerous surf spots that can hold 6 m (20ft) and more. It also has the coolest weather in mainland Australia. The Southern Ocean is cold all year round, so you're going to need a wetsuit. Summer rarely sees water temps over 20°C (68°F). In winter, it can drop to 13°C (55°F).
Bells Beach, Torquay
Recommended for: Advanced surfers
The spiritual and historical home of surfing in Australia, Bells Beach is a surfing pilgrimage site in its own right, and the proud host Australia's oldest and most prestigious surfing event, the Rip Curl Pro Surf and Music Festival, which has been held each year since 1962.
Located just outside Torquay, about 100 km (62 mi) from Melbourne, against a backdrop of red clay cliffs, the powerful waves and shallow reefs that make up Bells Beach will make you gulp. Kids, you'd better leave this one for the experts and watch them go at it from the shore!
Powered by Southern Ocean swells, this classic right-hand point break contains three sections that can be connected for one long ride – starting at Rincon and progressing through Outside Bells to Bells Bowl. With a big swell, the waves are powerful, rising 5 m (27 ft) or more. When it's small, it is still fun and rippable.
Best time to go: All year round. Bells Beach is a very consistent break that works with any southeasterly and southwesterly swell and a northwesterly wind. You can find good surfing conditions all year round, but April through September is when storm activity is strongest. Rincon works best with a high tide, and Bells Bowl works best with a low tide.
Winkipop
Recommended for: Advanced surfers
Only a few hundred meters east of Bells Beach, Winkipop is widely acclaimed as the superior wave. It is said to be steeper and faster, longer and even more hollow. On its good days, it is often compared to South Africa's J-Bay. This right-hand reef break can handle some massive swells over its shallow reef.
Best time to go: Same conditions as Bells Beach.
For more information, check out our guide to the best surf spots in Victoria.
Surfing in Western Australia
Many of Australia's big wave surfing spots can be found in the west. With over 100 top-notch surf spots along the southwestern coast, it's no wonder that Western Australia ranks second after New South Wales when it comes to its surf.
The only drawback? Sharks. Many of them. The waters are teeming with Great Whites. If that scares you, then you might want to skip this one. But if you are able to put that behind you, then you're in for a treat.
Western Australia receives plenty of swell throughout the year but winter months, between May and August, are the most consistent. Water temps hover between 15-22°C (59-72°F).
Margaret River
Photo credit: margaretriver.com
Recommended for: All levels
A three-hour drive south of Perth, Margaret River is famous for its vineyards, its bushwalks, whale-watching spots, and its surfing scene. There are over 75 surf spots on the 130 km (80 mi) stretch of coastline, from classic peelers to powerful and dangerous waves. There are a few beginner waves here too, but the area is mostly frequented by experienced surfers.
There are two famous spots just outside Margaret River. Next to Prevelly Park, Surfer's Point is home to Margaret River's most famous left and Western Australia's most iconic wave – Mainbreak.
Mainbreak is a swell magnet, one of the most consistent waves in Australia, shooting 6-meter (20-foot) waves that break over a treacherous offshore reef. Not for the faint of heart, for sure. Getting caught inside is no fun. In fact, this is one of the few places in Australia where surfers wear helmets and no one makes fun of them.
Across the bay from Surfer's Point, The Box is an extremely heavy right-hander, with a very fast take-off over a shallow reef, reserved for the clinically insane.
North of Margaret River, Yallingup is a good option for all levels of surfers. The reef break is located just outside the small resort village, and is considered the best all-around surfing destination on the western coast. On a good day, you might even get the chance to surf with dolphins.
Best time to go: Margaret River needs westerly swells to work. The best conditions can be found between September and April, when spring and summer westerly swells fuel the breaks.
For more information, check out our guide to the best surf spots in Western Australia.