The Best Surf Spots in Western Australia
The go-to resource for planning your surf camps. Find all you need to know about the top destinations and take your surfing to new heights.
Discover Surf Camps now
Besides kangaroos and koalas, surfing is also one of the first things that come to mind when thinking about Australia.
The sport was introduced in the country by Hawaiian surf legend Duke Kahanamoku in 1915. Today, the Land Down Under is widely recognized as one of the greatest surfing destinations in the world, home to successful pro surfers like Mick Fanning, Stephanie Gilmore, Taj Burrow, and many others.
Follow in the footsteps of your favorite surfers. Join a surf camp in Australia and learn to ride the waves like a pro!
Surfing is pretty much a national sport in Australia. There are numerous renowned breaks in the country, but among them, the west coast offers plenty of opportunities for both beginners and expert surfers. Let's take a look at the unmissable surf spots in Western Australia:
Traveling to Australia in 2022
Australia will reopen to all fully-vaccinated visa holders on February 21, 2022.
Travelers need to comply with the quarantine and post-arrival testing requirements in the state or territory they plan to travel to.
A negative COVID-19 test result is required for traveling or transiting through Australia. You must provide evidence of a negative COVID-19 PCR or other Nucleic Acid Amplification Test (NAAT) test taken within 3 days before the departure of your flight, or a negative Rapid Antigen Test taken under medical supervision within 24 hours before the departure of your flight, to the airline when you check-in.
Non-fully-vaccinated visa holders will require a valid travel exemption to enter Australia and will be subject to state and territory quarantine requirements.
All passengers arriving by air into Australia must complete the Australia Travel Declaration (ATD) at least 72 hours before departure.
»Read more from official sources.
Margaret River
Best for: Intermediate and advanced surfers
One of the most visited tourist destinations in Western Australia is Margaret River. Even though this place is mainly popular for its vineyards, it's also a world-class surfing venue. South of Perth, close to the southwestern tip of Australia, the town of Margaret River is home to famous surf spots like The Box, Rivadog, and Mainbreak. The area has 75 surfing breaks spread across the 130 km (80 miles) of coastline.
Those of you looking for a more challenging surf spot can check out Surfer's Point just outside Prevelly, which is not for the faint of heart. Contos Spring is located south of Prevelly and is a protected national park. Thanks to its smooth granite headland, it's a great place to surf and also be protected from the wind if you're sitting on the beach. The waves are also very friendly, so it's definitely a place worth checking out.
The biggest waves in Australia can be found at Cow Bombie, about 2km (1.2mi) offshore.
Just north of Margaret River and a three-hour drive south of Perth, Yallingup is considered the best all-around surfing destination in Western Australia, with waves for all levels and tastes. This is the hometown of pro surfer Taj Burrow, and offers a wide array of powerful breaks that are just perfect for improving your surfing.
Margaret River is mostly recommended for experienced surfers, as most of the reef breaks here are quite challenging. The waves are powerful and tricky, with many of them breaking over shallow reef.
Rottnest Island
Best for: All levels
Rottnest Island is located about 20 km (12mi) offshore from Perth, in the Indian Ocean. It can be reached via a half-an-hour ferry drive from Perth or Fremantle.
The whole area is only 19 sq km (12 sq mi), but even this small, it's full of amazing beaches that you simply have to check out. This is where locals head out to enjoy some relaxing beach time and uncrowded surf, as well as fish and swim.
Those looking for a secluded surf spot can choose one of the 20 bays on Rottnest Island. If you really want something magical, you should check out Rotto Box, a world-class wave recommended for experienced surfers. Apart from this, the island is home to Strickland Bay, Salmon Bay, and Stark Bay, which draw surfers from far and wide.
In between the sessions, you can opt to go on guided tours and learn more about the fascinating history and wildlife of this car-free island. The quokkas, the cute marsupials living on the island, will surely bring a smile to your face even after you've fallen for the 100th time off your surfboard.
Thanks to its colorful coral reefs that are all so easy to see through the crystal clear water, as well as the many shipwrecks, Rottnest Island promises a unique and serene surfing experience.
Cottesloe
Best for: Beginners and intermediate surfers
Cottesloe Beach, more famously known as Cott, is just outside Perth and can be reached by car, bus or train. This is one of the most popular touristic beaches near the city, famous for its clear waters and white sandy beaches.
Despite being a bit crowded, Cott is quite popular among wave riders too, especially those who are just learning to surf. Similar to other surfing spots in Australia, you can join a surf camp or take lessons at this surf spot.
Trigg Beach
Best for: All levels
Also in the city of Perth, north of Cottlesoe, Trigg Beach has more consistent waves and is, therefore, often crowded with surfers trying to catch as many waves as possible. If you're lucky, you might even see some dolphins splashing around while you paddle to the lineup. There are two surf breaks here, and they are suitable for all levels.
Surf lifesavers will make sure that everyone is safe and enjoy their time on the beach and in the water. Trigg Beach is also the usual training spot for surfers and future lifeguards.
Besides surfing, Trigg is also a popular bird watching destination, as it is home to silver gulls and fairy terns.
Geraldton Region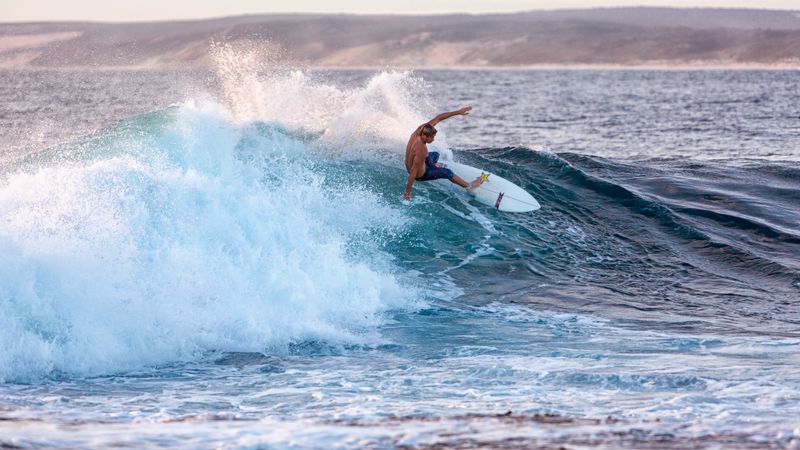 Photo credit: Grant Matthews via Flickr
The windsurfing capital of Australia, the Geraldton Region is also extremely popular with surfers. A five-hour drive north of Perth,
The best place to check out is Jake's Point in the Kalbarri National Park. This world-class point break is set against rock formations that are millions of years old, and is recommended for experienced surfers.
Other great surf spots around Geraldton are The Bluff and Wilson Inlet.
Ningaloo Reef
Best for: All levels
UNESCO World Heritage listed Ningaloo Reef is the world's largest fringing reef, 280km (125mi) long, and one of the world's last great ocean paradises. It is also one of Western Australia's best-kept surfing secrets.
Ningaloo is home to numerous species of fish, turtles, dugongs, whales, dolphins, and sharks frequent this reef. This includes the world's largest shark – the whale shark. Therefore, be prepared to share these waters with the "local population" and some very dangerous species. After all, Western Australia has a reputation for having the most shark-infested waters in the world.
On the Coral Coast, a 12-hour drive north of Perth, Gnaraloo stretches along 57km (35mi) of coastline and is home to the world's third largest population of loggerhead turtles. It is located on the southern tip of the Ningaloo Reef and is home to a number of exposed reef breaks that put on their best performance in winter. The waves are suitable for more experienced surfers, and many travel across the world to take a stab at the famous Tombstones, the epicenter of surfing at Gnaraloo.
Further north and closer to Exmouth, the surf breaks along the Ningaloo Reef cater to all levels. The most popular spot in the north is Dunes, also known as Surfer's Beach, located 17km (10mi) south of Exmouth. This reef break is relatively safe and easy to access. Also here, The Bommie is reserved for advanced surfers, while Wobiri Access Beach is suitable for beginners too.
---
Ready to take your surfing skills to the next level? Go on an intermediate surf camp in Australia and ride with the best!