The Best Surf Spots in Victoria, Australia
The go-to resource for planning your surf camps. Find all you need to know about the top destinations and take your surfing to new heights.
Discover Surf Camps now
Australia is a magnet for surfers, and Victoria makes no exception. The seductive beaches and powerful waves close to Vic's vibrant capital of Melbourne are a gold mine for adrenaline junkies.
On the southeast coast of Australia, Victoria has 2,512 km (1,560 mi) of lush coastline dotted with stunning beaches, natural landmarks, and firing right-hand point breaks.
Thanks to its sheltered location, in Port Phillip Bay, Melbourne a stand-up paddling hotspot. But if you travel west or east of the state's capital, you'll get to score some hollow and powerful waves, all within a short drive away from one another. It is precisely this high concentration of world-class waves that place Victoria on top of the list for surfing in Australia.
Not sure where to start? Follow me as I show you where to begin your surfing adventure in Vic.
Traveling to Australia in 2022
Australia will reopen to all fully-vaccinated visa holders on February 21, 2022.
Travelers need to comply with the quarantine and post-arrival testing requirements in the state or territory they plan to travel to.
A negative COVID-19 test result is required for traveling or transiting through Australia. You must provide evidence of a negative COVID-19 PCR or other Nucleic Acid Amplification Test (NAAT) test taken within 3 days before the departure of your flight, or a negative Rapid Antigen Test taken under medical supervision within 24 hours before the departure of your flight, to the airline when you check-in.
Non-fully-vaccinated visa holders will require a valid travel exemption to enter Australia and will be subject to state and territory quarantine requirements.
All passengers arriving by air into Australia must complete the Australia Travel Declaration (ATD) at least 72 hours before departure.
»Read more from official sources.
Surf spots on the Great Ocean Road
A 340km (210mi) scenic road west of Melbourne takes travelers along Australia's stunning southeast coast, between the cities of Torquay and Allansford in Victoria. The Great Ocean Road passes by numerous natural attractions, the most famous of which being the Twelve Apostles rock formation, as well as some of the country's best surf spots.
Torquay
The birthplace of iconic surfing brands Quicksilver and Rip Curl, Torquay is a coastal town 100km (62mi) west of Melbourne, located at the northern end of the scenic Great Ocean Road. Torquay is considered the surfing capital of Australia and offers reef and beach breaks suitable for advanced surfers as well as beginners.
Bells Beach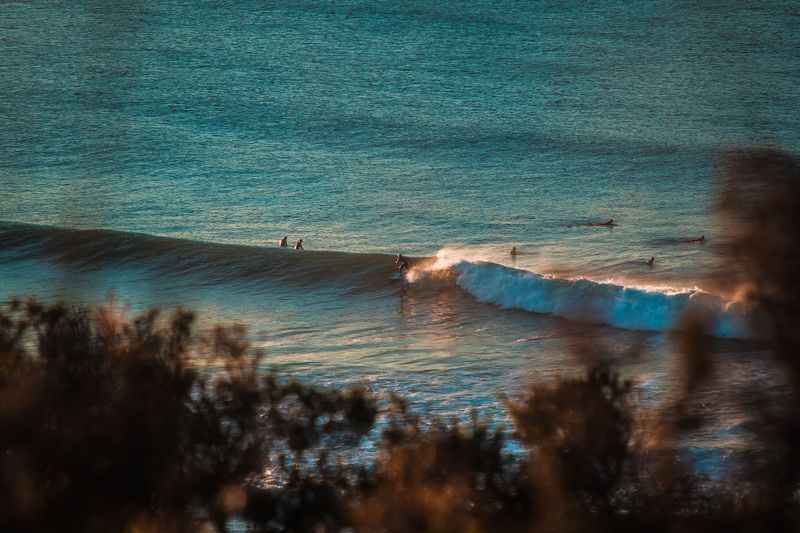 For those of you with a penchant for adrenaline, Bells Beach is the place to start your surf trip in Victoria. This is the venue of the annual the Rip Curl Pro Surfing Competition, a sought-after title in the World Championship Tour (WCT) and the oldest surfing contest in Australia.
There are two world-famous breaks at Bells Beach: The Bowl and Rincon. These two right-handers put on their best performance during autumn and winter months, and work best with a south swell and northwesterly winds.
Winkipop
Photo credit: cafuego
Just south of Bells Beach lies another one of Australia's surfing gems – Winkipop. Many claim the surf here is actually superior to its big brother, Bells Beach. What is sure is that Winkipop is one of the best right-hand waves in the world. This gnarly reef break with a rocky bottom is for experienced surfers only.
Jan Juc
Photo credit: Alex Proimos
An A-frame beach break that's suitable for all surfers, Jan Juc is the place to go when other spots along the Great Ocean Road are not performing. This small coastal town near Torquay offers consistent surf almost all year and for all levels.
Fairhaven
Photo credit: Ant Le Breton
This 6km (4mi) stretch of sand is the longest beach on the Great Ocean Road. Fairhaven Beach is home to a very consistent A-frame beach break that produces waves averaging around 1.5m (5ft). However, with a big swell, Fairhaven is not for the faint-hearted and should be left to the more experienced surfers.
Plan the trip of a lifetime with the help of our guide to the best surf spots in Australia.
Lorne Point
Near the sleepy village of Anglesea, Lorne is a less touristy surf spot that's excellent for the whole family, as it offers top-notch swimming and snorkeling too. The right-hand point break here is great for beginners and advanced surfers alike.
Other famous breaks nearby are Cathedral Rock, Vera Lynn and Cumberland River. Also here, Point Grey is recommended for windsurfing.
Johanna Beach
Photo credit: Stephen Barber
Most surfers will agree that Victoria's best surfing beaches can be found in the wilderness of the Great Ocean Road. On Victoria's Far West Coast lies a sensational surfing spot with plenty of campsites on the beach that allow surfers to hit the waves as they exit their tent door.
Beyond Lorne, near Cape Otway, Johanna Beach lies 35km (22mi) west of Apollo Bay. The world-class left and right-hand reef and point breaks here offer plenty of barrels and peaks, and the waves can get as high as 5m (16ft).
Gibson Steps
Next to the Twelve Apostles, the Gibson Steps provide access to a beach enclosed by sheer limestone cliffs, considered the most beautiful surf location in Victoria. This rarely crowded surf spot offers both right and left-hand breaks against a truly spectacular backdrop.
At Gibson Steps, you can score some long rides of up to 300m (1,000ft), and the best conditions can be found with northerly or northeasterly. A favorite among the local surfers, Gibson Steps has no lifeguards patrolling the area. Therefore, the spot is recommended for experienced surfers.
Blacknose Point, Portland
The cliffs surrounding the beach at Blacknose Point tend to intimidate swimmers and scuba divers. This can only mean one thing – surfers will have these waves all to themselves. There is a beach break here that works best with a low tide, but Blacknose Point is most famous for its long right-hand reef break. To the south end of the beach, another spectacular right-hand point break awaits surfers, called Rifle Range.
Surf spots on the Mornington Peninsula
When it comes to surfing in Victoria, the Great Ocean Road draws most of the attention. But traveling surfers should give the southeast of Melbourne a try and explore the spectacular beaches that the Mornington Peninsula has to offer. There are plenty of beginner-friendly spots here, but also some fierce waves. You can also go paddle boarding on the gentle waters of Port Phillip Bay.
Portsea
Part of the Mornington Peninsula National Park, Portsea is a popular ocean beach that can get pretty crowded thanks to its consistent swell and quality beach breaks. The waves here can be treacherous during big swells and strong offshore winds.
Point Leo
Photo credit: John Carney
A wide beach with gentle swells, Point Leo is the place to go if you're a beginner surfer. It offers good shelter from big swells and offshore winds during winter months, but it can still get some nice 3 to 4 meters (10-13 feet) tall left-hand waves. During summer, waves here can be quite small.
Phillip Island
Considered one of Australia's most consistent and varied surfing destinations, Phillip Island National Surfing Reserve receives quality waves all year round. Phillip Island is renowned for its penguin parade by the sea, and also for its world-class surf spots here that you absolutely need to check out:
Cape Woolamai
Smiths Beach
Summerland (more accessible to beginner surfers, with wide beach breaks)
Cat Bay
---
Are you planning on heading to the Land Down Under for some fun in the sun? Join a surf camp for beginners in Australia and throw in some wave riding to the mix!