5 Reasons Why Peniche is Summer 2019's Top Surfing Destination
The go-to resource for planning your surf camps. Find all you need to know about the top destinations and take your surfing to new heights.
Discover Surf Camps now
For surfers, Portugal has always been known as the 'Brazil of Europe', thanks to the Atlantic Ocean and the strong tides that create provoking waves.
One good reason why surfing in Portugal should be on your bucket list is the monstrous 100 ft (30.5 m) wave created by the St Jude storm, near the fishing village Nazaré. It was the biggest wave ever surfed in history! Furthermore, the MEO Rip Curl Pro Portugal surfing competition takes place here. The many surf camps in Peniche welcome passionate wave riders from all over the world each October, who gather here to see the best surfers in the world defending their fame.
In this post, we share with you all the reasons why Peniche in Portugal is the best destination for your 2019 summer surf holiday.
1. Challenging waves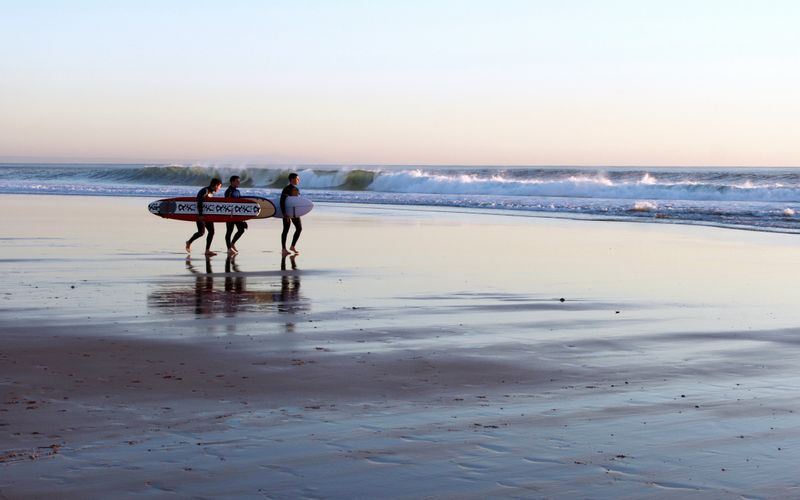 Tides, winds and an open location are the ingredients behind the best-surfing destinations in the world. And in Portugal, you can find high waves every day! So let's take a look at Peniche, the famous surfing and fishing village in Portugal.
There are lots and lots of surfing spots within walking distance or only 5 minutes away by a surf van. From the Supertubos, reserved for experienced surfers, to the whitewater for beginners, there' s something for all levels of surfers on the Peniche coastline.
You probably heard about the great Supertubos, a world famous spot for its magnificent barrels or the so-called 'supertubes'. With waves rising up to 4 meters (13 ft), they create an amazing sea-roof above you. There is a story about boca do dragao (dragon's mouth), saying that there is a dragon hidden in Supertubos' close-out waves.
Supertubos is the venue of a world-famous surfing competition that is part of the ASP tour – the MEO Rip Curl Pro Portugal.
A few steps away there is a perfect surf spot for beginner surfers – Molho Leste has white small waves where everyone can ride a wave for the first time. Remember, surfing is like the mafia – once you are in, there is no getting out!
Find out more about the best waves in the country. Read our guide to the top surf spots in Portugal.
2. Uncrowded waves
Another reason why Peniche is a great surf destination is its uncrowded beaches. There aren't as many people as there are in France's surfing spots or other European coastlines. If you're looking for a perfect retreat, you should look for a low season program in Peniche. You can relax and feel the spirit of an endless ocean, the cold breeze in the evening and white sand between your toes.
It will be a perfect retreat, but you'll also be close to the full tourist cities such as Lisbon; the capital of Portugal is only 1 hour away from Peniche. There you can enjoy cultural sites, shopping quarters, lively spirit of the town and Portuguese fado music during eating a dinner.
3. The Portuguese and surfers are very similar
Surfers are very easy going. They can lay on the beach for the whole day and wait for the perfect wave. The Portuguese act similarly. They can sit all day in a fishing chair and wait for a fish to bite. Everyone can quickly adapt to the Portuguese way of life (especially surfers) and become quite a chill person. But the best thing is that, in Portugal, there is nothing wrong with it!
Everyone understands if you are late to work if you do not work on the weekend, if you drop everything and relax, etc. That is why if you know someone who moved there for a longer period, you probably noticed that they started to become more carefree. Well, that is how a surfing holiday should be, right?
4. Beach bars and nightclubs
Another thing that makes Peniche a heaven for surfers is the beach bars. Here, there are three main beach bars that are open all day, where you can enjoy plenty of refreshing cocktails while listening to relaxing lounge music.
After sunset, these beach bars become exciting nightclubs where all the young surfers from Peniche's surf camps come to hang out and dance all through the night.
5. Other adventure-packed activities
Every day can be full of laughter, adrenaline, and fun. Peniche wouldn't have been Portugal's most famous surfing destination if not for the skate parks. Surfers can learn new fun tricks that they can also use on the waves. You know, boards go hand in hand with each other.
Surfers also tend to go crazy about go-karting. Aside from the endless fun-filled and relaxing activities such as beach volleyball, yoga retreats in Peniche, body painting, massage, and the abundance of exciting watersports, you can also explore the beautiful landscapes surrounding Peniche.
We highly recommend a city tour of Lisbon, visiting the Semente surf factory in Ericeira where you can see how surfboards are made, the Buddha park filled with large sculptures of Buddha, Hindu and Chinese gods, deities and soldiers, as well as discover charming towns such as Sintra, Cabo da Roca, Cascais, and Obidos.
---
It's time to plan your summer vacation, so make sure you add Peniche to your bucket list. Join an exciting surf camp in Portugal and discover the best waves in the country!