Surfing in Portugal: Your Guide to the Best Waves
The go-to resource for planning your surf camps. Find all you need to know about the top destinations and take your surfing to new heights.
Discover Surf Camps now
Doesn't matter if you are a seasoned surfer or you're just starting out; Portugal is one of the most surfer-friendly countries out there.
With the warmest weather in Europe and some of the cleanest beaches in the world, Portugal's coastline is dotted with open beach breaks, concealed beaches, and some of the best surf spots in the world. It is also the proud home of the biggest wave ever surfed.
While most people will tell you that autumn and winter are the best seasons to be hitting the waves, Portugal is, in fact, a year-round surfing destination. And for beginners, there's no better time to go than summer months.
Whether you're a beginner or an experienced surfer, you'll find a wave for you. Check out these surf camps in Portugal and plan your next adventure!
The most popular surf spots can be found on the central and southern coasts. However, the north does receive its fair share of rad swells, too. There are many waves worth checking out when in Portugal. From gnarly waves to super mellow breaks, here are the best of the best.
Traveling to Portugal in 2021
Passengers from the European Union and EU/EEA member states, as well as the United Kingdom, USA, Canada, China, Australia, Bosnia and Herzegovina, Brazil, South Korea, Jordan, New Zealand, Qatar, Republic of Moldova, Saudi Arabia, Singapore, Taiwan, Ukraine, and special administrative regions of Hong Kong and Macao are allowed to enter Portugal.
All passengers must present a COVID-19 (RT-PCR) test carried out within 72 hours before boarding, a Rapid Antigen Test taken 48h before boarding, a valid EU Digital COVID certificate, or a valid vaccination or recovery certificate.
Flights from India, Nepal, and South Africa are only allowed for essential travel, and travelers coming from these countries must also quarantine for 14 days upon arrival.
An electronic Passenger Locator Card must be presented upon boarding (except if you are flying into Madeira or the Azores). Passengers flying into the Azores must complete a Questionnaire for Risk Assessment and Early Detection before boarding. Those flying into Madeira should register their travel here.
Some of the most consistent, biggest, and strongest waves in Europe are found on the central coast of Portugal. As in most of the country, the peak surfing lasts from autumn through spring, but most breaks can be surfed during summer, too, when they are mellower and more suitable for beginners and progressing intermediate surfers.
Find out all you need to know to plan the perfect Portugal surf trip.
Buarcos, Figueira da Foz
Recommended for: All levels
Located close to Figueira da Foz, Buarcos is a small fishing village that is home to one of Europe's widest beaches, where three carving waves can be found. There's the hollow right-hander Tamagueira. Then there's Mina, a fun reef break that breaks on bigger days. And Teimoso, one of the longest waves in Portugal, offering rides of several hundred meters (1,000 feet or more) at any tide.
Cabedelo, Figueira da Foz
Recommended for: All levels
To the south of the town of Figueira da Foz lies a long jetty that produces some fast and hollow waves, the host of several World Championship Tours (WCT). It is a very consistent spot that can offer rides of up to 300 meters (1,000 feet).
Praia do Norte, Nazaré
Recommended for: Advanced surfers
Come each autumn and Nazaré is the name on every big wave surfer's lips. To say that this one is not for the faint-hearted is an understatement. Even the best pro surfers out there think twice before attempting to ride this behemoth. There's no room for mistakes.
Nazaré is the biggest surfable wave in the world. Local surfers started trying tow-in surfing at Nazaré back in 2005, but it wasn't until 2011 that it finally got the recognition it deserves when Hawaiian pro surfer Garret McNamara rode a 23.8-meter (78-foot) wave that sent him straight into the Guinness Book of World Records. Since then, many other surfers have tried to break the record, including McNamara himself.
In 2013, Brazilian Carlos Burlé admittedly surfed a 30.5-meter (100-foot) wave here just after having rescued his co-national, pro surfer Maya Gabeira, who was knocked out cold and nearly drowned in an attempt to ride the biggest wave ever surfed by a woman. French surfer Benjamin Sanchez claims to have surfed a 33-meter (108-foot) wave at Nazaré, and English big-wave surfer Andrew Cotton also rode it when it was at its biggest. But there's still no confirmation that any of them managed to break the record.
Only the best of the best can tackle this one. And yet, Nazaré gets crowded. When it's firing, the coast is filled with spectators and the water with jet-skis. A trip to Nazaré is a surfing pilgrimage you must take at least once in your lifetime, regardless of your surfing level.
Surfing in Peniche
Peniche is a resonant name in the surfing world and Portugal's most visited surfing destination. Known as the 'sardine capital of the world,' the Peniche Peninsula is a surfer's paradise, with its coasts facing both north and south. There's always a spot to surf, regardless of the time of year. And, "It's always offshore!"
Go on a surf camp in Peniche!
Supertubos
Recommended for: Advanced surfers
Photo credit: Bengt Nyman
The name says it all! Right in the town of Peniche, Supertubos is an epic beach break and the most photographed wave in the country. This is Portugal's very own Pipeline, only without the reef.
Before Nazaré took the big wave surfing world by storm, Supertubos was the crowned king of surfing in Portugal. Truth be told, it still is. Part of the Peniche Peninsula, it faces almost every wind and swell direction. This can only mean one thing – great consistency and surfing conditions almost any day of the year. It starts to fire up October and is restless up until spring. You can find good days during summer too.
Supertubos hosts the annual Rip Curl Pro in October, one of the last events on the World Tour. Its fast tubular waves can get up to 6 meters (20 feet) tall and break over a shallow sandbank.
Baleal
Recommended for: Beginners and intermediate surfers
Photo credit: Michael Holler
Just north of Peniche, Baleal is a fun beginner beach break with a sandy bottom. This is a favorite spot for surf schools, and works best in autumn and spring.
Find out all you need to know to plan your surf trip to Peniche.
Surfing in Ericeira
In 2011, Ericeira was officially declared a World Surf Reserve, the only one in Europe to this day. The reserve extends for 8 kilometers (5 miles) and is home to several world-class waves that, together with the environment and culture around them, will be protected so that future generations can enjoy them too.
Join a surf camp in Ericeira!
Often compared to the likes of Baja California in Mexico or the Gold Coast in Australia, Ericeira is home to some of the best waves in the country and to the biggest and strongest surfing community in Portugal. Here are the surf spots you cannot miss:
São Lourenço
Recommended for: Intermediate and advanced surfers
This spectacular sandy beach offers multiple peaks, but the most appealing one is a consistent right-hand point/reef break. When it gets big, it becomes a seriously heavy wave and one of Portugal's best.
Coxos
Recommended for: Advanced surfers
Photo credit: surfeuropemag.com
Many consider this one to be the best wave in Portugal. Long, fast, and furious, this right-hand point break is located just north of Ericeira, in the town of Ribamar, and works best on low tide. It can hold waves of up to 3 meters (10 ft) that break over flat rocks. A word of advice: the surf is much powerful than it looks and this exposed break is unforgiving. Know your limits and don't venture in unless you know you can handle it!
It is also an uncrowded spot, thanks to its tricky access. The path down the rocks is steep and the entrance in the water is dotted with sea urchins. Therefore, it's recommended to ask a local to show you the spot when first getting here.
Find out all you need to know about budgeting and planning your surf trip to Ericeira.
Crazy Left
Recommended for: Advanced surfers
Photo credit: ericeiramag.pt
One of the few lefts in the Ericeira region is located to the south of the Bay of Coxos. Crazy Left is a fast and hollow wave that breaks over a rocky bed. When the conditions are right, it offers some nice tubes.
Cave
Recommended for: Advanced surfers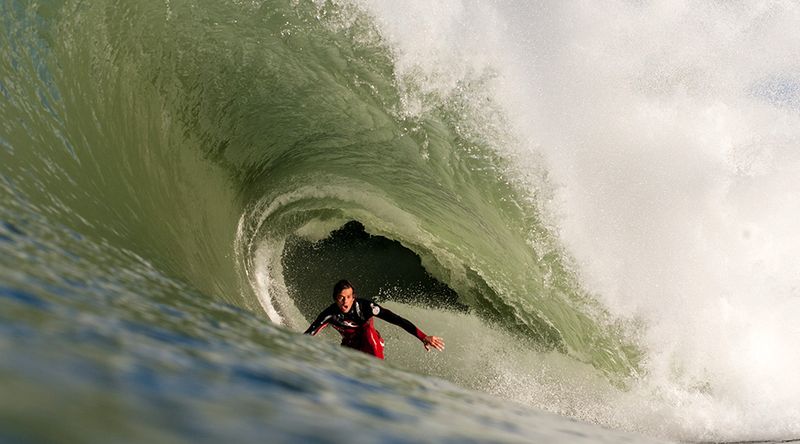 Photo credit: surfline.com
The heaviest wave in Portugal, perhaps even in Europe, Cave is an ultra-shallow wave that breaks over a treacherous reef bottom. This fast, hollow, and powerful right-hander is also one of the most difficult waves to ride in the country; its hollow spitting barrels are renowned worldwide. John John Florence was injured here in 2012, so you get the picture.
Ribeira D'Ilhas
Recommended for: Intermediate and advanced surfers
One of the most popular surf beaches in Portugal, Ribeira D'Ilhas has been the host of many championships, including the ASP World Qualifying series. It's considered one of the best rights in Europe, and it's incredibly consistent, breaking almost all year round.
Ribeira D'Ilhas can offer some long rides of up to 300 meters (1,000 feet) and can hold waves of up to 3.5 meters (11.5 feet). Please take note that it can become dangerous at low tide, as there's a risk of hitting the rocks beneath.
Pedra Branca
Recommended for: Advanced surfers
Photo credit: portugalsurfcamp.com
Pedra Branca is a fun and fast left-hand reef break with some hollow sections. It breaks over a reef, and it is not recommended at low tide. The beach at Pedra Branca is also the site of two popular reef breaks that are reserved for only the most experienced of surfers: Backdoor and Reef.
Between Pedra Blanca and Reef, Backdoor is a right-hand reef break that throws some nice barrels. This shallow break is not recommended at low tide.
Powerful and fast, Reef is a right-hander that produces magical tubes but can also end with wounds. It breaks over a shallow reef, which is why it is best surfed at medium tide. Despite the element of danger, it can get quite crowded on its good days.
Matadouro
Recommended for: All levels
Photo credit: stillgotstoke.com
Located within a short distance from Ericeira Camping, just north of the city, Matadouro is a consistent reef break. At low tide, it is a perfect beginner wave. There are several peaks at the beach, both lefts and rights. When it's windy, it becomes one of the few spots in Ericeira that is suitable for kitesurfing and windsurfing.
Foz do Lizandro
Recommended for: All levels
Photo credit: Web Summit
Perhaps the best beginner surf spot in Ericeira, this rivermouth beach break has the potential to become the best beach break in Portugal when the sandbars are settled.
Most of the time, this is a forgiving beach break that is just perfect for beginner and intermediate surfers. However, on big days, it can throw some awesome tubes and multiples peaks, both lefts and rights.
Europe's very own San Francisco, Lisbon is located in the immediate vicinity of a large number of beaches that offer surfing waves for every level.
Guincho, Cascais
Recommended for: All levels
Praia do Guincho is the best beginner surf spot in Cascais. Considered one of the most beautiful beaches in the Lisbon area, it is a consistent beach break that is exposed to strong northerly winds, which is why it is also a popular windsurfing spot. It works best at mid to low tide.
Carcavelos
Recommended for: All levels
Locals refer to it as the birthplace of surfing in Portugal. Only 20 minutes from the center of Lisbon, Carcavelos is a 1.5-kilometer (0.9-mile) long beach with a few peaks. Beginners can find mellow spots and more experienced surfers will find challenging world-class barrels.
The beach can get crowded during summer when half of Lisbon can be found sunbathing here. There's also a huge local crew of surfers, so, it's probably not the best place to learn to surf. Located right on the border between Lisbon and Cascais, Carcavelos is a fun beach break that can produce some of the best barrels in Portugal and host national and international competitions.
Costa da Caparica
Recommended for: All levels
Costa da Caparica is the most popular surf spot near Lisbon. The waves are consistent, but easier to manage. Being so close to the capital, the beaches at Costa da Caparica can get crowded. If you want fewer crowds, your best bet is to choose the beaches that are farthest from public transport stops.
No surfing holiday in Portugal would be complete without at least a quick stop in the Algarve region. This is the warmest and sunniest coast in mainland Europe, with water temperature averaging at 22°C (72°F) in October.
The Algarve coast is exposed to a wide swell window, which translates into a long and reliable season. There's always a spot to surf here, never too far from the next. The Algarve is considered a year-round surfing destination. That being said, autumn through spring is the recommended time of year, as summers can get hot.
When in the Algarve, you have two options – the west or the south coast. The west coast gets more swell, which makes it a good choice on smaller days. It is also windy, so it's better to head out in the morning. On the other hand, the south coast receives less swell but is also more sheltered from the wind.
Praia da Arrifana, Aljezur
Recommended for: All levels
This sheltered spot is a favorite destination for beginner surfers in the Algarve. When everything else around is too big or stormy, this is the place to go. Located right in the middle of the Costa Vicentina National Park, the longest stretch of protected coast in Portugal, traditional whitewashed houses perched over massive cliffs lead to the golden sand beaches of Praia da Arrifana.
The first thing you'll see here is the beach break that is excellent for beginners. If you are up for a challenge, then you can head on over to the north end of the beach, where a world-class right-hand point break awaits, fast, heavy, and long with barreling sections.
Carrapateira
Recommended for: Advanced surfers
Photo credit: mrksphoto2007 via Flickr
A winding path takes surfers from the old fishing town of Carrapateira to a consistent rivermouth break that offers both left and right-hand waves, one of the less touristy surf spots in the Algarve. On its good days, it offers world-class conditions and long rides. On windy days, it is also a preferred kitesurfing destination.
Praia do Amado
Recommended for: All levels
Photo credit: Remon Rijper via Flickr
South of Carrapateira, close to Aljezur, Praia do Amado is sheltered from the wind and, therefore, quite popular for surf schools and for those who like to camp on the beach.
Beliche, Sagres
Recommended for: Advanced surfers
Sagres is the surfing epicenter of the Algarve, and Beliche is the place to be in Sagres. This fast and hollow A-frame beach break gets its fair share of visitors and is quite renowned for its mellow vibe. Beliche is also a popular bodyboarding spot.
Praia da Luz, Lagos
Recommended for: All levels
A beach break located in front of the old fishing village of Luz, close to Lagos. There are two point breaks here. The left is shallow and fast. The right, called Rocha Negra, is more manageable, but nevertheless powerful and hollow. The best conditions can be found during winter months.
Meia Praia, Lagos
Recommended for: Beginners
Some of the warmest water temperatures in Portugal can be found in Lagos, which offers several renowned surf spots that suit all levels. Right outside of town, Meia Praia is a fun beach break that is highly recommended for beginners. The best conditions can be found in autumn and spring.

Except for the local surfers who keep defying the cold winter temperatures for a taste of the restless Atlantic, not a lot of people travel to this part of the country for the surf. Why? It just doesn't get enough recognition in the media. Which is little ironic, considering that the very first European surf film was shot on the outskirts of Porto, in Leça da Palmeira, between 1926 and 1927.
Surfing in the Norte Region of Portugal starts with Moledo near the Spanish border and ends with Espinho to the south. It is only 70 miles (113 km) long, but you are bound to find plenty of surf spots along the way, most of them concentrated around the Porto region.
The water temperature is the coldest on Portugal's coast, going as high as 18°C (64°F) in summer and down to 12°C (53°F) in winter. Therefore, a thick 4/3mm or even 5/3mm wetsuit is mandatory during the colder months.
Viana do Castelo
Recommended for: All levels
Photo credit: Humberto Santos
This exposed river mouth break can work at any time of the year thanks to its consistency. Viana do Castelo offers both left and right-hand waves, and is known for its strong winds, which make it a popular windsurfing destination too.
Leça da Palmeira
Recommended for: All levels
Photo credit: Humberto Santos
Perhaps the most important surf spot on the northern coast of the country, Leça is a beach break that is exposed to the Atlantic's full-force swells. The waves can be very powerful and heavy, but that does not discourage local surfers. This A-frame break is a favorite in the Porto region.
Matosinhos
Recommended for: All levels
The surfing epicenter of Porto is Matosinhos, a sandbar that promises over 300 days of surfing per year. This is perhaps the best place to learn to surf in the Norte Region, with numerous surf schools and waves to choose from.
Maceda
Image credit: Maceda Surf Camp
"All North Portuguese surfers know Maceda. Despite being the most popular summer destination for surfers and beachgoers, it is hardly ever mentioned in surf guides. So, you can consider it North Portugal's best-kept surf secret.
Stretching for 8km (5mi) between the fishing villages Cortegaça and Furadouro, Maceda National Reserve is a protected pine forest that's home to beautiful pristine beaches. A bike path for skating, cycling, and running runs through the entire reserve. It is the perfect surf destination for nature lovers!
With such a long uninterrupted coastline, the beach break at Maceda picks up even the smallest summer swell. Maceda is also only a short ride from the truly authentic fishing villages Esmoriz and Paramos, with shops, restaurants, and beach bars." (Maceda Surf Camp, Maceda, Portugal)
Espinho
Recommended for: All levels
A barreling machine offering some of the best tubes in Portugal, Espinho is the most famous surf spot in the Norte Region. It can hold waves over 3 meters (10 feet) tall. It can get crowded too.
Final notes
If you're planning on going surfing in Portugal soon, here's a quick recap of the best surf spots that you should add to your itinerary:
*Cover photo credit: Bengt Nyman
---
If I managed to convince you that this warm and sunny European country should be added to your bucket list, then wait no longer and pack your bags for an exciting surf holiday for beginners in Portugal!