Surfing in France: Your Guide to the Best Waves
The go-to resource for planning your surf camps. Find all you need to know about the top destinations and take your surfing to new heights.
Discover Surf Camps now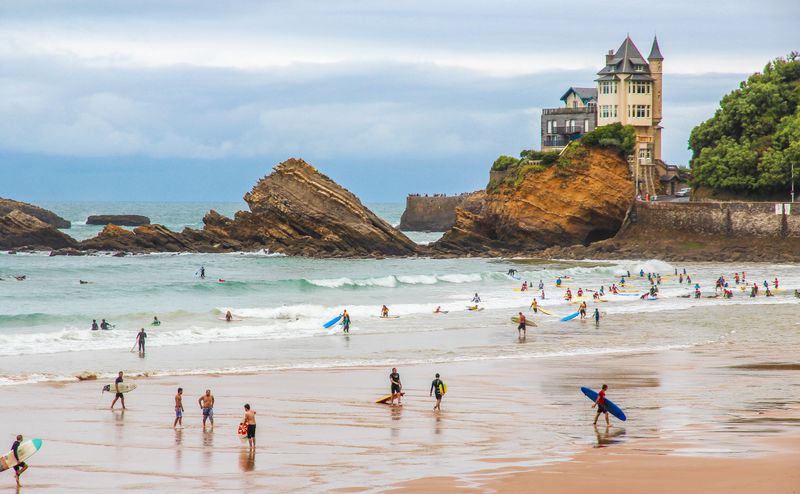 The land of wine, baguette, and cheese, the history, landscapes, and surf in France are without rival.
Mainland France has 2,130 miles (3,427 km) of coastline and over 310 miles (500 km) of surf beaches. Add to that the flavorful cuisine, vibrant nightlife, topless sunbathing (for real?!) and world-class surf breaks, and there you have it – one of the greatest surfing destinations in the world.
Discover the best waves in the country by joining a surf camp in France!
The best surf in France is found on the Atlantic coast. While the Mediterranean does generate some swells, they are unfortunately inconsistent and short-lived.
Read on and find out what are the best surf spots in France you absolutely should consider for your next trip:
Traveling to France in 2021
On June 9, France reopened for international tourism, removing the need for a negative test for vaccinated Europeans and allowing vaccinated tourists from most of the rest of the world to enter with a negative test.
Vaccinated European visitors and those from seven "green" countries – Australia, South Korea, Israel, Japan, Lebanon, New Zealand, and Singapore – will no longer need to undergo testing.
Vaccinated visitors from "orange" countries – including the United States and the United Kingdom – no longer need to quarantine on arrival but they must present proof of a negative PCR test (taken no longer than 72 hours prior to arrival) or a negative antigen test (taken no longer than 48 hours prior to arrival). (source)
When to go surfing in France
Thanks to its consistent swell, France is a year-round surfing destination. Conditions are pretty sweet during summer, which is also the best time for beginner surfers to head down here. However, the most reliable conditions can be found between autumn and spring, with winter swells sometimes producing powerful waves only advanced surfers know how to tackle.
The water temperature is colder in northern France than it is in the south. In the north, the maximum water temperature ranges between 16 to 20°C (61 to 68°F), meaning that you'll need a 3/2mm fully sealed wetsuit even in August. In the south, water temperatures peak in the range of 20 to 25°C (68 to 77°F), so a 2mm long sleeve shorty or a 3/2mm spring wetsuit should suffice in the midst of summer.
In winter, be prepared to pull a 5/4/3 wetsuit, with hoodie, gloves, and booties included. Water temperature can get brutal, especially on the north coast, dropping all the way to 10-11°C (50-52°F).
The best surf spots in France
From the internationally renowned surfing capitals of Biarritz and Hossegor all the way to historically rich Normandy and Brittany in the north, here are the best surf spots in France:
The Nouvelle-Aquitaine region in southwestern France is home to some of the best beach breaks in Europe. There are over 60 miles (100 km) of sandy beaches that receive constant swell from the Bay of Biscay, which produces world-famous barrels. Furthermore, each surf spot in southwest France has its own distinctive characteristics.
Surfing in Lacanau
Lacanau in the Gironde department in the Nouvelle-Aquitaine region is on every surfer's bucket list, thanks to its powerful and hollow beach breaks that work well on all tides.
It is one of Europe's top surfing destinations and the most popular surfing destination in the Gironde area, receiving consistent Atlantic swell. Each August, the A-frame, hollow and fun beach break becomes the venue of the Lacanau Pro, a stage on the WSL Qualifying Series.
Best time to surf in Lacanau: Early and late summer, either May and June or September and October, when the beaches are less crowded and the swell is more reliable. The water temperatures are a bit warmer than further north.
In summer, the beaches tend to get crowded and the swell is less consistent. Winters can get brutally cold – think snow on the beach brutal! If you can handle that, you'll be rewarded with powerful and hollow barrels that are often empty.
Are you wondering what are the best places to learn to surf in the country? Check out our guide to the best surf spots for beginners in France.
Surfing in Seignosse
Some of the best beach breaks on the planet can be found in Seignosse:
Les Casernes – a long stretch of exposed beach break with numerous sandbanks that offer something for all tastes and levels. It is a great summer surfing destination.
Le Penon – a fun beach break with nice waves all year round. Le Penon has some of the longest rideable waves in the area.
Les Bourdaines – an A-frame beach break that produces world-class waves with a shallow take-off, recommended for experienced surfers during big swells.
Les Estagnots – when the swell kicks in, it produces fast and hollow left-hand waves on almost all tides. When it's pumping, it displays some round barrels and rippable peaks.
Best time to surf in Seignosse: Spring (March/April) and autumn (September/October). Summer months offer beginner-friendly conditions.
Surfing in Hossegor
Some of the world's fastest, most powerful and hollow beach breaks can be found in Hossegor. During fall and winter, the world-famous beach breaks of La Gravière, La Nord, and La Piste await advanced surfers with double-overhead fast and hollow waves. Unfortunately, the place can get crowded, as surfers from all over Europe flock to these parts when the swells kick in.
Les Culs Nus – this beach break is considered Hossegor's most consistent surf spot. Expect a fast, punchy wave with a steep drop.
La Gravière – a legendary A-frame beach break that is often compared to Hawaii's most famous waves when it is firing. During summer, it is a friendly wave all surfers can enjoy. During autumn and winter, only expert surfers know how to tackle these hollow lefts and rights.
La Nord – this is Hossegor's big wave spot, which works best at low tide with light winds. Waves can reach over 20 ft (6 m).
La Sud – Hossegor's most sheltered spot, La Sud is a beginner-friendly beach break.
Best time to surf in Hossegor: May/June and September/October. However, Hossegor is one of the most consistent surf spots in France, which means that there's always a wave to be found here. Beginners and intermediate surfers can go during summer, when the waves are gentler. Winter months can throw some spectacularly heavy barrels.
Surfing in Capbreton
When the surf is too big in Hossegor and Seignosse, this is where you'll usually find more fun and mellow waves. At the foothills of the Pyrenees, Capbreton is a picture-perfect destination. Add the consistent swell and pumping beach break and you have one of the top surfing destinations in France.
Le Miramar – a peaky beach break that is a great alternative when the surf's too big in all other spots.
La Piste – on its good days, La Piste is a tube factory that can easily rival La Graviére. It is a powerful, fast and barreling hollow wave.
Best time to surf in Capbreton: May-June and September-November.
Surfing in Anglet
Photo credit: Gadjo_Niglo
A few miles north of Biarritz, Anglet offers quality beach breaks for all skills and levels that put on their best performance during autumn, winter, and spring. Along the 2.8 miles (4.5 km) of coastline, there are no less 11 surf spots. Here are the best:
La Barre – left-hand beach break toward Anglet's northern end, with a sandy bottom.
Les Cavaliers – south of La Barre, this is one of the best waves in the French Basque Country. This A-frame beach break with fast and hollow sections is more suitable for intermediate to expert surfers.
Le Club – a legendary Anglet surfing spot with powerful barreling lefts. It can get crowded.
Les Sables d'Or – on its good days, this A-frame beach break produces fast and hollow waves that rival those in Hossegor.
Go on a surf camp in Anglet.
Best time to surf in Anglet: From autumn through spring. Summer can get very crowded and the swell is not consistent during this time of year.
Surfing in Biarritz
Only a stone's throw away from Spain, Biarritz is an incredibly picturesque and laid-back coastal town set against the dramatic backdrop of a medieval cliffside castle. Famous authors like Emile Zola and Ernest Hemingway used to spend their summers here, so you get the picture. Furthermore, it is one of Europe's surfing capitals.
During summer, the surf in Biarritz is a magnet for riders of all levels. Unfortunately, this also means heavy crowds. During spring and autumn, the waves here can only be tackled by experienced surfers.
Le Miramar – an A-frame wave with a sandy and rocky bottom.
Biarritz Grand Plage – popular A-frame beach break that can get very crowded.
La Côte des Basques – A-frame beach break; can get crowded.
Marbella – beach break that works best on an outgoing tide.
La Milady – shore break that works best in small waves.
Best time to surf in Biarritz: In May/June and September/October, when it's less crowded and the swells are more reliable. More experienced surfers will enjoy the winter months when big, powerful swells roll in.
Surfing in Guéthary
Guéthary is a laid-back coastal town and old fishing port in the heart of the French Basque Country, between Biarritz and Saint-Jean-de-Luz. During winter months, it is home to world-class big wave surfing, while summer offers some fun and smaller surf.
Parlementia – a powerful right-hand reef break with a sandy and rocky bottom, Parlementia is considered France's premier big wave surfing spot. It is located a few hundred meters off the coast, to the north of Guéthary, which translates into a 20-minute brutal paddle to reach this brutal wave. The wave is quite popular among SUP surfers too.
Les Alcyons – reef break with a rocky bottom that's close to shore. It works best on an incoming tide and can be very powerful.
Avalanche – this monstrous break can serve 23-foot (7-meter) waves. It takes a daunting 20-minute paddle to reach the wave, which works best on a low tide. This one is for experienced surfers only.
Best time to surf in Guéthary: Even more so than anywhere else in France, winter is the best time of the year to surf in Guéthary. Between December and March, big swells roll in one after another.
Surfing in Saint-Jean-de-Luz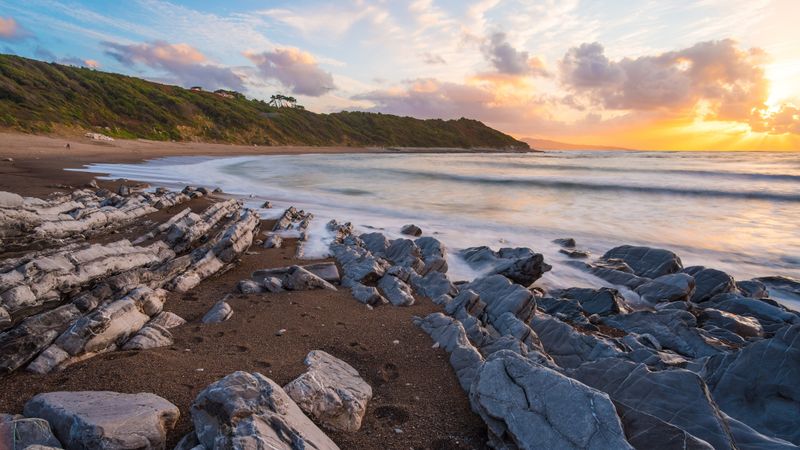 Photo credit: Benh LIEU SONG
Lafitenia
South of Guéthary, Lafitenia is considered the best right-hand point break in the French Basque Country. A mix of sand and reef bottom produces many challenging sections. Expect a heavy take-off followed by steep walls and a fast and hollow finishing section.
Belharra Reef
Photo credit: VaqueroFrancis
About 1.5 miles (2.5 km) off the coast of Saint-Jean-de-Luz, Belharra Reef was first surfed in November, 2002. It breaks very rarely and there are years when it does not break at all. But when it does break, it becomes one of the best tow-in big wave surfing venues in mainland Europe. Waves are usually between 26 and 50 ft (8-15 m) tall, and every now and then, they can even reach 65 ft (20 m).
Best time to surf in Saint-Jean-de-Luz: September through November. However, the exposed surf breaks in this part of France receive consistent swell all year round and are crowded on any given day.
Surfing in Hendaye
France's southernmost surf spot is a sheltered, beginner-friendly destination. The north-facing A-frame reef break usually has some small and easy waves that are just excellent for newbies. Hendaye is also a good option when everything else on the French Basque coast is too big.
Best time to surf in Hendaye: All year round. In spring (April/May) and autumn (October/November) the waves are bigger and more consistent. During winter months (December-March), more experienced surfers will be excited to know that they can find some challenging big waves.
Northern France – Brittany and Normandy
The north coast of France receives the same swell as the south coast of England and stretches from Brest in North Brittany all the way to Belgium through the Normandy Coast.
Normandy needs big western groundswells and wind swells to get going, but once it does, it produces some of the most spectacular surf in France, set against stunning white chalk cliff backdrops. The north-western tip, also known as 'Finistére', has some of the best breaks in this part of France. The water is cold and the winters are harsh, but that's precisely why Brittany is a great place to escape the crowds.
Best time to surf in Brittany and Normandy: All year round. Winter months bring in the best and most consistent waves, but you'll find good conditions in summer too, when the waves are friendlier and more suitable for beginners and intermediate surfers.
Surfing in Normandy
Étretat – this consistent left-hand reef break is on any surfer's bucket list, and is suitable for all levels of surfers. Being close to Paris, it can get crowded.
Yport – left-hand point break suitable for all surfers.
L'Anse du Brick – A-frame beach break for all levels.
Wissant – A-frame beach break, usually empty; great for beginners.
Vacotte – A-frame reef break for all surfers.
Surfing in Northern Brittany
Pors Ar Vag – A-frame beach break for all levels.
La Palue – the best wave on the Crozon Peninsula, this an A-frame beach break is reserved for experienced surfers.
Le Dossen – A-frame beach break; beginner-friendly during summer.
Pors-ar-Villec – A-frame beach break for experienced surfers.
La Chapelle – A-frame reef break for pros and kamikazes only.
Surfing in Southern Brittany
La Torche – one of the most consistent breaks in the Brittany region, this long left-hand point break with hollow sections is suitable for intermediate surfers.
Treguénnec – located in the heart of the Bay of Audierne, Treguénnec is an A-frame beach break with a wide opening to the Atlantic, suitable for all levels.
*Cover image credit: Jean-Claude MOUTON
---
If you're planning a surfing trip in France, now you know where to start. Take your wave riding skills to the next level by joining an intermediate surf camp in France, and be on your way to surfing some of Europe's best waves!