The Best Year-Round Surf Camps in Sri Lanka
The go-to resource for planning your surf camps. Find all you need to know about the top destinations and take your surfing to new heights.
Discover Surf Camps now
The land of coconuts, cinnamon, tea, and coffee, Sri Lanka is a tropical paradise and the most reliable surfing destination in the Indian Ocean. It's also incredibly affordable and family-friendly, with a surf culture and infrastructure that just keep on growing.
Thanks to its remarkable density and variety of waves, Sri Lanka is one of the best places in the world to learn to surf and improve your skills. At the same time, advanced surfers will find the more challenging reefs and points relatively empty.
Whether you're a beginner or already have some experience, you'd like to combine surf with yoga or solely focus on your wave riding skills, there's a surf camp for you!
In need of some recommendations? Check out these handpicked surf camps in Sri Lanka you can join any time of the year.
Travel update: As of January 21, 2021, Sri Lanka is open to foreign tourists.
Travelers must present a negative PCR before boarding the flight (taken within 96 hours of departure), take a test upon arrival in the country, and test again seven days later. Those who wish to stay longer than seven days will have to take a third test the following week.
For the first 14 days after arriving in the country, international visitors must remain within a designated "travel bubble", which will keep them separated from the local population. They will stay in government-approved "safe & secure" hotels, with access to their facilities​. During the 14-day "travel bubble", visitors are permitted to explore select tourism sites, including popular attractions, safaris, and national parks.​ After 14 days, visitors can mingle with the local communities.
Note: BookSurfCamps offers a flexible cancellation policy. Should you not be able to travel as scheduled, we'd be happy to help you alter your booking with the same organizer or a different organizer.
Skill level: All levels
Availability: All year round
Price: From US$400
This surf and yoga camp in Weligama is specifically designed for those who wish to combine both activities equally. There will be six surfing lessons and six yoga classes.
The camp is proudly located in the heart of the Southern Province, next to the palm-fringed beach in Weligama, a famous beginner surf spot. It offers accommodation suited for singles, couples, groups, and families, with rooftop restaurant and swimming pool. Daily breakfast and six dinners are included in the package, as well as free use of the surfboards outside the lessons.
You'll find some of the best surf spots in Sri Lanka right at your doorstep. Within a 10-minute radius, there are ten more than waves worth checking out.
You'll join a small group of surfers with similar abilities, with one instructor for every four students, which ensures that every person gets personalized feedback and tips. If you're new to surfing, the professional instructors will get you up on the board and shredding the waves in no time.
» Find out where and when to go, how to budget your trip and other useful travel advice in our complete guide to surfing in Sri Lanka.
Skill level: All levels
Availability: All year round
Price: From US$486
Located at the quiet end of Mirissa, the jungle is the backyard of this surf camp. It has all the facilities you could ask for: café, restaurant, surf shop, hammocks, chill-out lounge, surf movies, slackline, and more. More than 15 surf spots are within easy reach from the camp.
There will be eight progressive surf lessons and four yoga classes designed to make sure you get the most out of your surfing sessions. The waves you'll visit will depend on your surfing skills and the swell conditions of the day. There will be four students per instructor, and the coach will evaluate your progress during each lesson.
You also have the option to get a surf video analysis. You'll be filmed as you surf and the instructors will analyze your stance and technique, identifying your strengths and weaknesses.
Daily breakfast is included in the package. You'll also get a complimentary massage and equipment rental, so you can surf outside the lessons too.
» Are you a beginner going on your first surf camp? Find out what to expect and what you'll learn on a surf camp for beginners.
Skill level: All levels
Availability: All year round
Price: From US$873
Welcome to a tropical beach paradise. Get ready for a week of surfing, sun, yoga, good people, good vibes, and good times!
This surf and yoga retreat is located on a headland, surrounded by the turquoise blue ocean, with two beautiful beaches on each side, tall coconut palms swaying gently in the warm breeze, and great waves for beginners to advanced surfers. There's an infinity swimming pool, spa, sunset rooftop yoga deck, and jungle yoga shala deck.
Throughout your stay, there'll be five days of surfing lessons and you'll also have unlimited daily premium surfboard use to ride the waves for as long as you wish, whenever you wish.
There will be daily meditation sessions and unlimited yoga classes, including sunrise and sunset sessions. The yoga classes offer a detailed introduction to Hatha and Yin yoga for beginners, as well as the chance to dive deep into a more advanced practice.
Delicious daily à la carte breakfast, one seafood/vegetarian BBQ, one Sri Lankan rice and curry dinner, as well as unlimited purified drinking water and pre-yoga herbal tea, are included.
» Already making progress on the waves? Find out what you'll learn on a surf camp for intermediate surfers.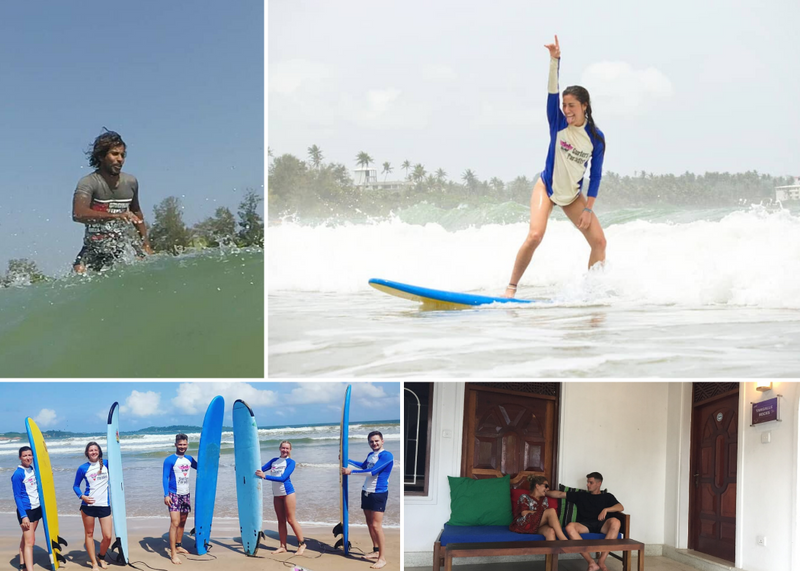 Skill level: Beginners and intermediates
Availability: All year round
Price: From US$310
Surfers Paradise Weligama wants to make you a surfer! Fulfill your potential on this budget-friendly surf camp with 10 surf lessons in one week.
You'll learn to surf under the wings of experienced instructors. If you're an intermediate, the instructors will be at your side every step of the way, analyzing your stance and movements, providing immediate feedback and tips to help you nail all maneuvers.
One instructor is assigned for every three surfers. But you also can request one-on-one lessons, as well as group lessons with your friends or family.
Daily breakfast and surfboard rental are included, so you'll have plenty of time for self-practice too.
Skill level: All levels
Availability: All year round
Price: From US$840
This lively surf camp is based in Arugam Bay, the capital of surfing in the Eastern Province of Sri Lanka, with numerous surf breaks for all levels only 20-30 minutes from town.
There will be nine surf lessons throughout your stay, and the surf coaching will start early in the morning to make sure you score the best conditions. There is a 1:3 instructor-to-student ratio, and ability levels will not be mixed. This way, you'll get the most out of your surfing sessions and receive personalized feedback and tips.
All the necessary surfing equipment will be at your disposal, and you'll get two pampering massage sessions during your stay to ease your muscles and prepare you for the challenges ahead.
The package also includes surf photos and video footage that you'll get to keep. The team will send them to you after they've been processed. You'll also enjoy daily breakfast, consisting of delicious smoothie bowls, homemade desserts, and coffee.
*Cover image credit: Elsewhere Surf Camps
**Prices can change depending on the date of arrival.
---
Join a beginner surf camp in Sri Lanka and learn to surf in a tropical paradise you'll wish to return to time and time again.