What Will You Learn on a Surf Camp for Beginners?
The go-to resource for planning your surf camps. Find all you need to know about the top destinations and take your surfing to new heights.
Discover Surf Camps now
The fear of failure is the biggest force holding people back from pursuing their dreams. But what if I told you that there isn't any way you could fail at surfing?
As Laird Hamilton put it, "We're all equal before a wave", and Phil Edwards wonderfully captured its essence, "The best surfer out there is the one having the most fun." But if you're serious about taking up surfing, make sure you do it the right way!
Being introduced to the basic techniques by an experienced instructor is of utmost importance. Learning to surf with a friend is great, but a coach will know precisely which key areas to focus on and will get you up on the board and surfing with confidence in no time.
Now let's get down to business. If you've been wondering what exactly will you learn during a surf camp for beginners, here's the breakdown:
Why should you go on a surf camp in the first place?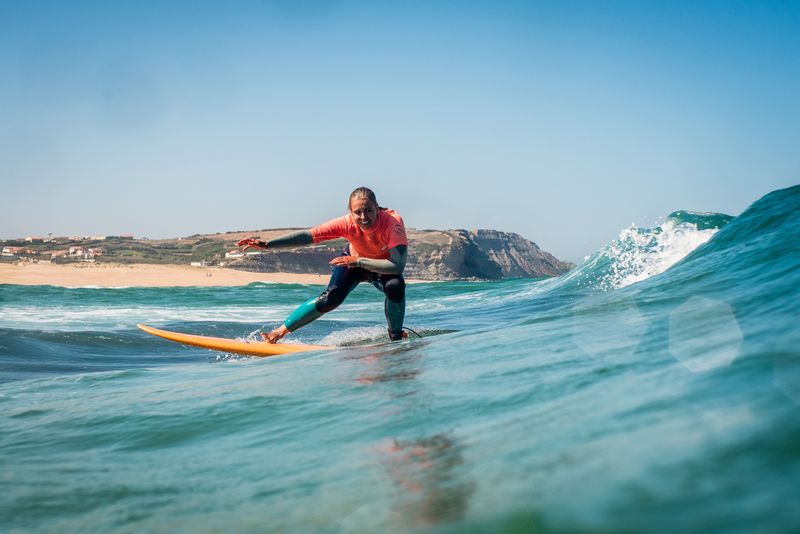 If you've never surfed before, the best way to start is by taking surfing lessons. Not only will this accelerate the learning process, but you'll also avoid some potentially unpleasant situations, such as getting on a wave that is beyond your skill level, annoying other surfers in the water, or even getting injured.
To get a good grasp of surfing, it is highly recommended that you take lessons for at least five days in a row. If you can spend two whole weeks in the water, that's even better. After all, the more you practice, the faster you'll learn.
To do this, the most convenient option, which will save you both time and money, would be joining a budget surf camp. You'll enjoy accommodation near the beach, transfer to the surf spots, and daily surf lessons that will give you a thorough introduction to surfing, from theory to practice.
Not sure what happens on a surf camp? Read our interview about what to expect from your first surf camp.
Before you start surfing, know that…
Surfing is one of the most complex and difficult sports out there. No two waves are the same (in the same surf spot). Winds, tides, swells, and currents affect the shape, height, speed, and power of the waves, which can differ from one hour to the next. Your playground is forever changing.
Therefore, you should develop the right attitude towards it and manage your expectations. No one surfed a head-high barrel when they first started out. But let me tell you that, once you catch your first waves on your own, you will become irreparably hooked.
The learning process never ends, but that's part of its charm. And the more you progress, the more fun surfing becomes.
What will your first surf lessons look like?
Each day, you will be taken to the best surf spots for your level. These can be within walking distance from your lodging or a short drive away, depending on the swell and tide conditions of the day.
The time of day when you have your lessons also depends on the location and the swell/tide conditions. In most cases, they are held in the morning, when the winds are not as strong and the waves are cleaner, but that can differ.
All lessons begin on the beach. The instructors will give a short introduction of the surf spot, go through the safety rules, and present the surfing equipment. You'll do a warm-up, followed by getting familiar with positioning yourself on the board and the basic maneuvers. After that, it will be time for the most awaited part – the practical lessons in the water.
What will you learn on the beach?
The instructors will explain how waves are formed, about swells, tides, rip currents, and surf etiquette. Little by little, you'll find out how to read a wave – how to tell if it's a right or left hander, its different parts, where it will break, and how to position yourself to catch it.
You will be given the right surfboard for your needs. The shape and size depend on your experience, but also on the surf spots that you'll access. Beginners will always use bigger surfboards, with a soft-top and the right volume and rocker. The volume stands for the flotation of the board, and when you're starting out, you'll want plenty of that. Depending on where you'll be surfing, you might also need a wetsuit.
You will practice the basic surfing techniques on the beach, learning how to position yourself on the board, the proper stance, and how to pop up (transitioning from lying down on your belly to getting up on your feet, also known as the take off).
Surf stance – regular vs. goofy-footed
Just like being right or left-handed, you must figure out which foot naturally goes in the front on your surfboard. If your right side is your dominant side, then your right foot will be in the back of the surfboard and your left in the front. This is called the regular stance. If your left foot is in the back, then you're goofy-footed.
The easiest way to test this is by having someone push you from behind by surprise, and see which foot you instinctively place in front.
Positioning on the board
Before getting into the water, you will learn how to position yourself on the board when paddling, as well as foot placement when standing. You will first practice this on the beach.
When lying down on the board, if there's too much weight on the front, the nose will sink, a situation that is called pearling. When standing, if you're positioned too far back, you'll put too much weight on the tail. This will lift the nose and slow you down. Your feet should also not be too far apart, as that will make it hard to find your balance.
Still unclear about the moves? The instructors will show you how to find all those sweet spots.
What will you learn in the water?
In the water, beginners will be accompanied by the instructors at all times, who will give tips and pointers. For your first lessons, you'll practice in knee to waist high waves and will stay close to shore.
Surf camps are careful not to mix different ability levels in the same groups. Depending on the package that you opt for, you can either join lessons in a small group (4-5 people per instructor), semi-private lessons (2 people per instructor), or even private 1-on-1 lessons. Whatever you choose, you can rest assured that you will get personalized attention from the coaches.
Each lesson is targeted towards specific key areas and is progressive and goal oriented. You will either receive immediate feedback from the instructor or right after the surf session, when you'll get a thorough analysis of your progress.
You'll start as a 'whitewater warrior'
If this sounds like Chinese, allow me to explain. During your first lessons, you'll surf in whitewater. This is the part of the wave that has already broken, also known as foamie or whitewash. This is a thick stripe of foam left behind by a wave, moving straight towards the shore.
This is the most forgiving part of the wave, it does not have much speed or power, and is the best place to practice the basic techniques – surf stance and the pop up (or take off). On whitewater, you'll be riding straight towards the shore, without having to perform any turns.
With a big surfboard, a good instructor, and the right conditions, you can get on your feet in the very first day!
You will be able to catch many broken waves during a session, which allows for fast progress. However, you should not move from whitewater to unbroken waves, also known as 'green waves', without mastering the basic techniques first. These are:
Paddling efficiently
The instructors will show you the correct paddling posture, how to pivot your board and reposition yourself. You must use the crawl stroke in order to maintain a constant speed, all the while controlling your breathing just as you would when jogging.
Mastering the pop up
After you've gotten comfortable with lying on your surfboard and paddling, it's time to get up on your feet. This is the most difficult movement that you have to learn when you start surfing. It will feel tricky at first, and your pop ups will most likely be wobbly and unsteady. In time, you should aim for a balanced and stylish pop up.
The instructors will give you pointers on how to recover your balance after jumping onto your feet and how to pop up in the right position on your surfboard. At first, you will do this in a low balance position (but not on your knees!). As you progress, you will begin to extend the legs and recover your balance more easily.
Depending on your progress during the camp, you might also get to ride unbroken waves, play with speed, and learn to turn in both directions.
Be prepared! Learn the surf lingo with the help of our glossary of surfing terms and slang.
Surfing etiquette
Surfers may look like a laid-back and friendly bunch, but some can be territorial. They can be resentful of new surfers and can display a selfish and arrogant behavior. Avoid becoming a target by learning proper surf etiquette that you can then apply anywhere in the world you wish to surf in the future.
On the beach, the instructors will also teach you how to behave in the surf, and here are some basic 'rules' to keep in mind:
Keep hold of your surfboard at all times, as boards can cause serious damage when out of control.
Don't paddle all the way out into the ocean where the good surfers are waiting in the line-up. You'll be seen as a nuisance.
Don't 'drop in' – paddle to catch a wave that someone is already riding. You'll put yourself (and others) at risk.
Know your limits, stay close to the shore, and don't attempt to catch waves that are beyond your level.
Final words
As I mentioned in the beginning of this article, surfing is a very complex and demanding sport. Learning the basic techniques the right way makes a world of difference. We all know how hard it is to break bad habits, and you'll likely acquire plenty if you start out with no guidance at all.
As long as you listen to your instructors and follow their advice, you'll be paving your path to effortless and stylish surfing. And remember – the more waves you catch, the better you'll get!
---
Now that you know what to expect, get ready for some serious progress by joining a one or two-week-long surf camp for beginners!