Where to Surf in January?
The go-to resource for planning your surf camps. Find all you need to know about the top destinations and take your surfing to new heights.
Discover Surf Camps now
Wanna start the year off on the right foot? No matter if you're a regular or a goofy-footed surfer (or maybe you're still figuring that out), you can't go wrong with an early-year surf trip.
People don't really associate January with surfing. The month is often perceived as cold and gloomy, better for staying indoors. Sure, some daredevils choose to go surfing in a northern destination and make their way to the waves through the snow. But you can easily have a very summer-like surf trip in a warmer destination.
Are you ready to kick-start another year of chock-full of epic wave riding? Let's take a look at the best surfing destinations in January:
Note: BookSurfCamps offers a flexible cancellation policy. Should you not be able to travel as scheduled, we'd be happy to help you alter your booking with the same organizer or a different organizer.
Image credit: Homegrown
Europe's answer to Hawaii, the Canary Islands are renowned for their big and powerful waves. At the same time, they are a great destination for beginners thanks to the many mellow surf breaks and warm weather and water all year round.
Closer to Africa than Europe, the Canary Islands are truly exotic and Europe's number one surfing destination during winter.
The second largest of the Canaries, Fuerteventura is also the least developed in the archipelago. Of course, this translates to more authentic vibes.
The north shore of Fuerteventura is often compared to the Seven Mile Miracle on Oahu's North Shore. That should be enough said about the island's wave potential. And of course, its punchy reef breaks should not be taken lightly. In fact, some of the gnarliest reef breaks in Europe can be found here, hollow, fast, powerful, and downright scary.
Don't worry, though; Fuerteventura has plenty to offer beginner surfers as well, even in the midst of winter.
On the north coast, Correlajo is Fuerteventura's surfing capital. This is where you'll find Flag Beach and Rocky Point, two of the best beginner surf spots on the island thanks to their friendly beach breaks.
In winter, advanced surfers usually go after the epic waves at Spanish Left, Billboards, El Cotillo, and Boneyards.
» READ MORE: All You Need to Know About Surfing in the Canary Islands
Surfing conditions in Fuerteventura in January
In January, the Atlantic is firing in Fuerteventura, delivering solid swells and some of the best waves of the year. The conditions are great for beginners and advanced surfers alike.
The water is still pretty warm at 19-20°C (66-68°F), and you may only need a 2/2mm full wetsuit. The weather's sunny and pleasant, with a daytime temperature of 21-26°C (70-70°F).
Top-rated surf camp in Fuerteventura in January
5 Days All-Level Homegrown Surf Camp in Fuerteventura
Availability: All year round
Skill level: All levels
Price: From USD 301 per person for 5 days/4 nights
Join this affordable surf camp in Fuerteventura and get three days of surfing summing up a minimum of 27 hours. That's right, you'll surf all day long!
This is a mobile surf school, which means that each day you'll travel in search of the best waves on the east, west, and north coasts of Fuerteventura. You'll get free use of the surfing equipment during and outside the lessons so that you can surf as much as you wish during your trip.
Surfing in Hawaii is usually associated with the gnarly waves on Oahu's North Shore. This is the proud home of the Seven Mile Miracle, the surfers' ultimate testing ground. Between Haleiwa and Velzyland, 36 world-class breaks are located next to one another along a seven-mile stretch of coastline. This is where you'll find the renowned Banzai Pipeline, Haleiwa, Sunset Beach, Gas Chambers, Off the Wall, and many more.
The biggest, most powerful swells arrive between December and February. This is when the waves peak in size and consistency, and you can expect world-class surfing conditions every single day.
This puts January right in the middle of the prime surfing season on Oahu's North Shore, so it can get crowded. Pros from all over the globe gather here to get a shot at the massive waves. In December and January, the Vans Triple Crown of Surfing is held at Haleiwa, Banzai Pipeline, and Sunset Beach, the last three stops on the WSL Championship Tour.
Indeed, this time of year is reserved for advanced surfers on the North Shore. Beginners can have fun in the whitewash as long as they are wary of the pros, or they can head to the southern coast of Oahu where the waves are much smaller.
» READ MORE: All You Need to Know About Surfing in Hawaii
Surfing conditions on the North Shore in January
January brings an outstanding swell consistency of 95% on the North Shore, with an average wave size of 2 to 20+ ft (0.6 to 6+ m).
The weather's pleasant, with an average daytime temperature of 77°F (25°C). The water's just as warm, around 77°F (25°C).
Top-rated surf camp on the North Shore in January
7 Days North Shore Surf Camp in Oahu
Availability: All year round
Skill level: All levels
Price: From USD 2,995 per person for 7 days/6 nights
Located in Velzyland, near the famous V-Land Beach, this surf camp welcomes maximum five participants, thus ensuring that each guest receives the attention they deserve. You'll have easy access to Velzyland, Sunset Beach, Pipeline, and Waimea, so that you can surf some of the world's best waves, according to your experience.
On a typical day, you'll head out for a surf lesson early in the morning. After breakfast, you can choose to go for another surf session or opt for a stand-up paddleboarding lesson.
The package includes surfboard and SUP hire, breakfast, lunch, and snacks, as well as airport transfer from Honolulu International Airport (HNL).
Image credit: Surf Racer House Peru
Consistent swells, warm water, and plenty of sunshine; what else could you ask for from surfing in January?
The best surfing conditions in Northern Peru arrive during the Southern Hemisphere summer, from October to April. This is when Peru attracts northerly swells, which come with warmer water. The biggest, most powerful waves of the year start to roll in January and pump all the way through March.
With a vibrant nightlife and consistent year-round surf, Máncora is Peru's most popular surf town. The main surf break at Máncora is a favorite for beginners and surf schools. It works best with a north swell, so January is a great time to head over there.
Intermediate and advanced surfers will get their fair share of challenging waves during winter if they head south of Máncora. This is where they'll find Los Organos, with some of the best waves in Peru, Cabo Blanco, dubbed "Peru's Pipeline" thanks to its epic barrels, and Panic Point, which throws some really fast tubes.
In the La Libertad region, Huanchaco has great waves for beginners and intermediate surfers. It's less touristy than Máncora and more authentic, also a World Surfing Reserve. While in the region, advanced surfers should definitely check out Pacasmayo, the second-longest wave in Peru, and Chicama, the longest wave in the world.
» READ MORE: Surfing in Peru: Your Guide to the Best Waves
Surfing conditions in Northern Peru in January
The water is warm around Máncora in January, averaging around 75°F (24°C). This means that you can easily surf in boardshorts/swimsuit and a rashguard during the day. However, a short-sleeve springsuit is recommended for early morning or late afternoon sessions.
The further south you go, the colder the water gets. For example, at Chicama, the average water temperature in January is 70°F (20.5°C), so you'll need a 3/2mm wetsuit.
Top-rated surf camp in Northern Peru in January
6 Days Just Surf with Professionals in Huanchaco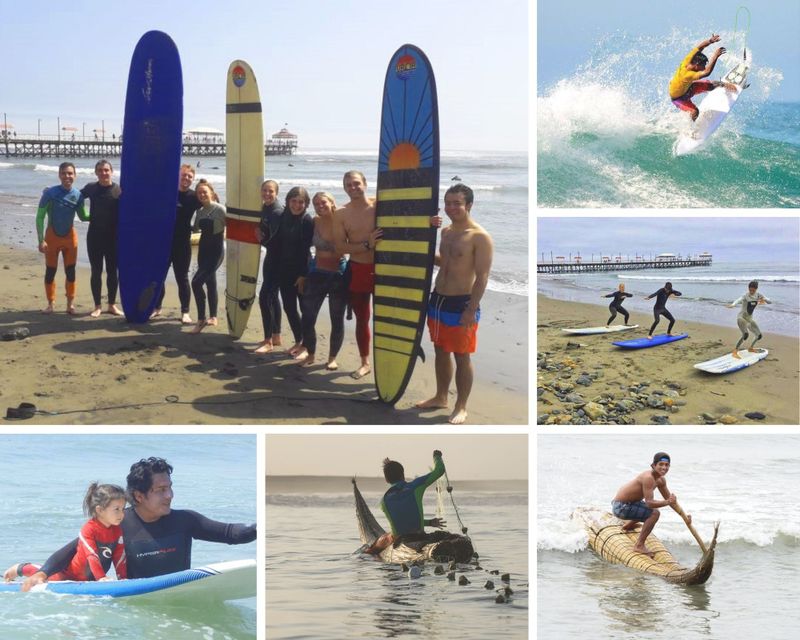 Availability: All year round
Skill level: Beginners & intermediates
Price: From USD 190 per person for 6 days/5 nights
Join this affordable surf camp in Huanchaco, in the La Libertad region, and ride the waves together with some of Peru's professional surfers.
Stay in a family-run hostel only two blocks from the beach, with access to the fully-equipped kitchen. Enjoy five surf lessons of one hour and a half each, as well as free equipment rental during your stay so that you can surf on your own whenever and for as long as you wish. You'll also have plenty of time to explore the surroundings.
*Cover image credit: Homewgrown
---
Traveling solo? So are most people going on surf camps so you certainly won't be alone. Join a surf camp for solo travelers and get ready to meet your next surf buddies and build lifelong friendships.