Money Saving Tips on Surfing Trips and Gear
The go-to resource for planning your surf camps. Find all you need to know about the top destinations and take your surfing to new heights.
Discover Surf Camps now
With a fascinating culture and offering an intense adrenaline rush with each wave you catch, surfing attracts a ton of new practitioners each year. But, despite its laid-back vibes, surfing can be quite an expensive activity. Wouldn't you agree?
Compared to others, this sport can be quite heavy on the pocket. Good waves are not always available close to your home. Or, you might live thousands of miles away from the ocean. Whether it is flying to your next surfing destination or buying the right gear, it seems like you never stop spending. In such a scenario, if you could surf on a low budget, that would be something quite exciting, right? If you too agree with me, this article is a must-read for you.
Yes, I am going to explain how you can save big for your next surfing adventure. Read on…
Tips for a budget-friendly surfing trip
1. Be flexible about choosing your surfing destination

Are you planning to go on a surf trip? Don't set your mind on one particular destination. Try to be flexible. This way, you could grab huge discounts on flight tickets.
For example, you might have Hawaii on your mind, the birthplace of surfing. However, if you act a bit smarter and choose Peru instead, you could save huge. Above that, you will get the same great waves there. So, try to opt for such an equally awesome yet frugal option. For example, Portugal, Morocco, Mexico are quite affordable when it comes to surfing.
» Looking for more options? Check out the 10 best budget surfing destinations in the world.
2. Opt for low-cost airlines
When you are planning to go on a surfing vacation, it's better to opt for low-cost airlines. You might not get the same luxurious facilities if you choose a budget airline, but it will definitely let you save remarkably.
You only need to reach your main objective, which is to surf. So, it is always worth going for such cheap airlines and not burn a hole in your pocket.
3. Tally the prices
Assume that you've figured out a price for a hotel or any specific flight. Don't you immediately assume that it is the best deal you can get! Rather, always make sure that you are exploring price comparison sites like to look for other affordable prices. It will help you to come up with the best possible way to reach your favorite destination while spending the least.
4. Volunteer
One of the inexplicable paradoxes of life is that at one point in life, you have plenty of energy and time but no money. At another, you have money but too little time and strength.
If you have free time and energy, why not make good use of what you do have to get what you don't have? If you live near a beach or surfing cafe, ask the regulars or establishment workers if you can provide some services in exchange for used surfing materials. A lot of people are often in need of help with waxing and cleaning their boards and wetsuits.
And if you're craving for an adventure, find out if there are any surf camps in the destination you'd like to travel to that are in need of volunteers.
Volunteering at a cafe or surfing center can also get you into the good books of the management and they will find it hard to say no if you ask to borrow their equipment for half a day when it's not busy. Alternatively, you can get into an arrangement where you volunteer for a few hours every day in exchange for a piece of surfing equipment over the weekend. That way, you will find yourself with all the gear you need without spending a single cent.
How to save on surfing gear
1. Borrow from friends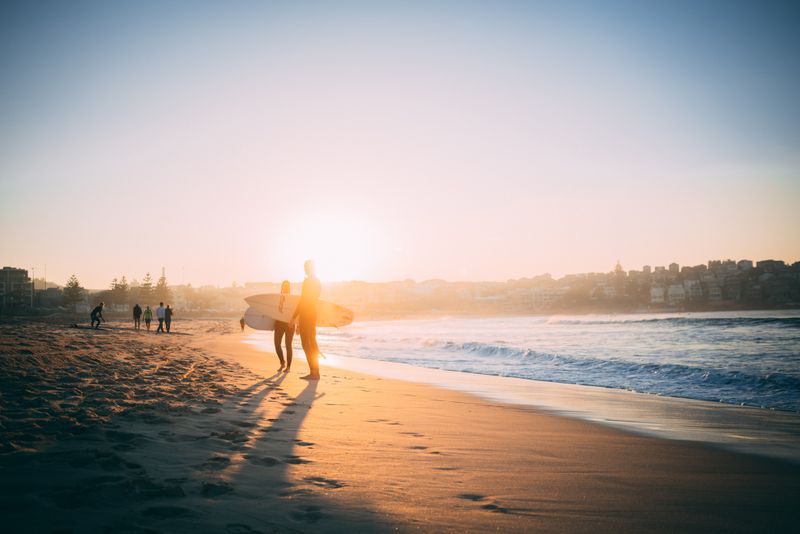 Beggars can't be choosers, they say. If you're not in a position to buy your own equipment, look out for any of your friends or acquaintances who own some and ask them to lend it to you for a while or permanently if they don't need it anymore.
Unfortunately, many people are hesitant to give their gear to other people, especially if they are beginners. In that case, work out a compromise. For instance, you could tag along when they are going to the beach and while there, take turns surfing using their gear.
2. Save on your wetsuit
Unless you're heading to some tropical paradise like Indonesia, Costa Rica, the Maldives, or Fiji, a wetsuit is imperative when surfing in cold water. Even if the air temperature may be toasty, the ocean water may still be well below 68°F (20°C). Wetsuits can be pretty expensive, but you don't necessarily need to purchase one from a resonant brand. This is an outdoor activity and not a posh party that you are attending. So, a top-notch wetsuit is not at all mandatory!
If you purchase a cheap wetsuit, it will still serve the purpose. The same goes for swimsuits (for warm water surfing) – you don't need a fancy one to fulfill your goals. On the other side, if you do intend to buy a branded wetsuit for a lesser price, you can look for discounts.
3. Shop during online sales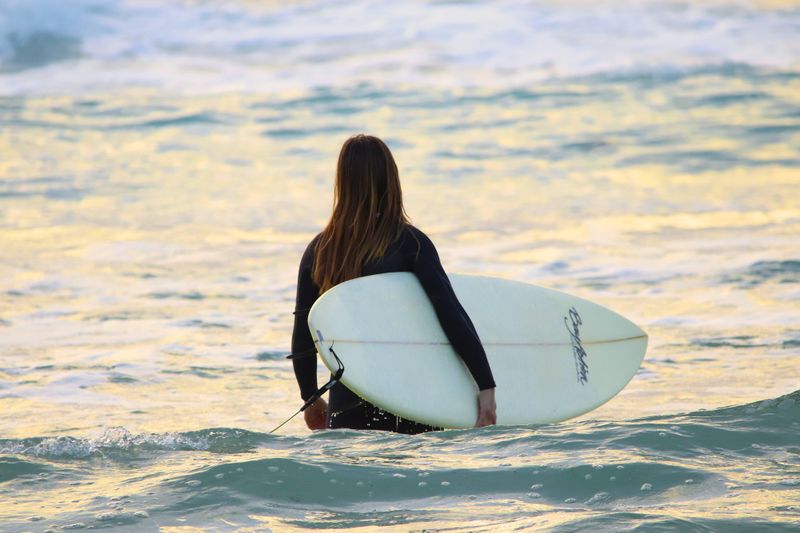 There are many prominent online stores that sell premium quality surfing gear. Above that, they make sure to offer some huge money-saving options in the form of striking discount codes and awesome clearance sales.
All that you have to do is keep an eye on the latest saving opportunities available in such stores. If you do so, you will be able to save a lot of money.
4. Buy used surfboards
The price of surfboards can increase depending on the size, material, weight, and, of course, brand. So, whenever you're ready to one, don't hop into a branded store immediately. Instead, you can ask your surfer friends for a used board to borrow or buy. It will let you save remarkable money.
Also, if you are a beginner surfer, a great option is to buy a used one. As the experts say, used surfboards are quite easier to learn on.
» Not sure which is right for you? Check out our list of the best all-around surfboards for all levels.
5. Barter trade
Remember the good old days when people exchanged goods for goods? You may not have lived during those times, but you can still apply the underlying concept to get yourself some surfing gear. Look around for a friend who owns some equipment they don't use much and ask them to give it to you in exchange for some other valuables.
Admittedly, this strategy will not amount to much as you will need to give out a lot of stuff to get a reasonable value of gear. It is, however, a great way to acquire the cheaper things like fins, traction pads, and leashes while also disposing of items you don't like or use much.
Well, this is how you can save huge on your favorite outdoor activity. Just keep these tricks in your mind and I am sure that you will end up saving like never before.
---
Never stop exploring new options and start planning your budget surf trip now!