Money Saving Tips on Surfing Trips and Gear
The go-to resource for planning your surf camps. Find all you need to know about the top destinations and take your surfing to new heights.
Discover Surf Camps now
With a fascinating culture and offering an intense adrenaline rush with each wave you catch, surfing attracts a ton of new practitioners each year. But, despite its laid-back vibes, surfing can be quite an expensive activity. Wouldn't you agree?
Compared to others, this sport can be quite heavy on the pocket. Good waves are not always available close to your home. Or, you might live thousands of miles away from the ocean. Whether it is flying to your next surfing destination or buying the right gear, it seems like you never stop spending. In such a scenario, if you could surf on a low budget, that would be something quite exciting, right? If you too agree with me, this article is a must-read for you.
Yes, I am going to explain how you can save big for your next surfing adventure. Read on…
Tips for a budget-friendly surfing trip
1. Try to be pliable with places
Are you planning to go on a surfing trip? Don't pre-decide on any particular destination. If the circumstance supports you, try to be flexible. It will let you grab huge discounts on flight tickets.
For example, you might have Hawaii on your mind. However, if you act a bit smarter and choose Peru instead, you could save huge. Above that, you will get the same great waves there. So, try to opt for such an equally awesome yet frugal option. Places like Peru, Morocco, Baja California, etc., are quite affordable when it comes to surfing.
One of the easiest ways to grab such a saving is browsing through websites like dealslands.co.uk. Are you looking for affordable surf camps? Then sign up for BookSurfCamps.com's newsletter.
2. Go for low-cost airlines
When you are planning to go on a surfing vacation, it's better to opt for low-cost airlines. You might not get the same luxurious facilities in budgetair.co.uk when compared to Etihad Airways UK, but it will definitely let you save remarkably.
You only need to reach your main objective, which is to surf. So, it is always worth going for such cheap airlines and not burn a hole in your pocket.
3. Tally the prices
Assume that you've figured out a price for a hotel or any specific flight. Don't you immediately assume that it is the best deal you can get! Rather, always make sure that you are exploring price comparison sites like Cheapflights.co.uk to look for other affordable prices. It will help you to come up with the best possible way to reach your favorite destination while spending the least.
Tips to Save on Surfing Gear
1. Save on your wetsuit
If you're not heading to some tropical paradise like the Maldives, a wetsuit is imperative when surfing in cold water. Even if the air temperature may be toasty, the ocean water may still be well below 68°F (20°C). Wetsuits can be pretty expensive, but you don't necessarily need to purchase one from a resonant brand. This is an outdoor activity and not a posh party that you are attending. So, a top-notch wetsuit is not at all mandatory!
Instead, if you purchase a cheap one, it will still serve the purpose. The same goes for swimsuits (for warm water surfing) – you don't need a fancy one to fulfill your goals. On the other side, if you do intend to buy a branded wetsuit for a lesser price, you can look for discounts.
2. Shop during online sales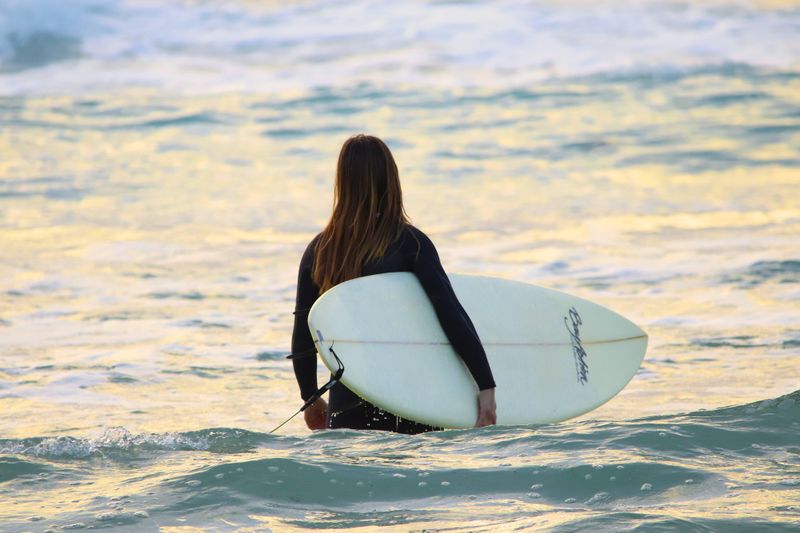 There are many prominent online stores in the UK like Shore, Surfdome, etc., which sell premium quality surfing gear. Above that, they make sure to offer some huge money-saving options in the form of striking discount codes and awesome clearance sales.
All that you have to do is keep an eye on the latest saving opportunities available in such stores. If you do so, you will be able to save a lot of money. So, don't wait anymore! Just sign up for the email notifications of these stores. If you do so, you will keep on receiving the latest voucher codes in your inbox, whenever they are out.
3. Buy used surfboards
The price of surfboards can increase depending on the size, material, and weight. So, whenever you are up for buying one, don't hop into a branded store immediately. Instead, you can ask your surfer friends for a used board to borrow or buy. It will let you save remarkable money. Also, if you are a beginner surfer, it is even quite good to buy a used one. As the experts say, used surfboards are quite easier to learn on.
Well, this is how you can save huge on your favorite outdoor activity. Just keep these tricks in your mind and I am sure that you will end up saving like never before.
---
Never stop exploring new options and start planning your budget surfing trip now!