The World's Most Affordable Surfing Destinations
The go-to resource for planning your surf camps. Find all you need to know about the top destinations and take your surfing to new heights.
Discover Surf Camps now
When it comes to doing what we love most, there should be no limit to how much money we spend. And yet, money always seems to get in our way. How wonderful it would be if we could spend less and travel more!
Money should not hinder us from pursuing our dreams. Traveling on a budget may not always be easy, but it does have its perks.
You can travel in a van to save on accommodation, talk to friends and visit forums for recommendations on cheap places to stay and eat, all of which will help you get close and personal with the culture and history of a place. Opt to stay at budget surf camps to save money on lessons and equipment rental. You'll also get a good deal on accommodation by doing so. Plus, they are usually located in front of the best surf breaks.
Do you want to save money and get the most out of your trip? Some of the best surf destinations in the world come with a reasonable price tag, without skimping on quality. Check them out and start planning your next escapade:
Note: BookSurfCamps offers a flexible cancellation policy. Should you not be able to travel as scheduled, we'd be happy to help you alter your booking with the same organizer or a different organizer.
The Peruvian coast is littered with epic left-hand point breaks, and the farther north you go, the warmer the water becomes. Just south of the Equator, Northern Peru is hit by north and south groundswells all year round, while the wind is constantly blowing offshore.
Water temperature fluctuates between 63 and 77ºF (17-25ºC), which means that you can even ditch your wetsuit during summer. Add to that the inexpensive cost of living, cheap lodging, and the fact that you can indulge in Peru's cuisine without breaking the bank, and you have all the ingredients for your next frugal surfing trip.
Surfing in Peru is divided into two main areas:
The point breaks to the south of Lima, which include Arequipa, Moquegua, and Tacna, renowned for their consistency and big waves.
The reef and point breaks in Northern Peru, which include the areas around Lima and Chicama, home to what has been internationally acknowledged as the longest left-hander in the world. Further north, Lobitos and Mancora are home to perfect barreling waves.
» Not sure where to go to score the best waves? Read our guide to the best surf spots in Peru.
Best time to go: Between April and October in Southern Peru, and all year round in Northern Peru.
Top budget surf camp in Peru
5 Day Surf & Yoga Camp in Ñuro, Mancora
Skill level: Beginners and intermediates
Price: From USD 384
Availability: All year round
Ride the epic waves in Northern Peru! The weather is warm, the waves are mellow, and the cuisine is simply delicious. Enjoy three surf lessons held by experienced ISA (International Surfing Association) instructors in an uncrowded private location. Yoga classes are held on the beach or on the surf house's deck each Monday, Wednesday, and Friday. All daily gourmet meals are included.
If you are looking to ride a wide variety of waves and have an affordable trip, Portugal is of the sunniest countries in Europe, home to some of the best waves on the old continent. It picks up north, south and west swells, offering a great variety of waves for all levels of surfers.
If you are looking to surf in Portugal, then you should start with the more popular regions like North Porto, Costa da Prata, the Lisbon Region, Alentejo, and the Algarve. Beginners will find gentle and fun waves near Lagos, Cascais, Ericeira, and Peniche. Furthermore, you'll find an abundance of cheap surf camps in Portugal to choose from.
Water temperature is not too friendly in northern and central Portugal, and you will need a wetsuit all year round. On the bright side, the weather is very pleasant and sunny, and you can hang out on the beach in a swimsuit or board shorts. On the south coast, the water gets slightly warmer during summer.
» Make sure you score the best waves and have a great time. Find out all you need to know about surfing in Portugal.
Best time to go: All year round. Summer, between May and September, is the best time to go if you wish to learn to surf. The waves get double the size during winter months, between October and April, which is also the prime surfing season.
Top budget surf camp in Portugal
7 Days Intensive Surf Camp in Portugal
Skill level: All levels
Price: From EUR 466
Availability: All year round
Surf the best waves in Ericeira, Europe's first and so far only World Surfing Reserve. This budget surf camp includes nine surf lessons taught in small groups by qualified instructors, surf equipment to use whenever you want, airport transfers, and use of all the hostel's facilities such as free Wi-Fi, kitchen, lounge area, and terrace, to mention a few.
» Here's all you need to know about budgeting and planning your surf trip to Ericeira.
On Mexico's Pacific coast, you will find point breaks and beach breaks as far as the eye can see. Surfing in Mexico will give you an idea of how California was like some 60 years ago and the amazing opportunity to get barreled for the first time.
The Baja California Peninsula is home to more breaks than we can possibly count, with numerous well-kept secret spots that we do not want to divulge. Most waves are remote and only accessible by unmarked dirt roads, so all you need to do is hop on an all-wheel-drive equipped with a cooler, camp on the beach, and stay for as long as you like without having to pay for accommodation or lavish meals, and only go to town for supplies.
On the southwest Pacific coast of Mexico, Puerto Escondido is home to world-class barreling waves for advanced surfers, as well as beach breaks for beginners. Furthermore, it is extremely affordable, catering to the needs of backpackers, solo travelers, and families, with a fascinating surf culture that will have you hooked.
» For more on the waves, check out our guide to the best surf spots in Mexico.
Best time to go: Between April and September.
Top budget surf camp in Mexico
8 Days Budget Surf Camp in Puerto Escondido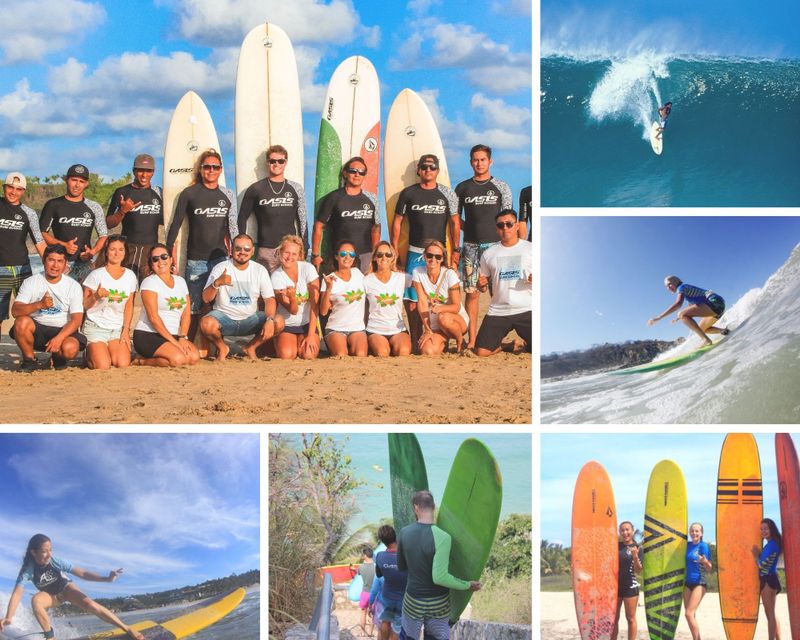 Skill level: All levels
Price: From USD 450
Availability: July till December
Looking to ride the wave of your life? This budget surf camp in Puerto Escondido is adapted to all levels and offers everything you might need – professional tuition, top-quality equipment, coaching session, fitness classes, and more.
You'll get five days of semi-private surf lessons, with only two students per instructor. You'll also receive an additional, free-of-cost surf coaching session supervised by pro surfer Roger Ramirez and captured by a professional photographer. During your stay, you'll enjoy fitness group classes every evening from Monday to Friday, designed to enhance your surfing skills.
When you think of Indonesia, the first thing that pops into your mind is probably surfing in Bali. Our list could not be complete without one of the world's top surfing destinations, which gets hit by the Southern Ocean swells and with a toasty water temperature that stays around 80 and 84 °F (27 - 29 °C) all year round.
With so many world-class breaks and highly-acclaimed budget surf camps in Bali to choose from, so you are bound to find something to your liking. It is also a budget-friendly destination, with incredibly cheap accommodation, food, and surf lessons always on offer.
» Have an epic surf trip. Find out all you need to know about surfing in Bali.
Best time to go: Between May and September (dry season) on the west coast. Between November and March (rainy season) on the east coast.
Top budget surf camp in Bali
3 Days Affordable Stay and Surf Camp in Canggu
Skill level: Beginner & intermediate surfers
Price: From USD 179
Availability: All year round
Learn to surf or improve your skills during this surf adventure of a lifetime. Immerse yourself in the surf culture, surf as much as you like, enjoy great food, and socialize at the funky night venues. There'll be two surf lessons, as well as daily board rental to surf on your own whenever you wish. Daily breakfast and two dinners with a free beer are included, too.
» Canggu is a bohemian hideaway that has been stealing the spotlight lately. Find out why Canggu is such a trendy surfing destination.
Without a doubt, one of North Africa's most fascinating countries, Morocco is a right-hand point break paradise. The region between Essaouira and Agadir is home to the best surf spots in the country, with Taghazout and Tamraght welcoming surfers of all levels on some of the best waves in the world. And you are sure to find a budget surf camp in Morocco to cater to your specific level and needs.
The weather is warm all year round. However, the water temperature rarely reaches 72 °F (22 °C) in summer, which is why a wetsuit is required for most of the year. Accommodation can be quite inexpensive and Moroccan food is cheap, abundant, and simply delicious.
» Find out all you need about budgeting and planning your surf trip to Morocco.
Best time to go: Morocco is a year-round budget surfing destination, with the breaks putting on their best performance in autumn and winter. The waves are biggest between December and February.
Top budget surf camp in Morocco
8 Day Surf Camp for Surfers of All Levels in Aourir, Agadir
Skill level: All levels
Price: From USD 342
Availability: All year round
Discover the best beach breaks on the southern coast of Morocco, near Taghazout, Tamraght, and beyond. Enjoy six days of surfing lessons, three hours each, adapted to all skill levels. Stay in a riad perched on top of a hill, overlooking the famous K11 surf spot. You'll also get complimentary use of the surfing equipment to ride the waves as you wish, while all daily meals are included.
Less crowded than other consecrated surfing destinations but no less visually appealing, Costa Rica is one of the best places on the planet to learn to surf. With an average water temperature of 86 °F (30 °C) and some of the world's most perfect barreling waves, it truly is a paradise for any nature and adventure lover. And if you are set on visiting the country on a budget, then you'll be pleasantly surprised to find that you can survive with very little money.
Surfing in Costa Rica is divided into four main areas:
The Carribean Coast, home to some of Costa Rica's biggest waves.
The North-Pacific Coast, which includes the Guanacaste-Nicoya region, is the country's most popular surfing destination.
The Central Pacific Coast, which includes Jaco, is the first stop in many surf itineraries and Costa Rica's most easily accessible region.
The South Pacific Coast, which includes the Puntarenas region.
» From the surfing seasons and the best waves to the food and budget, here's all you need to know about surfing in Costa Rica.
Best time to go: Between May and October and from November through March.
Top budget surf camp in Costa Rica
Skill level: Beginners & intermediates
Price: From USD 650
Availability: All year round
Ride some of the best waves on Cosa Rica's Pacific coast with this budget surf camp in Tamarindo. Enjoy six days of surf lessons, free use of the camp's surfboards outside the lessons to surf on your own, one snorkeling trip, one relaxing massage, and one yoga session. Daily Costa Rican breakfast is included in the package. Depending on your level and the surfing conditions, you could ride the waves at Tamarindo, Avellanas, Langosta, Playa Grande, or Playa Negra.
» Not sure what to expect? Here's what happens on a surf camp for beginners.
Off the coast of India, Sri Lanka is slowly but surely progressing on the surfing scene. The surf culture is emerging in places like Arugam Bay, Galle, and Hikkaduwa, with plenty of surf schools for beginners and world-class breaks for experienced riders to get their adrenaline pumping.
The water is warm all year round, with an average 81ºF (27 ºC), and there are over 330 days of sunshine per year. Lodging and food are dirt cheap, the line-ups are uncrowded, and there's much to do when you're not surfing too, such as visits to tea and coffee plantations, go on a safari, visit Buddhist temples, taste the delicious food, and practice yoga on the beach.
» Not sure where and when to go? Read our guide to the best surf spots in Sri Lanka.
Best time to go: Between November and April on the west coast and between May and October on the east coast.
Our recommended budget surf camp in Sri Lanka
8 Days The Surfer Beach Camp - Full Lesson Surf Camp in Weligama
Skill level: All levels
Price: From USD 450
Availability: From November till May
Discover the most impressive surf spots in Sri Lanka! Depending on your skill level and the surfing conditions, you'll be taken to secret waves by boat as well as to the most famous spots on the south coast, where you'll learn to surf or improve your technique.
Two surf lessons per day (six days), surfboard rental, six dinners, and daily breakfast included.
If you are looking for a cheap and uncrowded surfing destination with friendly locals and exemplary surfing etiquette, look no further than the Philippines. Filipino food may not get the recognition it deserves, but it is to die for. And cheap too. Don't even get me started on the drinks… Let me just tell you that rum is cheaper than juice.
The world-famous Cloud 9 on Siargao Island speaks for itself, a barreling right-hander that is considered the most consistent on the planet. Needless to say, it attracts an international crowd, but there are plenty of beginner-friendly and less crowded spots worth checking out in its immediate vicinity as well as on the other islands.
» Ride the best waves. Check out the best surf spots in the Philippines.
Best time to go: Between December and April. The Philippines is blessed with warm water all year round, varying between 63 and 77°F (21-25°C).
When it comes to planning a budget surf trip, most end up choosing between the Philippines and Thailand; but they both deserve international recognition thanks to the quality of their waves and friendly vibes on their beaches. Thailand's Andaman coast is exposed to southwesterly Indian Ocean swells, and Phuket takes full advantage of those groundswells.
However, the waves don't seem to get any higher than 10 ft (3 m), which makes the country an excellent destination for beginners. Advanced surfers will find plenty of challenging breaks too. The waves may not be tall, but they are nevertheless impressive, with fast, hollow, and barreling sections.
» Read our article and discover the best surf spots in Thailand.
Best time to go: Between April and October.
Top budget surf camp in Thailand
3 Day Learn to Surf Camp in Thalang, Phuket, Thailand
Skill level: Beginners & Intermediates
Price: From USD 185
Availability: May to October
Embark on a weekend getaway at Bangtao Beach, one of the most beautiful beaches in Thailand. Learn to surf in warm tropical water with fun and gentle waves. During this short, yet intense escapade, you will enjoy two surf lessons. Each day after breakfast, you'll be picked up from your hotel and taken to the beach to enjoy the lesson. On the second day of your stay, the surf lesson is followed by a traditional Thai massage, on the beach.
With quality breaks ranging almost the entire length of the country's Pacific coast, Chile is on its way to becoming one of the most popular surfing destinations in South America. Still uncrowded thanks to its remoteness, it is blessed with above-average waves fueled by the South Pacific Ocean, which is why Chile is generally recommended for intermediate to advanced surfers.
Beginners will find some fun waves too. Punta de Lobos, Chile's surf capital, is dotted with surf schools. Please take note that the water is chilly, with temperatures varying between 55 and 61ºF (13-16ºC). The further south you go, the colder the water becomes.
Best time to go: All year round; Chile has a national average of 300 days of surf per year.​
*Prices are subject to change depending on the date of arrival.
---
Don't spend too much time saving money for your next surfing trip; go now! Pick a budget surf holiday and be on your way to some of the best waves in the world.