What to Expect on a Surf & Yoga Camp?
The go-to resource for planning your surf camps. Find all you need to know about the top destinations and take your surfing to new heights.
Discover Surf Camps now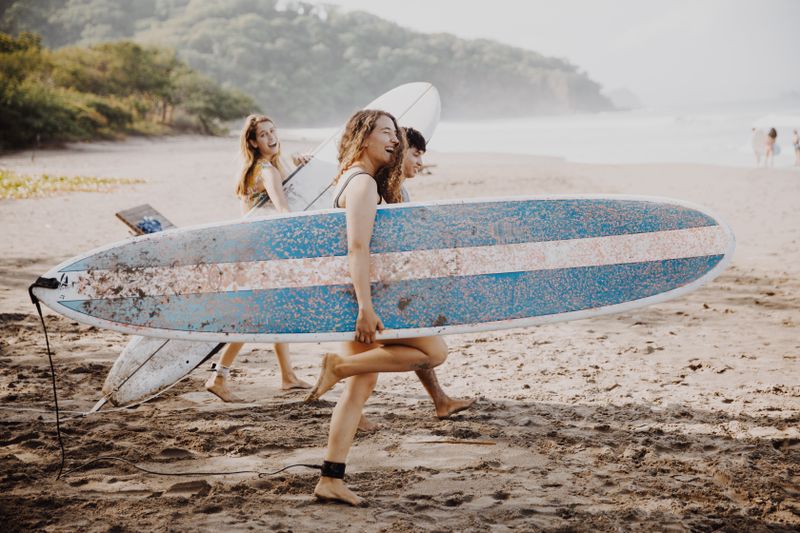 Wanna catch some epic waves? Looking to wind down with yoga on the beach? Sometimes you want both. On a surf and yoga camp, you don't need to choose – you can have both in one irresistible combo!
Surf and yoga go together like peanut butter and jelly. Surfing requires balance, flexibility, strength, patience, an open mind, and being present in the moment. And that's precisely what yoga helps to achieve!
Here's a breakdown of what happens on a surf and yoga camp and why you should absolutely join one:
But first, what is a surf & yoga camp?
Image credit: Costa Dulce Retreat
A surf and yoga camp comes with all the perks of a regular surf camp – accommodation, tuition, equipment rental, transfer to the surf spots, half-board or full-board – with the added bonus of daily yoga classes. There can be meditation sessions too, sometimes even detox programs, massages, and spa treatments for a truly pampering experience.
Most surf and yoga camps cater to people of all skill levels. Don't worry if you've never surfed or done yoga before. A surf and yoga retreat is a great place to take up both! A supportive community of passionate surf instructors and yoga teachers, as well as like-minded people from all types of backgrounds, will be at your side every step of the way.
What happens on a surf & yoga camp?
First and foremost, surf and yoga camps focus on you.
Just imagine kick-starting the day with sunrise yoga, catching some waves, and then soothing the muscles and the mind with sunset yoga. Now that's an epic combination!
Although all retreats have a sample schedule that you can follow, you can absolutely skip certain activities if you don't feel like doing them. And there's plenty of free time that you can use however you wish.
Typical daily schedule
The daily schedule can differ from one camp to the other, but the day usually starts with an energizing morning yoga session, followed by a hearty breakfast. Then, you'll go to the best surf spots of the day depending on the swell conditions, weather, and your skill level. There, the instructors will join you in the water as you catch your first waves or improve your technique. Some camps hold a second yoga class in the evening.
The rest of the day, apart from the surfing sessions and yoga classes, is free time that you can use however you like. Most surf camps offer free surf equipment rental, which means that you can surf outside of the lessons as much as you wish.
The surf lessons
Image credit: Oceanside Gran Canaria Surf
Some surf camps cater only for beginners, while others welcome all levels. Regardless of which type you choose, the surf lessons will be adapted to your own skills.
Upon your arrival, the instructors will assess your level and you'll join a small group of surfers of similar abilities. The instructors will be in the water with you at all times, providing tips and feedback to help you improve.
If you're just starting out, you'll join a beginner course in which you'll learn all the basic techniques required to catch your first waves (paddling, popping-up, standing on the board), as well as ocean safety and surfing etiquette.
» READ MORE: What Will You Learn on a Surf Camp for Beginners?
If you already have some experience, you can join an intermediate surf camp and take your skills to the next level by learning more advanced techniques.
And if you're an advanced surfer, you can benefit from surf guiding and go where the best waves of the day are, thus scoring more gnarly waves during your trip.
The yoga classes
Image credit: Rapture Surf Camp
The yoga classes are usually gentle, suitable for all levels, and are surf-focused. You don't need to have any prior experience to join them. The emphasis is on building strength, flexibility, and balance for surfing. In addition, they also focus on recovery from the surf sessions.
The styles practiced are usually gentle Hatha, Restorative, and Yin Yoga.
In the morning, an awakening yoga flow will stretch the body, preparing you for the surf sessions. The evening session is usually slow, soft, and gentle, typically Restorative or Yin Yoga. The class is designed to flush lactic acid and open energy lines. The sequence stretches and relaxes the muscles, joints, and tendons, nourishing the soul and ensuring a good night's sleep.
The location where the yoga classes are held depends on each retreat and its facilities. It could be on the surf house's rooftop terrace=, in the garden, in a studio, or directly on the beach.
» READ MORE: The Benefits of Yoga for Surfers
Top reasons to join a surf & yoga camp
Image credit: Rapture Surf Camp
Surfing makes a great addition to your yoga holiday and vice versa. But that's not the only reason to join a surf and yoga retreat. Here are some more:
No hassle
Surf camps take out the hassle of having to plan all the details of your surf trip. All you need to worry about is getting there and the camp will take care of all the rest.
You don't need to fret about traveling long distances with your surfing gear and yoga mat, finding rental shops and accommodation near the waves, studying surf guides, reading forecasts, or figuring out how to get from your lodging to the surf spot.
Most camps have a modern quiver. Surfboard and wetsuit hire is included in the package. Furthermore, surf and yoga camps typically provide mats and all the necessary props too.
» READ MORE: The 10 Best Yoga Poses for Surfers of All Levels
Find your balance
Surfing connects you with the ocean and nature. It's much more than finding your balance on the board. It's about finding balance in life.
Yoga is much more than the poses performed in class. It helps you find your inner balance, aligning your body, mind, and soul. It is a way of life. Furthermore, yoga balances out the rush experienced when riding the waves.
Find your flow
When you go with the flow, life moves with you.
When surfing, you must become in tune with the movement of the water and go with the flow of the waves. There can be no distractions, no brain chatter. You should quiet the monkey mind and be completely immersed in the present moment.
When practicing yoga, you must become aware of the fluidity of your body and mind. Just like when surfing, you should be present and in the moment. Yoga helps calm the mind and be patient, preparing you for successful surfing sessions.
» READ MORE: Your Brain on Surfing [Infographic]
Challenge yourself
If you have tried surfing or yoga before, a camp can help take both practices to the next level.
No matter your skill level, whether you've never surfed before or are already an experienced surfer, there will always be new coastlines to explore and new waves to ride. And no matter where you are in your yoga journey, you can always find new challenges in your practice.
Furthermore, you'll visit new places, try local foods, and immerse yourself in the local culture. You can even challenge yourself to learn a new language or experience fascinating traditions while there.
Score more waves
Image credit: Algarve Watersport
On a surf camp, you're guaranteed to score more waves. Whether you're just starting out or wish to improve your skills, you'll get surf lessons tailored to your needs.
If you're already an experienced surfer, you can choose to go surfing with a local guide that'll show you where the best waves are according to the weather and swell conditions of the day. Furthermore, you might get to visit secret surf spots that could be otherwise hard to find on your own.
Get a massive reset
You'll move your body, catching waves and striking yoga poses. Don't worry, though; you won't exert yourself. You'll get just enough exercise to ensure a good night's sleep and come back home feeling refreshed and rejuvenated.
*Cover image credit: Costa Dulce Retreat