Top Places to Learn to Surf in Spain
The go-to resource for planning your surf camps. Find all you need to know about the top destinations and take your surfing to new heights.
Discover Surf Camps now
Summer in Spain brings to mind images of sun-filled days, incredible beaches, laidback vibes, and a huge variety of friendly waves for beginners.
This is the time of year when most beginner surf camps in Spain operate, and when you can take your first steps on the surfboard in a safe and fun environment that ensures fast progress.
Northern Spain is on every surfer's bucket list. The Basque Country is a European surfing mecca, home to some of the longest and most challenging waves on the planet, the likes of Meñakoz and Mundaka. But forget about those gnarly waves. This article is about those gentle, forgiving waves where you can learn to surf in Spain.
Traveling to Spain in 2022
All passengers arriving in Spain by air or sea, including those arriving in transit to other countries, must complete a Health Control Form before departure and obtain their QR to present it at boarding and health controls on arrival in Spain. It is not mandatory to present any form if the trip to Spain is by land.
Residents of European Union (EU), Schengen Associated States, Andorra, Monaco, The Vatican (Holy See) or San Marino, holders of a long-term visa issued by the EU or Schengen Associated State who are going to that country, as well as residents of some third countries are allowed entry with a valid EU Digital COVID Certificate.
The certificate may be of three types – vaccination, diagnostic test, or recovery:
As of February 1, 2022, the vaccination certificate will be valid from 14 days after the date of administration of the latest dose and will be valid up to 270 days from that dose. In order to continue the validity, the certificate must reflect the administration of a booster dose. Any vaccine authorized in the EU is accepted. Certificates with non-authorized vaccines are also accepted but the last dose administer must be of one of the authorized vaccines.
Certificates of a negative diagnostic test are also accepted. NAAT- nucleic acid amplification tests (e.g.: RT-PCR) must be taken within 72 hours of arrival in Spain; RAT-rapid antigen test must be taken within 48 hours of arrival.
Recovery certificates are valid from day 11 after the first positive NAAT up to 180 days.
» Read more details from official sources
But first, when is the best time to surf in Spain as a beginner?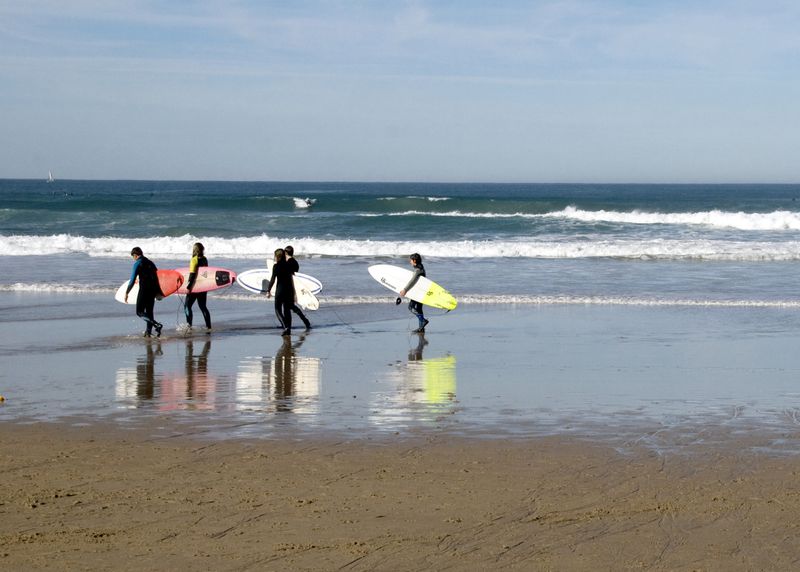 Image credit: Estitxu Carton
For beginners, the best time to go surfing in Spain is in summer and early autumn (May through October), when the waves are smaller and gentler. During winter, the waves are much more powerful.
Considering that the beaches tend to get very crowded in July and August – the peak travel season for Spain –, early autumn is prime season, for all levels of surfers. The water is still warm in September, the weather is lovely, the waves are not too big, and the crowds will have dispersed.
The surfing conditions are less consistent during summer but, thanks to the Bay of Biscay, northern Spain receives regular swells all year round.
In southern Spain, however, the surf is less reliable during summer, and can go completely flat for days, as northern swells are blocked by Portugal. Swells start to pick up again in September.
Water temperatures hover around 20-25ºC (68-77ºF) during the warmest months, and can drop all the way to 12-13ºC (53-55ºF) in winter. You'll need a 2mm top during the warmer days. For early morning sessions or if the wind is up, you'll need a 3/2mm wetsuit to surf in Spain.
Read our guide to planning the perfect surf trip in Spain.
Are you ready to push yourself out of your comfort zone? Here are the best surf spots for beginners in Spain:
Zarautz, Basque Country
Image credit: BoardX
In the heart of the Basque Country, west of San Sebastian, Zarautz is the birthplace of surfing in Spain. It's also one of the best surfing destinations for beginners in the world and one of Europe's surfing meccas.
Zarautz is the longest beach in the Basque Country, stretching on 2.8km (1.7mi), and is home to multiple beach breaks with a sandy bottom, with consistent and high-quality waves for all levels. Simply put, there's enough room for everyone to feel comfortable in the water.
Furthermore, Zarautz works with even the tiniest of swells, and is a safe bet when other spots go flat. It's a year-round surfing destination, but do keep in mind that winter receives bigger swells, which produce larger and more powerful waves, more suited for experienced surfers.
» Join a surf camp in Zarautz!
The charming little coastal town of Zarautz is one of the most popular surfing destinations in Spain and has much to show for. You'll find all the surfing facilities you may want, as well as beach bars, restaurants, shopping, and buzzing nightlife.
After an adrenaline-pumping surf lesson, take a stroll along the boardwalk and have a drink at one of the terraces overlooking the beach, contemplating your success on the surfboard. No day would be complete without trying the local pintxos (traditional Basque Country tapas) and having a glass of sidra (traditional Northern Spain cider) or txakoli (slightly fizzy white wine traditional in the Basque Country).
La Zurriola, San Sebastian, Basque Country
Image credit: San Sebastian Surf Camp
Only 30 minutes from the French border, San Sebastian is the culinary capital of Spain, and a wonderful destination if you're looking to have just as much fun in and out of the water. Who wouldn't like to combine good food with good surf?
La Zurriola is an urban beach only a short walk from town. It is the most famous surf beach in San Sebastian, with quality waves all year round and on all tides. Near the shore, the waves are mellow and perfect for beginners. Further out, they are more powerful and are great for intermediates.
San Sebastian, or Donostia in Basque, is both a cultural and surf hub. It's one of the world's best surf towns, with an exemplary surfing and tourism infrastructure. There's no shortage of surf camps in San Sebastian, and there are numerous surfing facilities.
San Sebastian is the perfect base camp for checking out the 30+ surf spots in the Basque Country. At the end of the day, celebrate at one of the many beach bars and restaurants, cafes, and thumping nightclubs.
Sopelana, Bilbao, Basque Country
Image credit: César
Sopelana is a suburb of Bilbao, close to Meñakoz and only half an hour from Mundaka, two of the gnarliest waves in the country. It's one of the most popular (and often crowded) surf spots in Spain, home to a variety of waves for all levels. Luckily, the picturesque beach is big enough and has several peaks to accommodate numerous surfers without feeling crammed.
Renowned for its exposure and consistency, Sopelana gets waves even with a very small swell. Furthermore, any surfing facility you could want, you'll find it here!
Sopelana is an excellent base camp for surfing in the Basque Country, as it's located only 20 minutes from the international airport in Bilbao (BIO). Should you wish to take a break from surfing, go on a day trip to Bilbao and make sure you squeeze in a visit to the famous Guggenheim Museum.
Playa de Somo, Cantabria
Image credit: Bio Surf Camp
Cantabria is home to some of the best waves in Europe. Close to the region's capital, Santander, Playa de Somo is one of the most consistent surf spots in Spain. In fact, if there are no waves at Somo, chances are you won't find any elsewhere either.
The wide-open beach with golden sand dunes has lovely views of Santander and the sunsets are drop-dead gorgeous. There are small-to-medium waves all year, plus all the facilities you could ask for, from surf schools and shops to bars, restaurants, and a lively nightlife.
» Join a surf camp in Somo!
Somo was one of Spain's first surfing enclaves. To this day, you'll find a close-knit surfing community, with over 500 residential surfers, who are very welcoming and always eager to help you make improvements and have a great time.
Playa de Razo, Galicia
Image credit: Miguel Navaza
In northwestern Spain, Galicia has beaches facing every direction, so you'll always find a wave to ride, which makes it a great alternative when other places go flat.
Less crowded than the other popular surf spots in northern Spain, you'll only find a few beachgoers and traveling surfers at Playa de Razo. Despite being a quiet place, there are plenty of surfing facilities.
The long stretch of white-sand beach is home to a beach break with several peaks. The waves never get too big, which make it one of the best places to learn to surf in Spain.
El Palmar, Cadiz, Andalusia
Image credit: Oceano Surf
With 300+ days of sun per year and warmer water than on the northern coast, Cadiz is the best surfing destination in Andalusia and the capital of surfing in southern Spain.
El Palmar is the most consistent beach break in the Cadiz province, with crystal clear water, a sandy bottom, and fun waves for all levels.
An hour away from Seville and two hours from Malaga, the small coastal village of El Palmar has all the necessary surfing facilities, as well as many neat places to eat and drink.
Between May and August, the conditions are not as reliable, and between June and August, the surf can go flat for days. In September, Cadiz starts to receive more constant swells. In autumn, the waves are perfectly shaped and excellent for beginners and intermediates. With a bigger swell, it usually gets crowded.
*Cover image credit: Latas Surf
---
Join a surf camp in Spain and embrace the country's relaxed lifestyle, all the while riding some of Europe's best waves!