Top 5 Affordable Surf Camps in Australia
The go-to resource for planning your surf camps. Find all you need to know about the top destinations and take your surfing to new heights.
Discover Surf Camps now
Australia has a lot going for it. As one of the greatest surfing nations, wave riding has long been a part of its identity. What better place to learn to surf or take your skills up a notch than the country with one of the strongest surf cultures on the planet?
Australia is huge. With coasts facing all directions, the Down Under is exposed to a wide swell window. This translates to great consistency and an outstanding variety of waves for all levels and tastes, from mellow rollers to downright gnarly barrels. At any given time of the year, you're bound to find quality surf somewhere in Australia.
And if money's an issue, you'd be pleased to know that you can find budget-friendly surf camps in Australia that will enable you to do more of what you love.
From short escapades and weekend surf camps to longer stays, here are the top five affordable surf camps in Australia where you can have all the fun and expert tuition you desire, even on a tight budget:
Note: BookSurfCamps offers a flexible cancellation policy. Should you not be able to travel as scheduled, we'd be happy to help you alter your booking with the same organizer or a different organizer.
Skill level: All levels
Availability: June till December
Price: From AUD 250
Are you looking for a weekend at the beach or a short surfing escapade that won't break the bank? Join this highly rated surf camp in Byron Bay, the epicenter of surfing in northern New South Wales, and make new friends, immerse in the captivating nature, and ride the stunning waves. All from AUD 83 per day!
You'll enjoy two four-hour surf lessons; you can choose to have them in the morning or in the afternoon. Each lesson includes warm-up, surf theory and practice on the beach, followed by hitting the waves.
Byron Bay is a surfer's paradise, with over 15 beaches to choose from. The experienced instructors will take you to the best waves based on your level and the conditions of the day, and will tailor the program to suit your specific needs.
The hostel is located right in the center of town, only a half-minute walk from the iconic Main Beach. Every Monday, Wednesday, and Saturday morning, the camp holds a one-hour yoga class on the rooftop terrace.
You'll also benefit from free equipment hire throughout your stay. Make the most of your free time and grab a surfboard, paddleboard, snorkel gear, or bike to hit Byron Bay's famous waves and explore Cape Byron, Australia's easternmost point.
The package includes two breakfast boxes, discounts at the hostel's bar, café, and restaurant, plus a free arrival beer at the rooftop bar.
» Plan an unforgettable surf trip. Find out all you need to know about surfing in Australia.
Skill level: Beginners and intermediates
Availability: All year round
Price: From AUD 295
Join one of the best learn-to-surf schools in the country, located in the surf town of Byron Bay, famous for its laidback hippie vibes. By day, you can explore the nearby beaches and ride some of the best waves in Australia. By night, you can visit the happening bars and clubs.
A key part of the surfer lifestyle is having no worries. If you join this surf camp, all you need to do is get there and the instructors will take care of all the rest. Accommodation, all daily meals, transfer to the surf spots, bike and surfboard hire, and all the necessary surfing equipment are included in the package.
You'll enjoy two surf lessons held at the best beaches with friendly waves in Byron Bay. The lessons are usually held in the morning. After that, you have plenty of time for yourself. You can try some of the free activities offered at the camp: bongo lessons, didgeridoo making, bush tucker walks, reiki workshops, volleyball, basketball. You can take advantage of the surfboard hire included in the package to score some waves outside the lessons. You can hop on a bike and explore the town and coastline. Or you can just chill by the pool.
» Wondering where to find the best waves? Read about the best surf spots in Australia.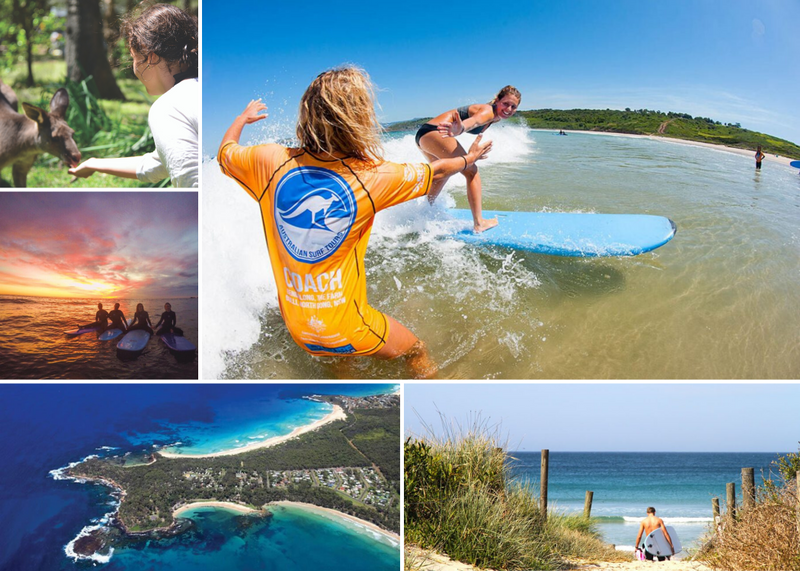 Skill level: Beginners
Availability: September till May
Price: From AUD 395
Dreaming of a weekend camping at the beach? For a real Aussie adventure, combine surfing with the pristine nature of one of New South Wales' most beautiful surf spots.
You will camp on the beach, in the small coastal village of Bendalong, south of Sydney, in the Shoalhaven region. The surf camp is located on a small peninsula, surrounded by water on three sides and by the Conjola National Park on the other. You'll be provided with comfortable camping beds and all the necessary beddings, which will make the experience feel like sleeping in a hotel.
The area is home to six surf beaches facing various directions, meaning that you'll always find waves to surf. During your stay, there will be two days of surfing lessons of two hours each.
The package also includes exciting excursions of discovering the national park's fascinating wildlife and colorful birds. You'll get to feed the giant stingrays and the kangaroos, swim in the rock pools, among other activities.
All daily meals are included, as well as snacks and transportation to and from Central Sydney.
» Not sure what to expect? Find out what you'll learn on a surf camp for beginners.
Skill level: All levels
Availability: All year round
Price: From AUD 770
What better place to learn to surf or develop your skills than Manly Beach, the first of Sydney's Northern Beaches and the birthplace of surfing in Australia? Back in 1915, surf legend Duke Kahanamoku gave demonstrations at Freshwater and Manly beaches, paving the road for Australia's booming surf culture.
If you're looking for comfort at a low price when surfing at Manly Beach, this surf camp might be the answer. It offers quality accommodation, with in-house cinema, yoga studio, bar, and a welcoming atmosphere. All from AUD 96 per day!
The surf house is located only 100 meters from the beach, two minutes from Manly Wharf, and a 30-minute ferry ride from the Sydney city center. Only a minute's walk from the house, you'll find lively beach bars, pubs, cafes, breweries, and live music venues. If you wish to eat out, there are plenty of budget-friendly options nearby. The house also has a state-of-the-art kitchen that you can use to whip up your own meals.
Each morning, there will be a one-hour surfer yoga class at the beach house. The style practiced is Vinyasa, and the sessions are designed to warm up the body and get you prepared for the surf lessons.
The daily surf lessons take one-and-a-half-hours each. You'll also get unlimited use of the camp's surfing equipment to ride the waves whenever you want and for how long you wish. Plus, you'll get free skateboard and bike hire if you wish to explore the surroundings.
The package includes daily buffet breakfast and one dinner. Water, coffee, tea, detox juices, and alcoholic drinks are also included, as well as a free power hour at the bar each night at dinner.
Skill level: Beginners
Availability: June till December
Price: From AUD 300
In search of beginner-friendly waves and quality surf tuition in Western Australia? This short surf camp in Fremantle covers all the basics and the instructors will make sure to get you up and riding the waves in no time. Or, if you have surfed before, they will work with you to improve your technique and take your skills to the next level.
There will be three days of surfing lessons, plus extra time to ride the waves freely as the camp's surfing equipment will be at your disposal.
You'll stay in a small and homey hostel from where the instructors will take you to a variety of beginner-friendly surf spots near Perth. They'll also take you to some secret spots where you can rest assured that you'll have plenty of room to practice and improve without having to worry about the other people in the water.
*Cover image credit: Mojosurf Australia
---
Looking to learn to surf or take your wave riding skills to new heights? Join a surf camp in Australia and ride some of the world's best waves!