Top 5 Surf & Yoga Camps in Canggu
The go-to resource for planning your surf camps. Find all you need to know about the top destinations and take your surfing to new heights.
Discover Surf Camps now
Nestled on Bali's southeast coast, between Seminyak and Tanah Lot, Canggu is a bohemian hideaway chockfull of youthful vibes, backpacker-friendly venues, hip bars, fancy restaurants, live music, contemporary art, boutique shops, and posh villas.
Affectionately called "the Gu", Canggu is a hipster enclave and one of the trendiest surfing destinations in Bali. Its eat-sleep-surf-repeat rhythm is contagious, with both surfing and yoga deeply ingrained in its culture. You simply cannot come here and not catch some waves or strike a yoga pose on the beach at sunset.
If you'd like to mix in both, check out our picks of highly-rated surf and yoga camps in Canggu for all levels and budgets:
Note: BookSurfCamps offers a flexible cancellation policy. Should you not be able to travel as scheduled, we'd be happy to help you alter your booking with the same organizer or a different organizer.
Skill level: Beginners and intermediate surfers
Price: From US$586
Availability: All year round
Stay in a posh surf and yoga resort nestled in between the beach and the paddy fields in Canggu.
The camp offers surf lessons every day except on Sunday and is ideal for those with little or no surfing experience. The instructors will select the waves that are most suitable for your ability. They strive to see each student progress to the next level by the end of the camp.
For intermediate surfers, the coaches will provide immediate feedback to help improve your posture and technique.
The camp holds two yoga classes per day, adapted to each skill level, and you can choose to attend one or both. Kick-start the day with a combination of Ashtanga and Vinyasa flows. In the afternoon, you can join the restorative yoga sessions that combine Yin stretches with graceful flows and transitions, targeting the muscles used when surfing.
The package includes surf video analysis, daily breakfast, and free use of the surf camp's motorbikes and scooters.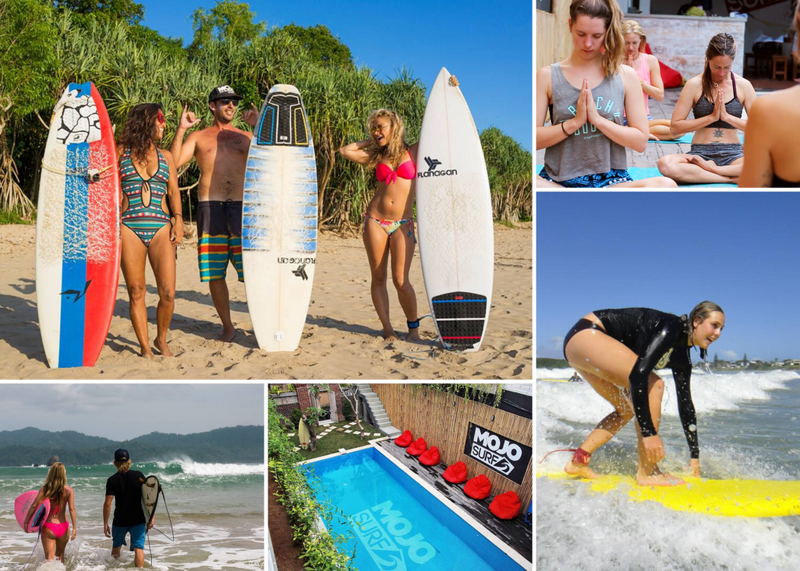 Skill level: Beginners and intermediate surfers
Price: From US$515
Availability: October till February
Immerse in Canggu's remarkable surf culture and scrumptious food. Join this surf camp amidst rice paddies and temples, within walking distance from some of the best waves in Bali, ranging from mellow rollers for beginners and intermediates all the way to punchy peaks for more advanced surfers.
The surf camp specifically caters to beginners who wish to learn to surf and intermediates looking to progress in a fun and safe environment. The local surf instructors will take you to the best waves in Bali for your level. They will explain the surf conditions as well as the local customs and traditions so that you can truly immerse in the Balinese lifestyle.
You'll enjoy daily surf lessons, as well as daily yoga sessions to relax and reenergize after riding the waves. In the evening, you can check out the many hip venues in Canggu, located in the vicinity of the camp.
Your lodging, the Mojosurf Camp, is located in the Batu Bolong area in Canggu and is equipped with a "surf" sports bar and a large pool. Daily breakfast and dinner are included in the package.
Skill level: All levels
Price: From US$999
Availability: March till January
Are you ready to have the time of your life? All you need to do is say yes to surfing, health, fitness, yoga, and transformation.
This is not your average surf camp. This is a luxury surf, yoga, and adventure retreat. Learn to ride the waves and improve your fitness level at your own pace and with personalized attention. As soon as you arrive, your very own concierge will build a customized itinerary that is bound to energize, refresh, and relax you.
Enjoy unlimited yoga and fitness classes each day, tailored to your unique needs. You'll also receive three massage and beauty treatments.
There will be three surf lessons in total during your stay, plus unlimited surfboard hire, which will enable you to go out and ride the waves as much as you wish, whenever you wish.
Daily breakfast with smoothie or juice is included in the package. For an additional fee, the retreat can build a custom meal plan to help you detox and cleanse.
» Find out what are the best yoga poses for surfers of all levels.
Skill level: All levels
Price: From US$2,545
Availability: All year round (except February)
Unwind and recharge in paradise with an exclusive women-only vacation that offers custom-made, intimate, and transformative experiences
Enjoy a women's specific surf program that will take you to ride different waves around Bali. There will be five surf sessions in total. You'll also get to go on a boat trip to a secret spot with translucent waters.
During this deluxe rejuvenation holiday, there will be six yoga and meditation sessions. What's more, unlimited spa treatments are included in the package. There are over 20 pampering treatments to choose from.
All daily meals are included, featuring a spa cuisine menu designed to tantalize your taste buds. Each dish is tailored to your unique personal tastes and dietary requirements, whether vegan, paleo, vegetarian, pescetarian, dairy-free, grain-free, low fructose, or other. Water, coffee, tea, and detox juices are also included.
Indulge in luxury accommodation with butler service. Unwind on the retreat's charming garden paths, at the in-house spa, infinity pool, Jacuzzi, and lounge areas.
In your free time, take advantage of the complimentary bike hire to explore the surroundings.
» Find out what you'll learn on a surf camp for intermediate surfers.
Skill level: All levels
Price: From US$3,171
Escape daily routine and immerse in the Balinese culture together with your loved one. This exclusive and pampering surf and yoga retreat in Canggu features traditional dishes, guided meditation sessions, and relaxing Balinese massages in addition to daily private surf lessons and afternoon yoga.
Each morning, you'll be taken to the best waves of the day for your skill level. There will be one guide per two people. This means that you can enjoy intimate surf lessons with your significant other and receive personalized feedback and the coach's full attention.
All styles of yoga are practiced at Pelan Pelan. The teachers can combine various styles and flows depending on your requests. The classes are held in small groups and they cater to all skill levels and ages.
The package includes daily breakfast and lunch, as well as a half-day trip to Tanah Lot temple.
*Prices can change depending on the date of arrival.