7 SUP Destinations in Europe You Need to Check Out
The go-to resource for planning your surf camps. Find all you need to know about the top destinations and take your surfing to new heights.
Discover Surf Camps now
In recent years, stand-up paddleboarding has exploded in popularity and has become one of the fastest growing sports in the world. It is a fun way to get out on the ocean, river or lake, get some exercise, and simply have a good time.
When it comes to surfing and stand-up paddleboarding, Hawaii might be the first place that comes to mind. After all, it is the birthplace of SUP. But did you know that Europe has some fantastic spots to offer for those who love to paddle and spend their days on the water?
When it comes to SUP vacations that can tickle your fancy, the 'old continent' has a lot to offer. Once you have your paddleboard ready, you can start navigating the beautiful sceneries at the foothills of the Alps, in the heart of renowned capitals, down rivers, in the Mediterranean or the Atlantic. Listed below are the coolest SUP destinations in Europe:
Spain is already a renowned surfing destination and is also becoming a popular destination for stand-up paddlers. There are over 100 beaches in the country, which is why it is often regarded as 'Europe's Hawaii'.
In and around the Balearic Islands is where you can get embark on some of the most fascinating SUP trips. You can explore and enjoy the stunning scenery and caves while on your paddleboard by surfing the rugged coastlines of Mallorca and Menorca. Let us not forget the Canary Islands, which offer plenty of SUP hotspots.
» Join a SUP camp in Spain.
On the mainland, you can take in the astonishing sights along the banks of the Guadalquivir River, the fifth-longest in the Iberian Peninsula.
Heading to España for some fiesta, siesta, and fun in the water? Here's all you need to know to plan the perfect surf trip in Spain.
Photo credit: www.supboardermag.com
Italy offers infinite possibilities for a fun-filled stand-up paddleboarding vacation. The island of Sardinia and the lakes to the north of the country are the most popular SUP destinations in Italy.
You can even try SUP surfing and ride larger waves while paddling in the open sea at Cinque Terre National Park. If you're looking to just relax, then you can take a leisurely paddling trip along the shoreline and admire the many medieval villages and castles lining the Italian Riviera. For a complete paddleboarding tour of Italy, make sure you also go to Venice and paddle alongside the gondolas.
Photo credit: www.algarve-sup-tours.com
Portugal is a paradise for water sports enthusiasts, and there are many world-class surfing spots within easy reach from capital Lisbon. Luiz Saldanha Marine Park is located at the base of the Arrabida Hills, some 50 kilometers (31 miles) south of Lisbon.
The coast is protected from the prevailing north-easterly winds and offers incredible water visibility. Thanks to that, stand-up paddleboarding here is like paddling in a huge aquarium. The marine park is home to stingrays, a colony of seahorses, a rare phosphorescent bijou anemone, and a permanent resident pod of bottlenose dolphins.
» Find out all you need to know to plan the perfect surf trip in Portugal.
4. Normandy, France
Normandy is a region in northern France that is famous throughout the world thanks to its dramatic coastline dotted with tall white-chalk cliffs falling straight down into the Atlantic, the WWII D-Day Landing beaches, and some of Europe's best waves. It is also a destination you simply have to visit if you're looking for an authentic SUP experience.
With the remarkable legacy of the Normans evident everywhere, you have the chance to combine cultural heritage with stunning SUP for a winning formula by surfing in this part of France.
You can try SUP surfing at Etretat, a consistent left-hand reef break, the most popular in the region. Even though it can sometimes get crowded because it is not too far from Paris, you will still have a great time paddling. Other places where you can surf and paddleboard in Normandy are L'Anse du Brick, Yport, Vacotte, and Wissant. The latter is great for beginners because it is usually empty.
Photo credit: www.missadventuresabroad.com
There are so many possible good choices if you pick Greece as your next SUP destination in Europe. Do you know why? The country has more than 25 rivers, 60 lakes, 5,500 islands, and 12,000 kilometers (7,500 miles) of coastline you can choose from. Knowing that, it becomes quite obvious why Greece made it onto our list. You can stay away from the touristy spots and see the country from a whole new perspective by exploring the Greek Islands.
You can take part in some of the SUP competitions that Greece offers. These include 3-kilometer (1.8-mile) flat water races, relay races, open sea races, and the Corinth paddle crossing, the world's straightest 6-kilometer (3.7-mile) stand-up paddling race. You can surf on the waves of the black beach of Perissa on the island of Santorini or enjoy a perfect environment by paddling on Loutraki's crystal-clear and calm water in the Gulf of Corinth. Also, you can explore the beautiful coastline of Rhodes and regain your energy by enjoying a traditional picnic on the beach.
Amsterdam is a wonderful stand-up paddling destination. It has the main Amstel River plus over 100 kilometers (62 miles) of canals cutting through the city. You can glide under bridges, cross through dams, and paddle through tulip fields.
If you already have some experience under your belt, make sure you take the 8-kilometer (5-mile) paddling trip to the Pampus Fortress Island. If you are a newbie, there are numerous paddle schools around that also offer BOGA yoga lessons to help you find your correct posture and balance.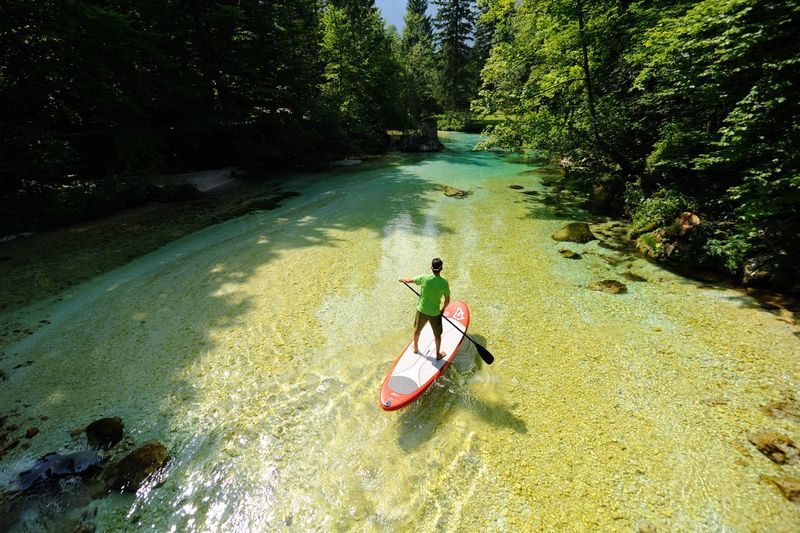 Photo credit: www.supboardermag.com
Slovenia is already a well-known SUP destination, thanks to its many rivers and lakes. There's no better way to begin your SUP adventure in Slovenia than by paddling down the winding Ljubljanica River to explore the many historic sites that capital Ljubljana has to offer. Paddling through the Old Town, you will be greeted with the Castle of Ljubljana and the Dragon Bridge crossing the Ljubljanica River.
For a truly epic SUP holiday, visit Slovenia's pristine alpine lakes, like the picturesque Lake Bled. Enjoy paddling in the warm Adriatic Sea and travel along crystal-clear rivers like the Savica River and the emerald-green Soča River.
---
Experience pristine beaches, wild Alpine lakes, and winding rivers in a unique way. Join an exciting surf camp in Europe that will get you closer to the continent's most impressive natural and historic sites.