Whitewater Rafting Experiences Made in Romania
The go-to resource for planning your surf camps. Find all you need to know about the top destinations and take your surfing to new heights.
Discover Surf Camps now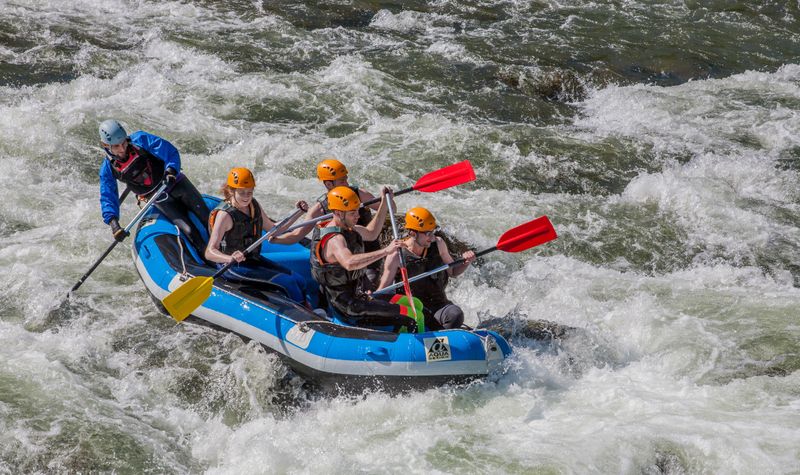 It's funny – I don't spend a lot of time on Romanian waterbeds and many other watersports enthusiasts travel great distances to do that. Here follow some stories on the features of the most popular whitewater rivers in the country. Just to get your appetites whetted…
Olt River, class 1
© Marcel Băncilă
In Romanian legends, Olt and Mureş Rivers are siblings. One holding a more laid-back character and the other – a more hectic one. Olt is the lazier of the two and cannot be technically considered whitewater.
It can, however, be the reason for a perfect day out, especially for kayakers, as there are various sections from Transylvania to Oltenia to choose. A very scenic one, passing through villages and along old fishermen relaxing on the banks, stretches from Lunca Câlnicului to Podu Olt and ends with a boof.
Slower flows should not be underestimated. Safety gear is still mandatory and flood levels should be avoided – Olt River does tend to gather every item it can take, from large tree branches to car tyres.
Mureş River, class 1-2
© Gliga TV
The more fidgety of the two siblings, voilà! With a wide yet rocky riverbed, but shallow water, Mureş can prove quite technical.
Especially if you are part of a competition, you are in a hurry to complete your route, and you are in a raft… that you need to push, every once in a while, because it gets stuck. 'Mureş Marathon' is a race organized in spring, starting in Meştera and ending in Răstoliţa – northern Transylvania –, and several types of boats can participate. There is even a slalom event for whitewater kayakers.
Conclusion? Paddling down Mureş can be a fun experience!
Buzău River, class 2-3
© Alina Buf
…with an element ('The Washing Machine') that can be considered Class 4, especially at high water levels, because, yes, the river is dammed and its flow is controlled.
I've always had a love-hate relationship with Buzău, probably because it's here where I started whitewater kayaking, it's here where I lived one of the scariest days of my life, it's here where I flipped for the first time. It was one gloomy day in late May and – even though we were set to paddle the (easier) lower section of the river, following the Washing Machine –, bleakness in the air and murkiness underwater are the ideas that stayed with me.
© Outdoor Experience
It took nearly 4 years for me to return to Buzău River, this time in a raft, alongside my team. While preparing for the Romanian National Rafting Championship, we discovered a river full of personality – maybe too much of that –, and even landed a place in the semifinals and a well-deserved 4th place in the Head2Head Discipline. I was so happy that day even though it was early April and snowing!
Thinking back to one thing I was told many years ago, that some English guys enjoyed Buzău River more than Una River in Bosnia, I smile.
Jiu River, class 3-4
© Marcel Băncilă
Jiu River is the jewel in the crown and my favorite (and most challenging!) of all the whitewater I've run in Romania. The strange thing about it is that in late summer – even early autumn if it's been droughty –, it turns into a lazy class 2-er. On the other hand, in spring, when the snow melts, the rapids can get wild.
I believe that I know both of its faces because my friends and I tried to raft it during a hot August morning, but were forced to cancel our session because there would have been many sections with boat dragging necessary.
At the opposite side stood our near-death experience of one rainy May day, along with an unprepared rafting guide and three inexperienced friends of his that he brought into our boat. Long story short: we flipped because those on the right side wouldn't paddle when needed, our guide climbed up the rocks because he had forgotten to wear a PFD, one of my best guy friends stayed attached to the boat and went down the river with it.
There were panic attacks registered among the participants, some of them decided not to raft ever again, nightmares followed, even I developed a type of incipient fear. As we were in the gorge, surrounded by steep walls, continuing and even completing without error the remaining route seemed impossible, but became doable.
There are still accidents in the gorge, people still die, so we should be careful, always go well fed and properly equipped on water, trust our reactions, and be quick to provide help if mishaps occur. Moreover, we should continue fighting against the building of dams; rivers should run free and their ecosystems should be kept intact.
Bowing before nature must become a priority in the life of us all. When we truly learn to respect water, we will realize that she is our friend.
*Cover image credit: no-mads.ro
---
Are you looking to connect with and deepen your understanding of the water element? Join a surf school in any place of your choosing and make your dreams a reality!
Read more of Olivia's adventures on her blog.