Beach Camping without a Tent: All You Need to Know
We're expert surf travellers and we love helping you. BookSurfCamps.com is the largest surf travel website with 2195 unique listings in 244 destinations around the world.
Discover Surf Camps now
Every once in a while, it is important that we get free time off from our daily routine and just have some fun. If you've never been camping before, spending the night at the beach by the campfire is a great place to start.
Everyone should try beach camping at least once in their life. Watching the stars at night and waking up to the warm sun rays shining over the horizon is a priceless experience, to say the least. Furthermore, as saving space in their luggage is a rule of thumb for water sports enthusiasts and campers, the fact that you can go camping without having to bring a tent is quite an advantage. While camping in the mountains often requires specific camping equipment, such as your tent or hammock, camping at the beach does not.
Leaving your tent behind when camping at the beach will open up a whole new perspective. It is a great way to get in touch with nature and also help relieve the burden of traveling with a bulky luggage. Here are some tips on beach camping without a tent:
1. Build a fire
Nothing beats relaxing by the campfire at night under the countless of stars shimmering in the night sky. Other than keeping you warm at night and being an excellent source of light, it will also keep animals and nasty bugs away. I highly recommend building a fire even if it's warm outside and cooking over the campfire each time you go camping.
2. Prepare for cold nights
You should be prepared for cold nights when camping. Don't underestimate the weather, as it can get unbearably cold at night even during summer in some places. If you will not be bringing your tent along, then you should at least bring your sleeping bag, no matter the season. You are likely to use it far more than you might expect.
3. Bring a tarp
Photo credit: austinkayak.com
Always check the weather forecast before heading out. And even so, you should be prepared for the worst. A tarp can protect you from rain when camping at the beach without a tent. Camping tarps are extremely lightweight, and setting one up is quite simple as all you need is a lengthy rope and anchor points.
4. Familiarize yourself with primary shelter building
Let's face it: it is next to impossible to get lost while camping on the beach. However, having some basic knowledge about building a makeshift shelter is a skill that every camper should have. If you are planning on camping without a tent, learning how to build a lean-to shelter is essential. These can be built by using leaves, branches, and a rope. There are many tutorials on how to make lean-to shelters online, and I suggest you watch a couple beforehand.
5. Beach items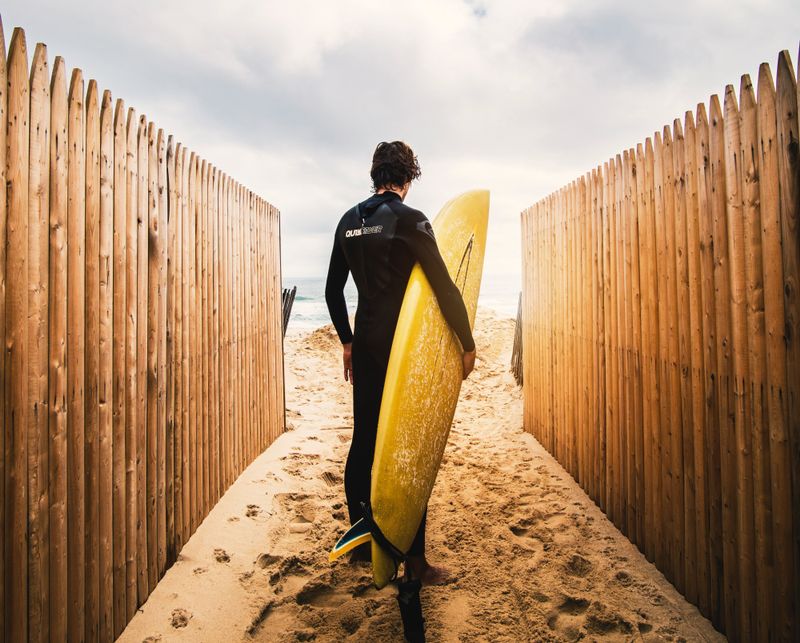 As you will be staying at the beach for the duration of your camping trip, I highly recommend you bring beach-specific items with you. Obviously, bringing a bathing suit is a no-brainer. Other items you should bring are sunscreen, towels, and lifejackets for the children. As for recreational items, an inflatable ball and kite are just a couple of things that you can bring to the beach for entertainment purposes. And, if you're into water sports, then make sure you don't forget your surfboard, paddle board, or wakeboard.
The type of clothes you need to pack depends on the weather forecast. Because most people go beach camping during summer, sandals, shorts, tank tops, hats, and loose shirts are customary clothing items. A rain jacket, sweater, hoodie, or a fleece should be on your checklist too.
Don't forget to include a first aid kit in your camping gear because some beaches don't have emergency stations and are usually far from any medical facility. If the beach is located in a remote area, it is good to know about security as well. Finally, bring a camera with you so that you can capture the majesty of the scenery and the fun times that you will undoubtedly have.
For more travel guides & tips for your outdoor adventures, as well as gear & accessories reviews, go to Blazing Campfire.
---
Combine your beach vacation with daily surf lessons on a wave surfing camp!