The Badass Women of Big Wave Surfing
The go-to resource for planning your surf camps. Find all you need to know about the top destinations and take your surfing to new heights.
Discover Surf Camps now
For years, women have struggled to be included in big wave competitions, as organizers argue that heavy waves like the notorious Mavericks or Jaws are just too dangerous for chicks.
It's a man's world, but there are some ladies out there that are proving themselves worthy to take over the stage and can really kick ass!
In 2016, California's Titans of Mavericks finally agreed to include female pro surfers in the competition. It has been a groundbreaking year in women's competitive big wave surfing. Two years later, the World Surf League announced equal prize money for both men and women in all WSL events.
So, let's take a closer look at some of the world's best female surfers who are truly making waves and breaking stereotypes:
Andrea Moller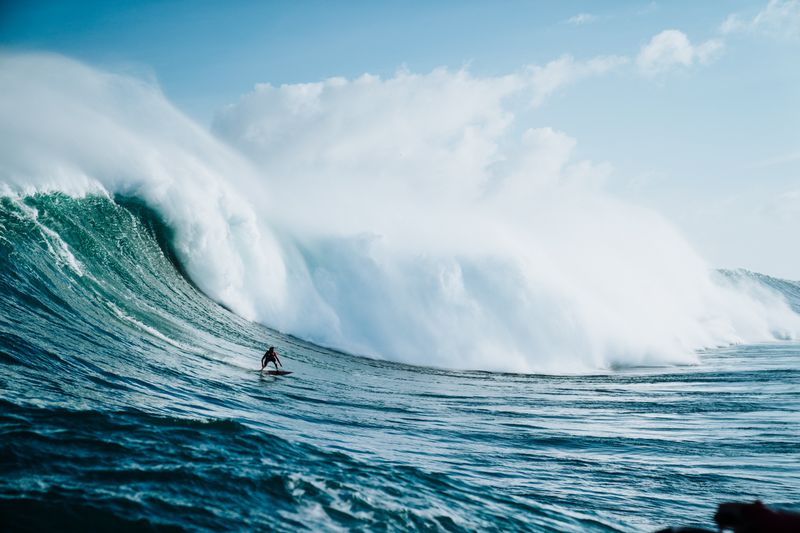 Birthdate: September 16, 1979
Birthplace: Ilhabela, São Paulo
Favorite surf break: Jaws, Maui, Hawaii
Making big wave surfing history as we speak and breaking the barriers for women at the infamous Jaws/Peahi in Maui, Hawaii, Andrea Moller is an all-around athlete and a big wave surfer at heart. Andrea moved to Maui in 1998 to become a paramedic and a professional water athlete. She never left.
In 2004, she became the first woman to tow-in surf Jaws, aka Pe'ahi. She is also the first woman to paddle in at Jaws/Peahi in Maui. In 2016, she charged a 42ft (12.8m) wave at Jaws, thus setting a new record for the biggest paddle-in wave by a female surfer. The feat came with a price, though. Andrea suffered a nasty wipeout that ripped her hamstring from the bone. That same year, she won the WSL Women's Best Performance of the Year Award.
When she's not catching some beastly waves, Andrea Moller dedicates her time to windsurfing, outrigger canoe racing, and long-distance SUP racing. Brazilian magazine Go Outside called her the "most important Brazilian water woman."
» READ MORE: Surfing in Hawaii: Your Guide to the Best Waves
Sarah Gerhardt
Image credit: Aaron Maizlish
Birthdate: 1974
Birthplace: Port Townsend, Washington, USA
Favorite surf break: Mavericks, California, USA
A chemistry professor and a mother of two, Sarah Gerhardt still manages to find time to be a big wave surfer as well! Not only that, but she is also a local legend and big wave surfing pioneer.
Sarah moved to Santa Cruz in 1998, and that's when her personal battle with the heavy Mavericks began, a beastly winter wave that can produce waves up to 60ft (18m). On February 26, 1999, Sarah became the first woman to surf Mavericks, opening new doors for women surfers. She is also the first female tow-in surfer.
More recently, she was one of the six female surfers allowed to compete in the 2016/2017 Titans of Mavericks, comprising the first-ever women's heat in a surfing contest at Half Moon Bay. Unfortunately, the event was canceled.
» READ MORE: Surfing in California: Your Guide to the Best Waves
Bianca Valenti
Image credit: troy_williams
Birthplace: Dana Point, California, US
Favorite surf break: Mavericks, California, USA
Northern California's heavy breaks are Bianca Valenti's playground. Few women in the world have what it takes to tackle the devastating Mavericks, and she is one of them. What's more, she was accepted in the women's heat for the 2016/2017 Titans of Mavericks, the first edition of the event that was supposed to feature women surfers.
And if her name still doesn't ring a bell, that's probably because she's not a sponsored surfer!
Bianca started out as a longboard surfer but soon came to realize big waves are her true passion. In 2014, she became the first-ever champion of a women's big wave competition, after competing in the Big Wave World Tour at Nelscott Reef, Oregon. In 2018, she became Big Wave Surfing World Champion, thus cementing her position as a pioneer in the sport.
Keala Kennelly
Image credit: Jeff Rowley
Birthdate: August 13, 1978
Birthplace: Kauai, Hawaii, US
Favorite surf breaks: Cloudbreak in Fiji, Jaws in Maui, Hawaii, and Teahupo'o in Tahiti
One of the world's most famous female big wave surfers, Keala Kennelly became the first woman to ride the heavy Teahupo'o in Tahiti in 2005. She also charges angry waves like Cloudbreak in Fiji and Jaws in Maui, making them all look like a walk in the park. "The craziest guy of them all is a girl," says surf legend Kelly Slater about Keala.
After having spent a decade ranking in the top 10 on the ASP World Championship Tour (WCT), Keala decided to take a break in 2007 and pursue a career as a DJ, actress, and big wave surfer.
In 2010, Keala became the first woman to surf Nelscott Reef near Oregon, US, and to win the Big Wave Classic, the first competition of its kind to include female surfers. And yes, she goes harder than many men!
She is one of the indisputable leaders in big wave surfing, with three wins in the Teahupo'o contest history and a nice collection of wipeouts, some more devastating than others.
In 2011, Keala Kennely caught one of the biggest swells ever to hit Teahupo'o in a display of perfect barrel riding. But she also got wiped out, hitting the reef beneath, which left a big scar on the right side of her face. This did not stop her and in 2015, after getting barreled at Teahupo'o, she became the first woman to receive the Pure Scott Barrel Award.
» READ MORE: Surfing in Fiji: Your Guide to the Best Waves
Maya Gabeira
Birthdate: April 10, 1987
Birthplace: Rio de Janeiro, Brazil
Favorite surf break: Nazaré, Portugal
In 2013, Maya Gabeira nearly drowned in one of the most devastating wipeouts ever witnessed at Nazaré in Portugal. She was trying to ride the biggest wave ever surfed by a woman, an estimated 80-foot (24-meter) beast, when she got wiped out, lost her consciousness, got trapped under a set of waves and was ultimately saved by her tow partner, Carlos Burlé.
Her recovery is an inspiring story of resilience. Two years later, she returned to face the same monster that almost killed her. And continued to push the limits of female big wave surfing until she finally took home the prize.
On February 11, 2020, Maya successfully surfed a 73.5-foot (22.4-meter) wave at Nazaré. She became Guinness World Record holder for the biggest wave ever surfed by a woman and received the XXL Biggest Wave Award from the WSL.
With five Billabong XXL Global Big Wave Award titles under her belt, and having also ridden a 46-footer (14-meter) at Dungeons in South Africa in 2009, no wonder RedBull calls her one of the best female big wave surfers ever. Despite her near-death experience, she remains the girl who will surf anything, taking on the planet's craziest, most dangerous waves.
» READ MORE: Surfing in Portugal: Your Guide to the Best Waves
Paige Alms
Birthdate: April 6, 1988
Birthplace: Victoria, B.C., Canada
Favorite surf break: Jaws, Maui, Hawaii
In 2015, Paige Alms got barreled at Jaws, Maui, and won a Big Wave Award for it. A relatively new entry, she's already one of the top female big wave surfers out there.
Originally from Canada, Paige moved to Maui when she was nine. A self-taught surfer, she soon became known as the Queen of Pe'ahi, aka Jaws. After all, the world-renowned big wave surfing spot is just outside her house. "I was 14 or 15 and it was to an outer reef here (on Maui). I was with Chris Vandervoort, who took me out on his borrowed 9-0 and I remember that day like it was yesterday. I was hooked from that day forward." – Paige Alms
Paige was awarded the NSSA Open Women's Explorer Title in 2006, but she knew that big wave surfing was what she truly wished to pursue. She pushed herself to ride the biggest, most powerful waves out there.
In 2015, she fearlessly charged Pe'ahi and survived a massive wipeout. She soon got back on her board and, in 2016, she became history's first Women's Big Wave Tour Champion following her performance at the Pe'ahi Challenge. Surfline called her "the world's best female big-wave surfer."
Final words
There's more to female surfing than bikinis and a pretty smile. Big wave surfing, once a domain reserved for men, is now accepting women. And this is only the beginning. Hopefully, new talents will continue to emerge, pushing women's competition big wave surfing beyond the limits.
---
Do you have what it takes to beat these ladies? Join a surf camp for women and find out what you're really made of!