Surfing in Thailand: Your Guide to the Best Waves
The go-to resource for planning your surf camps. Find all you need to know about the top destinations and take your surfing to new heights.
Discover Surf Camps now
A world of extremes, where noisy cities meet authentic street markets and luxury seaside resorts are intertwined with deserted beaches, Thailand is a popular travel destination for many reasons. Unfortunately, surfing is not one of them. Yet!
Before the late 1990s, surfing in Thailand was an obscure activity. Other than a few locals, no one knew that something like this could exist in the country. It all changed over the last two decades – many surf camps in Thailand have emerged and it has become a go-to destination to escape the crowds and enjoy the friendly vibes and virtually empty lineups.
Perhaps not on top of the list for many seasoned surfers (although it should be, as the pictures below will reveal), Thailand generally gets small waves, which make the country an excellent destination for beginner surfers and longboarders.
Evade mainstream surfing. Get your share of empty waves in these awesome surf spots in Thailand:
Surfing in Phuket
Image credit: Skyla's Surf & SUP Club
Often associated with traveling in Thailand, postcard-perfect Phuket has long made it on the covers of magazines. Located in the Andaman Sea, Phuket is the epicenter of surfing in Thailand.
Thailand's west coast takes full advantage of the southern monsoons that originate in Sri Lanka and Indonesia. The Andaman Sea is connected to the Indian Ocean and has the potential to generate bigger waves. Unfortunately, very little groundswell manages to reach Phuket's coast, as it is blocked by North Sumatra.
The swell is consistent and reliable, but the waves don't really get any higher than 3 meters (10 ft) in this part of the world. That is, of course, good news for beginner surfers. But there are also plenty of fun and more challenging waves for intermediate and advanced surfers too.
Go on a surf camp in Phuket!
When to go: April to October is a great time to be surfing in Phuket. You don't need to worry about the crowds, as the peak tourist season is from November to February. When the best waves hit the island's west coast, the beaches belong to the surfers.
Bang Tao Beach
Recommended for: Beginners and intermediate surfers
Photo credit: surf-sup.asia
Considered the best beach to learn to surf in Phuket, Bang Tao is an 8-kilometer (5-mile) crescent-shaped bay dotted with luxury hotels and vacation homes. The swell is not as reliable as in other spots on the island, which is why the beach is also very popular among windsurfers and stand-up paddle boarders.
When the swell does kick in, it can produce some epic right and left-handers, up to 3 meters (10 ft) tall. To the south end of the beach, the waves are generally smaller. In the middle of the beach, the waves get bigger and can be quite unpredictable, with steep drop-offs. On a good day, the north end is where you want to be.
Pansea Beach
Recommended for: Advanced surfers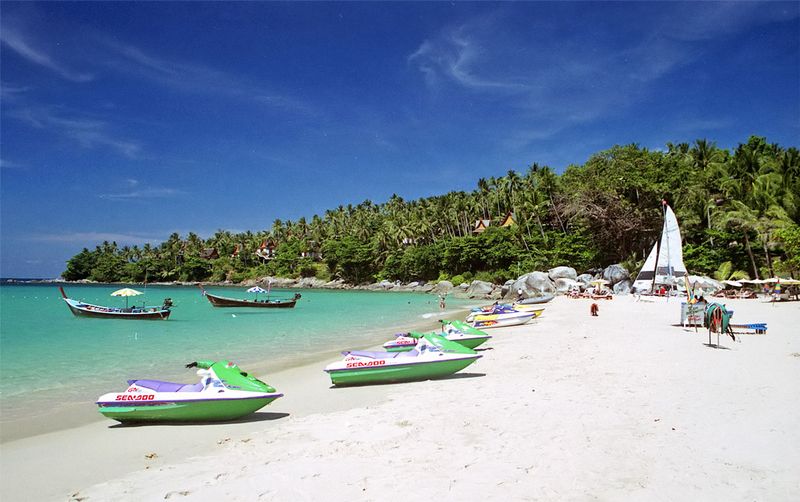 Photo credit: Pinterest
Between Bang Tao and Surin Beach, Pansea is a secluded little palm-fringed beach that is only 250 meters (820 ft) long. This hidden gem is home to a left-hand point break that can hold waves up to 2 meters (6.5 ft) tall, which break over a shallow coral reef. The take-off is about 100 meters (330 ft) offshore, alongside an exposed rock. The waves get faster and faster until they close out on the reef.
Surin Beach
Recommended for: All levels
Photo credit: thphotoseals.com
If you want to catch the biggest waves on the island, Surin Beach is your best bet. These turquoise waters hold both right and left-handers. On some days, the waves can get heavy, posing quite a challenge even for experienced surfers.
There are two surf spots here, at each end of the beach. To the south, the sandy bottom offers a safe landing, and is a great place for beginners and intermediate surfers. To the north, the waves are faster and shorter, and even though they rarely get any higher than 2 meters (6.5 ft), they do offer some nice barrels.
Kalim Beach
Recommended for: Intermediate and advanced surfers
Photo credit: [email protected] via Flickr
Just north of Patong Beach, Kalim Beach is a right-hand coral reef break that offers some long rides of up to 100 meters (330 ft) and waves up to 3 meters (10 ft) tall. Beware of the shallow coral reef at the end of the ride, which can make this spot quite dangerous below mid-tide.
Kalim is a popular surf spot among expats and can get a little crowded at times. However, the lineup is always friendly. If you're looking for an authentic Thai beach experience, this is the place to go. There's also a nice little street food market selling all sorts of delicacies just as you exit the surf.
Kamala Beach
Recommended for: All levels
Photo credit: kurtheck.com
North of Patong Beach, the 2.5-kilometer (1.5-mile) long Kamala Beach is one of the most picturesque beaches on the island. The enclosed bay is lined with palm trees and blessed with consistent rights and lefts. The waves here can get fat and slow, which makes this beach an excellent longboarding spot.
There are three distinct sections here. To the south, there is the beginner's area, with small waves no higher than 1m (3ft). In the middle, waves can reach 3m (10ft), challenging the more experienced surfers. To the north, a reef break awaits advanced surfers with some tricky waves, the best Kamala has to offer. This is the venue of the Kamala Go Surfing Contest, held each August at the northern end of the beach.
Kata Beach
Recommended for: All levels
Photo credit: phuketsurfing.com
On the south end of Phuket, Kata Beach is Thailand's surf hub, with numerous beachside surf schools and surf shops, hosting annual international surfing competitions for years. When above knee-high, this stunning white-sand beach gets crowded. But don't worry, there's still plenty of room for everyone to enjoy the waves.
The southern end is where all the action is at – an A-frame beach break with a sandy bottom that produces waves around 2m (6.5ft) high. The swell can be challenging enough for advanced riders, but it is also gentle enough for beginners to feel comfortable in the water.
The waves are fast and punchy, often heavier than in other spots, offering some hollow barrels for the more experienced riders.
Nai Harn Beach
Recommended for: All levels
Photo credit: [email protected] via Flickr
In the immediate vicinity of Promthep Cape, the southern tip of Phuket, Nai Harn is perhaps the best surf spot on the entire island, being able to hold a bigger swell even with a low tide. It is also far less crowded, as most people often travel only as far as Kata Beach.
There are two surf spots on the beach, each offering a different riding experience. To the south, there is a left-hand beach break. Even when the swell is not so big, this spot still offers some fast and long rides. To the north, there's a fun A-frame peak that can hold a larger swell, producing waves up to 3m (10ft) tall.
Surfing in Koh Lanta
Photo credit: Iin Judy
Also on the Andaman coast, Koh Lanta benefits from the same groundswell that makes its way past the northern tip of Sumatra. Waves are less consistent than on Phuket, but still offer some good rides.
When to go: The swells kick in between May and October, with the peak season in June and July.
Klong Dao Beach
Recommended for: Beginners and intermediate surfers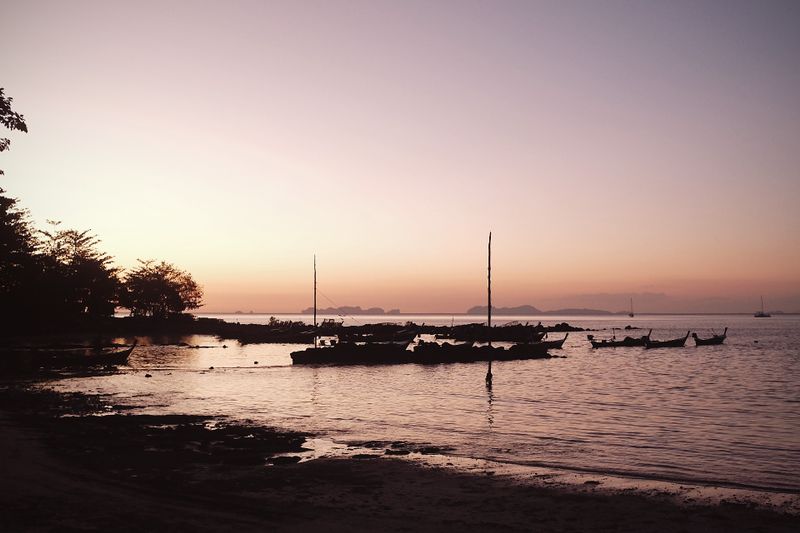 Photo credit: Anders Lejczak via Flickr
The most spectacular beach and the best surf spot in Koh Lanta is Klong Dao. Located to the north of the island, the 2-kilometers (1.2-mile) bay offers some gentle right and left-handers with a shallow sandy bottom that are just perfect for beginners.
Windswells are more common than groundswells at Klong Dao Beach, but it does get fairly consistent swell nevertheless. Furthermore, the breaks are surfable at all tides and can offer some long rides. Crowds are never an issue here, and the spot is also recommended for longboarding and SUP surfing.
Surfing in Koh Samui
When the surf is no longer working in Phuket, Koh Samui is usually your best bet – it gets surfable waves between October and December.
You should take note that, being located in the Gulf of Thailand, it gets no groundswell whatsoever and solely relies on the wind to create surfing conditions. This means that waves don't come in every day, which is why Koh Samui is more popular for windsurfing and kitesurfing.
Chaweng Beach
Recommended for: Intermediate and advanced surfers
Without any doubt, this is the most popular surf beach in Koh Samui, with board rental shops near the beach and friendly locals willing to help and show you around. The reef break here is called 'Left Alone,' and is a long left-hander that is rarely ever ridden. It is recommended at mid to high tide, as it can get too shallow at low tide.