The 6 Best Surfing Destinations in South America
The go-to resource for planning your surf camps. Find all you need to know about the top destinations and take your surfing to new heights.
Discover Surf Camps now
South America is home to truly epic surf. With over 144,000 miles of coastline and just about every kind of wave imaginable, you can really take your pick. Most surf spots are never too crowded, and the countries are budget-friendly too.
As you might expect from such a vast continent, the surfing conditions in South America vary. There are places where you can get away with surfing in only boardshorts, and there are others where a 4/3 wetsuit is mandatory. The further south you go, the less crowded the waves will be and the colder the water becomes.
There are beach breaks, reefs, points, rivermouths, and sandbars. You'll find mellow waves that are just perfect for learning to surf, as well as fast, heavy, and hollow waves that will scare the hell out of you.
If you've been wondering where you should go surfing in South America, here's our breakdown of the best surf destinations on the continent and our favorite spots there:
1. Peru
Peru is synonymous with surfing. It is a goofy-footer's paradise (lefts abound here) and the home of Chicama, the longest left-hander on the planet, stretching for almost two miles. Furthermore, evidence suggests that surfing may have actually originated in Peru, and not Polynesia. Yet Peru remains an underrated surfing destination.
» Join an affordable surf camp in Peru!
The north coast is home to the most popular surf spots in Peru. There's an abundance of surf breaks near Lima too, but the beaches are often crowded. South of Lima, the surf spots are literally deserted. Except for a few seaside resorts, there are hardly any amenities and you'll have the breaks all to yourself.
Best time to surf in Peru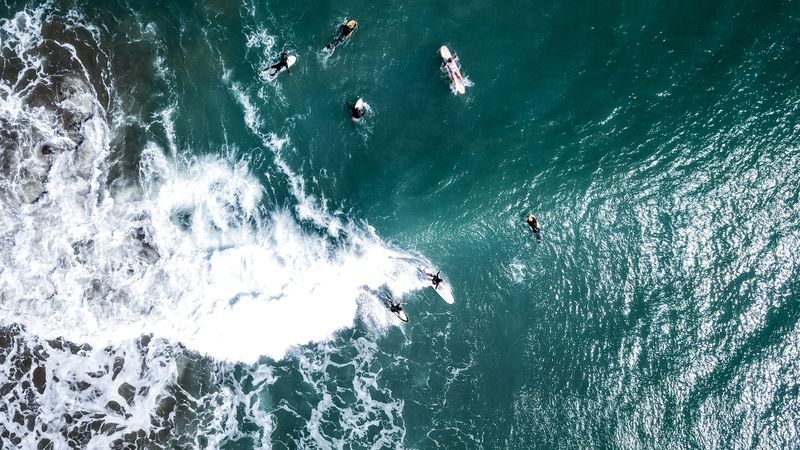 All year round. Between April and October, southern swells produce the most reliable surfing conditions. Between October and April, northern swells bring in warmer water and good conditions, but less consistency.
Water temperature fluctuates between 63-80°F (17-27°C) on the north coast and 57-68ºF (14-20ºC) around capital Lima.
Our favorite surf spot in Peru – Máncora

Photo credit: Peru Surf Trip and Soul
In northwestern Peru, along the Pan-American Highway, Máncora is renowned for its lively nightlife and very consistent surf. You will find waves for all skill levels.
While stationed here, do set aside some time to travel south along the coast and pay a visit to other world-renowned surf spots like Cabo Blanco, Lobitos, Chicama, and Huanchaco.
Best time to surf in Máncora: All year! The weather is sunny and the water is slightly warmer than further south. The best waves are brought in by northerly swells, between October and April. However, surfing in Máncora is much more enjoyable during the Peruvian summer, between December and April.
2. Chile
Photo credit: Conviento de Lobos Surf Camp
Yet another goofy-footer's paradise in South America, the surf in Chile is incredibly consistent, with countless breaks, nearly all lefts, all worth checking out. But most importantly, it is uncrowded, all thanks to the remoteness of the surf spots.
» Join a surf camp in Chile!
The surf spots to the north offer the advantage of warmer water temperatures. Here, Arica is one of the most popular surf spots in Chile. Located close to the border with Peru, in the center of the Atacama Desert, it is the northernmost city in the country and the driest inhabited place on the planet. It is also home to El Gringo, one of the best waves in Chile, also known as the Chilean Pipeline.
In the central region, Pichilemu is Chile's surfing capital. Further south, the deserted coastline is dotted with tubing point breaks just waiting to be explored.
Best time to surf in Chile
The national average is 300 days of surf per year in Chile. The country offers reliable surfing conditions all year round, except for July and August. The water is always cold, hovering around 55-61ºF (13-16ºC), so you'll need a 3/2 wetsuit in the north and a 4/3 in the central and southern regions.
Our favorite surf spot in Chile – Punta de Lobos
Photo credit: Oceanos Surf Camps
Close to capital Santiago, on the central coast, the quaint fishing town of Pichilemu offers a wide variety of waves for all levels of surfers. However, none of them enjoys the popularity of Punta de Lobos, Latin America's most famous point break. The iconic left-hander is the home break of big wave surfer Ramón Navarro, and is located just south of town.
After years of efforts from the Save the Waves Coalition and Ramón Navarro, Punta de Lobos became a World Surfing Reserve in 2017. This will help protect the surf break, as well as the surf culture and marine wildlife surrounding the spot.
The waves just outside Pichilemu are excellent for beginners and intermediate surfers. Despite its notoriety, when it's small, Punta de Lobos can be good for learning too. When it's firing, however, only the big dogs can handle it, as the swell here can hold well over 25 feet (7.6 meters).
Best time to surf at Pichilemu: All year, with January and February being the warmest months.
3. Brazil
The largest country in South America, Brazil has produced some of the best surfers on the planet, the likes of Gabriel Medina, Adriano de Souza, Maya Gabeira, Felipe Toledo, and many more. In fact, according to Stab Magazine, Brazil is the world's best surfing nation.
With 4,554 miles (7,491 km) of Atlantic coastline featuring different climates and a wide variety of waves for all levels, most of which work all year round, you'll be spoiled for choice. The only drawback would be the crowd factor. Unlike in other South American countries, surfing in Brazil is a very popular endeavor. Therefore, many breaks are crowded, especially those near Rio de Janeiro.
Best time to surf in Brazil
All year round. The biggest swells hit Brazil between April and October. North of Rio de Janeiro, temperatures stay between 73-81°F (23-27°C) throughout the year. South of Rio, the water gets a little colder.
Our favorite surf spot in Brazil – Florianópolis
Santa Catarina, an island state in the south of Brazil, is a swell magnet and home to around 50 surf breaks that can handle different swells, wind conditions, and tides. And, they're all located around Florianópolis, the surf capital of Brazil.
There is something for every level. Praia Joaquina has the most consistent waves on the island. Guarda do Embaú is a legendary rivermouth break that throws powerful and long waves, and is on the verge of becoming the next World Surfing Reserve. There are at least a dozen more world-class waves near Florianópolis.
Best time to surf in Florianópolis: There are good surfing conditions all year round, but the best waves can be found between March and November, with the biggest coming in between June and August. The water is slightly colder than the rest of the country, between 60-78°F (18-26°C).
4. Colombia
Photo credit: Newtours Colombia
Despite being the only country in South America with both Pacific and Caribbean coastlines, surfing in Colombia hardly enjoys the popularity it deserves.
The surf beaches on the Caribbean coast are much easier to access, and are more recommended for beginners. On the other hand, the Pacific Coast remains undeveloped and getting to the surf spots can prove quite a challenge. But, traveling there does have its perks, as there are many hidden gems worth discovering.
Best time to surf in Colombia
Overall, the best time of year for a surf trip in Colombia is between December and March and from July through September. The waves are bigger between April and December. The best time to surf on the Pacific coast of Colombia is between April and October. On the Caribbean coast, go between November and March.
The water is warm all year round, staying around 73-86°F (23-30°C).
Our favorite surf spot in Colombia – Nuquí
Photo credit: Quimbaya
The capital of surfing on Colombia's Pacific coast, Nuquí is your starting point for many top-notch surf spots. Located in the Chocó Department, It can be reached by car or plane from Medellin, from where a boat will be the best mode of transport to get to the surf breaks, as there are hardly any roads on this wild stretch of coastline.
North of Nuquí, El Valle is only accessible by boat, and is renowned for its consistent surfing conditions, uncrowded beaches, and challenging waves. South of Nuquí, in the Gulf of Tribugá, Termales is a great place to learn to surf and Playa Guachalito offers some of the best surf in Colombia.
Best time to surf in Nuquí: Between April and October. June through October is whale-watching season, and you might even spot some humpback whales as you surf the clean barrels near Nuquí.
5. Ecuador
For a small country, Ecuador sure packs a lot of surf. Thanks to its tropical climate, warm water, and surf breaks that aren't too aggressive, this South American country is a great place to learn to surf.
» Go on a beginner surf camp in Ecuador!
The Galapagos Islands are a premier surfing destination in Ecuador, but the conditions are not as reliable as those on the mainland. On the north coast, Mompiche is a world-class left-hand point break. The central coast is home to the most uncrowded surf in the country, and the south boasts some of the most popular beaches, surf towns, and party hotspots in the country.
Best time to surf in Ecuador
Between November and April, with a northerly swell. However, you can score some nice waves throughout the rest of the year too.
Water temperature varies between 66-84°F (19-29°C).
Our favorite surf spot in Ecuador – Montañita
On the south coast, in Santa Elena, Montañita is the epicenter of Ecuador's surf culture. It is home to several beach breaks, as well as the famous Montañita point break, renowned for its strong and consistent waves.
Surf town by day and party capital by night, the place is teeming with backpackers and you will find plenty of surf camps in Montañita to cater to your specific needs.
Best time to surf in Montañita: Between November and April, with northwesterly swells generated by the North Pacific.
6. Argentina
Argentina, one of the final frontiers in the world of surfing… The waves may not exactly be world-class, but the vibes are great and the remoteness of the surf spots only adds to the mystique. Just look at these two Argentine brothers, surfers and filmmakers Gauchos del Mar ('Sea Cowboys'), who walked 250 miles (400 km) in search if uncharted waves in the Tierra del Fuego province.
Surfing in Argentina is mainly concentrated around a short stretch of Atlantic coast in the north, near Mar del Plata, a popular beach town south of Buenos Aires. There are hundreds of miles of inaccessible coastline worth exploring, and the further south you go, the more it feels like you've reached the end of the world.
Best time to surf in Argentina
All year. The best swells hit the coast during winter months, between April and October.
The water is cold all year. In the midst of winter, it is goddamn freezing – the average is 46°F (8°C). You'll need a 4/3 wetsuit with booties, hood, and gloves. In summer, the water temps can sometimes reach 68°F (20°C), and you can surf in a 3/2 shorty on some days.
Our favorite surf spot in Argentina – Mar del Plata
Argentina's very own surf city, Mar del Plata is home to a fair number of surf spots. Unfortunately, the shoreline in front of Mar del Plata is dotted with jetties and breakwaters, which have either created new surf breaks or destroyed old ones.
Let's take Playa Varnesse for example. This was once home to Mar del Plata's best wave, which was destroyed by the construction of a jetty. What is left now is a nice beginners' spot. Playa Grande is the most popular surf beach in the area, but it needs more swell to work. Waikiki is a longboarding spot, and Playa Mariano is faster and more powerful than the breaks closer to the city.
Best time to surf at Mar del Plata: During the Southern Hemisphere fall and winter. In summer, the beaches at Mar del Plata are packed with tourists.
---
Pack your bags and get ready to explore some of the world's best surf spots. Join a surf camp in the Americas that will give you all the guidance you need to score some perfect waves!