Top 8 Surfing Destinations in India to Catch Your First Wave
The go-to resource for planning your surf camps. Find all you need to know about the top destinations and take your surfing to new heights.
Discover Surf Camps now
With surfing rapidly gaining popularity in India, there are quite a few spots spread across the country's vast coastline where you can catch waves and take your first steps on the board.
However, not all surf spots have consistent waves. If you wish to go surfing in India, you need to be in the right place at the right time.
Most of the year, waves reach a height between 3 to 5 feet (1 to 1.5 meters). For more experienced surfers, the monsoon season (June-October) is the perfect time to experience world-class waves, which can get over 8 feet (2.5 meters) tall. The swell is considerably smaller between October and December, when you'll find gentle waves that are just perfect for beginners or for intermediate surfers looking to brush up their skills.
With so many options in India to learn to surf, don't miss your chance to catch your first waves in this fascinating country. Read further to find out where and how you can enjoy surfing in India:
1. Visakhapatnam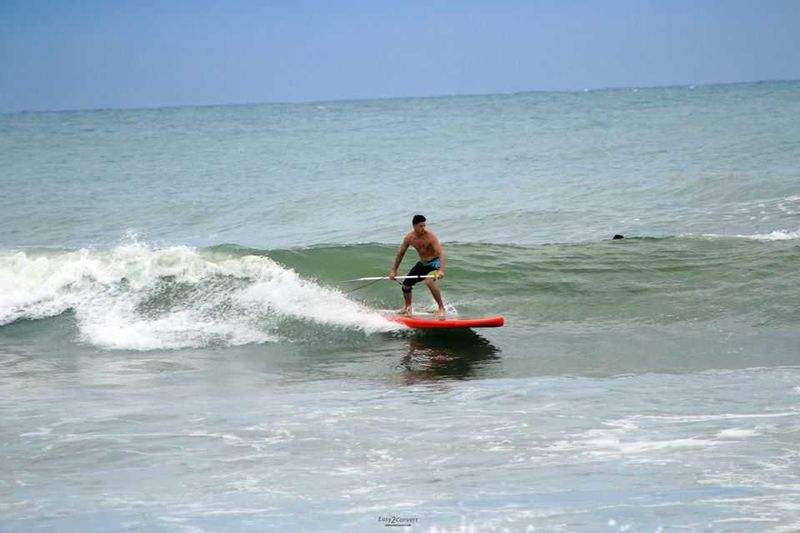 Photo credit: cntraveller.in
The second largest city of Andhra Pradesh, Vizag is popular for its amazing wide beaches and varied surfing spots. The city is home to almost 20 point breaks, out of which the most popular are Ramakrishna Beach and Rushikonda Beach. The waves here are ideal for beginners as they are quite impressive but not too strong or fast.
Beginners looking to learn to surf at Visakhapatnam can join the Lonely Surfers Surf School, founded by local surfer Andy in 2009. If you are traveling from Bengaluru, book Bengaluru to Visakhapatnam flights in advance for great deals.
2. Andaman Islands
For all intermediate and advanced surfers, the immaculate Andaman Islands is your perfect destination. Most surfing spots in this area are only accessible by boats, meaning that crowds are hardly ever an issue. With some of the best waves in India, the Little Andaman Island, which is also the farthest inhabited island, gets hit by some seriously big waves from March through early May.
If you are just learning to surf, don't worry. There are plenty of spots for beginners too, and Surfing Little Andaman is the best surf school in the area. If you are looking for surf lessons, hiring surfboards, or simply need some information on the area, this is the place to go.
3. Kovalam Beach, Kerala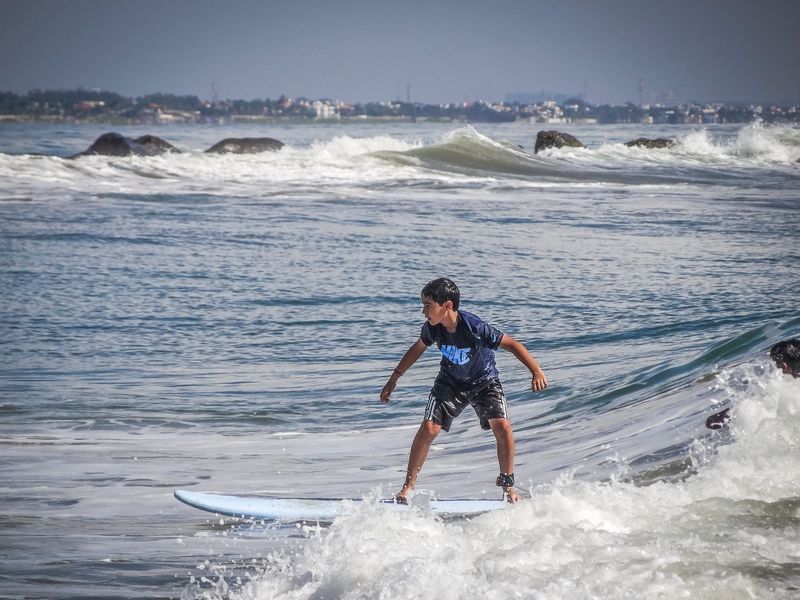 Photo credit: Wings and Petals via Flickr
A popular tourist beach with numerous hangout places and hotels, Kovalam Beach in Kerala is a great destination to learn to surf. Lighthouse Point has decent waves that break both left and right.
Join the Kovalam Surf Club to learn this sport. Founded in 2005, this club is a part of an NGO and is not commercially driven. Because of this, the prices of this school are quite cheaper as compared to other surf schools in India.
4. Gokarna, Karnataka
The quaint temple town of Gokarna in Karnataka is a popular spot for backpackers, pilgrims, surfers, and hippies. The even-tempered beach here is a great spot for beginners between October and May. For the best waves, head to the main Gokarna Beach near Mahabaleshwar Temple.
Only a one minute walk from the beach, Cocopelli Surf School offers courses from beginners to advanced surfers.
5. Goa
Known as the land of adventure and magic, Goa is the ideal destination for blowing that dust away from your surfboard. Thanks to its stunning beaches and hippie vibes, it is one of the best surf spots in India. Head to the famous Baga Beach for surfing and other fun water activities like sea kayaking, jet skiing, parasailing, etc. Calangute Beach is another popular surf spot.
Join the Banana Surf School in Goa to learn to catch some awesome waves on Mandrem Beach.
6. Varkala, Kerala

Photo credit: techbreeze via Flickr
Surrounded by picturesque rocky cliffs and mesmerizing landscape, Varkala will endow you with an ecstatic surfing experience. Varkala does not have strong swells, which makes it perfect for beginners to learn the sport. Thiruvambadi Beach is one of the cleanest in the country, and is a hub for all adventure sports.
7. Mahabalipuram, Tamil Nadu
Photo credit: Aravindan Ganesan via Flickr
Having earned its spot on our list of the top surfing destinations of India, Mahabalipuram is located close to Chennai. It has some of the best surfing schools enabling travelers to learn the variations of this extreme water sport. Allow yourself to surf on Mahabalipuram Beach and unravel in the waters of the Arabian Sea.
8. Mulki, Karnataka
Photo credit: getmyboat.com
Mulki is home to India's first surf school, Mantra Surf Club, founded in 2004 by two American surfers. It has an impressive collection of surfboards with various sizes to suit your need. Located around 18 miles (30 km) from Mangalore, Mulki is one of the least crowded surfing spots of India, and it has the ideal waves for beginners to learn this sport.
*Cover photo credit: Aravindan Ganesan via Flickr
---
Explore the country's fascinating culture and its many surf beaches on a budget surf camp in India.