The 8 Best Surfing & Diving Destinations in the World
The go-to resource for planning your surf camps. Find all you need to know about the top destinations and take your surfing to new heights.
Discover Surf Camps now
Are you a surfer or scuba diver looking for the perfect vacation destination? Why not combine both for a truly unique experience? Some of the world's best surfing spots are located near awesome diving sites!
Some prefer a multi-activity destination to please their better half; others because they love more than one sport. Luckily for all, surfing and diving go together like peanut butter and jelly.
Whether you're a total beginner or an ocean veteran, here are some of the best surf and diving destinations across the world where you can catch some rad waves and do some underwater exploration, all in the same day.
With coasts on both the Pacific Ocean and the Caribbean, it's no surprise that Costa Rica is often regarded as a paradise for anybody who loves the ocean. On both sides of the country, numerous surf breaks can be found, along with several dive sites for those fascinated with fish, marine life, and the underwater world.
Along the Pacific coast, surfers can choose from both river mouths and beach breaks, including Playa Negra and Dominical. Or, for those who prefer to surf reef breaks, the Caribbean coast is perfect, with popular locations such as Playa Bonita and Puerto Viejo.
» READ MORE: All You Need to Know About Surfing in Costa Rica
For divers, the best location is undoubtedly Cocos Island, although most of the Pacific coast offers excellent dive sites as well. Travel south and you will find Cano Island. The marine reserve is one of the best areas in Costa Rica for diving with an abundance of reef fish and even some sharks.
2. Hawaii, United States
Every avid surfer has heard of the most famous breaks in this tropical U.S. state: Honolua Bay, Waikiki Beach, and Pipeline are just some of the best waves that can be found in Hawaii. Although most of the best surfing spots are found on the islands of Oahu and Maui, there are some to be found on all the islands.
» READ MORE: All You Need to Know About Surfing in Hawaii
When it comes to diving, there are several stunning sites around most of the islands where the underwater world can be explored. Thanks to the volcanic activity, you can find stunning underwater canyons, along with unique topography and awesome marine life.
3. Bali, Indonesia
When it comes to surfing, the 'Island of the Gods' is also a top location. In fact, surfers were riding the waves off the coast of Bali long before divers started exploring the underwater world. You'll find numerous surf camps in Bali on the most popular beaches, including Kuta, Uluwatu, Canggu, and Nusa Lembongan, with something for everybody from complete beginners to surfing professionals.
» READ MORE: All You Need to Know About Surfing in Bali
When it comes to diving, Bali has everything that you could wish for. With gorgeous reefs everywhere and various dive points where you can go muck diving, wreck diving, or drift diving with mantas and molas, the best thing about it all is that you can cram all these experiences over the course of just a few days.
4. Ambergris Caye, Belize
One of the world's most famous dive sites for the experienced and non-experienced alike, Ambergris Caye isn't a dive that you do to see marine life, but rather for the stunning beauty of the area itself. Under the water, you'll find caves, stalagmites, and stalactites that begin to appear at a depth of around 120 ft (36.5 meters).
Bear in mind that this dive takes some planning: you'll need to embark on a three-hour boat ride from the island through sometimes rough open water to get to your dive destination.
Gozo is rated as one of the best holiday diving spots in the Mediterranean, offering year-round diving opportunities. Divers can explore reefs, wrecks, and caverns, including the world-famous Blue Hole and the HMS Stubborn and HMS Southwold shipwrecks.
In general, the best dive sites can be found on north-west Gozo, with spectacular caves, offshore reef structures, gullies, arches, chimneys, tunnels, arches and caverns to explore – along with some stunning marine life living beneath the shore.
Malta diving holidays are the perfect choice for both experienced and non-experienced divers. With diving courses, equipment hires and unsupervised dives available, there is something to suit all tastes and abilities.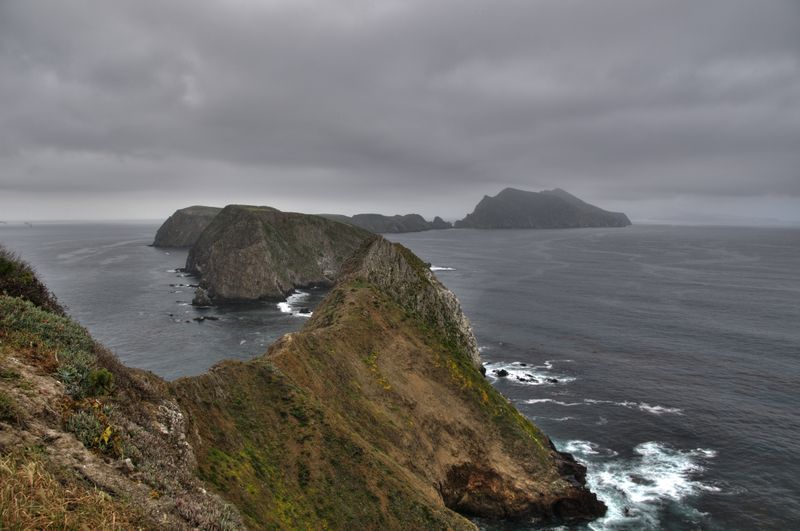 Although the water is cold even in the summer, once you can get past the temperature – with the help of your warm wetsuit and cold water boots – the small volcanic Anacapa Island is definitely worth the dive. Exploring the local area is certainly worth shivering just a little bit for. With visibility peaking at about 50 ft (15 meters), you'll find playful sea lions, rays, seals, black and giant sea bass, kelp forests, underwater arches, and even some small shipwrecks beneath the surface.
7. Bonaire
The 'B' of the Dutch Caribbean's ABC Islands, Bonaire is a destination that has drawn divers from around the world for decades.
With year-round 100-feet (30.5 meters) visibility, almost ninety marked dive sites to explore, and over 460 different species of fish and sea life including seahorses, reef squids, ocean triggerfish, queen parrotfish, blue parrotfish, peacock flounders and tons of either stony or soft coral to explore, it's no surprise that this island is a firm favorite amongst divers of every level who return time and time again.
8. Darwin Island, Galapagos, Ecuador
Of the marine life that calls Darwin Island their home, around 20 percent can be found in no other destination around the world – so it's no surprise that divers would want to make their way here for a truly unique underwater experience.
From late June to October, there's the chance to see whale sharks, hammerhead sharks, sea turtles, sea lions, marine iguanas, eels, and even penguins, among many other fantastic marine creatures, which makes the whole experience so fantastic. However, bear in mind that this diver's paradise isn't always ideal for the complete beginner – you can expect strong surges with several ocean currents passing through the area.
The Galapagos Islands are also a surfer's paradise, with uncrowded world-class waves and a laid-back atmosphere. The best breaks can be found on the island of San Cristobal, where the peak season is between December and May. However, surfing is possible all year round in the archipelago.
---
If you love exploring the oceans both on the surface and underwater, then you're in luck! Go on an exciting wave surfing holiday in a stunning location that offers a wide array of water sports.