The 5 Best Places to Surf with Dolphins in the World
The go-to resource for planning your surf camps. Find all you need to know about the top destinations and take your surfing to new heights.
Discover Surf Camps now
You are never alone in the ocean. I know, this is a spine-tingling thought, but I'm not just talking about sharks. Oceans are teeming with life, intriguing and mysterious, and there's a whole underwater natural order that we land-dwellers are not always aware of.
There are 38 species of marine dolphins on our planet, the biggest one being the orca, also known as the killer whale. And there's nothing quite like a close encounter with these playful mammals in their natural habitat without large groups or prior planning.
Occasional dolphin sightings are not unusual when you go surfing. But there are several places where they are more likely to occur. In some corners of the world, they actually compete with surfers for the waves. Don't miss your chance to paddle out and surf alongside dolphins in these destinations:
Home to 13 different species of dolphins, New Zealand is one of the best places in the world to observe these playful marine mammals in their natural environment. In fact, dolphin sightings are quite a regular occurrence on both the North and the South Island all year round. And if you're looking to surf New Zealand's waves too, then you're in for a treat!
The golden sand beaches at Porpoise Bay and Curio Bay in the deep south (the south coast of the South Island) are home to several fun beach breaks, lefts and rights, hollow, punchy, and powerful, suitable for all levels. Here, you'll also get to surf with Hector's dolphins, the smallest and rarest marine dolphins in the world.
The local colony of Hector's dolphins is the largest in the world, meaning that nowhere else will you get the chance to see so many in one place. Keep in mind that they are more active in the morning, so make sure you plan your sessions around that time of day.
Kaikoura, on the east coast of the South Island of New Zealand, near Christchurch, is one of the best places in the world to spot, swim, and surf with sociable dusky dolphins. They stay in pods counting between 100 to a whopping 1,000 individuals!
Kaikoura is dotted with reliable right-hand point breaks and is also a famous location where you can surf and ski (or go snowboarding) on the same day. The most famous break here is Mangamaunu, an exposed wave that offers some incredibly long rides with hollow and fast sections, recommended for intermediate surfers.
Best time of year for dolphin sightings: Thanks to New Zealand's mild climate, there are pods of dolphins swimming in these waters all year round.
Most common sightings: Bottlenose dolphins, dusky dolphins, Hector's dolphin, Maui's dolphin, common dolphins, orcas (killer whales).
» READ MORE: Why I Won't Go Swimming with Dolphins or Shark Cage Diving
When it comes to surfing in Australia, places like Bondi Beach and Byron Bay spring to mind. But if you're looking to escape the crowds and get close and personal with some playful dolphins, then Western Australia is the place to go.
In the Golden Outback, one of the largest regions in Western Australia, the Esperance coastline is home to hundreds of gold-sand beaches, islands, and reefs, which can only mean one thing – limitless surf. You can expect to see plenty of spinner dolphins speeding under your surfboard and performing neat tricks while you ride the world-class waves in this remote part of the country.
Some of the most powerful left-handers in Australia can be found at Kalbarri, including the gnarly break at Jakes Point. This remote surf spot is located many hours north of Perth, and you might actually need to fight with dolphins for your turn on the wave, just like local surfer Trent Sherbone did when Matt Hutton, a photographer onshore, caught the moment on his camera. Talk about a crowded lineup!
South of Perth, Rockingham is yet another excellent place for spotting bottlenose dolphins, with over 200 of them residing near these shores. Rockingham is also popular for its water sports, offering excellent windsurfing and kitesurfing opportunities, as well as a good number of breaks for surfers of all levels.
Best time of year for dolphin sightings: Between September and May.
Most common sightings: Bottlenose dolphins, spinner dolphins.
» READ MORE: The Best Surf Spots in Western Australia
3. Oahu, Hawaii
The tropical Hawaiian Islands are already famous for their dolphin tours, and are a mecca for marine life enthusiasts. But how about actually being alone with them in the water while paddling to catch your next wave? The west coast of Oahu, the birthplace of surfing as we know it today, is a sure-fire destination to spot dolphins on a daily basis.
If you go surfing at Waikiki Beach, you'll have some company all the time. I'm not just talking about fellow surfers but also about spinner dolphins. The gently rolling waves in the protected bay at Waikiki are excellent for all levels, with the biggest and most consistent waves hitting the shore during summer (June to September). Luckily, you can paddle alongside spinner and bottlenose dolphins all year round!
Yokohama Bay is famous for its hollow and powerful beach break with a demanding take-off, recommended for experienced surfers only. It is also home to a great number of spinner dolphins that come close to shore each morning.
Kahe Point, also known as Electric Beach because of the power plant nearby, is home to a rocky reef break with a sandy bottom that produces some fun waves. You will see plenty of charter boats in the distance doing dolphin excursions. But you don't need to pay big bucks for such an experience. Why not swim or surf with dolphins on your own?
Best time of year for dolphin sightings: Pods of dolphins reside here all year round. Winter months bring big swells to the islands of Hawaii, but that doesn't mean that there won't be any dolphins around. In fact, it appears as though dolphins like to surf too.
Most common sightings: Spinner dolphins, bottlenose dolphins, spotted dolphins, rough-toothed dolphins.
There are over a dozen species of dolphins residing in the warm waters around Sri Lanka, and large pods can be found all along the country's coast, especially spinner dolphins, which speed through the water and jump for the camera like genuine acrobats. The most frequent sightings are reported in the northwest, but you're bound to see some in the southern half of the country, where all the finest surf can be found.
Arguably the best place to observe dolphins in their natural habitat in Sri Lanka is Kalpitiya, on the northwestern coast. Huge pods of dolphins come to shore, sometimes counting thousands of individuals. But if you're looking to combine surfing in Sri Lanka with dolphin spotting, then you'll be happy to know that some of the best waves in Sri Lanka are often visited by dolphins.
In the Southern Province, Mirissa is an off-the-beaten-path mellow reef break that is suitable for all levels. Crowds are hardly ever an issue here, and it looks like dolphins just love it here. Mirissa is also a hotspot for whale watching in Sri Lanka.
On the southern tip of the country, Dondra Point is already a famous destination for whale watching, as it is located in the migration path of blue whales. Dolphins are a regular occurrence here too, and if you're a beginner surfer, you can also catch some gentle waves.
In the Eastern Province, Trincomalee is a great surf spot for all levels, with plenty of surf schools. You might also catch a glimpse of bottlenose, spinner, striped, and Risso's dolphins, as well as blue whales.
Best time of year for dolphin sightings: Between December and April, which also coincides with the blue whale watching season.
Most common sightings: Bottlenose dolphins, spinner dolphins, spotted dolphins, striped dolphins, Fraser's dolphin, Risso's dolphin, orcas.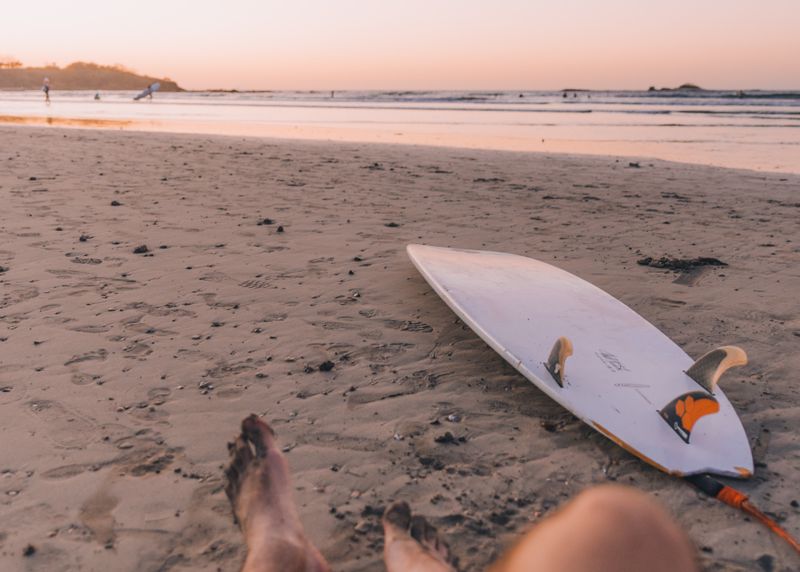 Around 34% of the world's cetacean species are found in the warm tropical waters around Costa Rica, according to the Keto Foundation. Therefore, you can be sure that you'll get to see some dolphins leaping out of the water all along the Caribbean and Pacific coasts.
When it comes to surfing in Costa Rica, the North Pacific coast is the country's most visited. In the northwest corner, the Guanacaste region is also famous for its dolphins, with large pods residing near Playa Tamarindo, the most popular surf spot in the country.
Dolphins can also be seen along the coast of the Manuel Antonio National Park, where surfers of all levels will find fun and uncrowded waves. Uvita is another great destination for whale and dolphin watching, located south of Playa Domincal, home to some of the biggest and fastest waves in Costa Rica.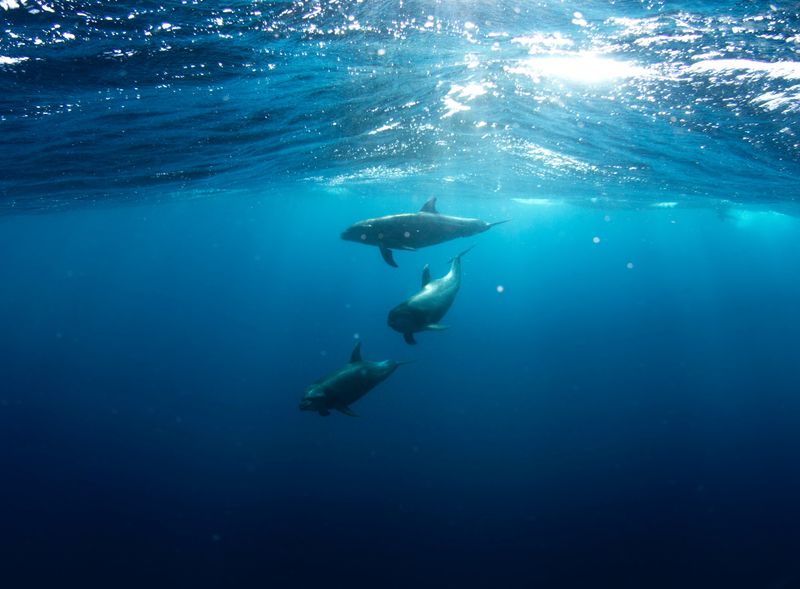 Perhaps the best place for dolphin watching in Costa Rica is Golfo Dulce, on the south Pacific coast. All year round, you'll get the chance to see friendly spotted, spinner, and bottlenose dolphins in small pods quite close to shore. Larger pods of up to 500 individuals can be observed further offshore. And if you'd like to do some wave catching while you're there, then you're in luck, as you'll find Playa Pavones right at the mouth of the gulf. One of the longest left-handers in the world can be found in this secluded jungle beach.
It is the country's Caribbean coast that sees the largest and most powerful waves in the country, typically produced by offshore storms between December and March. Head on over to the small seaside town of Puerto Viejo, where you can take surf lessons and ride the mellow waves together with bottlenose dolphins in the morning.
Best time of year for dolphin sightings: During the two breeding seasons – July through October and from December to May. There are plenty of resident dolphins in these waters that can be seen all year round.
Most common sightings: Bottlenose dolphins, spotted dolphins, spinner dolphins, rough-toothed dolphins, Guiana dolphins, common dolphins, orcas.
---
Are you ready for the adventure of a lifetime? Book your next wave surfing camp in one of the above-mentioned destinations and catch some awesome waves in the company of friendly dolphins!