All You Need to Know About Surfing in Peniche
The go-to resource for planning your surf camps. Find all you need to know about the top destinations and take your surfing to new heights.
Discover Surf Camps now
Peniche is famous for quite a few things – long sandy beaches, surfing, sardines, and Supertubos, one of the best beach breaks on the planet. It is also mainland Europe's westernmost city and one of the best places to learn to surf in Portugal.
There's a good reason why Peniche has been dubbed Portugal's surf capital. The variety of surf spots, the consistency of the waves, and the annual WSL World Tour Championship in October all add to its popularity. Plus, the wind is always offshore somewhere in Peniche.
Beach breaks, sandbar reefs, point breaks, lefts and rights, you name it! It's a surfer's paradise. Join a surf camp in Peniche and you'll have numerous surf spots right at your doorstep, for all levels and tastes.
From the surfing seasons and the best waves to the surf culture, what to eat, and more useful travel tips, here's all you need to know about budgeting and planning your surf trip to Peniche.
Traveling to Portugal in 2022
Travelers from the European Union, Schengen Associated countries (Liechtenstein, Norway, Iceland, Switzerland), Brazil, UK, USA, as well as from countries authorized for non-essential travel subject to reciprocal confirmation (including but not limited to Australia, Canada, New Zealand, Peru) are allowed to enter mainland Portugal for both essential and non-essential travel.
All travelers must present one of the following:
A valid vaccination, test, or recovery EU Digital COVID Certificate (only vaccines authorized by the European Medicines Agency are valid in inland Portugal and Azores);
Or a valid vaccination or recovery certificate issued by a third country, under reciprocal conditions;
Or a negative RT-PCR Test (or similar NAAT test) taken within 72h before boarding the flight or entering the country;
Or a negative Rapid Antigen Test taken within 24h before boarding the flight or entering the country.
All passengers arriving by plane must fill out an electronic Passenger Locator Form after check-in and before departure. Passengers flying into the Azores must complete a Questionnaire for Risk Assessment and Early Detection before boarding. Those flying into Madeira should register their travel here.
» Read more details from official sources
When to go surfing in Peniche
Image credit: Bukubaki
Portugal is widely regarded as a year-round surfing destination. However, the best and most reliable surfing conditions can be found during autumn and winter. Summer months receive smaller swells, and certain surf spots can go completely flat for days. But summer does have its perks.
Between April and September, the waves are friendlier and smaller, but also less consistent than in autumn. This is the perfect time to go for beginners and intermediate surfers.
Thanks to its exposure, Peniche is considered a safe bet even when other surf spots in Portugal aren't working. Even though it may not be prime surfing season, you can still score waves on a daily basis.
Starting October, every surf spot in Peniche serves regular waves. Between October and March, the waves are bigger, perfectly shaped, and very consistent. This is the time to go for intermediate and advanced surfers.
Wetsuit requirements
Image credit: Adventure Riders
The water is pretty cold all year round in Portugal. Except for the Algarve, where you can bag quite a few days of rubberless surf in the midst of summer, you'll need a wetsuit to surf in the rest of Portugal.
In Peniche, you need a wetsuit all year round.
In summer, water temperature peaks in the range of 19-22°C (66-72°F). You'll still need a 2mm long-sleeve shorty during the warmest months (August and September), or a 3/2mm wetsuit if the wind is up.
In winter, water temperatures drop to 14-16°C (57-61°F). During this time, a 4/3mm wetsuit and booties are mandatory, although a 5/3mm would be better for longer sessions.
The surf culture in Peniche
Image credit: BeSalty
The first records of surfing at Peniche are from the 1960s, when foreign surfers rode the waves at Prainha and Lagide in Baleal. In the early 1970s, more surfers started to come to Baleal in their vans, surfing the waves at Molhe Leste and Medão Grande (which later became known as Supertubos).
In the 1980s, the first surf-related businesses started to emerge. The first surf shop opened. In the early 1990s, the first surf schools and surf camps opened their doors.
Later on, 2009 marked a steppingstone in the town's evolution on the surfing scene, with the arrival of the World Surf League (WSL), when the first Rip Curl Pro Portugal was held at Supertubos. The event pinned Peniche on the map, next to the world's best surf spots.
The MEO Rip Curl Portugal is an annual event held each October at Supertubos, when the world's best surfers fight for the title.
Surfing has been at the core of this small fishing village's lifestyle for the past decade. Today, Peniche truly deserves to be called Portugal's surfing capital.
The beaches on both sides of the Peniche Peninsula have surfing facilities, and you can easily rent or buy equipment, or find surf schools or surf camps. At the beach and at the many surf bars, you'll mingle with surfers and travelers from all over the world. Exchange experiences and find inspiration for your next surf trip.
Find out why Peniche is summer 2019's top surfing destination.
The best surf spots in Peniche
Image credit: Bengt Nyman
Midway along Portugal's coast, the Peniche Peninsula juts out into the Atlantic, attracting swell from every direction. As if that wasn't already enough, the wind is always offshore. No matter the swell and wind, there will always be a spot working in Peniche.
There are over 30 surf spots at Peniche. I am not going to list them all here. Instead, I am quickly going to go through some of the most popular, for beginners and advanced surfers alike.
You'll find surf spots on both sides of the Peniche Peninsula. North of town, there's more swell exposure. To the south, the spots are more sheltered.
Surf spots for beginners in Peniche
Image credit: Good Surf Good Love - SURF ACADEMY
Most surf spots in Peniche break over sand. Therefore, Peniche is a great destination to learn to surf and to improve your skills. This is especially true during summer, when the waves are smaller.
The soft beach breaks between Peniche and the Baleal Peninsula are a beginner surfer's paradise. They are also the most consistent in the area during summer, thanks to their exposure to northern swells.
South of the Baleal Peninsula, Catinho da Baia is one of Portugal's best beginner and intermediate surf spots. Closer to shore, the waves are more protected and, therefore, mellow and gentle enough for beginners. Farther away from shore, the waves get bigger and are more suitable for intermediate surfers.
North of Baleal, Prainha is a protected surf spot for beginners, perhaps the easiest wave in the Peniche area and, therefore, one of the most crowded too. Next to it, Lagide is a reef break with fun, fat waves that are better suited for more experienced surfers.
Nearby Gigi is a popular longboarding spot, with small, fun, and long waves. This is also a great beginner surf spot in Peniche. Further north, Almagreira is a classic beach break for all skill levels.
Surf spots for intermediate and advanced surfers in Peniche
Photo credit: Planet Surf Portugal
Of course, Peniche has its fair share of challenging waves. After all, it does owe its reputation to rad tubular waves at Supertubos.
Just outside the harbor walls, Molhe Leste is a fast and wedgy right-hander, recommended for intermediate and advanced surfers.
Offshore from Peniche's water tower, Papoa is a famous big wave surf spot. When Nazaré gets too messy, this is where the action is.
Image credit: Vsevolod Vlasenko
South of town, Supertubos is a blue flag beach, home to the most famous wave in Peniche. It is also considered the best beach break in Europe, and is renowned for its gnarly barrels.
Supertubos is super-fast and super heavy. The take-off is extremely challenging, almost vertical, the waves move in deep water and break in shallow water. You can easily get hurt. When it's firing, you'd better leave this one to the pros.
Consolação has both a left and a right point break on either side of the headland, both of them recommended for intermediate and advanced surfers.
How to budget your surf trip to Peniche
Summer is the busiest season in Peniche. The beaches tend to get crowded and accommodation should be booked in advance. This is also when prices are at their highest. October is also crowded, due to the WSL Championship at Supertubos.
Surf camps
Image credit: Good Surf Good Love - SURF ACADEMY
Portugal is considered the cheapest Western European country to travel to (not taking the flights into consideration). Unfortunately, traveling with your own surfboard(s) means additional flight costs, and board rental doesn't come cheap either. If you also require surf lessons or guidance, your surf trip to Peniche can cost a pretty penny.
If you're a surfer or are looking to learn to surf, joining a surf camp might be the most affordable and convenient option. There are dozens of surf camps in Peniche, with prices to suit every pocket.
You can stay at a budget surf camp in Peniche for as little as €25 per day. This includes accommodation, surf lessons, and all the necessary surfing equipment.
Accommodation
Image credit: Bukubaki
You'll find numerous accommodation options within a short stroll from the beach, mostly surf lodges, but also hostels, hotels, and apartments.
In surf lodges, you can find accommodation for as little as €15 per night/person. The average price in a hostel or hotel for one person is €30.
Food and drinks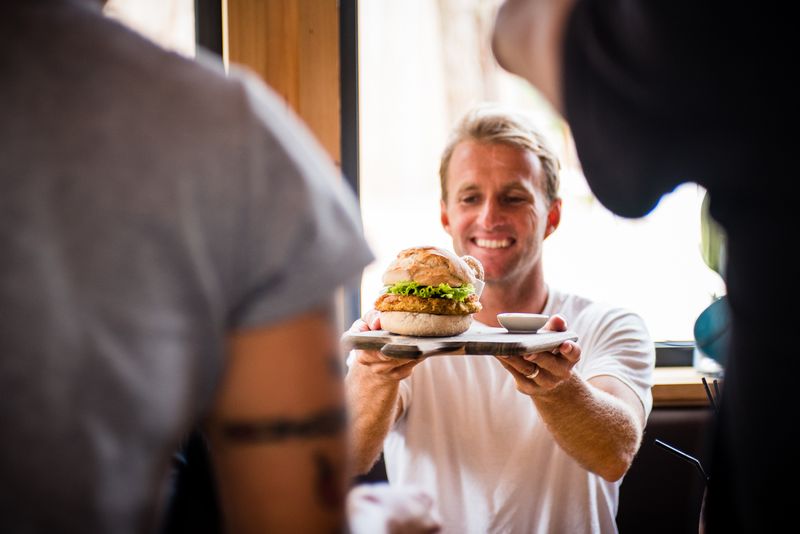 Image credit: Bukubaki
The average dinner costs €6-10 at an affordable restaurant. A cup of coffee will cost anywhere between €0.50 and €1.50.
On average, a domestic beer costs €1. It is usually more expensive at the beach. Keep an eye out for happy hours, when you could get two beers for 1€!
Find out all you need to plan your surf trip to Portugal.
What to eat in Peniche
Thanks to Peniche's long history as a fishing village, its fish and seafood dishes are flawless.
The town is still a working port and relies heavily on its fish industry. For seafood lovers, this means one thing – the freshest produce you can possibly get.
Peniche's seaside promenade, Avenido do Mar, is lined with fish restaurants and eateries serving traditional Portuguese dishes and other international cuisines. You'll also find several vegetarian/vegan restaurants in Peniche.
If you'd like to cook, visit the fish markets in town, where you'll find fresh fish, as well as vegetables and fruits. And they're easy on the pocket too.
Staple foods you have to try in Peniche:
Caldeirada (fish stew, Portugal's version of the traditional Provencal bouillabaisse)
Arroz de marisco (seafood rice)
Lobster soup
Fish soup
Grilled sardines
Pastel de nata (custard tarts)
More useful Peniche travel tips
Image credit: Bukubaki
Getting there: Peniche is located approximately 90km (55mi) north of Lisbon. If you fly into Lisbon Portela Airport (LIS), it takes about an hour to get to Peniche by car. From Porto's Francisco Sá Carneiro Airport (OPO), it is a two-hour drive.
If you're staying at a surf camp, check with your hosts to see if they can arrange airport transfer. Otherwise, you can get from Lisbon by rental car or bus, the latter being the cheapest option.
Getting around: With so many surf spots within quick reach, you can easily ride a bike or longboard to get from one wave to the other.
If you stay at a surf camp, transport to the surf spots will be arranged by your hosts. During summer, a local bus connects Peniche to Baleal.
Image credit: Planet Surf Portugal
Thanks to its location, there are plenty of rest day activities worth considering or things to do if the surf's flat.
Make sure you visit the town's cliff top fortress, built in the 16th century. And if you'd like to take a peek at how surfboards are designed, shaped, and glassed, visit the Fatum Factory& Showroom.
The Berlenga Islands are located roughly 10km (6mi) offshore and are famous for their bird watching, snorkeling, and nature. They can be reached via a short ferry ride from the harbor.
North of Peniche, visit the medieval town of Óbidos, with its whitewashed houses, narrow cobbles streets, castles, and fortified walls. The nearby Óbidos Lagoon is one of the most popular kitesurfing spots in Portugal.
And let us not forget Lisbon, which is absolutely worth a day trip.
If you'd like to check out more waves near Peniche, drive north along the coast to Nazaré, home to the biggest waves ever surfed. Or head on over to Ericeira, an hour's drive south from Peniche, home to Europe's first and only World Surfing Reserve.
*Cover image credit: Bukubaki
---
Join a surf camp in Portugal and ride the best waves in Europe's surf capital!