All You Need to Know About Surfing in the Mentawai Islands
The go-to resource for planning your surf camps. Find all you need to know about the top destinations and take your surfing to new heights.
Discover Surf Camps now
Featured in countless surf movies and magazines, with perfect waves and endless barrels, the Mentawai Islands are one of the most sought-after surf trips on the planet.
Off the western coast of Sumatra, in the northern part of Indonesia, around 70 islands and inlets make up the Mentawais, one of the most consistent and most wave-dense surfing destinations in the world.
Remote tropical islands, palm-fringed beaches, warm water, and world-class waves at almost every turn. There are literally hundreds of surf breaks, from world-famous rights like Lance's Right and Rifles to hollow lefts like Macaronis and Greenbush. No wonder it's a bucket-list destination for surfers and non-surfers alike!
From the surfing seasons and the best waves to budgeting your trip and how to choose between a surf camp or a surf charter, here's all you need to know about surfing in the Mentawai Islands:
The surfing seasons
Image credit: Maki Boat
The prime surfing season in the Mentawais is between March and October/November. This roughly coincides with the dry season, as well as the best time to surf throughout most of Indonesia.
But thanks to their location – getting the most out of the southwestern swells that are consistently being pumped through the Java Trench – there are waves in the Mentawai Islands all year round.
Between December and February, the waves are smaller and mellower, thus more suitable for intermediate surfers. The main difference between the prime season and the off-season lies in the wave size. There are also fewer crowds and northwesterly winds actually favor some of the lesser-known waves.
The water temperature is warm year-round, between 26-28°C (79-82°F).
The surf vibes
Image credit: Kingfisher Mentawai
The Mentawais (colloquially the Ments) are one of the wildest places on earth. Their rainforests are almost impenetrable, home to unique flora and fauna. They also have one of the best-preserved indigenous cultures; the tribes of tattooed hunter-gatherers were isolated from the rest of the world until the 17th century, when they were discovered by the Dutch. Today, they continue to struggle to maintain their identity in the modern world.
Though the islands were pioneered by surfers in the late '80s and early '90s, it wasn't until the early 2000s that the first land-based surf camps started to emerge, at Macaronis and Lance's Right (HT's).
The four main islands in the chain are Siberut, Sipora, North Pagai, and South Pagai, accessible by ferry or speedboat from Padang. All visitors are registered by the authorities before leaving Padang.
Siberut is the largest and most developed island in the Ments, and also the most accessible for surfers. The most popular waves can be found in the Playgrounds area to the south of Siberut, and can get crowded during peak season. The most remote waves can be found off South Pagai.
Most of the waves break over sharp coral reef, which can be very shallow at times. Therefore, the Mentawai Islands are not recommended for first-time surfers. But, thanks to the great variety of surf breaks, beginners (who have surfed before) will find some waves to suit their skills too.
The waves break offshore and can only be accessed by boat.
In 2016, a surf tax was introduced in the Mentawais, which costs 1,000,000IDR ($100) per surfer for 15 days. The tax is paid in Padang before boarding the boat or ferry, and you get a wristband as proof. Most surf camps include this tax in their package price.
The best surfing destinations in the Mentawai Islands
Surfing in the Mentawais is broken down into three main areas: northern, central, and southern.
Northern Mentawai

Image credit: Kingfisher Mentawai
Surfing in Northern Mentawai refers to the cluster of waves off the south coast of Siberut, better known as Playgrounds, the most consistent concentration of waves in the chain of islands. The area is home to 20+ world-class waves that are accessible by boat and offer something for all levels.
You'll find surf camps based on Siberut, Masokut, and Karangmajat islands, as well as surf charters that will take you to the most famous waves in the Playgrounds area. Now let's have a closer look at them:
Off the south coast of Siberut, Burger World is a long right-hand point break. Loads of fun and very picturesque, it's suitable for both intermediate and advanced surfers. It's a swell magnet and when everything else is small, this is your best bet.
Good Times is the left-hand version of Burger World. Suitable for all levels, it's a super fun wave with a mellow take-off and long walls. With a bigger swell, it becomes a great place for advanced surfers to enjoy some carving sections.
Off the west coast of Masokut, Beng Bengs is a left-hand reef break with an awesome shape. It's fast, fun, and ripable, but also quite forgiving. Therefore, it's suitable for all levels, even beginners who are already comfortable catching waves.
E-Bay is one of the gems of the Ments, a left-hander with multiple barrel sections at mid-tide. With a high tide, it becomes a super-fun performance wave. This one's reserved for advanced surfers.
Next to E-Bay, Pit Stops is a punchy right-hander with fun little barrels at the take-off. This is one of Indonesia's most high-performance waves, if not the world. And the good news is that it's suitable for all levels, from beginners to advanced.
Off the southern tip of Masokut, Bank Vaults is one of the trickiest waves in the Mentawais. This powerful right-hand reef break throws some draining barrels, and it's so easy to get caught inside. It can handle huge swells, it rarely goes flat, and is not for the faint of heart.
East of Bank Vaults, Nipussi is a short and fast right-hander that breaks over a shallow reef. It's one of the most consistent surf spots in the Mentawais and is relatively sheltered from the wind. When other waves are being messed by the wind, this is a safe bet. It works best when there's not much swell, which makes it a good option when other spots aren't working. The wave itself is pretty mellow, which makes it accessible for intermediates too.
Image credit: Kandui Villas
Off the northeast coast of Karangmajat, Kandui is one of the fastest left-hand-barrels in the world and one of the most dangerous waves in Indonesia. It was first called "No Kandui" because if its difficulty and heaviness. Only head out when there's a big swell. When small, the sharp reef below can cut you to shreds.
On the opposite side to Kandui, Rifles is one of the best waves in the Mentawais. This long right-hander is also known as Kandui Right. It delivers great speed and size, and the barrels are simply insane. When it's firing, it delivers some of the longest tube rides of your life. The ride itself is rather violent, so only advanced surfers should tackle this one.
Central Mentawai
Image credit: Kingfisher Mentawai
Surfing in Central Mentawai refers to the waves off the northern and southern coasts of Sipura, one of the most picturesque of the Mentawai Islands.
Peeling along a reef off the southern tip of Sipura Island, Lance's Right, also known as Hollow Trees (HT's), is one of the best barreling right-handers in the world. Its fastest section is called The Office, and is a steep drop followed by a barrel. The Main Peak is an open wall that breaks over a shallow reef affectionately called "the surgeon's table".
Southern Mentawai
Image credit: Southern Mentawai Outpost
North Pagai is home to some of the jewels of Mentawai surfing. South Pagai has some of the most consistent and highest quality waves in the group of islands, most of them consistently world-class.
On the west coast of North Pagai, Macaronis is one of the best left-handers in the Mentawais, also hailed as one of the most fun waves in the world. It's the most ripable wave in the chain of islands. You can score just about any trick in the book; from perfect tube rides to aerials, it has everything. It's recommended for advanced surfers and it works in almost any condition.
South of Macaronis, Greenbush is an extremely hollow tube. Just imagine a solid square barrel surrounded by lush tropical forest, incredibly picturesque and ripable. The reef is unforgiving which is why Greenbush is reserved for advanced and kamikaze surfers only.
Off the west coast of South Pagai, Thunders is one of the most consistent surf spots in the Ments, a large left-hander racing over a shallow reef. Thanks to its multiple take-off points, it can handle larger crowds.
» Discover the best waves in Indo. Read our guide to the best surf spots in Indonesia.
How to budget your surf trip to the Mentawais
Image credit: Kingfisher Mentawai
Don't be mistaken, the Mentawais are by no means cheap. After all, they are home to some of the most luxurious surf resorts on the planet, offering everything from pool to nanny service. Plus, simply getting there can cost a pretty penny.
To get the most bang for your buck, go during the shoulder season (November and March) or the off-season (January through March). Many surf camps offer discounts during this time of year. Sure, you might not get absolutely perfect conditions on the waves, but you're guaranteed quality surf nonetheless.
As previously mentioned, most waves break offshore and can only be accessed by boat. This raises the question of whether you should opt for a land-based surf camp or a liveaboard surf charter. Let's examine both options:
Choosing between a surf camp and a surf charter in the Mentawais
Surf camps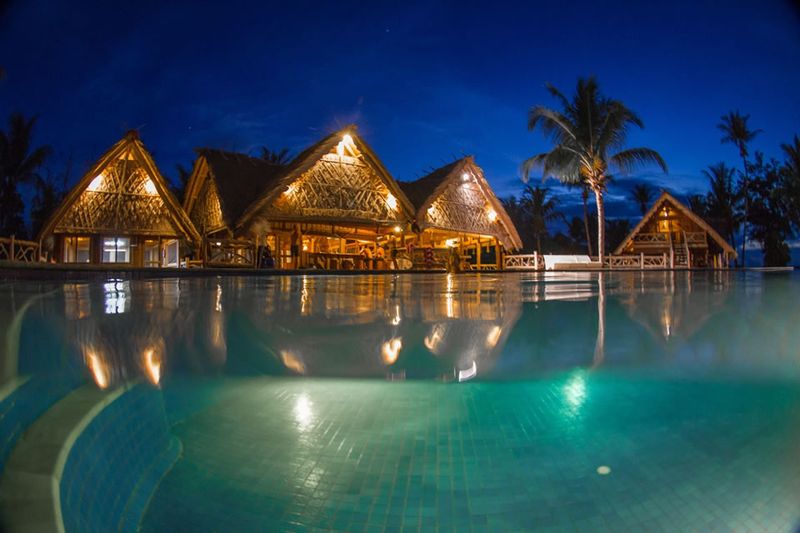 Image credit: Kandui Villas
The most budget-friendly way to surf in the Mentawais is to join a surf camp. Furthermore, if you're traveling with your family or non-surfers, this is by far a better option than surf charters. They offer plenty of activities to keep non-surfers entertained and access to other land-based activities while you're not surfing. You have more room and all the creature comforts to relax at the end of the day.
Surf camps cater to different levels of surfers, whereas on a charter boat there are usually only experienced surfers and you have to keep up.
On the downside, you are tied to the camp's boat schedule and have limited access to the waves. There'll be daily boat rides to the nearby surf spots, which will probably get crowded. The more remote surf spots will be out of hand.
Most land-based surf camps in the Mentawais are all-inclusive. This means that transfer from Padang, accommodation, all daily meals, and boat rides to various surf spots are included. Prices start at $1,350 for a 10-day package.
Surf charters
Image credit: Sibon Charters
If you'd like to have the ultimate surf trip, a Mentawai surf charter is the way to go. These give you the freedom to move easily between the islands and the many surf spots. You'll be able to surf multiple breaks, including remote and uncharted waves. You'll wake up right beside the waves and be the first to paddle out at dawn.
Liveaboard surf charters are all-inclusive and come with a hefty price tag. Prices start at $2,650 for a 13-day charter. While that may seem like a steep price, all surfers agree that it's worth every penny.
Needless to say, if you don't have the best sea legs, this option may not be for you. You should also consider the fact that you'll be sharing the boat with surfers of a particular level, mostly intermediates and above. You have to be on top of your game. There is less personal space and you'll spend almost all your time with the fellow surfers onboard.
Food & drinks
Image credit: Sibon Charters
All surf camps, guesthouses, and surf charters offer meals, usually a mix of local and international cuisine. Rice, noodles, fresh coconuts, and tropical fruits are among the staple ingredients.
Due to their remote location, most surf camps include all daily meals in their packages. You'll be served large, hearty meals three times a day. Drinks are included as well, but alcohol costs extra.
On a surf charter, all meals are included in the package, prepared by a chef on board.
Transportation
If you're not joining a surf camp or boat charter, then you'll have to pay for transportation between Padang and the islands.
The slow, overnight ferry takes 10-11 hours to get to Siberut, and you'll have to spend the night in a cabin. A double cabin costs around $110 and a quadruple cabin $195. The fast ferry operates six days a week and goes to the different Mentawai Islands. It costs $22 per person each way, plus $17 per surfboard bag.
Speedboats are fast, but they're also expensive. However, they are a good option if you're traveling with a group of surfers. This way, you can charter a speedboat for $150 and split the costs.
Once you get to the islands, you might need to take a speedboat from the harbor to the accommodation. And if you'd like to surf the offshore breaks, you'll need to charter a surf boat, which costs around $150 per day, split between up to four surfers.
More useful travel advice for your surf trip to the Mentawais
Image credit: Maki Boats
Getting there
Fly into Padang (Minangkabau International Airport – PDG). This is the biggest city in West Sumatra and the gateway to the Mentawai Islands.
If you're on a surf charter, your trip will begin in Padang Harbor. Some surf camps also offer airport transfer, either included in the package or for an additional fee. Make sure you check with your hosts to see whether they can pick you up and drop you off.
Not all surf camps offer airport pick-up. If that's the case, you'll have to take the ferry to the Mentawais, from where you'll be picked up and taken to the camp.
Mentawai culture
The native Mentawai tribes follow a semi-nomadic hunter-gatherer lifestyle. Their religion is Sabulungan, a form of animism, and they believe that every animal, flower, and piece of the land has a spirit and soul. They are among the oldest tribes in Indonesia and are completely self-sufficient. Only a handful of communities welcome eco-tourism.
Language – Mentawai language, part of the Austronesian language family. There are several dialects spoken across the islands.
Currency – Indonesian rupiah (1USD=14,074IDR)
Booties are recommended for protection from the sharp reefs.
There's no phone signal in the Mentawais, even with an Indonesian SIM card. Luckily, most surf camps, and even high-end surf charters have Wi-Fi. But in the end, who needs technology when you're in a tropical paradise? Take this opportunity to do a (forced) digital detox that will leave you recharged and refreshed.
*Cover image credit: Maki Boat