All You Need to Know About Surfing in Lombok
The go-to resource for planning your surf camps. Find all you need to know about the top destinations and take your surfing to new heights.
Discover Surf Camps now
Nestled between Bali and Sumbawa, Lombok has long lived in the shadow of its western neighbor. Referred to as Bali's sister, the two are often compared while there are, in fact, more differences between them than similarities.
Those wishing to escape Bali's over-crowded line-ups should add Lombok to their bucket list. It is home to one of the world's best left-handers – Desert Point – the wave that pinned the island on the surfing map. It has some of the most consistent surf in Indo and is one of the least crowded too.
Despite recent development, it has managed to preserve its authentic charm and raw beauty. Lombok is how Bali looked like two decades ago. There's no mass tourism (yet) and less commercialism. Tourist facilities are sparse, but you will find surf camps in Lombok near the most popular waves.
From the surfing seasons and culture to accommodation, food, and other useful travel advice, here's all you need to know about budgeting and planning your surf trip to Lombok:
Surfing seasons in Lombok
Like all Indonesian islands, Lombok has a tropical climate. While the weather is indeed humid, the good news is that it's drier than Bali's.
You can surf in Lombok all year round. The water is always warm, hovering around 27-29°C (81-84°F).
Same as Bali, Lombok has two distinct seasons – the dry season (between April and September) and the wet season (from October to March), with November being the wettest month. The surf in Lombok is influenced by these seasons.
» Not sure where to go? Find out all you need to know about surfing in Bali vs. Lombok.
Surfing in Lombok during the dry season
Most of Lombok's waves are located on the south coast. April through September may be high season for surfing in Bali, but that doesn't necessarily apply to Lombok too.
Strong western swells do hit Lombok during the dry season, but trade winds usually pick up after 9 am and can ruin the waves. For the best surfing conditions during the dry season, you should go surfing early in the morning.
That being said, if the trade winds don't blow for a day, you're in for some of the best waves of your life.
During the dry season, the west coast is your best bet for some clean conditions. This is where you'll find the world-famous Desert Point, as well as other lesser-known breaks that don't get as crowded.
Surfing in Lombok during the wet season
Lombok's wet season is drier than Bali's, and if you don't mind the occasional showers, you'll be in for a treat. The swells are smaller, but they are cleaner compared to the dry season. The water is warm, the beaches are less crowded, and you can score some incredibly glassy waves.
Furthermore, many of Lombok's southern surf spots only start to fire in the wet season.
Lombok's surf scene
It should come as no surprise that the waves in Lombok are considered of lower quality and less intense than Bali's. Except for Desert Point, of course. After all, there can only be one Bukit Peninsula. All that aside, surfing in Lombok does have its perks.
The majority of the surf spots are suitable for beginners and intermediate surfers. And truth be told, Lombok is an excellent option if you're looking to learn to surf. The waves are friendlier and less crowded.
The surf spots on the south coast – Gerupuk, Ekas, and Selong Belanak – have great beginner waves. In fact, Inside Gerupuk is the most popular surf spot for beginners in Lombok. Plus, the farther you go from Kuta, the emptier the waves become.
» For more on the waves, read our guide to the best surf spots in Lombok.
Lombok is a great destination for improving your surfing. The empty line-ups and consistent waves mean that you'll be spending more time actually surfing instead of waiting for a window. You'll be sharing the playground with only a handful of people.
This is because many of Lombok's surf breaks are located in large bays that have several peaks. And if you're looking for a bigger challenge, surf the outer reefs.
Photo credit: Mike Sutherland
Desert Point is the most sought-after wave in Lombok. Located two hours west of Kuta, it is one of the longest left-hand barrels on the planet, where you can score over 20 seconds of tube riding per wave. Also known as Bangko Bangko, unfortunately, it only works a few times a year. When it does, it inevitably gets crowded.
The locals are friendly and helpful. They will help you score the best waves. Localism is not an issue on Lombok's waves.
How to budget your surf trip to Lombok
Being less developed than Bali, you'll find cheap accommodation and food in Lombok all year round. But if you'd like to cut down the costs even more, travel during the low season.
From October to March, accommodation is the most affordable. The weather is more humid, but the waves are most consistent during this time.
Lombok only has a few tourist centers, and surfers usually base themselves in Kuta, the southern coast's tourist hub, at Desert Point, on the southwestern tip of the island, or Senggigi, the west coast's tourist hotspot.
Surf camps
To make the most of your surf trip to Lombok, stay at a surf camp. This is by far the most affordable and hassle-free option for traveling surfers. A surf camp will typically include accommodation, surf lessons or guidance (depending on your level), and all necessary surfing equipment. Some also offer meals and airport transfer. They take care of everything, so that you don't have to.
» You can stay at a budget surf camp in Lombok for as little as $37 per day.
Accommodation
The average budget accommodation in Lombok will set you back between $10 and $20. You can pay $5-$10 per night in a basic hut or hostel, while the average hotel price is $30. Of course, you can splurge in five-star hotels if that's your thing.
Kuta has the widest option of accommodation on the south coast, and is a preferred base camp for the southern surf spots. This laidback surf town has accommodation for all budgets.
Senggigi is the number one tourist hotspot on the island, and you will find numerous accommodation options to suit every pocket. At Desert Point, you will mostly find surf camps and surf lodges.
Transportation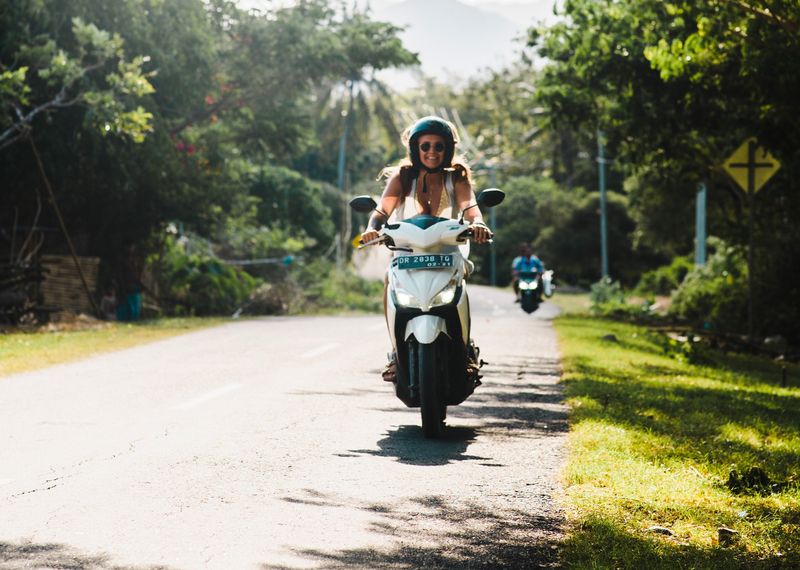 Renting a motorbike is the cheapest and easiest way to get around Lombok. If you're staying in Kuta, you can rent a scooter for $3-$4 per day. There are several surf spots within a 30-minute drive from Kuta, such as Segar, Gerupuk, Are Guling, Mawi, and Selong Belanak.
Please make sure to wear a helmet! There are many tourists riding scooters, which can result in chaotic traffic. Plus, there are many gravel roads, potholes, and some streets are under construction.
If you plan to cover longer distances, you can rent a car for $15-25 per day.
Please take note that you must hold an international driver's license to drive in Lombok, whether a motorbike, scooter, or a car, and your travel insurance should cover driving in Indonesia. Keep in mind that driving in Indonesia is on the left-hand side of the road. If you're not up for the challenge, hire a driver or opt for a taxi.
Some surf spots, such as Gerupuk and Ekas, are located offshore. You'll need a boat ride to the line-up. If you join a surf camp in Gerupuk, they will take care of that. If not, you'll find fishermen boats on the shore that'll take you to the line-up for $1-$2 per ride. For about $7, you can rent a boat for the entire day.
If you'd like to see multiple surf spots in one day, hop on a surf charter boat.
Food & drinks
If you'd like to stay in Lombok on a budget, you're in luck. You can eat local food at local prices. You can grab a filling meal for $1-$3 at food stalls or warungs (small family-owned eateries). In a cheap restaurant, a meal will cost you between $3 and $5. In a mid-range restaurant, you can expect to pay $10.
A bottle of domestic beer costs between $1.50 and $2.40, while a cup of coffee is $1.10. The average daily budget for food and drinks in Lombok is $8-$15.
What to eat in Lombok
Lombok's local Sasak food is a must try. The cuisine is both delicious and cheap, and is famous for its spiciness. If that's not up your alley, you'll find plenty of western eateries in the tourist hotspots.
While most of Lombok's iconic dishes contain meat, you will find some vegetarian-friendly options as well.
Here are some of Lombok's staple foods you should try during your surf trip:
Ayam Taliwang (Lombok's iconic dish, consisting of barbecued chicken served with sambal, which is a chili paste)
Plecing Kangkung (Lombok's most famous vegetable dish, made from blanched water spinach with a chili sauce topping, served alongside other vegetables and grated coconut)
Sate Bulayak (chicken or meat skewers served with rice cakes wrapped in sugar palm leaves)
Sate Rembiga (skewered diced beef satay with a blend of sweet and spicy flavors)
Sate Ikan Tanjung (fish kebabs)
Kelak (spicy vegetable dish)
Babalung (beef rib soup)
Ares (young banana stems steamed with coconut milk and spices)
Beberuk terong (raw or cooked eggplant with vegetables)
More useful Lombok travel tips
Image credit: Nalua Surf Camp
Getting there: Most travelers prefer to fly into Bali's Ngurah Rai International Airport (DPS), which serves more international flights, and then take a connecting flight to Lombok International Airport (LBK) (25 minutes). Another option is to go to Padang Bai harbor in Bali and take a fast boat or the public ferry to Lembar harbor in Lombok.
From Lombok International Airport, it is a 30-minute ride to Kuta and a one-hour drive to Senggigi. Lembar is one hour away from both Kuta and Senggigi.
Getting around: In Lombok, backpackers hauling surfboards on scooters are a common sight. In Kuta, most surfers prefer to rent a motorbike or scooter to get around town and to reach the surf spots. Most scooters have surfboard racks attached.
Currency: The Indonesian Rupiah (IDR) is the currency in Lombok.
Carry a decent amount of cash with you. Credit cards will only help you in the most modern establishments. When using ATMs, only stick to those that are attached to a bank. Avoid random ATMs on the streets. Furthermore, inform your bank that you'll be withdrawing money from Indonesia to avoid your card being blocked.
Language: The official language in Lombok is Bahasa Indonesia. Many natives still speak Sasak, especially the elderly, but everyone understands the official language. English only helps in tourist hotspots.
Surfboards are hard to find in Lombok, and you can expect to pay inflated prices for a second-hand board. Bring your own boards or join a surf camp that provides them.
Bring your own sunscreen. It will be more expensive to buy it in Lombok than at home.
Lombok's population is predominantly Muslim. You should dress respectfully and avoid beachwear outside the beach. Most of the island's residents fast during Ramadan. During this time, many restaurants and transportation methods might be unavailable. If you are in Lombok during Ramadan, please avoid eating, drinking, or smoking in public during the day.
There are plenty of exciting rest day activities worth considering. Lombok is home to Indonesia's second-tallest volcano – Mount Rinjani (3,726m/12,224ft) – and it takes two to five days to trek to the summit, depending on the route and your pace. South of Mt. Rinjani, Tetebatu is Lombok's answer to Bali's Ubud.
Around 85% of Lombok's population is made up of the indigenous Sasak people. Take some time to discover their crafts, music, dances, traditions, and food.
The Gili Islands are located only 20 minutes away by boat from Lombok's north-west coast. These small motor vehicle-free islands are a popular scuba diving and snorkeling destination, and they also have a few surf spots worth checking out.
---
Discover more hidden gems and tropical paradises. Join a surf camp in Indonesia and ride the best waves of your life!