All You Need to Know About Surfing in Bali
The go-to resource for planning your surf camps. Find all you need to know about the top destinations and take your surfing to new heights.
Discover Surf Camps now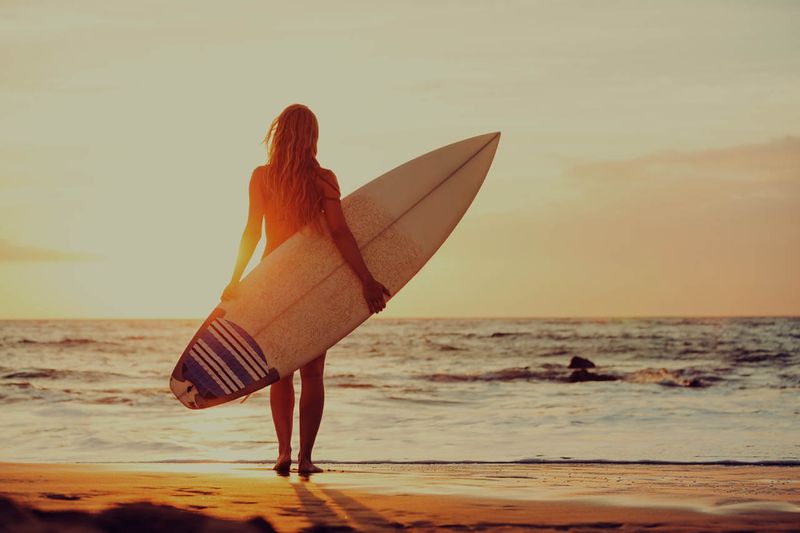 With so many waves within such a small area, Bali is a great place to learn to surf and enhance your skills. From first-timers to progressing surfers and pros, there's a spot for all.
The Island of the Gods has everything you might want from your surf trip – buzzing nightlife, upscale spa resorts, family-friendly beaches, surf shops, backpacker-friendly accommodation and meals. You name it! Plus, surf camps in Bali abound, offering personalized packages for all levels.
From the surfing seasons and culture to money-saving tips and other useful travel advice, here's everything you need to know when budgeting and planning your surf trip to Bali:
Surfing seasons in Bali
Bali has a year-round tropical climate, warm and humid. The average year-round temperature is 30°C (86°F), and the humidity level stays around 85%. Oh yeah, you'll be sweating!
Luckily, the water is also warm, with an average temperature of 29°C (85°F) throughout the year. That means that you can spend as much time in the water as you like without having to worry about fitting into a tight wetsuit.
You can surf in your swimsuit, but we also recommend wearing a rashguard to protect you from getting rashes from rubbing your skin onto the surfboard. Most surf camps provide one, but if you're uncomfortable with that, you can bring your own.
Bali has two distinct seasons – the dry season (between April and September) and the wet season (between October and March). The surf in Bali is influenced by these two seasons.
Surfing in Bali during the dry season
Between April and October, Bali's west coast is where you want to be. The majority of the waves are left-hand reef breaks, but you'll find some beach breaks too, at Kuta, Canggu, and Dreamland.
Between June and August, during Bali's winter, large swells and consistent offshore winds produce world-class waves all along the west coast, particularly on the Bukit Peninsula, where Bali's most famous waves can be found.
The Bukit Peninsula is home to the likes of Uluwatu, Dreamland, Padang Padang, Bingin, Impossibles, and is less crowded than the beaches in and around Kuta. However, the waves on the Bukit Peninsula are more challenging, which is why beginners often prefer the surf beaches at Kuta, Legian, Seminyak, and Canggu.
Find the best waves for your level. Check out our guide to the top surf spots in Bali!
Surfing during the Balinese winter means cooler water temps, between 25 to 28°C (77 to 82°F). But, you can still surf in a swimsuit and a shorty wetsuit at most in the morning and afternoon if it's windy.
Surfing in Bali during the wet season
Between November and March, the surf breaks on Bali's east cast come to life. This is when world-class waves like Serangan, Keramas, Green Bowl, Nusa Dua, and Sanur are at their best. As opposed to the west coast, the east coast serves mostly right-handers.
The amount of rainfall during the wet season depends from one year to the other. Sometimes, rainfall isn't excessive and you can have plenty of sunshine in between showers. In other years, it can pour cats and dogs for days.
Some spots, such as Kuta and Canggu, work during the wet season too, when they're also less crowded.
Bali's surf scene
Bali's first surfer was an American by the name of Bob Koke, who surfed the waves at Kuta in 1936. But it wasn't until the 1960s that Bali was pinned on the international surfing map.
Since then, surfers from far and wide have been traveling to this little island to explore its variety of surf breaks.
Bali's southern coast exhales surf culture. Just look at the scooters on the streets – most of them are equipped with a surfboard carrier. The waves have already become legendary, and are on every surfer's bucket list. Furthermore, surf camps, schools, and shops continue to flourish.
The highest concentration of surf camps and schools in Bali can be found in Kuta, Legian, Seminyak, Canggu, and Sanur. These can get seriously crowded, and Kuta tops them all. The line-up is usually packed with beginners, but there are also more advanced surfers in the water too, and it can be very easy to upset them. But don't worry, Kuta is not the real Bali.
The more remote the location, the less crowded the waves become. This means that surfboard rental options are slimmer in rural areas. By joining a surf camp, you'll be taken to the best surf spots according to your level, without having to worry about board rental, transport to the spots, or upsetting anyone in the water.
How to budget your surf trip to Bali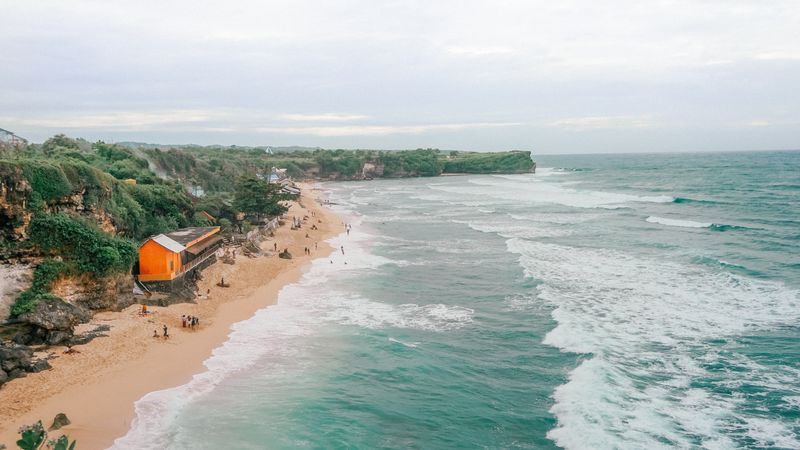 Although it's the most expensive destination in Indonesia, it's still possible to surf in Bali on a shoestring.
Travel costs vary depending on the time of year you'd like to go. For surfers, the best time to visit is during the low and the shoulder seasons, when the prices drop and it's less crowded.
The low season in Bali coincides with the rainy season – October through November and between January and April. This is when you'll usually encounter discounts and good deals on airfare.
The high season in Bali is in July and August and around Christmas and New Year's. This is the most crowded time of the year, and hotels and restaurants need to be booked well in advance. Prices can increase by 50% or more.
The shoulder season in Bali is May, June, and September. This is the best time to go, as it's still the dry season, the surf is top-notch, the crowds aren't as insane, and you can still find some reduced rates.
Accommodation
You can spend as little as $8 in a shared dorm and $25 per night for a private room. At the same time, you can easily spend over $200 per night if you really want to splurge.
Transportation
The cheapest way to get around Bali is by scooter. Renting one will set you back anywhere between $4 and $10 per day for a scooter with a surfboard rack.
Please make sure you wear a helmet! Driving in Bali is very chaotic. And if you're not used to driving on the left side, it's even worse. This is why taxis or hiring a driver are safer options than renting a car. Taxis are cheap in Bali. For example, Kuta to Seminyak can cost you around $5. Do avoid any rides where the driver does not use a meter or claims that only fixed rates apply.
Food & drinks
At warungs (small family-owned restaurants), a meal will cost you anywhere between $1.5-3. You can have a plateful of chicken, rice, and veggies for as little as $1.4.
A domestic beer will cost you between $2 and $3.5. Wine is expensive in Bali, with an average price of $14. You should pay attention to any alcohol that appears too cheap, even for Bali's standards. Bootlegged alcohol is common. You should also avoid drinks labeled as arak.
If you opt for local places, you can spend an average of $15-18 per day on food and drinks.
Surf camps
Photo credit: Be Kind Retreats Bali
A great way to save money (and some hassle) is by staying at a surf camp. The combination of accommodation, surf lessons or guidance, equipment rental, transfer to the surf spots, sometimes daily breakfast or even all daily meals (this depends on the camp), makes this option quite a bargain.
If you're not looking for surf lessons or guidance, you can still find surfer-friendly accommodation in Bali located within easy reach from the most renowned waves. These are usually villas, and the more people booking together, the cheaper the price per person will be.
By joining a budget surf camp in Bali and opting for the money-saving options listed above, you can spend as little as $50 a day on your surf trip!
What to eat in Bali
Bali's cuisine is tasty and easy on the pocket, and its restaurant scene is world-class.
Hotel restaurants can be a bit expensive. If you're traveling on a budget, opt to eat at warungs, which serve traditional food from all over Indonesia.
Here are some of Bali's staple foods you should try during your surf trip:
Babi guling (slow-roasted suckling pig)
Nasi goreng (Indonesian fried rice).
Bebek Betutu (slow-cooked duck)
Mie goreng (fried noodles)
Satay (marinated and skewered grilled meats)
Bakso (Indonesian meatballs)
Laklak (Balinese pancakes)
Batun bedil (glutinous rice flour dumplings with brown sugar)
Burbur injin (black rice pudding)
Pisang goreng (banana fritters)
And let us not forget the fresh seafood!
Vegetarians and vegans will find plenty of options all over the island. As fresh tropical fruits and veggies abound, it's not hard to find some scrumptious dishes. Plus, many restaurants serve tahu (tofu) and tempe (tempeh) with all sorts of mouthwatering veggies.
Indonesian food is not the only option. There are many international cuisines to choose from, as you'll find Western eateries all over the island. One thing's for sure – you cannot have a bad meal in Bali.
More useful Bali travel tips

Getting there: The main airport serving Bali is the Ngurah Rai International Airport, also known as Denpasar International Airport. It's located 13km (8mi) south of Denpasar and only 3km (2mi) south of Kuta. Which explains why Kuta is jam-packed with tourists.
Getting around: The most common (and cheapest) mode of transport is the scooter, but you can also opt for taxis, renting a car, or even hiring a driver. Keep in mind that in Bali, and the rest of Indonesia, driving is on the left side, with the steering wheel on the right.
Currency: The Indonesian Rupiah (IDR) is the currency in Bali. *In this article, all prices are expressed in USD.
Language: Bahasa Indonesia is the official language of Indonesia. In Bali, locals also speak Balinese. In the tourism industry, most Balinese also speak English. In fact, Bali could be considered the place with the best English-speakers in Southeast Asia.
The locals really appreciate when visitors learn a few Indonesian words. Here are some useful phrases in Bahasa Indonesia to help you get around:
Tolong– Please (in the context of "help me")
Minta– Please (in the context of "can I have")
Terima kasih– Thank you
Sama Sama – You're welcome
Selamat pagi – Good morning
Selamat siang – Good day
Selamat sore – Good afternoon
Selamat malam – Good night
Selamat jumpa – Goodbye
Berapa harganya – How much is it
Mahal – Expensive
Murah – Cheap
Beres – Okay
Diaman pantai – Where's the beach
If you plan on visiting any of the temples that Bali is so famous for, you should know that both men and women are required to cover their legs beyond the knees with a sarong and wear a sash around the waist. So, either pack one or buy them upon arrival.
Don't drink tap water! Drink bottled water only. Also, use bottled water to brush your teeth. Bottled water is cheap in Bali, and many hotels and surf camps provide complimentary water. Also, avoid ice in your drinks unless it's from a reputable restaurant/hotel.
Don't use your left hand to shake hands, touch, or give something. This is because most Indonesians are Muslims, and consider the left hand 'unclean', because it's used for hygienic purposes.
Although mainly perceived as a beach destination, beachwear is not necessarily the norm in Bali. Despite the influx of tourists, Indonesians are more conservative than Westerners. The touristic areas around the beaches are more relaxed, but do dress and act modestly especially in the rural parts and near temples. Furthermore, the Balinese frown on public displays of affection.
Most surf breaks in Bali are reef breaks. Especially on the Bukit Peninsula, the access to the surf spots requires a 50-100 meter (150-300 ft) walk on a jagged reef. Therefore, we recommend you bring along booties.
---
Make the most of your surf trip by joining a budget surf camp for beginners in Bali. Let the instructors take care of all the details while you make unforgettable memories on the Island of the Gods!