Where to Surf in December?
The go-to resource for planning your surf camps. Find all you need to know about the top destinations and take your surfing to new heights.
Discover Surf Camps now
Many people think surfing is a summer activity. But in reality, winter in the Northern Hemisphere means pumping swells and epic conditions.
And no, you don't necessarily have to shiver in a full-body wetsuit by the shore to score perfect waves. To make the whole experience more enjoyable, all you need to do is get away from the gloomy weather at home and head further south.
So go ahead, trade the traditional Christmas get-togethers for some rad barrels in a sunny location.
Wanna end the year with a bang? Here are the best surfing destinations in December:
Note: BookSurfCamps offers a flexible cancellation policy. Should you not be able to travel as scheduled, we'd be happy to help you alter your booking with the same organizer or a different organizer.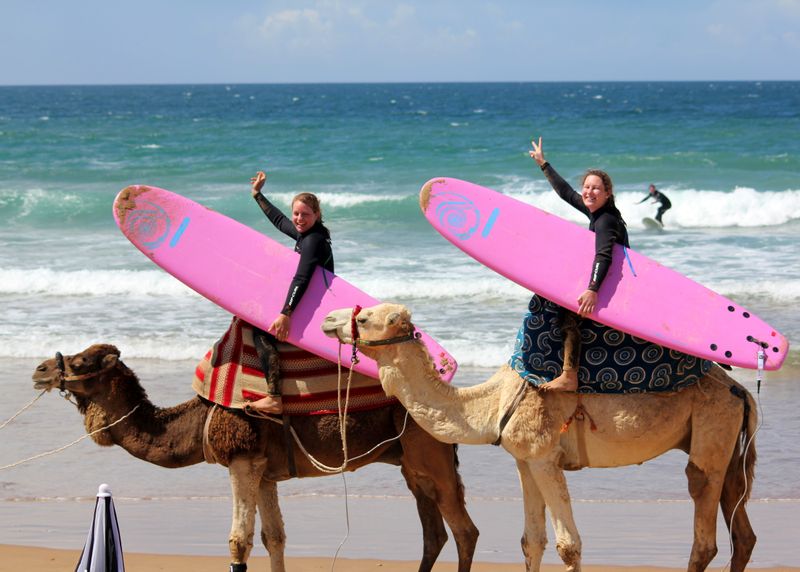 Image credit: Wave & Dance Morocco
Morocco is the number one winter surfing destination for Europeans. And there are quite a few reasons for this.
To start with, winter is the time of year when the famous waves in Morocco put on their best performance. North Atlantic swells start to pump, delivering epic conditions. This is when the gnarly right-hand point breaks come to life, which makes it the best time for advanced surfers to come here.
Also, Morocco is a great winter escape for all levels of surfers, even those who've never tried it before, as there are plenty of friendly waves and sheltered beach breaks.
Morocco is usually crowded in winter. However, since it's a Muslim country, Christmas is not celebrated here. Plus, many people choose to stay at home during the holidays. So you might get a shot at an emptier line-up smack in the middle of the swell season if you come here in December.
Last but not least, Morocco is an affordable surfing destination.
Tamraght is a small Berber village south of Taghazout, easily recognizable thanks to its pink-colored houses. Less touristy and more traditional than Taghazout, Tamraght is the place to immerse in the authentic Moroccan lifestyle.
Most surf spots around Tamraght are friendly enough for beginners and intermediates. These include K17, Cro Cro, Devil's Rock, and Banana Point.
Plus, Tamraght is a great base camp for the waves further north, the likes of Killer Point, Anchor Point, and Mysteries, often described as freight trains and reserved for advanced surfers only.
» READ MORE: Taghazout vs. Tamraght: Where Should You Go Surfing?
Surfing conditions in Tamraght in December
December is one of the best months to surf in Tamraght. Not only will you get consistent and decent-size swells, but the water is not too cold, at around 18°C (64°F). Therefore, you'll only need a 3/2 mm wetsuit. Plus, the average air temperature is a pleasant 21°C (70°F).
Top-rated surf camp in Tamraght in December
5 Days Authentic Surf Coaching in Tamraght, Agadir
Availability: All year round
Skill level: All levels
Price: From USD 339 per person for 5 days/4 nights
Join this affordable surf camp in Tamraght and get three days of surf lessons, as well as free use of the camp's surfboards and wetsuits to surf on your own. This all-inclusive surf holiday also offers three daily meals and airport transfer.
You'll stay at a surf hotel only minutes from Devil's Rock. The experienced surf instructors will take you to the best waves in and around Tamraght for your level.
On a typical day, you'll have a filling breakfast and then head out with the team to the best surf spot of the day depending on the conditions and your experience. You'll join a morning surf session at around 10:30 am, followed by lunch at the beach. At around 1:30 pm, you'll have a second surf session, and return to the surf hotel at 4 pm. Dinner is served on the rooftop terrace at 8 pm.
Image credit: Pura Vida Surfers
December marks the beginning of the dry season in Costa Rica, which makes this month one of the best for visiting the country. The weather is sunny, the water is warm, and the waves are ultra-consistent. This is also prime time for beginner surfers on the Pacific coast.
On the tip of the Nicoya Peninsula, Santa Teresa is a small and quiet surf town that's not as busy and touristy as other surfing destinations in Costa Rica. In fact, there's not much going on here besides surfing and yoga.
Thanks to its quality beach breaks, Santa Teresa is a paradise for beginner surfers. The main beach in town, Playa Santa Teresa, is a long stretch of white sand with two peaks that are great for beginners at low tide. Just outside town, Playa Carmen is another great spot for beginners.
In Santa Teresa, December is the best season for beginner surfers and longboarders. Sure, the waves aren't at their biggest, but they are wildly consistent and just perfect to learn on. Therefore, this is a great time for beginners and intermediates to make fast progress by surfing quality waves, day after day.
» READ MORE: All You Need to Know About Surfing in Costa Rica
Surfing conditions in Santa Teresa in December
December brings ultra-clean waves on Costa Rica's Pacific coast. The wind is typically offshore in the morning, and that's prime time to score some glassy sessions. The waves are not too big and they are fun and consistent.
With an average air temperature of 28°C (82°F) and water temperature of 28°C (82°F), you'll only need boardshorts or a swimsuit and a rash guard to surf in Santa Teresa in December.
Top-rated surf camp in Santa Teresa in December
5 Day Budget Surf and Yoga Holiday in Santa Teresa
Availability: All year round
Skill level: All levels
Price: From USD 810 per person for 5 days/4 nights
Join this surf and yoga camp in Santa Teresa and stay in a surf hostel only 150-meters from Playa Santa Teresa. Enjoy four days of surfing and one yoga class a day.
The surf camp has a flexible schedule. You can choose to do yoga in the morning and go surfing in the afternoon or the other way around. For example, on a typical day, you'll go for your surf session at around 10 am, have a lunch break at 1 pm, attend a yoga class at 6 pm, and then meet the instructors for a video analysis of your surfing at 8 pm.
The retreat is also customizable and you can add extra surf lessons or yoga classes.
Image credit: Algarve Watersport
The surf spots all along Europe's Atlantic coast are firing in winter. But if you'd like more welcoming weather, you should head south to the sunny Algarve. While the rest of the Old Continent is rather gloomy, this region gets plenty of sunshine during the cold season.
The Algarve gets quite crowded in summer. In winter, however, the beaches look completely different, which makes this the best time to score quality uncrowded waves.
Plus, if you're looking for friendlier waves in Portugal in winter, the Algarve is your best bet.
With both west and south-facing beaches, there's always a surf spot working somewhere. In December, the west-facing surf spots get bigger waves while the south ones have more protection from the winds.
Indeed, the swells are bigger and more consistent in winter. Still, there are numerous beach breaks that are relatively sheltered. This means well-shaped waves that are challenging enough yet not too scary or too big. Simply put, December is a great time for intermediate surfers to ride the waves in Algarve.
That said, beginners can find mellow waves, too, as long as they stay away from the exposed beach breaks. And advanced surfers will have plenty of fun as well.
» READ MORE: All You Need to Know About Surfing in Portugal
Surfing conditions in Algarve in December
December brings bigger and more consistent swells in the Algarve. This is when the waves peak in height.
The water temperature hovers around 16-18°C (61-64°F), so a 3/2mm wetsuit should suffice. With air temperatures around 18-22°C, the weather is warm enough for a T-shirt during the day.
Top-rated surf camp in Algarve in December
7 Day Multilevel Surf Camp in Lagos, Faro
Availability: All year round
Skill level: All levels
Price: From USD 510 per person for 7 days/6 nights
This affordable surf camp in Lagos offers different programs based on your specific needs. No matter if you're just starting out or already have years of experience, you'll surf your heart out during this intensive week.
Enjoy two surf lessons a day, before and after lunch. On a typical day, you'll have breakfast and then meet the team at around 9:15 am to drive to the best waves in the area for your level. You'll have lunch at the beach and dinner is usually served around 7:30 pm.
You'll stay in a surf house in the heart of Lagos. The package includes daily breakfast and lunch, as well as board and wetsuit hire.
*Cover image credit: Lapoint Surf Camps
---
Winter is big wave season. Do you have what it takes to take on the world's gnarliest waves? Find out on an advanced surf camp.