The Best Surf Camps in Ericeira for All Levels
The go-to resource for planning your surf camps. Find all you need to know about the top destinations and take your surfing to new heights.
Discover Surf Camps now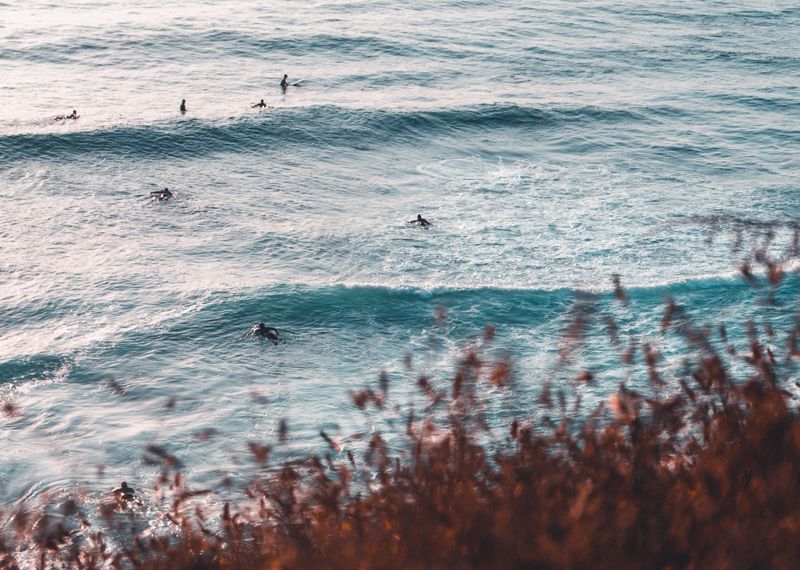 Northwest of Lisbon, Ericeira is more than just another charming little fishing town. It is a surfer's hotspot, home to a high density of world-class waves and some of the most laid-back surf vibes in Portugal.
Ericeira was declared a World Surfing Reserve in 2011, and it is currently still the only one in Europe. The Ericeira World Surfing Reserve is part of the Mafra Municipality and covers seven epic surf breaks along 4 km (2.5 mi) of coastline: Pedra Branca, Reef, Ribeira d'Ilhas, Cave, Crazy Left, Coxos, and São Lourenço.
Thanks to its variety of waves, from mellow beach breaks to powerful and hollow points, Ericeira is a great destination to evolve from a complete beginner all the way to a well-rounded surfer. Furthermore, there are plenty of surf camps in Ericeira that you can join at any time of the year, which offer personalized programs for all levels and pockets.
Note: BookSurfCamps offers a flexible cancellation policy. Should you not be able to travel as scheduled, we'd be happy to help you alter your booking with the same organizer or a different organizer.
Travel update
Air travel to Portugal is allowed for most EU countries, Schengen-associated countries, as well as Australia, China (including Hong Kong and Macao), South Korea, New Zealand, Rwanda, Singapore, Thailand, and Uruguay. An electronic Passenger Locator Card must be presented upon boarding. Flights between Portugal and other destinations are only permitted for essential travel.
Passengers must present a COVID-19 (RT-PCR) test carried out within 72 hours before boarding. Travelers from countries with an incidence rate of 500 cases or more per 100,000 inhabitants in the last 14 days must undergo a period of prophylactic isolation of 14 days, at home or in a place indicated by health authorities. You can find more details from official sources.
All flights between Portugal and the United Kingdom are suspended until March 31. England has removed Portugal from the "red list" of countries from where travel is banned, which means that returning travelers will be able to quarantine at home. Portugal plans to welcome UK travelers starting mid-May.
Effective March 15, 2021, the government will implement a four-phase reopening plan for the entire country, which will be revisited every 15 days until May 3.
When to go surfing in Ericeira?
Ericeira is a year-round surfing destination.
Summer months, between May and October, offer good conditions for beginner surfers to learn the basics in friendly waves and warmer water. You'll need a 2mm long sleeve shorty, or a 3/2mm spring wetsuit if it's windy, to surf in Ericeira in summer.
Progressing surfers will find good conditions in summer, spring (March/April), as well as in autumn and early winter (September to December).
However, the best surf hits the coast between autumn and spring (October through May). Although winter months are more recommended for advanced surfers, depending on the swell size and the tides, beginners can still find some mellow waves during this time too. Please take note that you'll need a 4/3mm wetsuit to surf in Ericeira in winter.
Water temperatures peak in August, averaging at 20 to 22°C (68 to 72°F). They reach their minimum in February – 14 to 16°C (57 to 61°F).
» For more on the surfing conditions, best waves, and how to budget your trip, check out our complete guide to surfing in Ericeira.
Skill level: All levels
Price: From US$357
Availability: All year round
Have a unique and personalized surfing experience at any time of the year with this budget-friendly surf camp in Ericeira.
There will be six surf lessons in total, as well as three yoga sessions to help you connect with your inner self and improve your surfing. Transfer to the surf spots is included, and you'll travel by van to find the best surf spots according to your level. The package also includes complimentary use of the surfing equipment and bike rental.
Beginners will be taken to the friendliest surf spots in Ericeira, where they'll learn about the take-off technique, the different types of waves, swells, winds, and tides in a fun and safe environment.
Progressing surfers who are already comfortable riding broken waves (whitewater) will have the opportunity to catch their first unbroken waves (green waves).
Advanced surfers in need of guidance will surf with a coach who will analyze their technique, offering advice on how to improve their posture and maneuvers.
Skill level: Beginners
Price: From US$194
Availability: All year round
If you have never tried surfing before, this is the place to start!
Stay in a typical Portuguese house perched on a hill overlooking the Atlantic, in the heart of the Ericeira World Surfing Reserve, that will make you feel right at home. Praia do Sul, Praia dos Pescadores, and Praia do Norte surf spots, as well as the famous Ribeira D´Ilhas Beach, are within walking distance from the surf house.
Kick back and relax with this budget surf camp that offers five surf lessons consisting of two hours each, transfers to various surf spots, and daily breakfast.
Skill level: Beginner and intermediate surfers
Price: From US$692
Availability: From March till December
Join one whole week of surfing, specifically designed for those who wish to learn to surf and for intermediates looking to take their skills to the next level.
The surf camp is located in the quaint village of Palhais, only a 20-minute walk from Ribeira D'Ilhas, one of the most famous surf spots in Portugal. There will be five days of advanced surf lessons with full hands-on support from experienced instructors.
During your stay, you'll visit different surf breaks and ride the most spectacular waves in Ericeira. Complete surfing equipment, transfer to the surf spots, and insurance are included.
Surfing and yoga are both full-body practices, and practicing both will have a positive effect on each. During this camp, you'll attend morning Vinyasa classes and restorative Yin yoga sessions in the evening. Plus, all meals are included, featuring delicious homemade vegetarian dishes.
Skill level: Beginner and intermediate surfers
Price: From US$379
Availability: All year round
Learn to surf or improve your skills with daily surf lessons on an intensive surf coaching program. You'll be focusing on basic surfing techniques and have intensive training with surf lessons and theory lessons.
The surfing lessons for beginners and intermediates take two and a half hours to three hours each day. You will be taught in a small group (maximum 6 students) by excellent surf teachers. This means you are getting personal attention and can focus on improving your skills.
Each day, you'll be taken to different surf spots, suitable for your surfing level. At the end of the day, you'll be given a video analysis of your training.
During the theory lessons, you'll learn about the surf culture, surfing etiquette, how to assess the waves and the weather conditions, how to read the forecasts, and plenty more useful information.
The package includes the surf lessons, insurance, surfing equipment, and transportation to and from the beach. You will be staying at Hostel & Surfcamp 55, in the center of Ericeira. The meals are not included.
Skill level: All levels
Price: From US$357
Availability: All year round
Located in Ericeira, only 200 meters from Coxos Beach and São Lourenço Beach, the surf camp caters to all levels of surfers. Whether you've never surfed before or you already have some experience under your belt, you can be sure that you'll have an exhilarating surf holiday in the heart of the Ericeira World Surfing Reserve.
Enjoy daily surf lessons, two to three hours each, under the supervision of professional instructors. There will be one instructor for two or four guests. The surf lodge has a swimming pool, bar, and six chill-out zones.
*Prices are subject to change depending on the date of arrival.
---
Are you ready for the adventure of a lifetime? No matter what your level may be, beginner or advanced, these surf camps in Portugal promise an unforgettable experience!