The Best Surf Camps in Ericeira for All Levels
The go-to resource for planning your surf camps. Find all you need to know about the top destinations and take your surfing to new heights.
Discover Surf Camps now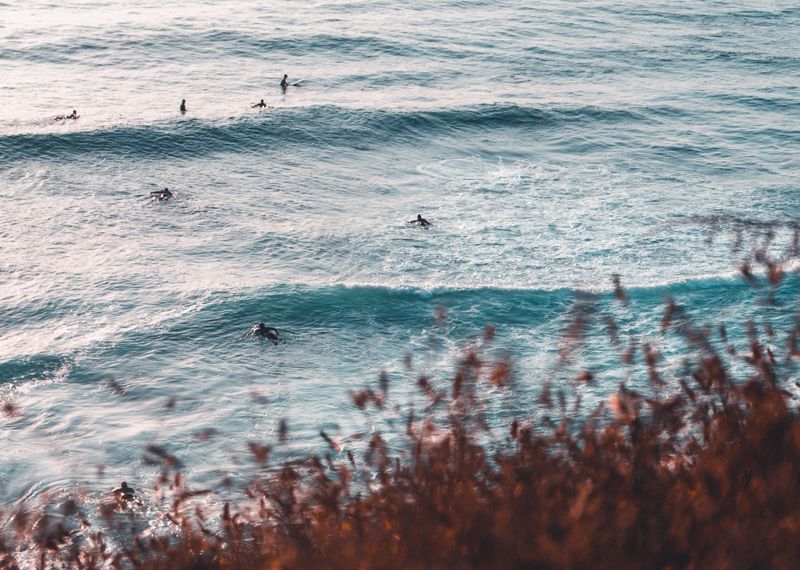 Northwest of Lisbon, Ericeira is more than just another charming little fishing town. It is a surfer's hotspot, home to a high density of world-class waves and some of the most laid-back surf vibes in Portugal.
Ericeira was declared a World Surfing Reserve in 2011, and it is currently still the only one in Europe. The Ericeira World Surfing Reserve is part of the Mafra Municipality and covers seven epic surf breaks along 4 km (2.5 mi) of coastline: Pedra Branca, Reef, Ribeira d'Ilhas, Cave, Crazy Left, Coxos, and São Lourenço.
Thanks to its variety of waves, from mellow beach breaks to powerful and hollow points, Ericeira is a great destination to progress from a complete beginner all the way to a well-rounded surfer. Furthermore, there are plenty of surf camps in Ericeira that you can join at any time of the year, which offer personalized programs for all levels and pockets.
Note: BookSurfCamps offers a flexible cancellation policy. Should you not be able to travel as scheduled, we'd be happy to help you alter your booking with the same organizer or a different organizer.
Traveling to Portugal in 2022
Travelers from the European Union, Schengen Associated countries (Liechtenstein, Norway, Iceland, Switzerland), Brazil, UK, USA, as well as from countries authorized for non-essential travel subject to reciprocal confirmation (including but not limited to Australia, Canada, New Zealand, Peru) are allowed to enter mainland Portugal for both essential and non-essential travel.
All travelers must present one of the following:
A valid vaccination, test, or recovery EU Digital COVID Certificate (only vaccines authorized by the European Medicines Agency are valid in inland Portugal and Azores);
Or a valid vaccination or recovery certificate issued by a third country, under reciprocal conditions;
Or a negative RT-PCR Test (or similar NAAT test) taken within 72h before boarding the flight or entering the country;
Or a negative Rapid Antigen Test taken within 24h before boarding the flight or entering the country.
All passengers arriving by plane must fill out an electronic Passenger Locator Form after check-in and before departure. Passengers flying into the Azores must complete a Questionnaire for Risk Assessment and Early Detection before boarding. Those flying into Madeira should register their travel here.
» Read more details from official sources
When to go surfing in Ericeira?
Ericeira is a year-round surfing destination.
Summer months, between May and October, offer good conditions for beginner surfers to learn the basics in friendly waves and warmer water. You'll need a 2mm long sleeve shorty, or a 3/2mm spring wetsuit if it's windy, to surf in Ericeira in summer.
Progressing surfers will find good conditions in summer, spring (March/April), as well as in autumn and early winter (September to December).
However, the best surf hits the coast between autumn and spring (October through May). Although winter months are more recommended for advanced surfers, depending on the swell size and the tides, beginners can still find some mellow waves during this time too. Please take note that you'll need a 4/3mm wetsuit to surf in Ericeira in winter.
Water temperatures peak in August, averaging at 20 to 22°C (68 to 72°F). They reach their minimum in February – 14 to 16°C (57 to 61°F).
» For more on the surfing conditions, best waves, and how to budget your trip, check out our complete guide to surfing in Ericeira.
Skill level: Beginners & intermediates
Price: From EUR 420 per person for 8 days/7 nights
Availability: May till October
Join this affordable surf camp in Ericeira and stay in a Portuguese house only minutes away from the beaches and town center, yet secluded enough to enjoy some much-needed privacy.
The waves nearby are ideal for beginner and intermediate surfers. Each day, the instructors check the forecast and find the best surf spot for your level. You may surf in the morning on one day or you may hit the waves in the evening on another, depending on the conditions.
During the first session, the instructors will assess your level and fit you into a group of similar abilities. There will be a maximum of five students per instructor for a quality, safe, and fun experience.
There'll be four surf lessons in total, of two hours each. Transfer to the surf spots, all the necessary surfing equipment, and insurance are included.
The package also includes daily breakfast and unlimited tea and coffee.
Skill level: Beginners & intermediates
Price: From EUR 749 per person for 8 days/7 nights
Availability: All year round
Whether you're craving a wellness break or want a more active vacation, you'll find the perfect balance here. This surf and yoga camp in Ericeira aims to relax and re-energize you from the inside out.
The retreat is located only 400m from the beach. You'll wake up to the sea breeze, meditate with a sea view, practice yoga against the sound of the crashing waves, and learn to surf in a serene location. The program includes five surf lessons, twice-daily yoga, daily meditation, and breakfast. All the necessary surfing and yoga equipment is provided.
There will be only five days of surfing lessons in this eight-day package, but you'll also have unlimited surfboard rental so that you can surf in Ericeira for as long as you wish, whenever you wish. This also gives you plenty of time to relax, explore Sintra National Park, or try other activities.
A typical day starts with a morning Hatha Yoga Flow session by the sea, designed to warm you up and get you ready for the day ahead. Breakfast is served afterward. Then, the surf van will take you to the best surf spots of the day for your level, where you'll have the lessons. You'll have a lunch break at the beach, followed by free time. In the afternoon, the Yin Yoga and meditation sessions will rebalance your energy systems, calming your body and mind.
Skill level: All levels
Price: From EUR 634 per person for 10 days/9 nights
Availability: All year round
When it comes to choosing where to surf in Portugal, you simply cannot go wrong with Ericeira, a world-renowned surf mecca.
This surf camp takes place in the center of Ericeira, offering great views of the ocean and the beaches. During your stay, there'll be 13 surf lessons of 2.5 to 3 hours each, taught in small groups by qualified instructors and adapted to your skill level.
You'll have free access to all the hostel's facilities, including Wi-Fi, lounge area, and terrace, to mention a few. Food is not included in the cost; however, you're welcome to use the fully equipped kitchen to cook your meals. Also, you can find traditional Portuguese dishes, seafood, tapas, pizza, and local craft beer at just about any street corner in Ericeira.
The nearest airport is Lisbon Portela Airport (LIS), located 31 km from the camp. Airport transfer is included in the package.
Skill level: All levels
Price: From EUR 810 per person for 8 days/7 nights
Availability: April till October
Get one whole week of surfing on some of Portugal's best waves. No matter if you're a beginner, intermediate, or advanced surfer, you too can experience world-class beach, reef, and point breaks.
The surf camp is located in the quaint village of Palhais, only a 20-minute walk from Ribeira D'Ilhas, one of the most famous surf spots in Portugal. You'll stay in a guesthouse with access to the fully-equipped kitchen, gym, yoga studio, garden, lounge, dining area, and outdoor swimming pool. Please take note that self-catering is veggie/vegan only.
You'll enjoy 10 surf lessons with full hands-on support from experienced instructors. The lessons are adapted to your specific level of experience and are held in separate groups so that each participant can make the most of their time in the water. All the necessary surfing equipment is provided by the camp.
During your stay, you'll visit different surf breaks and ride the most spectacular waves in Ericeira. Complete surfing equipment, transfer to the surf spots, and insurance are included.
Surfing and yoga are both full-body practices and complement each other wonderfully. During your stay, you'll attend six yoga classes – Vinyasa flow in the morning and Yin Yoga in the evening. The camp will provide a yoga kit for your personal use (yoga mat, belt, blocks, bolster, blanket).
Skill level: All levels
Price: From EUR 672 per person for 8 days/7 nights
Availability: All year round
This surf camp offers the perfect combo on a week of surfing and yoga in Portugal. The guesthouse is located in Casais de São Lourenço, a small village close to Ericeira. It is only a five-minute walk from São Lourenço Beach, within the Ericeira World Surfing Reserve. São Lourenço is the most northerly surf spot in Ericeira and one of the most famous in the area.
For a whole week, you won't have to worry about a thing except doing what you love. There'll be five surf lessons and yoga classes twice a day during weekdays, in the morning and evening. You'll also get one relaxing back massage.
The rest of the time is free time that you can use however you wish. The package includes full board meals, with vegan and vegetarian options, using local and in-season products and inspired by Portuguese cuisine.
*Prices are subject to change depending on the date of arrival.
---
Are you ready for the adventure of a lifetime? No matter what your level may be, beginner or advanced, these surf camps in Portugal promise an unforgettable experience!