Where to Surf in April
The go-to resource for planning your surf camps. Find all you need to know about the top destinations and take your surfing to new heights.
Discover Surf Camps now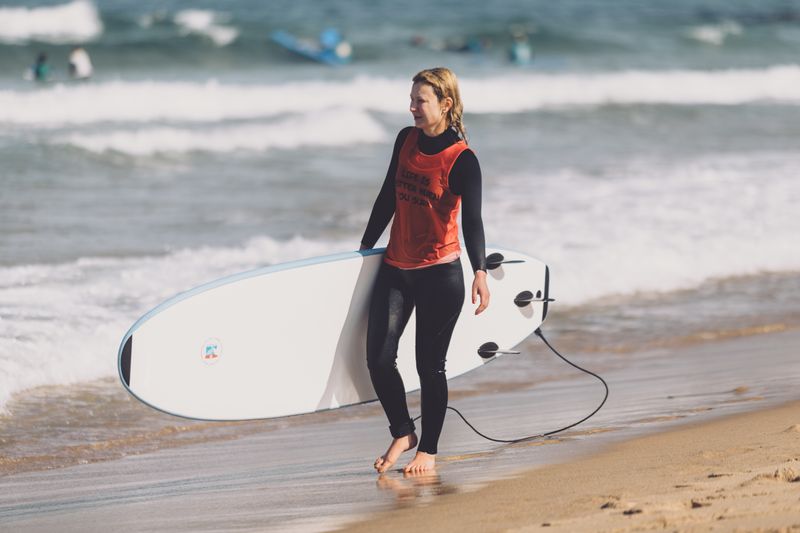 Surfing is all about timing. You need to be in the right place at the right time if you want to score the best waves.
In general, April is a great month to go on a surf trip. In the Northern Hemisphere, the beaches start to get back to life, but they're not too crowded yet. In the Southern Hemisphere, the weather is becoming more pleasant and the swells begin to pump quality waves.
However, there are certain destinations that stand out from the rest thanks to their favorable swell patterns and weather conditions.
Whether you're just learning to surf or are already an experienced surfer, here are the best surfing destinations in April for all levels:
Note: BookSurfCamps offers a flexible cancellation policy. Should you not be able to travel as scheduled, we'd be happy to help you alter your booking with the same organizer or a different organizer.
Image credit: Experiencia Puerto Escondido
From the sandbars in Baja California to the points in Oaxaca, Mexico delivers every kind of surf break you can imagine. Warm, exotic, cheap, and with epic waves pretty much all year round, it is a top getaway for US surfers. It's also a preferred surfing destination for spring break, as well as for Easter break.
In Southern Mexico, Puerto Escondido was pinned on the surfing map thanks to the gnarly Zicatela, also known as the "Mexican Pipeline". The pounding and barreling beach break is considered one of the world's best. It's also one of the heaviest and most dangerous waves on the planet.
Over the years, Puerto Escondido has become synonymous with large and punishing barrels. But the truth of the matter is that it has waves for all levels, from beginners to pros.
North of Zicatela, Carrizalillo is the best spot to learn to surf in Puerto Escondido. Marinero, or "little Zicatela", has shorter and smaller waves than its neighbor and is great for intermediates. To the southern end of Playa Zicatela, La Punta is a left point with an easy take-off and mellow walls. The waves are fun and smaller than Mexico's Pipeline, and are suitable for beginners and intermediate surfers.
Even the notorious Zicatela has its mellow days when the waves range between 1.2-1.8 meters (4-6 feet), making it funfor intermediate surfers.
» For more on the waves, read our guide to the best surf spots in Mexico.
Surfing conditions in Mexico in April
Puerto Escondido is exposed to the largest swell window in Mexico and has a longer surfing season than the rest of the country. The prime season runs from April through October, when long-period southerly swells pump along the coast.
April is a great month for all levels of surfers to try the waves at Puerto Escondido, as the surf is more playful. Mornings are typically glassy or offshore. The wind tends to pick up around midday.
Puerto Escondido has a desert climate, with warm to hot daytime temperatures. But April has lovely weather, with an average daytime temperature of 26°C (79°F). It's not too hot yet and there's plenty of sunshine to be had. Plus, April is less crowded than the peak tourist months of June to August.
The water is warm all year round. In April, the average water temperature hovers around 28-29°C (82-84°F).
Top-rated surf camp in Puerto Escondido
8 Days Budget Surf Camp in Puerto Escondido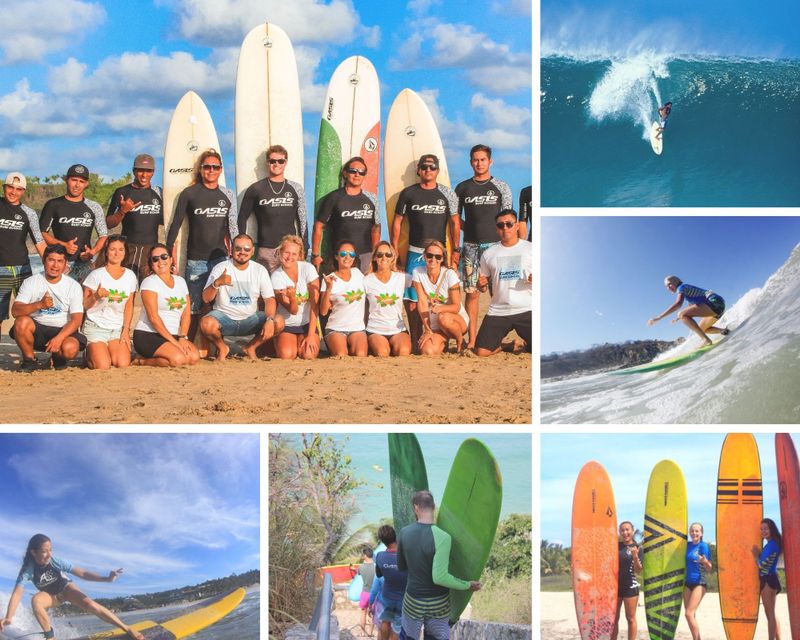 Skill level: All levels
Availability: July till December
Price: From US$450
Join this budget surf camp in Puerto Escondido and enjoy five days of semi-private surf lessons – two students per instructor – for a safe and fun experience.
The surf lessons last two hours each and include theory and practice in the water. The instructors will take you to the best surf spots of the day for your level, so you'll get the chance to ride many different waves, thus enhancing your skills.
Each evening, the camp offers group fitness classes designed to boost functional strength, increase endurance, and make you a stronger and more fluid surfer.
During your stay, you'll also receive an additional, free-of-cost surf coaching session supervised by pro surfer Roger Ramirez and captured by a professional photographer.
Image credit: Bengt Nyman
It should come as no surprise that Peniche has been dubbed Portugal's surfing capital. With a huge option of waves and home to the famous Supertubos, one of the best beach breaks on the planet, it truly is a surfing mecca.
On either side of the Peniche Peninsula you'll find a wide variety of waves for all levels, from beach breaks and sandbars to punchy point breaks, both lefts and rights.
Peniche is exposed to a wide swell window and is one of the most reliable surf spots in Portugal. There are waves almost every single day, and the wind is usually offshore. When other surf spots in the Centro Region aren't working, Peniche is a safe bet.
Peniche is a great destination to learn to surf. The friendly beach breaks between Peniche and the Baleal Peninsula are a beginner's paradise, especially in spring and summer. The area does have its fair share of challenging waves too, from the rad barrels at Supertubos to the wedgy waves at Molhe Leste and the big wave surfing at Papoa.
» Find out more about the surfing seasons, best waves, and how to budget your trip from our guide to surfing in Peniche.
Surfing conditions in Peniche in April
Portugal's beaches start to light up in April, but they're nowhere near as crowded as in summer.
April is a great month for beginners and intermediate surfers. The waves begin to lose their power, becoming friendlier and smaller. The weather is pleasant, with maximum temperatures of 20°C (68°F) and plenty of sunshine.
However, the water is cold in this part of Portugal all year round. In Peniche, April sees water temperatures between 14 and 17.5°C (57-63.5°F). You'll need a 4/3mm wetsuit during this time of year.
Top-rated surf camp in Peniche
4 Days Surf and Yoga Holiday in Peniche
Skill level: All levels
Availability: All year round
Price: From EUR 309
Looking for a short surfing getaway? Join this surf camp near the legendary Supertubos for a memorable experience!
Located only steps away from the beach, the surf house has a variety of accommodation options. There will be four surf lessons and four yoga classes. The surf lessons will be held in the morning, either at Baleal Beach or near famous Supertubos, depending on your skill level. In the afternoon, you'll enjoy Hatha and Vinyasa yoga flows with an ocean view.
The package includes vegetarian breakfast, as well as unlimited tea, coffee, and fruits throughout the day.
Image credit: Endless Summer Fiji
Home to the revered Cloudbreak, Restaurants, Namotu Left, and Frigates, Fiji is on every surfer's bucket list. And you don't even need to be a surfer to know that this South Pacific archipelago has a reputation for its fast, shallow, and insanely hollow waves. In short, it's an epic surfing destination.
Most of the surf spots are suitable for intermediate and advanced surfers. They are located offshore and can only be accessed by boat. However, beginners can find a few friendlier waves and beach breaks too, especially along the Coral Coast.
The Mamanuca Islands are home to the best waves in Fiji. South of Namotu Island, Cloudbreak is a grinding and unforgiving left-hand reef break and the most consistent wave in Fiji. Namotu Left is more forgiving than its famous neighbor and offers some of the longest rides in the country. Off Tavarua Island, Restaurants is Cloudbreak's little brother, less exposed but equally thrilling.
Off Namotu Island, Swimming Pools is one of the few beginner-friendly surf spots in Fiji, a fun reef break with perfectly peeling barrels. Off the Coral Coast, Frigates Pass is one of the longest waves in the archipelago.
» Want to find out more about the waves? Read our guide to the best surf spots in Fiji.
Surfing conditions in Fiji in April
The best time to surf in Fiji is during the Southern Hemisphere winter, between March and November, which is also the dry season.
April is one of the best months to surf in Fiji. The archipelago receives consistent and strong southern swells, and the waves are not as powerful yet. The conditions can change from one day to the next, so you might get to surf in a variety of conditions.
You'll find clean conditions, thanks to the almost nonexistent wind, which results in glassy waves. When there is some wind, it's usually offshore.
The summer heat starts to diminish in April, and the weather is more pleasant. The average water temperature hovers around 28-29°C (82-84°F).
Top-rated surf camp in Fiji
6 Day Surf School and Beachfront Yoga Retreat on the Coral Coast
Skill level: Beginners & intermediate surfers
Availability: All year round except certain dates in Jan, Feb, Mar & Jul
Price: From US$465
Join this beachfront paradise tucked away on the Coral Coast and surf in pristine tropical waters, paddleboard over a living coral lagoon, and practice yoga on the fine golden sand under the coconut trees.
It doesn't matter if you've never surfed before or you already have some experience and would like to amp up your skills – the instructors will adapt the lessons to your level and needs. The yoga classes are for everyone, from absolute beginners to yoga teachers. The classes are held on the beach at low tide.
Daily breakfast and afternoon tea are included in the price. Island day trips or shark snorkeling trips are also included.
*Prices may be subject to change depending on the date of arrival.
---
Don't want to travel far? Go on a short surf camp in a destination closer to you!