Beach or Snow? Surf & Ski on the Same Day in these 5 Locations
The go-to resource for planning your surf camps. Find all you need to know about the top destinations and take your surfing to new heights.
Discover Surf Camps now
Oh decisions, decisions… Christmas is knocking on our doorstep, snow has already started to fall and ski resorts are opening their doors for the season. At the same time, the surf is pumping too. How can you possibly pick one or the other?
Here's a news flash for you: You don't need to choose! Whether you love surfing and skiing just the same, or your significant other prefers a different winter activity, the good news is that you can have both. It is possible to go skiing and chase waves on the same day!
How is it possible? There are some places in the world where sand and snow are so close to one another that it would be such a shame not to take full advantage of both. You don't have to be a seasoned surfer or an experienced skier/snowboarder to attempt the two within one day. The places I'm about to show you are all beginner-friendly and you can take surf lessons in the morning and skiing lessons in the afternoon.
Check out these incredible locations where you can surf and ski on the same day and go for the double-shred yourself:
5. Chile
Photo credit: el Jaime Andrès via Flickr
Best time to ski & surf in Chile: June to October
Surfers know Chile for the astounding surfing destination that it is. Skiers and snowboarders flock to its legendary ski runs. Those who practice both sports know that it is a must-go destination if you want to surf and ski on the same day! The Southern Hemisphere winter is a great time to travel to Chile for some outdoor adventure. Between mid-June and October, the swell is pumping and the ski season is in full swing.
A narrow country sandwiched between the Chilean Andes and the restless Pacific Ocean, Chile has 2,653 miles (4,270 km) of coastline and over 300 days of excellent surfing conditions. What's more, surfing in Chile is still off-the-radar, which means uncrowded line-ups and quiet beaches.
The central region of Chile, close to capital Santiago offers a variety of breaks for beginners to advanced surfers. From Valparaiso, a three-hour drive will take you to Valle Nevado. Pichilemu, Chile's surfing capital, is a four-hour drive from Valle Nevado.
Chile's largest ski resort, Valle Nevado is only 40 miles (65 km) east of Santiago. If you're into off-piste skiing, then you'll be thrilled to know that the heli-skiing here has been rated the best in South America. Also in the heart of the breathtaking Andes, La Parva, El Colorado and Farellones are some of the best ski resorts in Chile that are within half an hour's drive from Valle Nevado.
4. Morocco
Best time to ski & surf in Morocco: January to late March
Northern Hemisphere winter is prime season for surfing in Morocco, as the North Atlantic heats up and sends powerful and consistent waves to shore. There are breaks for all levels – beach breaks, reef breaks, big and small, mellow and fast, barreling and hollow, you name it!
With warm water all year round, balmy winter temperatures, fascinating culture and cheap living, Taghazout is geographically blessed for surfing and is a premier winter surfing destination.
After checking out the surf in Tagazhout, hit the slopes at Oukaïmeden, the highest ski resort in Africa. The resort sits at 8,530 ft. (2,600 meters) and the chairs go as high as 10,603 ft. (3,258 meters) to the Jebel Attar peak. Oukaïmeden is around 220 miles (350 km) from Taghazout, which means roughly five hours to get there by car. There's still enough time to surf and ski on the same day, though.
Photo credit: Jørn Eriksson via Flickr
Located in the Marrakesh-Tensift-El Haouz region, Ouikaïmeden is a small and picturesque ski resort in the High Atlas Mountains, 50 miles (80 km) east of Marrakesh. Skiing in Morocco is off-the-radar and, therefore, an entirely different experience from Europe's high-end resorts. Runs are not well groomed or signposted, which means complete freedom riding some deep powder.
3. New Zealand
Best time to ski & surf in New Zealand: Late June to mid-October
With 15,000 km (9,300 miles) of coastline, it should come as no surprise that New Zealand is a surfing paradise. And, during winter, you can go from surfing to skiing within as little as an hour. However, please take note that surfing in New Zealand during winter months (April-November) can get pretty wild – the sea gets big and stormy, the winds are strong and the water is cold. There are, however, plenty of breaks for all levels during this season too.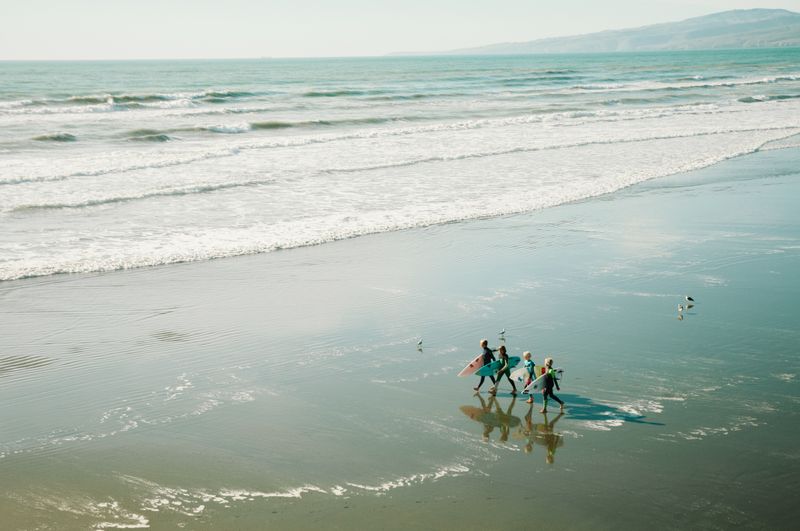 Legendary surf spots like Raglan and Piha can be found on the west coast of the North Island. Further south, Boulders Bay in New Plymouth has some fun and fast waves on offer, suitable for all levels. From there, it is only an hour's drive to Mt. Taranaki, where the Manganui Ski Area offers intermediate ski runs as well as open bowls.
On the south island, Christchurch is home to a popular sandy beach break by the name of Taylors Mistake. When the conditions are just right, it offers long barreling sections and even the chance to surf with dolphins! If you'd like to score the 'New Zealand Double,' you can ski and surf on the same day by heading from Christchurch to Mt. Hutt ski resort, a two hours' drive.
Voted the best ski resort in New Zealand, Mt. Hutt has one of the longest vertical drops on the South Island.
2. France
Best time to ski & surf in France: December to March
Winter is the best time to catch some gnarly waves in France, as the Atlantic sends one gigantic swell after the other. This is when the legendary Belharra break comes to life, reaching up to 50 ft. (15 meters). This is also when the nearby Alps and Pyrenees are covered in powdery snow, making it the ideal time of year to combine surfing in France with riding down some incredibly scenic ski runs.
Photo credit: phgaillard2001 via Flickr
In southwest France, the pumping surf at Biarritz is, without any doubt, on any avid surfer's bucket list. Hosting many international surfing competitions, the surf capital of France is also one of the most crowded surfing spots in France. Luckily, it's easy to escape the crowds – just head on over to any of the other excellent spots in the Basque Country. Anglet, Hossegor and Guethary are within less than an hour's drive from Biarritz and have some of the best breaks on the planet. Mundaka in Spain and Supertubos in Portugal are quite close too.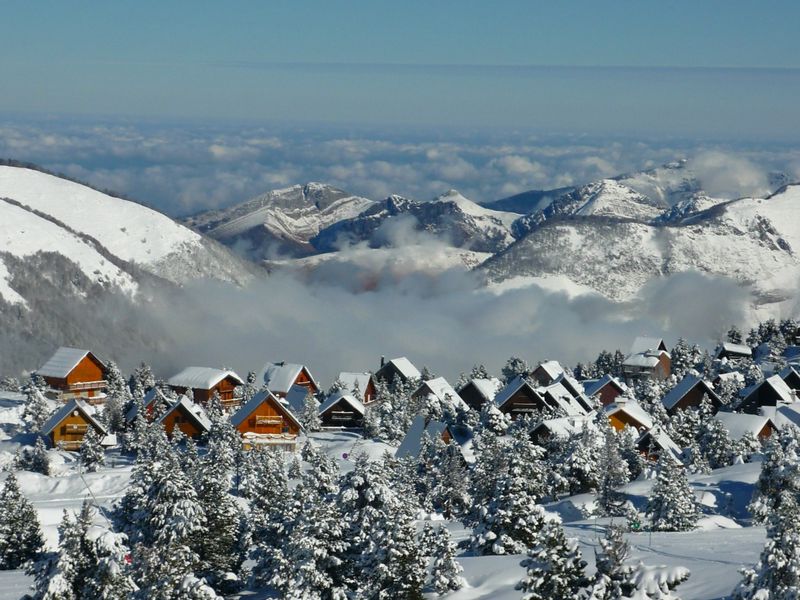 Photo credit: lapierrestmartin.com
Saint-Lary-Soulan is one of the largest ski resorts in the Pyrenees, also famous for its thermal baths, and is only a two-and-a-half hours' drive from Biarritz. La Pierre St Martin ski resort in the French Pyrenees is 93 miles (150 km) from Biarritz, also a two-and-a-half hours' drive.
1. Southern California, USA
Best time to ski & surf in SoCal: November to March
The Golden State truly deserves its name. Skiing and surfing in California on the same day has become a sought-after endeavor that even has its own name – the 'California Double.' You can surf the restless Pacific Ocean and then drive to the SoCal Mountains for some wicked skiing or snowboarding.
\
Los Angeles is the perfect 'base camp' if you wish to take on the challenge of surfing and skiing on the same day. There's no particular way to do it – some prefer to hit the waves early in the morning and end the day with a cup of mulled wine after a great ski or snowboard session; others prefer to hit the slopes in the morning and watch the sunset from Venice Beach after catching some waves.
Surf the renowned breaks at Malibu Beach, Venice Beach and Huntington Beach and hit the slopes at Big Bear Lake, Mountain High and Mt. Baldy in the San Gabriel Mountains. Home to Snow Summit and Bear Mountain ski resorts, Big Bear is only 100 miles (160 km) from LA, a roughly two and a half hours' drive, and is one of the best ski resorts in California.
---
Surfing and skiing complement each other. If you simply cannot stay away from the ocean even when it's cold outside, then combine skiing or snowboarding with a surf camp in any of the above-mentioned destinations!