Have SUP, Will Travel – Your Guide to a Successful Stand-Up Paddling Trip
The go-to resource for planning your surf camps. Find all you need to know about the top destinations and take your surfing to new heights.
Discover Surf Camps now
Are you a stand-up paddle boarder with a wanderlust? Have your local conditions become mundane? Is it time to branch out and try something new? Or, is there an aspect of paddle boarding that you are excited to try, but you can't find the conditions you need locally?
It's time to start planning a SUP trip, but not without first reading these key tips to getting the most out of your stand-up paddling vacation:
Where do you want to go?
Photo Courtesy of Cruiser SUP
Picking your destination may seem easy, but in actual fact, it takes the most thought. For example, if you wish to try SUP surfing, it doesn't make a lot of sense to plan your trip to a remote glacial fed lake. Or, if you don't like paddling in the heat, steering clear of tropical environments may be in your best interest.
What do you want to do when you get there?
Photo Courtesy of Cruiser SUP
The obvious answer to this is to paddle. However, what type of paddling?
This part of planning your trip is key to make sure you get the most out of your trip. If you enjoy paddling in flat water or SUP Yoga, a lake or calm ocean is where you will want to aim your compass. If you are looking to go SUP fishing, then making sure you are going to an area renowned for fishing is always a good idea.
What will you paddle board on when you get there?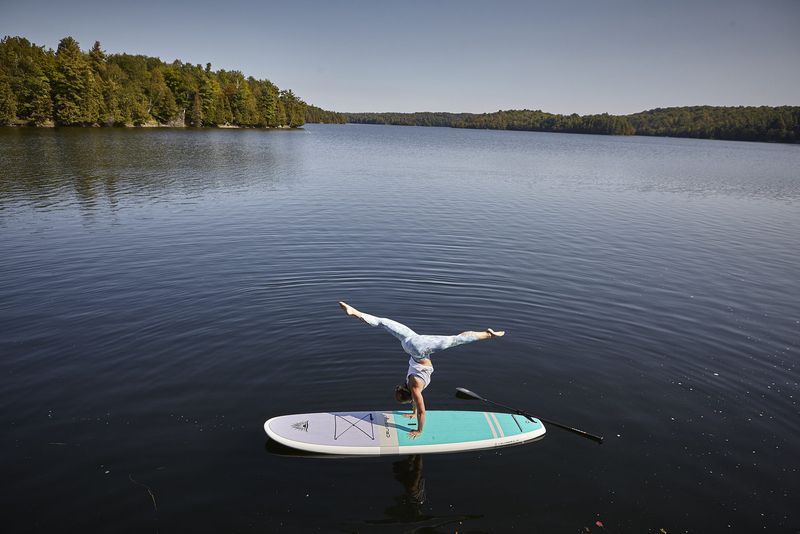 Photo Courtesy of Cruiser SUP
Every good SUP trip requires a stand-up paddleboard. What board you should be paddling on depends on where you are going and how you will get there. If you don't have a board, or don't want to travel with it, source out rentals where you will be traveling to. Make sure they have the style of board you like and the proper sizing. Try to find a rental location that will allow you to book your board in advance so as to not miss time on the water, since many rental locations operate on a first come/first served basis.
If you plan to take your own board, figuring out how you are getting to your destination is the next step.
Will you drive to your destination?
If you have decided to drive to your destination, and your own board is suitable for the conditions, plan on taking your own board. Not only will that reduce your cost in terms of having to rent, but you won't have to get used to an unfamiliar board in unfamiliar conditions.
Traveling by air?
Photo Courtesy of Cruiser SUP
If you are going to fly to your destination, and the board you own is a non-inflatable (also referred to as a rigid board), you will want to check with your airline before planning your itinerary. As you likely know, your SUP is pretty big, and most airlines won't accept SUP boards as checked baggage due to their length.
Many airlines will accept "surfboards," but generally place a length maximum on what is considered a surfboard, and your paddleboard likely exceeds that. If the airline does say they will take your paddle board, have them make a note on your ticket/file noting the dimensions so that you have it in writing to avoid any surprises at check-in.
If you own an inflatable board, life is good in regards to traveling by air. Nearly all quality inflatables come with a carry backpack, and you will be able to check your board as an additional piece of luggage. However, you might have to pay an additional piece fee, but that is usually pretty nominal and also depends on the airline's baggage allowances. Again, it's always a good idea to verify before booking, and have the airline note on your file/ticket that you will be bringing additional luggage at check-in.
Getting ready for your trip
By putting a little thought into your trip preparations, you can be sure to maximize your time on the water. If you are driving, make sure you have everything you need gear-wise, such as your board, paddle, leash, fin, fin screws, all your paddling apparel, sunscreen, and everything else you would need before, during, and after a paddle session at home. Is there a certain kind of energy bar that you like? Buy a bunch and take them along with you. Check over your roof rack and straps to make sure they are ready for the drive, and then hit the road!
If you are flying, all of the above applies in terms of gear, but you will also want to make sure your gear is ready to fly. If you have somehow managed to find an airline that will take your non-inflatable, make sure you have a sturdy and very well padded board and paddle bag. Adding some towels along the rails of your board adds a lot of extra protection as baggage handlers are not known for their gentle touch.
If you fly with your inflatable, pack the board and as much gear as you can in the backpack. Getting your paddle, pump, fins, and leash in the backpack is ideal. Flying with inflatables is super easy – once it is packed, you are ready to go!
Once you arrive
Photo Courtesy of Cruiser SUP
Regardless of how you are arriving at your destination, take a bit of time to get settled into your accommodation before heading on the water. Before your first session, it is always a good idea to observe from the shore. Remember the conditions are brand new for you, and you want to be safe.
If you are at a flat-water location, that may not take that long but you'd still want to look for a safe way in and out of the water and check for any hazards. Talk to locals to get some insider knowledge on things like currents, tides, best water accesses points, and anything else you may need to know.
For SUP surfing, be sure to watch the waves for a while from the shore. You will be raring to get out, but trust me, this little time spent just watching is extremely important. Try to observe where the waves break and how often the sets come through. If you are just learning how to SUP surf, take a lesson. Talk to the locals as well, as each surf spot has its etiquette you will want to follow. Respecting both the locals, as well as the lineup rules is key.
Do what you usually do at home before and after you paddle. If you stretch and drink a lot of water, do the same while on vacation. Nothing is worse than a vacation injury, and you want to make sure you are well fed and hydrated as you are going to be racking up a lot of hours on the water.
After you get home
With a ton of water time under your belt and some great pictures taken, these last few steps make sure you are ready to start paddling at home again. If you rented gear on your trip, you don't have anything left to do other than brag to your friends about your trip! If you took your own, give it a quick inspection to make sure it did not sustain any damage during the trip. At the same time, give it a quick rinse with fresh water to remove any sand and salt that made the trip home with you. Make sure all the small parts like fins and fins screws made it back, and then you are ready to hit the water at home!
Get booking!
A paddle boarding vacation is a great way to see the world by water, and a great opportunity to try various new elements of SUPing. Hopefully, these tips will help make your SUP vacation safe, fun and memorable!
For more tips and information on paddle boarding and the best paddleboards for your needs, go to CruiserSUP!
---
What are you waiting for? Give SUP a try on a stand-up paddling camp for beginners!