6 Tips to Help You Recover after a Serious Surf Session
The go-to resource for planning your surf camps. Find all you need to know about the top destinations and take your surfing to new heights.
Discover Surf Camps now
Surfing is one of the hardest sports out there. You are using every muscle in your body, usually for hours on end, and sometimes even for several days in a row. When you are busy riding the waves, it is nothing but amazing; however, after your body has had some time to process what you just put it through, it can start screaming out for help.
The day after a serious surf session can be tough. You will probably feel a bit lethargic and you will be in pain. Luckily, there are several things you can do to help your body recover in record time so you can get back out on the waves.
Rehydrate yourself ASAP
Just because you were in the water, that doesn't mean your body actually received any of it. You need to think of surfing like running – if you went running for three hours straight, how much water would you drink? Probably several bottles full. But how much water did you drink during your three hours (or more!) riding waves? If you are like most surfers, probably not very much. It's not convenient to have to stop surfing at regular intervals to go back up to the beach and get your guzzle on.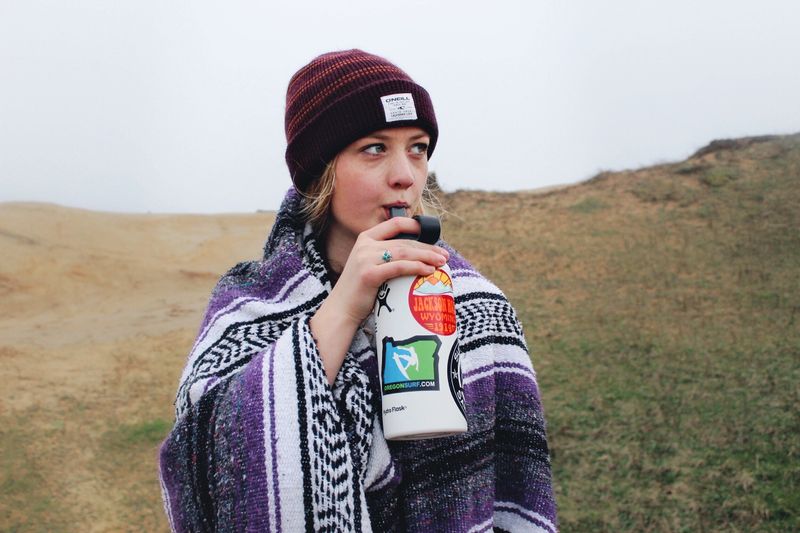 For this reason, most people find themselves dehydrated after a day on the waves. If you are experiencing headaches, increased thirst, a dry mouth, or sluggishness, you are probably dehydrated. So the first thing you need to do is rehydrate with electrolytes. Coconut water is one of the best natural sources of electrolytes you can find, or you can always opt for your favorite sports drink. Even regular water will suffice, it will just take more of it and more time to kick in and help alleviate your symptoms.
Eat lean protein, fiber, and carbs
After a serious surfing sesh, your muscles are mush. The best way to help them rebuild is with the right nutrients. Carbohydrates are an excellent way to get yourself quick energy, while protein will aid in your muscle recovery. However, not all carbohydrates are created equal. You will want natural carbohydrates, like those found in fresh fruit.
The absolute best thing you can eat after a day of surfing is lean protein, fruit, and vegetables. These foods will give your body the protein, fiber, and carbs it needs to regenerate and will get you back to feeling like yourself.
Stretch out all your muscle groups
If you haven't figured it out yet, proper recovery after surfing really comes down to taking care of your muscles. Whether you are a beginner or a seasoned pro, surfing uses a completely different set of muscles than those you use in your daily life. It is imperative to stretch out these muscles to help alleviate the tightness you are feeling. Some of the muscle groups you will want to focus on include your triceps, traps, lats, and rotator cuffs. If you skip stretching these out, it can lead to neck and shoulder pain.
Get a massage
Let's face it: stretching only does so much for tight muscles. When they are extremely tense – like they usually are the day after surfing – you often need a deep tissue massage to really release the knots and loosen up the kinks. But this will not be your regular relaxing massage. It will probably hurt, but once it is over, you will feel like a whole new person.
Additionally, when the muscles are massaged, the blood flow to that area is increased, providing more oxygen to the muscles while simultaneously flushing out the toxins. This process can greatly reduce your recovery time, helping you to get back out on the waves sooner. And if you are in a surfing competition and you feel any stress or anxiety, or you are rethinking everything you did or didn't do, a massage will help you forget about your worries and focus on what's ahead.
Get enough sleep
Surfing at dawn or dusk will often provide you with the smoothest waves and the least amount of crowds, but you need to make sure that you still get adequate sleep. When you sleep, your body is recovering, and without it, you are pretty much out of luck. Ideally, you should get between seven and nine hours of sleep each night so that your body can properly process what you put it through. After an intense day of surfing, it is imperative that you go to bed early. In fact, you should plan an early bedtime the next few days to help your body recover as quickly as possible.
Allow yourself some time to chill out
Even though the experience was exhilarating, and you live to ride the waves, you still need to allow yourself some downtime the day afterward. Your muscles and your brain have been through a lot, and a little reboot will do you some good. Take some time to do whatever soothes your mind, whether it be meditating, doing some yoga, enjoying a relaxing tanning session, reading a book, or anything else. This much-needed R&R (rest and recuperation) will allow you to reflect on your time surfing, reconnect your body and mind, and get yourself ready for the next adventure you have in store.
---
Take good care of your body, mind, and soul! Wake up each morning feeling fresh and energetic, and ready to hit the waves on a surfari tour!