6 Luxury Surfing Destinations You Must Visit in Your Lifetime
The go-to resource for planning your surf camps. Find all you need to know about the top destinations and take your surfing to new heights.
Discover Surf Camps now
We've come a long way since the 1950s beach bum who would crash right on the shore and eschew creature comforts. No one expected surfers to actually get a job.
Nowadays, surfing is a multi-billion dollar industry. Cool shacks, lavish hotels, surf resorts with scrumptious food, spa centers, and private beaches are emerging near the world's best surf breaks.
Luxury surf holidays are becoming a thing. But exclusive surfing destinations also mean fewer crowds – you'll only share the waves with a handful of surfers. And you don't have to be rich to kick back and relax in a posh surf resort; there are options that suit every pocket.
For the highest-quality surf experience possible, go beyond the typical indulgence. We've put together a list of six luxury surfing destinations that seem to tick all the boxes when it comes to first-class surf travel:
All avid surfers dream of riding the famed Banzai Pipeline, Haleiwa, Waimea, and Sunset Beach. Or to at least watch the pros go at them.
The birthplace of modern surfing, Hawaii is on every surfer's bucket list. The surf industry is booming here. Many surf brands are based in the archipelago and numerous surf camps and posh oceanfront resorts operate near the most famous waves.
Oahu is the most visited island. On the south shore of Honolulu, Waikiki is famous for its beaches, nightlife, delicious regional cuisine, and beginner-friendly waves. Every hotel room is no more than two or three blocks away from the beach.
Oahu's famed North Shore is the ultimate surfers' testing ground. Some of the biggest and heaviest waves in the world can be found here. Unlike Honolulu, the North Shore only has a small number of hotels, but it does have upscale surf resorts offering surf lessons and guiding. You'll have some of the world's best waves right at your doorstep.
Best time to go: Winter, between October and March, is the best time to score some gnarly waves on the North Shore of Oahu. Summer, between May and October, is when Oahu's southern shores come to life.
» READ MORE: All You Need to Know About Surfing in Hawaii
Image credit: Surf Spirit Costa Rica
Thanks to its relaxed Pura Vida philosophy, year-round tropical climate and warm water, friendly locals, great food, world-class waves, and an abundance of surf camps, Costa Rica is an idyllic surfing destination.
The country's surf scene has boomed in the last decades, and surf camps have sprung all along its coasts, tailored to all levels of surfers and every pocket.
If you're looking for a pampering surf camp experience, with quality lessons personalized to your needs, top-of-the-line accommodation, gourmet meals, massages, spa sessions, and more, you're in luck! Just opt for a luxury surf camp right in front of the country's most famous breaks.
Image credit: Selina
Guanacaste and Puntarenas are the most visited tourist and surfing destinations in Costa Rica, home to Tamarindo, Nosara, Santa Teresa, and Jacó, renowned surf towns that are on every surfer's radar. But Puerto Viejo on the Caribbean coast should not be overlooked either, as it is home to some of the most powerful waves in the country.
Tourism may be booming in Costa Rica, but many villages and surf towns are growing in a sustainable manner. In fact, Costa Rica is a prime eco-tourism destination, with some of the world's most biologically diverse habitats and numerous eco-resorts for conscious travelers.
Best time to go: Costa Rica has excellent surf on both its Pacific and Caribbean coasts, which makes it possible to go surfing in this tropical paradise any time of the year.
On the Pacific coast, April through November sees the most consistent conditions. Between December and April, during the dry season, the swells are not as consistent, but there can be epic conditions when northerly swells combine with offshore winds.
On the Caribbean Coast, the best time to go is between December and April.
>> READ MORE: All You Need to Know About Surfing in Costa Rica
Every respectable surfer has to make a pilgrimage to Indonesia at one point in their life. And Bali is the epicenter of surfing in the archipelago.
The "Island of the Gods" has it all – some of the best waves on the planet, gastronomical delights, vibrant nightlife, and a huge range of accommodation and surf camps options, from cheap bungalows and private villas to 5-star hotels and boutique lodges.
The Bukit Peninsula has an astounding density of world-class waves and is a great place to ride some of the best barrels of your life. This is a wonderful testing ground for your surfing skills.
Uluwatu is an idyllic surf spot with excellent waves and astounding surroundings. Boutique hotels, luxury villas, penthouses, upmarket villas, restaurants, and infinity pools are perched on the rugged cliffs, overlooking some of the best reef breaks on the planet. This is luxury at its finest.
After two or three days on the challenging reefs of the Bukit Peninsula, you'll be screaming for a break. A spa treatment, a long afternoon in an infinity pool watching the waves break from a distance, a visit to the temples, and a bit of nightlife might be just what you need to recharge.
North of Kuta, Canggu is an up-and-coming surf village and the fastest-growing area in Bali. Although surrounded by rice paddies and serene landscapes, it offers all the amenities of a big city. You'll find luxury villas with private pools, upscale spas, and fine dining, but also backpacker-friendly accommodation and small family-owned restaurants called warungs.
Best time to go: Between April and October, during the dry season, for the biggest and most consistent waves. The off-season can have windows of surprisingly good surf. Plus, the crowds are fewer and the prices are lower.
» READ MORE: All You Need to Know About Surfing in Bali
Imagine perfectly barreling reefs as far as the eye can see. This is the reality in the Mentawais, often describes as a "Disneyland for surfers".
Aside from some of the best waves on the planet, you'll also find world-class accommodation, all-inclusive resorts, and posh surf charters. Thanks to their remoteness, privacy is very easy to come by, no matter where you are on the islands. Quiet retreats, secluded beaches, and romantic sunsets are always on the agenda.
Some of the most luxurious surf resorts on the planet can be found in the Mentawais. The island chain is an exclusive surfing destination and is by no means cheap. But you can rest assured that you'll get your money's worth.
Image credit: MaliMai Escapes
Most waves break offshore and can only be accessed by boat. If you wish to score as many waves as possible and reach uncharted surf breaks, nothing beats a surf charter in the Mentawais.
You'll also find lavish surf resorts smack in the middle of the world-famous Playgrounds. The cluster of world-class waves south of Siberut is home to the renowned Burger World, Beng Bengs, E-Bay, Pit Stops, Nipussi, Kandui, and many more.
In Central Mentawai, you'll find high-end resorts right in front of one of the best barreling waves in the world, Lance's Right, aka Hollow Tree's (HT's).
Best time to go: Between March and November, during the dry season, when long-distance swells kick in. However, the Mentawais are renowned for their consistency, with large swell windows all year round.
» READ MORE: All You Need to Know About Surfing in the Mentawai Islands
Image credit: Surf Yoga Retreat
With warm and turquoise Indian Ocean, lavish resorts, overwater bungalows, and beachfront villas, the Maldives have long been a standard for luxury holidays. The island nation is also a paradise for intermediate and advanced surfers. Just imagine pristine beaches, private islands, and empty waves.
Most surf breaks are located on the outer reefs and can only be accessed by boat. To get to the more remote waves and surf as much as possible, the best option would be to join a surf charter in the Maldives. You'll also find sumptuous resorts that are strategically located within easy reach from the archipelago's best surf spots. If you join a surf camp, boat transfer to the waves will be included in the package.
Surfing in the Maldives is divided into three main regions: the Malé Atolls, the Central Atolls, and the Southern Atolls.
Thanks to its high density of waves and numerous surf resorts, North Malé Atoll is the most popular surfing destination. It's home to resonant names in the surfing world, the likes of Pasta Point, Sultans, Coke's, Ninjas, Honky's, and Lohi's.
The Central Atolls are exposed to the longest swell period in the Maldives and boast an impressive variety of surf spots that are only accessible by boat. Thaa and Laamu atolls are the most popular among surfers.
The Southern Atolls are even more remote, with numerous waves that have yet to be named and uncharted surf breaks. Here, Gaafu Dhaalu Atoll has the best surfing conditions in the Maldives, and is home to Beacons, which is considered the most powerful wave in the archipelago.
Best time to go: Winter, between March and October, for the most consistent swells. The biggest waves typically arrive between June and August. That being said, you can find good waves all year round.
» READ MORE: Surfing in the Maldives: Your Guide to the Best Waves​
Image credit: Wailoaloa Watersports Fiji
Fiji is a quintessential beach destination with world-class surfing, diving, snorkeling, fishing, stand-up paddling, and kitesurfing. Luxury resorts, beachfront villas, remote private islands, white sandy beaches, and breathtaking sunsets make it a top romantic getaway.
Most surf breaks are located offshore and can only be accessed by boat. Tavarua and Namotu in the Mamanuca Islands are among the most popular base camps for surfing in Fiji, with high-end resorts near Cloudbreak, Restaurants, Namotu Left, and Wilkes Pass.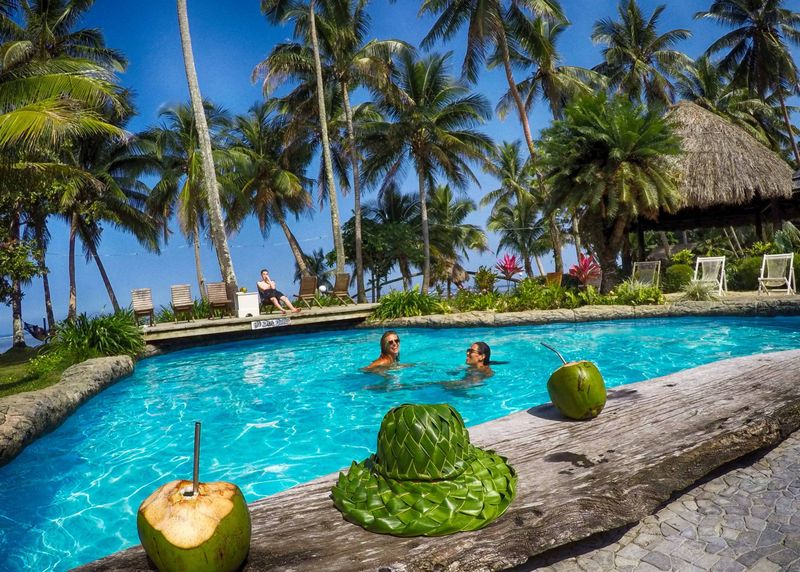 Image credit: Endless Summer Fiji
Viti Levu is a famous holiday destination, with boutique eco resorts and upscale hotels. Here, Frigates Pass is the Coral Coast's answer to Cloudbreak and the Fiji Pipe has been dubbed "mini Teahupo'o". But there are also mellower waves to be found for those with less experience under their belt.
Before the Regulations of Surfing Areas Decree in 2010, some world-class waves in Fiji were only open to guests staying at high-end resorts. Today, all surfers have access to Cloudbreak and Restaurants.
Best time to go: Between March and November, during the dry season, for the best conditions. Throughout the rest of the year, you may still find waves that work, but they'll usually be mellower and more accessible to beginners and intermediate surfers.
» READ MORE: Surfing in Fiji: Your Guide to the Best Waves​
---
Looking for a pampering surfing experience? Join an all-inclusive surf camp and you won't have to worry about anything besides surfing and having a good time!