The 8 Best Kitesurfing Spots in Thailand
The go-to resource for planning your surf camps. Find all you need to know about the top destinations and take your surfing to new heights.
Discover Surf Camps now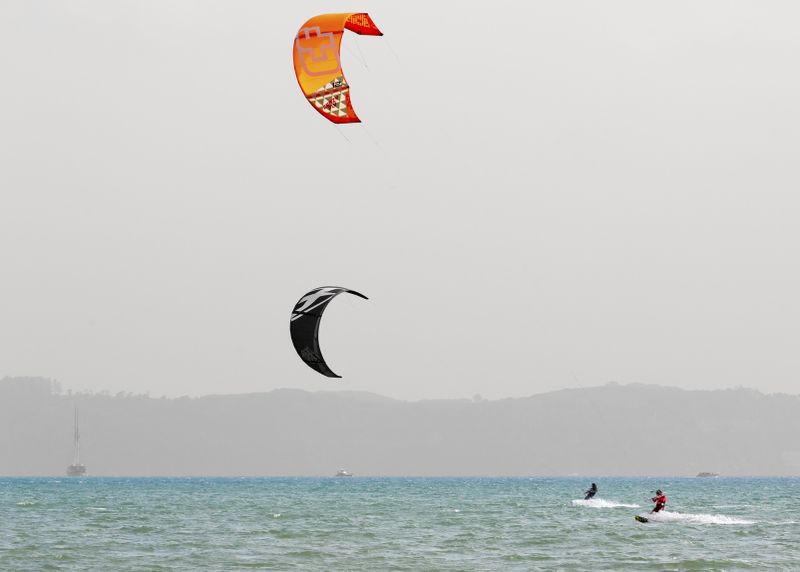 Thailand is well-known for its beautiful nature, white sandy beaches, turquoise water, and friendly locals. But did you know Thailand also has some amazing kitesurfing spots?
The kitesurfing scene may not be as big as in other countries (yet!), but this is more of an advantage for those who like to have a lot of room to themselves in the water. In fact, there are some spots that you can literally have all to yourself!
Thailand has flat water lagoons and wave spots, good for beginners and advanced riders alike. With high temperatures throughout the year, you can go kitesurfing in Thailand in your boardshorts or bikini. In general, the wind is on the low end, and kiters use their bigger kites.
The most important things to know before kiting in Thailand is where and when the wind will be at its best. In this article, we go over the best eight kitesurfing spots in Thailand. Each location has its own distinctive wind season, so you want to make sure you know exactly which month you should be there to have a good session.
When and where to go kitesurfing in Thailand

1. Kitesurfing in Koh Phangan
Koh Phangan is an island located to the south of the Gulf of Thailand, and is mostly known for its chill backpacker vibes, wild parties, spiritual allure, and conscious hippy lifestyle. In this little corner of paradise, you will find a number of kitesurfing spots and schools.
Most kite schools are located on the south coast of the island, in Baan Tai and Tong Sala, which has a huge shallow and flat-water lagoon, protected by a reef. Thanks to the flat and shallow water, it's a very good spot to practice, and one of the best kite spots in Thailand for beginners.
Koh Phangan is a kitesurfing paradise. The main windy season starts in January and lasts until April or May. During this time, the wind comes from the southeast. The winds are quite stable, from 10 until 20 knots. This is also the dry season, with very enjoyable temperatures. February and March are the best months. On average, we have 75% windy days during this period.
The second season starts from July until October, when the wind comes from the southwest. During this time of the year, you can expect the occasional rainstorm to produce strong winds, sometimes over 20 knots. This is a great time for advanced riders to boost some big air tricks. The two rainiest months are from mid-October until mid-December. During these months, there is usually no wind.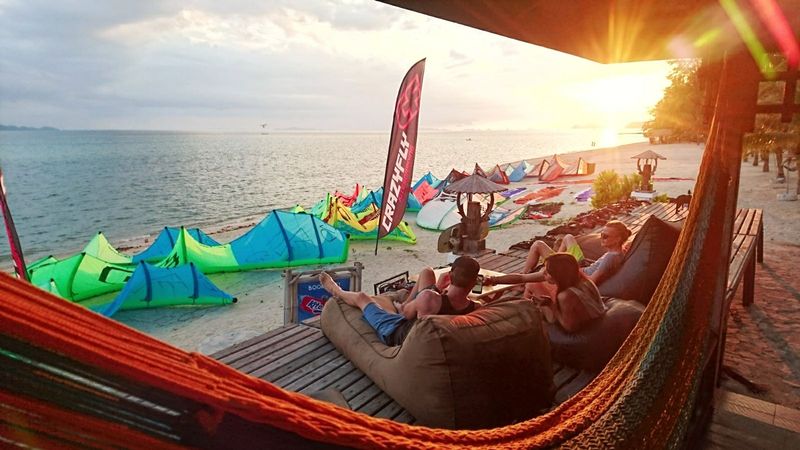 Photo credit: kiteflip.com
December is the only month when the wind comes from the north. At this time, the only good kite spot is in Chaloklum, to the north of the island. This spot can get a bit crowded since all kite schools come here during these few weeks.
2. Kitesurfing in Hua Hin
Hua Hin is located 200km south of Bangkok, in the Gulf of Thailand, and is a favorite holiday destination for the Thai high society. It's not as affected by mass tourism as some other places in Thailand. It has a 6km long clean, sandy beach with at least 10 kite schools offering lessons and equipment rental. It's the busiest and most famous kitesurfing spot in Thailand, but there is still more than enough space to have a good ride.
In general, the water is choppy but the waves are not big enough for a decent surf. There is no reef, so the water gets gradually deeper the more you go into the sea. The spot is also getting more and more famous for its hydrofoiling thanks to its deep choppy waters.
The best time to kitesurf here is between November and March, when the wind comes from the northeast and blows 75% of the time at a speed between 8 and 20 knots. In April, it gets very hot, which gives birth to thermal winds. In fact, Hua Hin has some of the best thermal winds in Thailand.
From May till mid-October, the southwest monsoon hits Hua Hin and there is a lot of rainfall. These rainstorms can bring very strong winds, up to 30 knots. The rainiest months are May, August, and September.
3. Kitesurfing in Phuket
Photo credit: [email protected] via Flickr
Phuket is located in southwest of Thailand, in the Andaman Sea, and is the biggest island in the country. It is a well-known tourist destination, famous for its luxury resorts and lively nightlife.
There are two main kitesurfing spots in Phuket. One is in Nai Yang, a small beach in the north, only a 5-minute drive from the airport. The best time to kite here is from May through October. It's a small bay with a shallow area for beginners and an area with some waves for more experienced riders. The wind can be on and off at this location, and is often followed by rain. May and September are usually the wettest months.
The other main spot is Rawai Beach in Chalong Bay, on the southeast coast of the island. The best time to kitesurf here is from November through March. It has flat and choppy water with thermal winds, which are best in the morning. Both locations have a few schools offering lessons and equipment rental.
4. Kitesurfing in Koh Samui
Koh Samui is the second largest island in the Gulf of Thailand and is famous for its white sandy beaches, coconut groves, rainforests, luxury resorts, and spas. There are also a few good kitesurfing spots.
One is located around 100m south of Nathon pier, on the west coast of the island. This location is good from July until October, when the winds come from the west. The weather can be unpredictable, though, with some big cloud formations bringing strong winds up to 30 knots, as well as some light wind days. Sometimes the winds come before strong rainfalls. The spot is a shallow bay with waist-high water protected by a reef.
Another spot that is good when the wind comes from the west is Bangrak Beach, better known as Big Buddha Beach. The water here is flat and has deep and shallow areas, depending on the tide.
During high season, between December and April, when the winds come from the east, there are two locations suitable for kiteboarding. One is in Maenam, to the north of the island. The other one is at Ban Harn Beach on the southeast coast of the island. Easterly winds are much more stable and are usually not accompanied by rainfall.
You can find a kitesurfing school that offers lessons and equipment rental in each one of these spots.
5. Kitesurfing in Chumphon
Chumphon Province is located in the top of Southern Thailand, and is one of the less kitesurfing destinations in the country. The main spot is located on Thung Wua Laen Beach, also called Cabana Beach. This place is off the beaten path and is very quiet. The main season goes from mid-October through mid-January and brings good northeasterly winds.
Cabana Beach is 3km long and sandy, so there's enough space to set up and launch a kite. During high tide, the beach can be a bit narrow.
The wind is side-onshore, which is ideal for learning to kitesurf, and is usually stronger in the afternoon. The wind passes by a big mountain that's upwind of Cabana beach which causes acceleration and pushes the wind to a few knots more. The water can be a bit choppy, with bigger waves every now and then, but there is a big sandbank that creates a waist-deep flat-water area that's ideal for beginners.
There are two kite schools here offering lessons and equipment rental. A bonus for kitesurfers is that there are no jet skis or motorboats allowed on the water.
6. Kitesurfing in Rayong
Photo credit: kiteflip.com
Rayong is a city on the east coast of the Gulf of Thailand, a two-hour drive from Bangkok. The best time to go kitesurfing in Rayong is between mid-November and mid-January, when the wind is coming from the northeast. The wind can be a bit gusty and is at its strongest in the late morning, around 10-11 am. Late afternoon, the wind loses its strength.
During this season, the best spot to ride is at the entry point to the Rock Garden Beach Resort. The beach is quite wide in low tide, with clear water and a sandy bottom. The water gets gradually deeper and is ideal for learning. It also has nice long small waves.
The second season runs from June until September. This is the southwest monsoon season. The winds are on and off with the incoming of clouds and rain. The best month for kiteboarding is August. During this time, the best spot for learning is Laem Son. It has shallow water for at least 1km. The water is also very clear and with a sandy bottom. This spot is good if the wind is coming from the southeast or southwest because of the shape of the bay.
Photo credit: kiteflip.com
The options for finding a kite school are limited and mostly catered towards Thai people. There is also not a big online presence. If you happen to visit Rayong, go to Haad Suan Son Beach where you can find a kiteboarding school.
7. Kitesurfing in Pattaya
Pattaya is a famous tourist destination 100km from Bangkok, to the east of the Gulf of Thailand. It is known for its fancy resorts, shopping malls, and nightlife. There are tons of activities catered to tourists, and one of them is kitesurfing.
All kitesurfing schools are located on Jomtien Beach, 10km south of Pattaya city. There are three schools operating in this area, and there is even one specifically for hydrofoiling.
From mid-November until mid-January, the wind blows from the north-east with speeds between 12 and 25 knots. The wind is side to side-offshore and the tides are high during this time of the year. Luckily for us, Jomtien Beach isnnow motorsport-free, which means no more loud engines of any kind. Only wind-powered activities are allowed here.
From mid-January up until June, the wind blows from the west. The winds are lighter but they are onshore. Combined with a lower tide (waist-deep), this is a good time of year for beginners. The rainy season starts in May and lasts until November. During this time, the winds are pretty light.
8. Kitesurfing in Pak Nam Pran

Pak Nam Pran is located in the Pranburi District and is a half-hour drive from Hua Hin. It's mostly occupied by some small fishing communities and a few luxury resorts. It is home to one of the biggest and most beautiful national parks in the country, Khao Sam Roi Yot National Park, which boasts a 10km long sandy beach that is luckily not overrun by tourists.
The first season starts in November and ends in January. This time of year, the wind comes from the northeast and can be quite strong. Expect some waves when the wind is stronger. The wind is usually best in the morning and starts to decrease mid-afternoon.
Photo credit: kiteflip.com
The second season goes from February until June. During this time, the winds come from the south and are less strong but more consistent and stable. Since there is a thermal effect, the winds are better in the afternoon, starting around 12-1 pm. There are also some shallow flat spots to practice for beginners.
Pak Nam Pran has two professional kiting schools and is famous for its long downwinders and a few international kiteboarding competitions.