5 Kitesurfing Camps in Europe You Must Check Out This Summer
The go-to resource for planning your surf camps. Find all you need to know about the top destinations and take your surfing to new heights.
Discover Surf Camps now
Some of us wait for those perfect summer days all year long and when they finally arrive, it seems as though they pass by too quickly.
So don't panic just yet, because we've got just the thing for you: five kitesurfing camps in Europe where you can learn or perfect your kitesurfing skills, take a dip in the water, as well as work on your tan. Last but not least, they also offer the perfect opportunity to meet fun, like-minded people and make thrilling memories that will last you a lifetime!
Without further ado, here are our handpicked recommendations for the best kitesurfing camps in Europe:
This year-round kitesurfing camp takes place on Famara Beach on the island of Lanzarote in the Canary Islands. You can come any time of year and start your lessons the next day. Suitable for all levels, the camp includes 4 days of kitesurfing classes of 3 hours each. There will be a maximum of 2 participants per instructor. The ZooPark Famara Surf, SUP & Kitesurf School is qualified by the Royal Spanish Sailing Federation (Kiteboarding Area), and all classes are taught in English and Spanish.
All kitesurfing equipment is included, as well as transfer to and from the kiting spots. Upon finishing the course, you will get an IKO diploma accrediting your level.
Skill level: All levels
Price: € 595 per person for 8 days/7 nights
Availability: All year round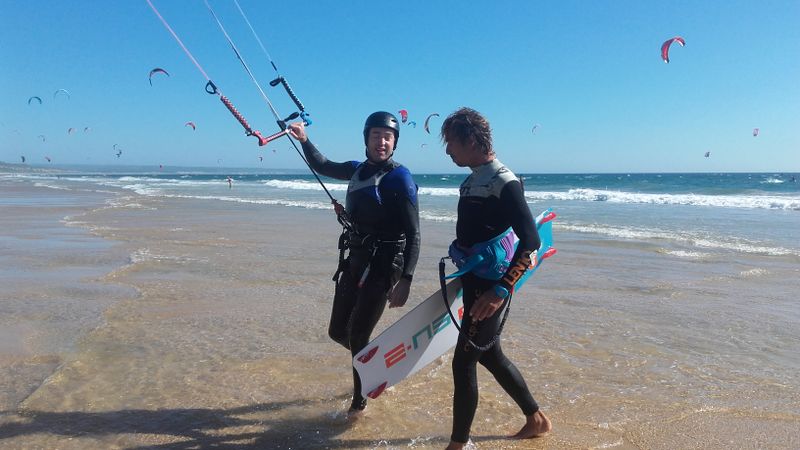 Portugal is perhaps the best surfing and the best kitesurfing destination in Europe, blessed with great winds and stunning scenery. Nestled on a hill between the beach and the forest, only half an hour from Lisbon, this kitesurfing camp is aimed at those who are just getting started in the thrilling sport of kitesurfing but it also works great for those who have already dipped their toes in the kitesurfing sea. You will be provided with everything you need to get started and 10 hours of kitesurfing lessons with friendly certified instructors.
All kitesurfing equipment, insurance, and IKO certification are included in the price. So are shuttle service to some of Portugal's best kitesurfing spots and daily breakfasts. This camp offers a perfect balance between relaxation, tranquility, and energy.
Skill level: Beginners and intermediate kitesurfers
Price: € 598 per person for 8 days/7 nights
Availability: All year round
Discover the best kitesurfing spots in Portugal.
If you are already comfortable steering your kite and are looking for a bigger challenge, then this surf camp located on the Greek island of Rhodes is just what you need! You will join a 6-hour kitesurfing course that will provide you with everything you need to excel at the sport. If you are serious about becoming a great kitesurfer, wait no longer and head on over to Greece.
All necessary equipment is included in the price. So are daily breakfasts, one Greek barbecue night, and airport pick-up.
*Notes: For this camp, you must have completed the full beginner course.
Skill level: Advanced kitesurfers
Price: € 500 per person for 8 days/7 nights
Availability: From May 1st to October 15th
Another camp aimed at beginners, this 8-day kitesurfing camp is located in Corralejo, Fuerteventura, which offers good cross-shore wind conditions from March and April through to August and September. Starting with May, the water surface is less wavy, offering excellent slalom conditions.
You will enjoy 4-hour kitesurfing lessons and 1-hour-30-minutes yoga classes, as well as complimentary use of the camp's kiting and surfing equipment so you can have fun on the water for as long as you wish.
Skill level: Beginners and intermediate kitesurfers
Price: € 375 per person for 8 days/7 nights
Availability: All year round
Thanks to its huge coastline, stunning beaches, and year-round surfing conditions, Portugal is a watersport Mecca. Join this kitesurfing camp on the Algarve coastline to learn to master the kite and improve your technique in a safe environment. You will enjoy 5 days of kitesurfing lessons for beginners and intermediates, as well as one yoga session. Delicious breakfasts and dinners plus beach transfers and train or bus station pick-up are included.
Skill level: All levels
Price: € 700 per person for 8 days/7 nights
Availability: From mid-April to October