Waves for Intermediate Surfers in Indonesia
The go-to resource for planning your surf camps. Find all you need to know about the top destinations and take your surfing to new heights.
Discover Surf Camps now
Are you ready to charge bigger waves that pack more power, work on your aerials and turns on challenging sections, and hone your tube riding skills? Indonesia is one of the best places on the planet to improve your surfing.
The notoriety of Indonesia's waves can make you gulp. While the archipelago does have waves for all levels, it's true that the high concentration of reef breaks makes it more suitable for intermediate and expert surfers. Even the friendlier spots can turn into shredders, depending on the conditions, and most Indo waves have steep and tricky take-offs and landings.
But don't lose your grit. If you're unsure about the conditions or are in need of some guidance, join a surf camp in Indonesia for intermediate surfers that will take you to the best waves for your level, and at the right time.
Without further ado, here are the most popular waves for intermediate surfers in Indonesia that, through their nature, guarantee fast progress:
Bali
The Island of the Gods is blessed with a wide variety of waves for all levels of surfers. While this is a great destination for learning to surf, the majority of the spots are more challenging reef breaks that are just perfect for taking your surfing to new heights.
Bali's iconic waves can have different behaviors depending on the swell and tide. By joining one of the many surf camps in Bali, you'll get professional guidance that will help you make the most of your trip and experience the best these waves have to offer.
The best time to go surfing in Bali, as well as the rest of Indonesia, is during the dry season, which typically lasts between May and September. But there's also good surf during the rainy season, when the east facing spots start to work.
Looking for more information? Here's all you need to know about planning your surf trip to Bali.
Surf spots for intermediate surfers in Bali:
Balangan
On the Bukit Peninsula, this long left-hand peeling wave is considered one of the best for intermediate surfers in Bali. Its big walls, occasional barrels, and multiple peaks will force you to get out of your comfort zone. Luckily, the reef is flat and the waves break gently, so the spot is relatively safe.
Balangan is very consistent. During the dry season, the wind is always offshore, and it's protected during the wet season too, so you can really surf here all year round. It works with all tides, but if you'd like more water over the reef, just head out on an incoming tide.
» Thinking of joining a surf camp but not sure what to expect? Find out what you'll learn on an intermediate surf camp.
Padang Padang Right
Also known as Baby Padang, this is Padang Padang Left's little brother. Located on the Bukit Peninsula, between Impossibles and Uluwatu, this beach break is right next to Bali's most iconic wave, Padang Padang, which is reserved for advanced and pro surfers. With a high tide, it offers long unbroken waves that are excellent for honing your technique.
Bingin
To the south of the Bukit Peninsula, between Dreamland and Padang Padang, Bingin is renowned for its powerful barreling waves. But don't let that discourage you. With a medium wave size, between 1 and 1.5 meters (3-4ft), and with a mid-tide, it is accessible for intermediate surfers too.
Dreamland
What a name to describe a perfectly peeling wave that offers something for all levels! Dreamland is the only beach break on the Bukit Peninsula, and that's probably why many people tend to underestimate its power.
While it's true that the wave has several sections, some of which are gentle enough even for beginners with the right conditions, Dreamland should not be taken for granted. With a small swell, it is great for intermediate surfers. With a large swell and on a low tide, it can throw some hollow waves up to 3.5 meters (12ft) tall.
If you've never gotten barreled before, Dreamland is the place to ride your very first tubes. This is a very consistent spot that works in almost any condition and with all tides. Therefore, it often gets crowded.
Airports Left & Right
Located about 1 km (0.6 mi) offshore in front of Ngurah Rai International Airport, this reef break can only be reached by boat. You'll find traditional boats offering rides for surfers from Jimbaran or Kuta.
Airport Left is north of the airstrip and Airport Right is south. Both waves are powerful and fast, but suitable for intermediate surfers at mid tide and with a wave size in the range of 0.6-1.5 meters (2-5ft). When it's higher than that, they're more recommended for advanced surfers.
Canggu
North of Kuta, Canggu has several beach and reef breaks, some beginner-friendly and others that are slightly more challenging. You'll find everything from soft rolling waves to fast, rippable peaks. With a wave size between 1 and 1.8 meters (3-6ft), this is a fantastic playground for intermediate surfers.
The reef breaks can be tricky, and with a low or high tide, when they pose a challenge even to advanced surfers. Therefore, it's better to surf at Canggu at mid-tide and early in the morning, before trade winds pick up.
Medewi
This is the longest left-hander in Bali, with a mellow face that is just perfect for practicing maneuvers. It is also less crowded than other spots, as it's farther away from Kuta.
Medewi is often referred to as a beginners' wave, but some experience is required to be able to ride it, as you need to be comfortable surfing unbroken waves and turning your surfboard. If you ride straight, you can end up straight into the reef, with some nasty cuts too.
Medewi can handle a big swell, and that's when intermediate surfers should stay inside on the shoulder. Access in and out of the water is pretty tricky too. For a safer and more enjoyable experience, join a surf camp in Medewi that will offer guidance.
The Mentawai Islands
Off the western coast of Sumatra, the Mentawai Islands offer one of the world's largest wave playgrounds. There are literally hundreds of surf breaks, and most surfers agree that these small tropical islands have the most consistent surf on the planet. Thanks to their year-round surf and the quality of the waves, with hollow tubes and steep walls, both lefts and rights, the Mentawais are a paradise for intermediate and advanced surfers.
There are two popular options for surfing in the Mentawais – charter boat trip or surf camp.
A surf charter in the Mentawai Islands is an excellent option for larger groups of similar levels. You'll get to experience more of the Mentawais' waves, as boat charters are constantly on the move, staying at a break for one to three sessions on average. The surf charters will choose the best spots according to the abilities of those onboard.
On the other hand, if you're traveling alone or in a small group and would like to spend more time surfing a particular break, then a surf camp in the Mentawais might be the best option for you.
The Mentawais receive year-round swell from the South Indian Ocean, but the swells are more consistent between March and November, which also coincides with the dry season (June-September).
Surf spots for intermediate surfers in the Mentawai Islands:
Beng Bengs
On the small island of Masokut, Beng Beng is one of the safest and deepest waves in the Mentawais. Despite its challenging walls, intermediates can handle this one. This left-hand reef break is extremely rippable and very consistent, offering long rides of 50-150 meters (160-500 feet). The best wave size is 1-1.8 meters (3-6 feet).
E-Bay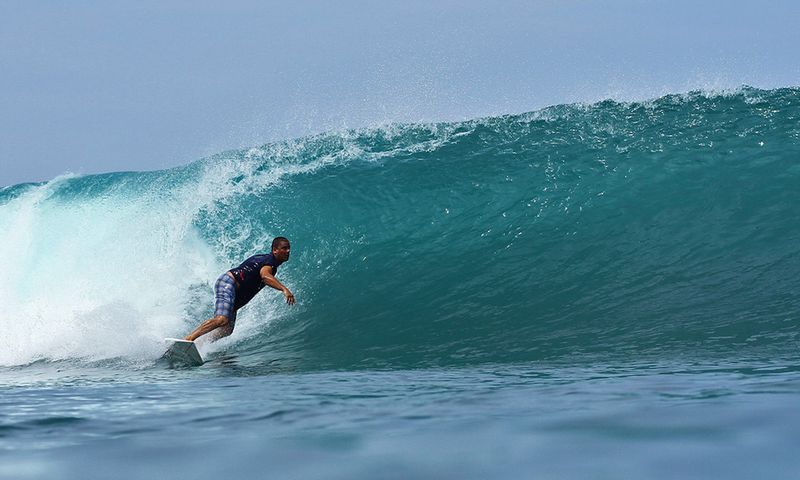 Next to Beng Beng, this fast, left-hand barreling reef break is a favorite among photographers and has been featured in many surf films and magazines. E-Bay can throw some insanely hollow tubes, and works best between 1.2 and 2.5 meters (4-8 feet). With a high tide, it loses some of its power and becomes more fun and suitable for intermediate surfers.
Pitstops
Right beside E-Bay, this right-hander features a vertical drop that is excellent for working on your air maneuvers. It works with small swells too, and is one of the most consistent surf spots in the Mentawais. The take-off is challenging, but the wave itself is loads of fun.
Nipussi
Close to E-Bay and Beng Beng, Nipussi is a right-hand reef break that works with all swell directions. This is the most consistent wave in the Mentawais and is a great option when other waves aren't working. With an offshore wind, Nipussi throws perfect tubes, even with a small swell. Of course, this also means that it can get crowded.
Macaronis
The crown jewel of surfing in the Mentawais, Macaronis has been dubbed "the funnest wave in the world". Even better, intermediate surfers can take a stab at it too.
In Pasongan Bay, in the South Mentawai Islands, there are in fact several spots at Macaronis. Macaronis Left is always in the spotlight, but the right is just as good and less crowded, while Mini Macas is the little brother that's more accessible to those with less experience.
Considered one of the world's most enjoyable rides, Macaronis offers anything you could dream of – barrels, lip-smacking, wall-gouging, air-popping. This is the Mentawais' most rippable wave. It works on all tides and wind conditions, and is incredibly consistent.
Lance's Right
Also known as Hollow Trees, Lance's Right is a world-renowned gem for intermediate and advanced surfers, one of the fastest and most barreling waves on the planet. This classic Indo wave can only be accessed by boat and has year-round consistency.
Thanks to its several take-off points, it doesn't feel as crowded. When it's in the 1-meter (3-foot) range, expect peeling walls that are excellent for perfecting your turns. With a bigger swell, the take-off becomes super steep, with multiple barrels that will push your limits.
» For more on the surfing seasons, best waves, how to budget your trip, and other useful travel advice, read our complete guide to surfing in the Mentawais.
Lombok
With many of Bali's surf spots having become overcrowded, many surfers are heading to Lombok, which is often compared to how Bali was like back in the 70s and 80s. Most of the surf spots are concentrated on the south coast, and you'll find a little something for all levels.
Find out all you need to know about planning your surf trip to Lombok.
Surf spots for intermediate surfers in Lombok:
Gerupuk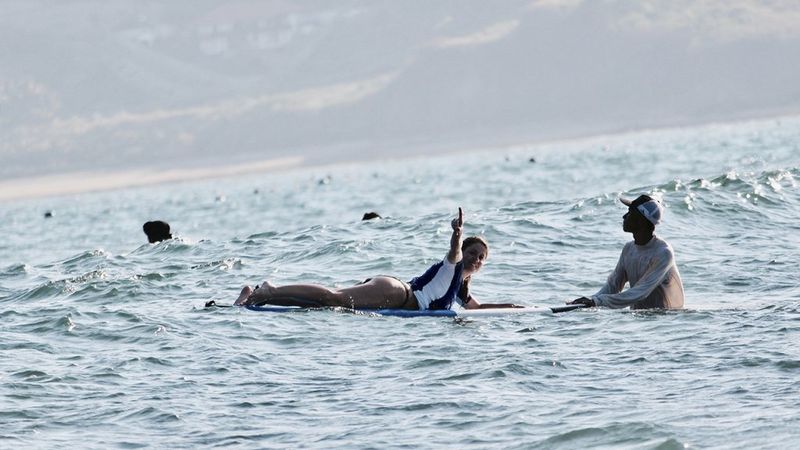 Image credit: Ola Ola Lombok
Southeast of Kuta in Lombok, Gerupuk Bay is home to three reef breaks: Don Don, Inside Gerupuk, and Outside Gerupuk. Don Don is the beginner-friendly of the three, and Inside is just perfect for intermediate surfers, breaking over a soft sand bottom. Outside Gerupuk is a fast A frame that breaks over a shallow reef, recommended for intermediate and advanced surfers.
If you'd like to work on your cutbacks and deep bottom turn against a spectacular backdrop, this is the place to be in Lombok. You need a boat to get to the waves, as they break offshore.
Ekas Bay
East of Kuta, Ekas Bay is home to two reef breaks. Inside Ekas is a beginner and intermediate-friendly wave and a preferred spot for longboarders.
Outside Ekas is an exposed reef break that requires a daunting 400-meter paddle out, so it's best to hop on a boat to get to it. It draws a lot of swell and can get really hollow. It works best during the dry season on a high tide and overhead conditions.
Are Guling
In South Lombok, west of Kuta, this reef break throws powerful right and left barreling waves. Are Guling is very consistent, and can handle all swell directions and sizes. However, the best time to go is during the wet season, between October and April.
The types of waves vary depending on the swell size. With big swells, it becomes a fast, long, and hollow barreling wave. When it's not too big, it is playful, fun, and long. Are Guling is less crowded than other surf spots in Lombok, even when the conditions are epic.
East Java
Located between Sumatra and Bali, the surf in Java is subject to the same conditions as the rest of the archipelago. In East Java, Grajagan Bay is home to some of the best waves in Indonesia, the most notable of which being the legendary G-Land.
Surf spots for intermediate surfers in Java:
G-Land
On the east coast of Grajagan Bay, G-Land is a reef/point break that throws some insanely hollow left-hand barrels. It is renowned for its consistency – there are rarely any flat days and if G-Land is not working, the other surf spots in Indonesia probably aren't working either.
G-Land has several sections, and each has its own particularities. This means that surfers of different levels can find something to play with. That being said, G-Land is not recommended for beginners. It works with all tides ad can handle waves between 1 and 4.5 meters (3-15ft).
20/20's
A bit north from G-Land, this left-hand reef break offers a little bit of everything – on most days, it is a fast and short wave, but on others, it can offer rides of up to 150 meters (500ft). It works best with an easterly swell and at mid-tide, and can handle waves between 1 and 2.7 meters (3-9ft).
Tigertracks
Next to 20/20s, this consistent reef break is a peak that goes both left and right. It works best with an incoming mid-tide and can handle waves between 1 and 2.5 meters (3-8 feet). Same as 20/20s, it usually offers short rides, but there are days when you can score 150 meters (500 feet) in one go. It is suitable for surfers of all levels and can, therefore, get crowded.
---
Join a surf camp in Indonesia that will take you to the best surf spots in the archipelago, and cross some of the world's most legendary waves off your bucket list.