Brilliant Fitness Hacks from Your Favorite Pro Surfers
The go-to resource for planning your surf camps. Find all you need to know about the top destinations and take your surfing to new heights.
Discover Surf Camps now
You are what you eat. It might sound like a cliché, but the saying is true. There is a strong, indisputable link between nutrition and performance.
We all know that, but we also know how hard it is to keep to a diet and stick to an exercising routine. It can be exhausting, not to mention boring.
For pro athletes, their bodies are their moneymakers. Therefore, they need to pay attention to how they treat them so that they're always in peak condition for the next competition and photo shoot. Surfing makes no exception.
Surfers and non-surfers can take inspiration from these people's approach to fitness and nutrition and be inspired by their motivation and determination in reaching their goals. Read these fitness tips from the world's best surfers and find out what it takes to build a toned beach body and a surfing world champ.
Laird Hamilton
Photo credit: theknockturnal.com
Favorite surf spot: Jaws, Maui, Hawaii
Training tip: Force yourself to include the exercises you avoid into your workouts; do it towards the beginning of your training session so that you can give it your all.
Diet tip: Embrace healthy fats in your diet
Fav go-to snack: Macadamia nuts and cashews
A notable name in the big wave surfing scene, Laird Hamilton has been setting the trends and pushing the limits of the sport for the past two decades. Renowned for having surfed some of the biggest waves in the world, for making stand-up paddling look cool and for being one of the pioneers of modern tow-in surfing, he plans to continue shredding even in his 80s.
This American big wave surfer works out between three to six hours a day. Hamilton applies controlled breathing techniques when surfing as well as during his strength, core, and cardio training sessions, and practices yoga for balance and flexibility.
When he's not chasing waves, he turns to water workouts, for which he developed his own training routine that combines swimming and weightlifting. Hamilton says that this low-impact and high-intensity workout will make you a better swimmer without having to do laps.
Laird Hamilton is strict about getting his eight hours of sleep each night. He's an early riser and starts his day with a glass of baking soda water and coffee, his go-to energy drink. To make the most of it, he recommends fattening in up.
Ketogenic coffee, also known as Bulletproof Coffee or Fatty Coffee, is a cup of joe with added grass-fed butter or coconut oil. In addition to reducing cravings, it releases caffeine over a longer period of time, thus enhancing cognitive functions.
Photo credit: surfersvillage.com
Hamilton embraces fat as a necessity. Coconut oil is a staple in his diet, and he also uses it on his skin. He tries to stay away from sugar and minimize carbs like pasta, grains, and wheat. When he's surfing all day, he does not munch on energy bars or gels. His body is burning its own fat, and he can go for up to six hours without feeling hungry, all thanks to eating the right food.
Check out our guide to the best surf spots in Hawaii.
Sally Fitzgibbons
Photo credit: Fitzgibbons International
Favorite surf spot: Broken Head, Byron Bay, Australia
Training tip: Be creative with your workouts and find a training style that you love; that way, you will never get bored.
Diet tip: Eat a rainbow (a wide variety of different colored fruits and vegetables throughout the week)
Fav go-to snack: Nuts and fruit
One of the fittest women surfers in the world, Sally Fitzgibbons trains hard both in and out of the water. A renowned fitness buff, she appeared in women's fitness magazines across the globe and garnered an impressive global audience who are interested in her training routines and diets for the perfect beach body.
Photo credit: sporteluxe.com
Running is her favorite cardio workout, which she describes as being her form of meditation out of the water. She enjoys other activities as well, such as biking, skating, and swimming. While outdoor workouts are her favorite, she does hit the gym too for weight training. She also practices yoga for balance and mobility, which also helps protect her joints against injury.
When working out outdoors, this Australian pro surfer does not listen to music, as she feels that it prevents her from tuning in with the environment. This also gives her brain a break from the stimulation that phones, television, and computers constantly supply.
Photo credit: goldcoastbulletin.com.au / Adam Head
Discipline when it comes to her body and going that extra mile in the gym is what helps Sally set herself apart from her competitors. Her typical day has two heavy cardio sessions – one early in the morning and one in the evening.
To sustain her workouts, she needs to adapt her diet accordingly, so she fuels up on fruit and eggs at breakfast. For lunch, she loves indulging in her mom's chicken soup (when she's home, of course), and for dinner, Sally has a big serving of seasonal vegetables with quality protein that she rotates over the week. She likes to add rice or sweet potato to the mix.
Traveling and training can be a tough combo. To pull it off, Sally travels with her exercise ball and foam roller. She adapts to her surroundings and takes advantage of what each new place has to offer. For example, what better way to see more of a new city and get moving at the same time than by going for a long brisk walk?
Kelly Slater
Photo credit: outsideonline.com
Favorite surf spot: Pipeline, Oahu, Hawaii
Fitness tip: Try different workouts and sports so that you never get bored, and remember to listen to your body and get enough rest.
Diet tip: Apply mindful eating and pay attention to how you combine different foods
Go-to snack: Fruits and chia seeds
The king of surfing, Kelly Slater is the proud holder of an impressive number of records. The 11-time WSL (World Surf League) champion entered the Guinness Book of World Records for the most career wins. He won his first world title aged 20, in 1992, becoming the youngest champion in surfing history. Having also won the title at aged 39, he is also the oldest champ in history.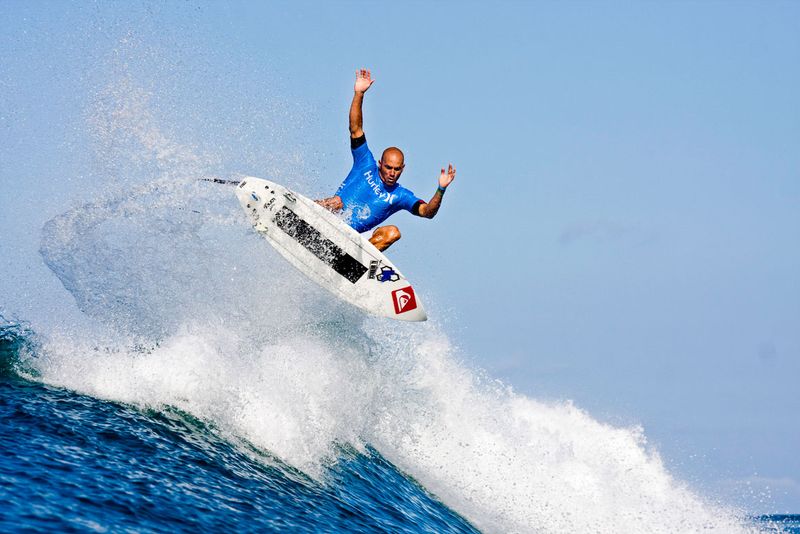 Slater is not a fan of indoor training, gyms and weight rooms; most of his training is out there on the waves. He's into other sports too, and Brazilian jiu-jitsu, boxing, golfing and yoga are among his favorite. His workouts focus on developing strength, and he always listens to his body – after a competition, he can spend up to two weeks without surfing to recover.
When he's not surfing, Slater is probably thinking about his next meal. An advocate of clean, mindful eating, his yogi-style diet is based on fresh homemade delicacies. An early riser, he kicks off his day with a cup of hot tea with lemon and honey to detox the body. Then, a chia seed pudding with homemade almond milk and goji berries will often be on his breakfast table.
Chia seeds are a staple of his diet, a superfood that is rich in omega-3, protein, fiber, and antioxidants. Other superfoods that Kelly Slater adds to his diet include kimchi and bee pollen. Kimchi is a fermented cabbage and spice mixture of Korean origins that is rich in fiber, antioxidants, amino acids, probiotics and vitamins A and C. Bee pollen is considered one of the most completely nourishing foods, containing 40% protein and all the essential amino acids the human body needs.
Slater cut down on caffeine and prefers to drink kombucha tea instead, a fermented Chinese tea with outstanding health benefits. He also sips fresh juices throughout the day and makes his own vegan smoothies with fruit and almond milk, or green smoothies with sprouts.
Photo credit: surfertoday.com
Quite the nutrition buff, Slater studies how food can be combined and the effects they have on the body. When in training mode, he tries not to mix protein with carbs, as they require different acids and enzymes to be digested. The same goes for fruits – he tries not to mix citrus fruits with non-acid fruits, like grapefruit and apple, because neither will be digested properly.
Stephanie Gilmore
Photo credit: dailytelegraph.com.au
Favorite surf spot: Wategos Beach, Byron Bay, Australia
Training tip: Push your body past the limit and to the next level!
Diet tip: Don't be too strict about your diet; as long as you eat clean and fresh food, it's okay to indulge every once in a while.
Go-to snack: Hummus and veggies
Six-time WSL World Tour champion, Stephanie Gilmore's secret to a rockin' body is discipline. The Australian pro surfer is not strict on anything but does believe that sticking to healthy routines goes a long way.
While she's not a big fan of indoor training, she knows that she needs to move every single day, whether that means taking long walks, dancing or cross-training in the gym. Her typical workouts focus on building leg strength and correct posture, combining bodyweight exercises with cardio and core strength. She often adds hill sprints to her workouts to mimic the explosive movements required on the surfboard.
Photo credit: xgames.espn.com
When it comes to what foods you should be eating, Stephanie Gilmore says that's a no-brainer – fresh food, of course! Around competitions, she stocks up on fresh vegetables, salads, and whitefish. However, Stephanie is not very strict when it comes to food and tries not to take things too seriously. Moderation is the key to a healthy lifestyle.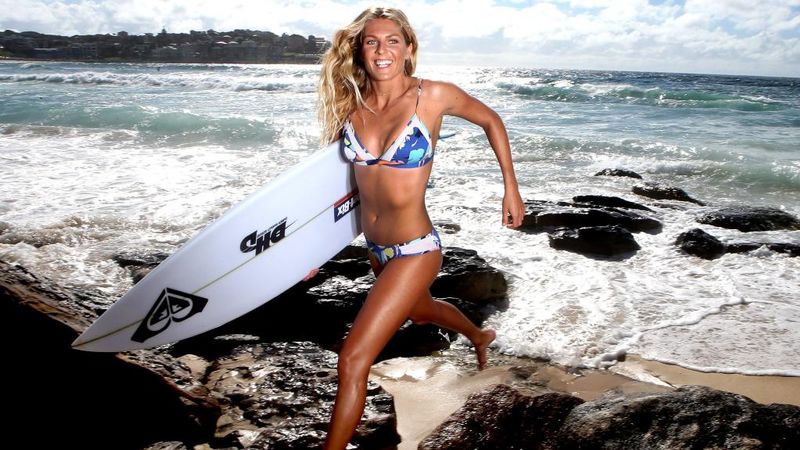 Photo credit: dailytelegraph.com.au
She prefers to eat fresh, clean food but is not afraid to indulge occasionally. The first thing she does when she wakes up in the morning is to drink a big glass of water. Then, she makes herself a big smoothie with greens, bananas, dates, chia seeds and almond milk, which gets her ready to hit the surf. After a morning surfing session, she grabs a hearty breakfast that includes eggs, avocado, and sourdough bread. For lunch, she usually has salad and protein. Throughout the day, she also has green smoothies with berries.
---
All toned up and ready to hit the beach? Assess your fitness level and track your progress on an intermediate surf camp in an exotic destination.