My Very First Parasailing Experience and What You Can Expect from Yours
The go-to resource for planning your surf camps. Find all you need to know about the top destinations and take your surfing to new heights.
Discover Surf Camps now
I am always amazed at how the best things happen when you least expect them. As I was laying on the beach in Alanya, on the southern coast of Turkey, with the salty Mediterranean breeze soothing my soul, who would have thought that in two days I would be flying up in the air, having a once-in-a-lifetime experience I would never forget?
Similar to kitesurfing and paragliding, parasailing is a kiting activity where one is towed behind a vehicle (usually a boat). A specially designed canopy wing (which looks almost like a parachute) is attached to the vehicle. That is the parasail wing. The harness attaches the adventurer to the parasail, which is connected to the boat (or any other land vehicle with enough power) by the tow rope.
Even though all the above may sound boring, trust me when say that it is not. It is an amazing adventure, a great opportunity to chill (on a different level of course), a chance to explore beautiful places and to make memories that will last you a lifetime.
If you have been wanting to try parasailing, I am pretty sure that you have a lot of questions such as:
Is it safe?
Do I have to be a professional to do this?
Is it scary?
Are there any age or weight restrictions?
Do you take-off from or land in the water?
What should I wear?
Can you hug or kiss your partner discreetly?
Can you take pictures while you are up in the air?
Not to worry, you don't have to spend endless hours researching the internet for the answers. I have recently been on my first parasailing adventure, and I am here to share with you all the answers, as well as some valuable tips. So, stay with me as I take you along on my adventure!
But first, how to decide if parasailing is for you
© Mena Curiteanu
We were on a holiday in Turkey and all I wanted was to leave with a memory I would never forget. I knew it from the start that such an adventure would earn itself a special place in my heart and it took me precisely one second to make the decision.
The hardest part was that I had to convince someone who is afraid of heights and water to go parasailing with me (yes, I am talking about my boyfriend). It took some time, but eventually, he went along with the idea. I always wanted to try this kind of activity, but I somehow never found the time or the opportunity didn't present itself. I knew that this was my shot and I was going to take it.
So, is parasailing safe?
Statistics show that parasailing is very safe, and I couldn't agree more. The chances of a bad outcome are .00001 percent. Therefore, it would be almost impossible to put this sport under the "high risk" category. However, this doesn't mean that the instructors don't have to pay attention at all.
There are some aspects you need to consider beforehand. For example, you need to look at the ropes. I found out that most of the incidents happen when the towline breaks. Weather is crucial too. If it's too windy outside, go for some cocktails and some other fun activities, but not parasailing! Wait for a calmer day and always avoid parasailing when thunderstorms are anywhere nearby.
Do you have to be a professional watersports adventurer to try parasailing?
© Mena Curiteanu
This is one of the most frequent questions I have heard about parasailing. If someone who is afraid of heights and water did it, trust me that there is absolutely nothing to worry about. My conclusion is this: If you can sit down, you can fly.
The standard length of the parasailing tow rope is 90 m (300 ft), which means that you'll be hovering around 60 m (200 ft). Some operators can take you at a maximum height of 250 m (800 ft). You can let the operator know if you simply don't want to go higher than a specific height, 50 m (160 ft) for example.
Can anyone do it?
Even though this sounds a bit like the previous question, in my opinion, this activity might not be for everyone. I met a lot of people in my life and all of them were different. I met people who were not even curious to see how the sea feels like, or people who would not do anything else on their vacation except lay in the sun.
Some people are just not curious. For others, it may look boring, weird, or they might not want to get out of their comfort zone. My advice is to accept these people. They might even be part of your group. We are all different (Thank God!) and we all see things differently.
Is it scary?
© Mena Curiteanu
You know, I have given a lot of thought to this question. I realized that this activity looks totally different than it actually is. When you see those people up in the air, with nothing under their feet, hanging only by a rope and a wing, then yes, that looks scary. When you get out there, you realize that you have been so silly for having such nightmares about it. It is a simple mechanism, very safe and comfortable actually. Believe it or not, those seats were comfortable.
As a conclusion, this fun activity is the opposite of scary. Once you're off the ground, it felt completely serene and peaceful. That said, you shouldn't worry about the take-offs or landings either. If you're with a professional instructor, you are in good hands.
Are there any age or weight restrictions?
Although it is a fun activity and everyone can do it, passengers must weight no less than 18-19 kg (40lbs) alone, while the maximum combined weight is 272-273 kg (600lbs). This is why there are different types of parasail wings and ropes. They are designed to sustain different weights (1 person, 2 or 3) and going for the wrong wing at a specific weight can literally cause a disaster. Having this in mind, I recommend you ask your instructors a lot of questions. Even though they know the drill, you still need to make sure that everything will be alright up there. As for the age, instructors recommend a minimum age of 6.
Do you take-off from or land in the water?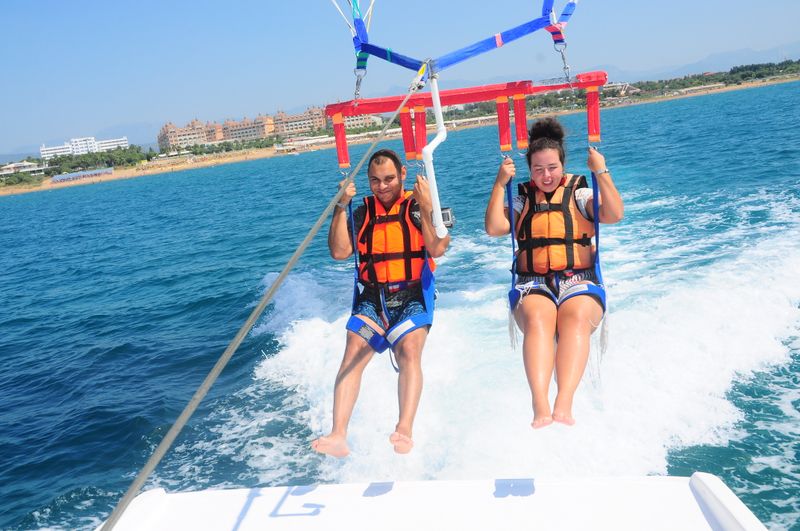 © Mena Curiteanu
While this sounds like a logical question, this aspect depends on the operator (they are also flexible and they will understand if you want to take-off and land on the beach or another accessible spot). In my case, the take-off and landing were directly on the boat. After they fit you with some special parasail harness, you are seated on the "flight" deck and then, bit by bit, you are launched and retrieved using a hydraulic winch system.
What should you wear?
Usually, whatever you want. I had my bathing suit on and a beach dress, so nothing special. You can also decide if you want to get wet, touch the water with just your feet, or not at all. If you want to go parasailing in a dress or tuxedo, without getting wet, all you have to do is to tell them that. They can actually command this to the hydraulic winch system.
Can you hug or kiss your partner while in the air?
As lovely as this sounds, the answer is no, you cannot. In fact, kissing your partner up in the air is close to impossible. Been there, done that, haha. The distance between partners is around 40-50 cm (15-20 in). It sounds like no big deal, but when all you are seated on are some ropes, trust me, it is impossible. You can, however, hold each other's hands (when not taking off or landing, as you would need both your hands on the parasail's straps).
Can you take pictures while you are up in the air?
I know that this should have probably been the first question but hey, that's just me, saving the best for last. The answer is, unfortunately (or fortunately), NO. While this might not sound so well, even though you could take a smartphone with you or a GoPro, it is actually impossible. You have two ropes that you need to keep your hands on and, therefore, taking a picture will require you a third hand. Nobody has that.
I'm sure that, in the back of your mind, there's still this question: 'How am I going to remember this?' Don't worry, they've got you covered. There is a photographer on the boat and he or she will take some really nice pictures of you. Also, there is a GoPro right in front of you that will record your adventure while you are up in the air.
P.S. Make sure you don't let any curses or bad words slip. The video has crystal-clear audio.
© Mena Curiteanu
Would I do it again? Definitely! It's such a humbling and magical experience that nothing else compares with it! I am sure that there are plenty of other adrenaline-packed water-based activities out there, and I know that each of them has its own unique charm. Once you understand what parasailing is and how you can get the best out of it, you'll want to repeat the experience with every chance you get.
---
If laying on the beach all day is not your idea of a perfect getaway, add some thrill to your escapade. Learn to surf and beach holidays will never be the same!