The 10 Best Surfing Destinations of 2018
The go-to resource for planning your surf camps. Find all you need to know about the top destinations and take your surfing to new heights.
Discover Surf Camps now
Are you ready for your next great adventure? Is taking up surfing one of your New Year's resolutions? Would you like to check off some of the greatest surf destinations in the world? Regardless of what your surf plans are for 2018, we've got you covered!
According to a survey we recently conducted among the readers of our themed travel blogs, 2018 will be the year of active travel and spiritual journeys to reconnect the body, mind, and soul. Can you think of a better way to see your goals through to the end than by embarking on a surfing trip?
Yet another year of enriching people's lives through thrilling surfing holidays has passed by, and at BookSurfCamps.com we had a close look at our statistics to bring you the best surfing destinations of 2018 that you seriously need to consider for your next trip:
1. Portugal
Some of the best waves on the old continent can be found in Portugal. One of the warmest countries in Europe, with 1,115 miles (1,794 km) of Atlantic coastline (continental Portugal plus the Azores and Madeira archipelagos), it has any kind of wave and swell size imaginable and a friendly climate all year round.
Summer, between June and September, is a great time of year to learn to surf in Portugal on small to medium waves. This is also the prime season to go kitesurfing. Powerful swells reach the shore between October and April and waves can get double the size. This is also when legendary big wave surfing spots like Nazaré in Praia do Norte fire up.
Portugal picks up swells from the north, west and south, which means great surfing conditions all year round. Unfortunately, the water is cold, and you will need a wetsuit throughout the year. The only exception to the rule is the Algarve region, where it is possible to surf in boardshorts during summer months.
Surfing in Portugal can be divided into five main regions: North Porto, Costa da Prata, the Lisbon Region, Alentejo and the Algarve. Beginners and intermediate surfers will have fun at Ericeira, Lagos, Cascais and, of course, Peniche with its legendary Supertubos, the best beach break in the country.
2. Spain
The Iberian Peninsula is blessed with a friendly climate – the weather is warm and pleasant all year round and dry during winter months. If you're looking to get the best out of your surfing trip to Spain, then the Atlantic coastline is where you want to be. The Bay of Biscay sends consistent swells towards the coast of the Basque Country in Northern Spain, but the spots towards the south don't fall too short either.
It is possible to surf in Spain all year round. Summer is the best time for beginner surfers, as the water is warm and the waves are gentle enough to learn and polish your skills. However, the best conditions can be found between September and April, when the ocean becomes restless.
The Andalusia region in Southern Spain is famous for its strong winds. This is the capital of windsurfing and kitesurfing in Spain, home to Tarifa and Cadiz, two of the best wind spots in Europe. Winds are strong throughout the year, but prime season is between May and October.
In the Basque Country, Playa de Somo, Roca Puta, Sopelana, Zarautz, Meñakoz and Mundaka are the best waves in Spain. The Cantabria and Asturias regions are home to some of the best beach breaks in Europe, such as El Brusco, the Spanish cousin of Portugal's Supertubos.
3. Costa Rica
One of the best beginner surfing destinations in the world, Costa Rica has world-class waves, a delicious cuisine and balmy water temperatures that tend to stay around 86 °F (30 °C) all year. Both of its coastlines are home to exceptional surf spots and plenty of surf schools and are less crowded than other popular surfing destinations.
Photo credit: Bernal Saborio via Flickr
Surfing in Costa Rica can be broken down into four major regions:
The Caribbean Coast has some of the biggest and most powerful waves on the island; prime surfing season is between December and March.
The North Pacific Coast is Costa Rica's most visited region. While it does receive constant swell all year round, the best conditions can be found between May and November, during the rainy season. Legendary breaks like the ones at Playa Tamarindo, Playa Grande and Nosara can be found on this coast.
The Central Pacific Coast is the most accessible surfing destination in Costa Rica. The best waves hit the coast between May and November, when Playa Hermosa and Jaco fire up.
The South Pacific Coast and its lush tropical forests is a surfing paradise. The best waves can be found between May and November.
4. Nicaragua
With big waves and wide beaches, few crowds and laid-back atmosphere, fresh and delicious food and friendly waves, Nicaragua is the stuff of legends.
Surfing in Nicaragua is a year-round pursuit, with over 300 days a year of lovely sunny weather and reliable offshore winds on offer. But if you're looking for the absolute best conditions, then May through November is the time to go.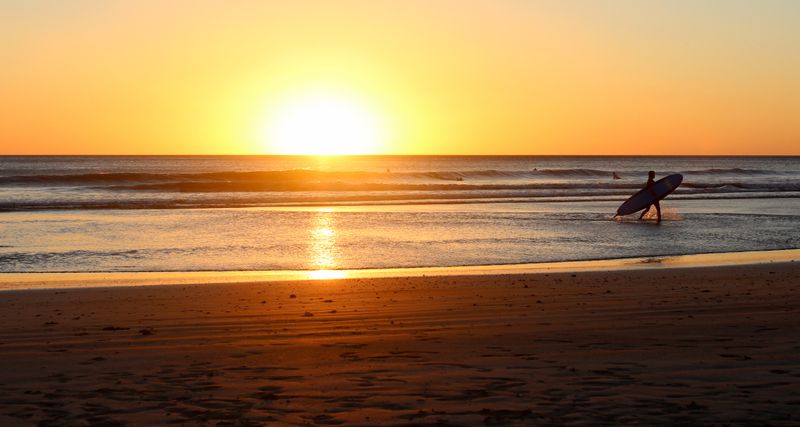 San Juan del Sur is the crowned surfing capital of Nicaragua. You will also find plenty of action north and south of town, the most famous being Playa Remanzo, Playa Hermosa and Playa Maderas, with surf schools and breaks that are great for both beginners and advanced surfers.
One of Central America's punchiest beach breaks, Playa Colorado is one of Nicaragua's favorite, with gentle waves for first-timers and something fun for intermediates too. North of Playa Colorado, Panga Drops is a wave magnet. Luckily, it never gets crowded, all thanks to the sheer wilderness of the place. Popular spots like Lance's Left and Playa Popoyo are reserved for experienced surfers.
5. Bali, Indonesia
The world's largest archipelagic state, with 34,000 miles (54,716 km) of stunning coastline, Indonesia is Asia's surfing capital. Bali is on everyone's bucket list. A yoga haven, Indonesia's tourist hotspot, the 'island of 1,000 temples' and a surfing paradise, Bali has something for every level and taste, from mellow waves breaking over shallow sandy bottoms to gnarly waves only pros know how to tackle.
There are over 100 surf spots in Bali, each with its own special charm, and it would take pages to go through them all. But let me just say this: if you're a beginner, then you simply must check out Kuta Beach, Canggu, Dreamland and Medewi; if you're an intermediate to advanced surfer, then Padang Padang, Uluwatu, Bingin and Impossibles should be on top of your list.
The best time to surf in Bali is during the dry season (May through September) when groundswells and offshore winds are consistent. The water stays warm throughout the year – 80-84 °F (27 -29 °C). It is possible to surf in Bali during the wet season (November to March) on the east coast and on Nusa Lembognan.
---
What inspires you to surf? Let us know. Take the survey!
---
6. France
With over 310 miles (500 km) of surf beaches, there's more to France than baguette, cheese and wine. The best surf in France is found on the Atlantic coast, a year-round destination. Summer has mellow waves that are just perfect for beginners, while winter sees some powerful swells hitting the coast. Consistent surfing conditions are guaranteed from autumn till spring, but the water temperature can get brutal so make sure you pack a thick wetsuit.
You'll find spectacular off-the-beaten-path waves in Brittany and Normandy. Further south, Lacanau in the Gironde department and the Aquitaine region are home to some of the best waves in Europe. Some of the world's fastest and most powerful waves can be found in Hossegor, one of France's most reliable surf destinations, where legendary break La Graviére is often compared to Hawaii's best waves.
Surfing on France's Basque Coast is on every surfer's to-do list. This is where incredibly picturesque Anglet, Biarritz and Guéthary welcome surfers of all levels during summer and big-wave chasers during winter.
7. Morocco
With literally hundreds of surf beaches, Morocco is a premier winter surfing destination and the number one choice for European surfers. Dozens of beginner-friendly breaks await adventure-lovers near Taghazout, Agadir, Dakhla and Tamraght. The gnarly waves at Anchor Point, Killer Point, Essaouira, Safi and Boilers, often described as 'freight trains,' invite experienced surfers to test their skills in face of the merciless Atlantic.
Winter is the best time of the year to surf in Morocco. Consistent swells hit the coast between December and March, giving birth to world-class waves, while the water temperature stays at a balmy 64 °F (18 °C). Furthermore, if you're into winter sports too, you'll be thrilled to learn that you can go surfing and skiing on the same day in Morocco.
8. Zanzibar
Photo credit: zanzibaryachtcharter.com
Surfing is probably not the first thing that comes to mind when thinking of Zanzibar. While it may not be the most famous surfing spot in the world, it does have quite a few surprises up its sleeve. A top destination for diving and kitesurfing, there are some fun waves for beginners to advanced surfers to be found here.
Photo credit: aquaholics-zanzibar.com
Surfing in Zanzibar is still off the grid, and there are rumors of fantastic reef breaks that have yet to be added on the surf map, and you might very well be the first to ride them! The best surf spots include the multiple reef breaks at Zanzibar North Reefs and Zanzibar South Reefs, a right hand break on Bongoyo Island just outside Dar es Salaam and the beach breaks at Oyster Bay.
Kitesurfing in Zanzibar is far more popular, with numerous kitesurfing spots to be found along the southeast coast. Paje, Dongwe and Jambiani offer the best conditions.
There are two kitesurfing seasons in Zanzibar: between mid-December and February and from May to October. The surf season coincides with the windy season. While here, make sure you spare some time to go on a safari in Tanzania to observe the majestic wildlife up-close and, if you're feeling adventurous and in tip-top shape, perhaps even climb Mount Kilimanjaro!
9. Maldives
With 1,192 coral islands, the Maldives is one of the best surfing destinations in the world. The waves here are usually shoulder to head-high, which translates into a surfing haven for beginners. While the surf may not be too big, it amazes through its perfection – there are barreling waves and incredibly long rides. Intermediate and advanced surfers are bound to have a blast too!
The best time to surf in the Maldives is between March and October, with some bigger waves hitting the islands between June and August.
The archipelago can be divided into three surf regions: the Malé Atolls, the Central Atolls and the South Atolls. Surf spots are generally close to one another, so finding one to your liking should be easy enough. The Malé Atolls are the most visited and, therefore, the most crowded, especially between May and August. The Central and South Atolls are renowned for their off-the-beaten-track breaks, many of which have not even been named yet.
10. Thailand
Photo credit: [email protected]
Thailand is famous for many things, but surfing is unfortunately not one of them. However, it is possible to surf in Thailand and, as long as you are not chasing powerful swells, you'll be in for a treat as many of the surf spots here are still considered secret gems.
Opening up to the Andaman Sea, the west coast of Thailand gets the same swell as Indonesia and Sri Lanka. The waves are generally smaller and less powerful, which makes Thailand a great destination for beginners and intermediate surfers, as well as longboard surfing. The best conditions can be found between April and November, while the water temperature stays warm all year.
Photo credit: [email protected]
Phuket is one of Thailand's most accessible tourist hubs and the most popular surfing destination. With more than 25 beaches, it has the largest number of surfing schools in Thailand. Towards the southern tip of Phuket, Kata Beach is the number one spot surfers flock to, but new spots are being discovered as we speak, and there are still plenty of secret gems worth exploring, like Pansea Beach.
---
Make 2018 your best year yet! Follow through on your New Year's resolutions and go on a wave surfing camp in the up-and-coming surfing destinations we've just presented you with.