The Best Surf Cities in the USA
The go-to resource for planning your surf camps. Find all you need to know about the top destinations and take your surfing to new heights.
Discover Surf Camps now
Any surfer knows that finding a good surfing destination isn't the easiest of tasks. Thankfully, the USA offers a large selection of awesome surf spots.
In fact, the selection is so large that it can be difficult for a surfer to choose the right one! Fortunately for you, we have put together a list of the 15 best surf cities in the USA to help beginner and advanced surfers alike find their perfect surf spot!
Santa Cruz, California
With a city population of 60,000 inhabitants, Santa Cruz is the largest city of the Santa Cruz County in California. The city is nicknamed Surf City thanks to its perfect surf spots and popularity among surfers. Unfortunately, the city lost the legal battle for the name Surf City, USA with Huntington Beach, California, but that doesn't stop surfers from coming back here over and over again!
Some of the best surf spots in Santa Cruz include Steamer Lane, Wadell Creek, and Pleasure Point. But don't worry if none of these spots are to your liking, because the county's 40-mile beach is home to more than 75 great surf spots! Also, did you know that the famed inventor of the wetsuit, Jack O'Neill hailed from Santa Cruz?
Encinitas, California
In Southern California, Encinitas is famous for its stunning waves, gorgeous beaches, laid back attitude, and surf culture. It's the place where everything and everyone caters to surfers, and some even call it surfer heaven.
Some of the best surf spots in Encinitas are The Seaside, Cardiff Reef, and Swamis.
One of the most popular attractions in Encinitas is The Magic Carpet Ride statue. Nicknamed the Cardiff Kook, the statue is a 16-foot bronze statue of a surfer attempting a floater. What's special about the statue is that since its inauguration, it has been regularly dressed up, and altered – it's been Santa Claus, a bride, and it's even been attacked by a pterosaur!
Looking for more inspiration for your next surf trip? Take a look at the world's 10 best surf towns.
Malibu, California
Malibu is a beach city in Los Angeles County, California. The reason why Malibu is so popular among surfers is that it consists of a 21-mile strip of Pacific coastline. You can't really beat that!
Also, it's no surprise that Malibu, California is one of the best surf cities in the USA, as it is considered to be the modern birthplace of surfing. From awesome waves to great surf shops and amazing surf culture, it's got pretty much anything a surfer can want!
First Point at Malibu Beach is the ultimate Californian surf spot.
San Clemente, California
San Clemente is a city in Orange County between San Diego and Los Angeles. The city's slogan is Spanish village by the sea, which is supported by the city's architecture and overall appearance.
San Clemente is home to some of the best waves in California. Considering the city's stunning architecture and old school Mediterranean vibe, it's safe to say that a surf trip to San Clemente is going to be a success.
Some of the best surf spots in San Clemente are T-Street, San Clemente Pier, and Lower Trestle.
Haleiwa, Hawaii
On the North Shore of Oahu, in the Waialua District, Haleiwa is located at the western end of the world-famous Seven Mile Miracle, a stretch of coastline that's home to 36 surf breaks. These include the Banzai Pipeline, Sunset Beach, Haleiwa, and Waimea.
Haleiwa is the most popular base camp for surfing on the North Shore. You'll find surf camps, board rental facilities, surf schools, and surf shops here. What's simply amazing about Haleiwa is the fact that this is a community where surf culture dominates. As a surfer, you will feel right at home!
Read our detailed guide about the best surf spots in Hawaii.
Paia, Hawaii
Paia, Hawaii is a tiny city located on the northern coast of the island of Maui. With around 3,000 inhabitants, Paia is a quiet surf spot that allows you to create a connection with the ocean and enjoy your surf time there.
Paia is a microcosm, filled with laid back individuals, cool surfers, neo-hippies, and love. It's the type of place that seems to be plucked out of a movie!
A great surf spot in Paia is Ho'okipa Beach Park, a perfect place for surfing windsurfing, as well as other great attractions, among which is a sea turtles retreat!
Cocoa Beach, Florida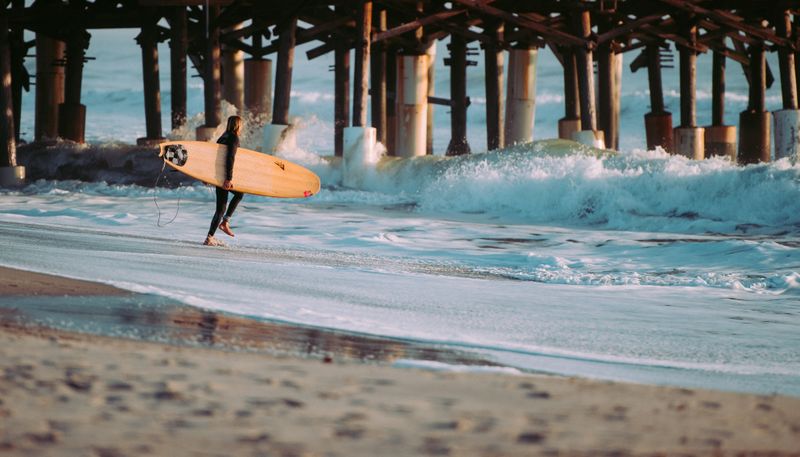 Cocoa Beach is not a beach, as the name would suggest, but a small city in Brevard County, Florida. With a population of around 11,000, Cocoa Beach is an animated and welcoming surf city that will make any surfer feel right at home.
Cocoa Beach is home to the biggest surf shop in the world and it's also the closest beach to Orlando. This means that if the surf goes flat, you'll have plenty of exciting activities to choose from.
But trust us, the surf will not fall flat! A great, albeit busy, surf spot in Cocoa Beach is the Cocoa Beach Pier. Keep a lookout for Kelly Slater and his friends, though, as Cocoa Beach is the surf legend's home.
New Smyrna Beach, Florida
Image source: nsbfla.com
With a population of around 23,000 inhabitants, New Smyrna Beach is a city in Volusia County, Florida. In 2012, National Geographic ranked New Smyrna Beach as one of the top 20 surf towns in the world.
The best surf spot in New Smyrna is undoubtedly Ponce Inlet, where the city's first professional surfing event in more than a decade takes place. The only downfall, let's call it, is that the city has gained the distinction of being the world's shark bite capital. Don't worry about it, you can surf and stay safe in New Smyrna Beach.
Ocean City, New Jersey
Ocean City is a city in Cape May County, New Jersey. One of its most famous landmarks is the city's boardwalk, which is 2.5-miles long and the city's motto is a traditional America's Greatest Family Resort. But don't let that fool you, the city is also a gorgeous surf spot!
One of the main reasons why Ocean City is so beloved by surfers is the fact that its waves are very reliable. They're almost always safe and steady.
There are three options for guarded surfing: 7th street, 16th street, and Waverly Beach. What are you waiting for?
Montauk, New York
Image source: theinertia.com
Montauk is a hamlet that is part of the city of East Hampton in Suffolk County, New York. It is a place where people all over the U.S. converge during the summer, due to Montauk's picturesque scenery, great waves, and superb fishing.
Some great surfing locations in Montauk include Ditch Plains and Turtles, so if you're ever in the area, be sure to pay Montauk a visit. Who knows, maybe you'll even come eye to eye with the famed Montauk monster. If not, you'll surely meet some of the cast of Showtime's popular series The Affair, as it is almost completely filmed in Montauk. Also, there is a newly opened Montauk Surf Museum that will surely be of interest.
Kill Devil Hills, North Carolina
Image source: bareru.com
Kill Devil Hills is a tiny city in Dare County, North Carolina. With a population of around 7,000, the city is one of the best surf cities in the entire North Carolina state.
Don't let the creepy name fool you, though! Kill Devil Hills is a lovely surf city that is small enough to offer some much-needed space on the beach and in the water. Some of the best surf spots here include Avalon Pier and S-Turns.
Newport, Rhode Island
Image source: bareru.com
Who would have thought a surf mecca existed in the small east coast city of Newport, Rhode Island? But it's true, Ruggles is one of the best big wave surf spots in the entire USA.
Surfers agree that one should only attempt surfing in Ruggles only if you've previously had experience surfing big waves. It's truly a place quite like no other and we highly suggest you visit it, even if just for your viewing experience. Surf legends Ian Walsh, Garrett McNamara, and Benji Weatherly put on quite a spectacle in Ruggles, surfing the big waves produced by Hurricane Bill in 2009.