6 Amazing Places for Active Holidays in Australia
We're expert surf travellers and we love helping you. BookSurfCamps is the largest surf travel website with 2172 unique listings in 244 destinations around the world.
Discover Surf Camps now
Breathtaking landscapes and azure seas – those are only a few of the many treasures Australia has to offer. Although many visitors come to enjoy its urban scene, more and more tourists want to experience active holidays in the Land Down Under.
The spirit of adventure is strongly present here, with hiking tours, mountain climbing, surfing, diving, and many other activities. For all of you wishing to have an active holiday in Australia, here are some amazing places to start from.
1. Whitsunday Islands
If you like sailing or want to try it, then the Whitsunday Islands should be on your list. The area has perfect wind, sea, and scenery for this activity, that you will easily believe you are in the Caribbean. If you don't have any experience, you can still go sailing since you can undergo a short briefing from the professionals.
While sailing, you will be able to see amazing places like Heart Reef and Whitehaven Beach. Diving, swimming, and snorkeling in the turquoise Coral Sea will certainly be the highlight of your sailing trip. The sailing starts from Airlie Beach and Shute Harbour where you can choose from classic sailing boats, tall ships, and catamarans.
2. Fraser Island
Heritage-listed Fraser Island is located around two-hour drive from Brisbane in Queensland. You will find solid left-hand breaks for surfing at Indian Head and Waddy Point, although you will have to hike for a bit to get there. The waters here are notorious for their sharks, so make sure you take precautionary measures before entering.
Lake McKenzie in the Great Sandy National Park is one of those bodies of waters you simply shouldn't miss. The lake contains only rainwater and white silica beaches, which actually purify the water and give it its clarity. Hikers can take advantage of the camping facilities to make a stop and go swimming in the lake or sunbathing.
3. Blue Mountains
Not far from Sydney, the beautiful landscapes of Blue Mountains welcome all visitors willing to spend some time hiking and marveling at its nature. The Blue Gum Forest in the Grose Valley is a protected nature reserve and a famous spot for bushwalking. Australian conservationists helped save the forest, which is now its home to many species of animals and plants, like the eastern grey kangaroo and the Eucalyptus deanei.
The Blue Mountains are part of the Blue Mountains National Park and, besides this magnificent forest, there are many other natural wonders to see. The area has some of the most incredible waterfalls in the country, like Katoomba Falls and Wentworth Falls. If you want to freshen up, you can take a dip in one of the swimming holes of Minnehaha Falls.
4. Great Ocean Road
While people mostly drive on the Great Ocean Road and enjoy the view, you can do much more than that. The area is perfect to catch some waves, swim and dive on its beaches, or simply take a walk while marveling the view. Port Campbell National Park is where you will find the famous 12 Apostles rock formation, a collection of limestone stacks with only eight left standing.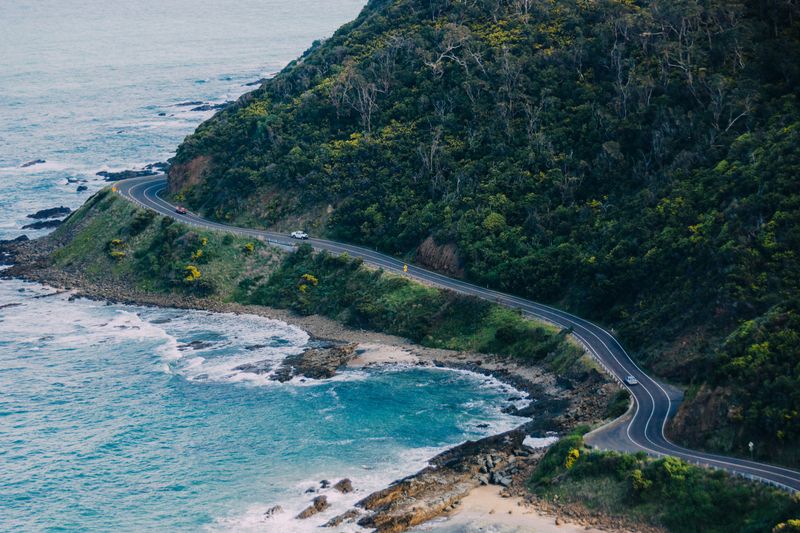 If you want to see some native animals, visit the Tower Hill Wildlife Reserve, where you can have a picnic and see the amazing wildlife up close. The Great Ocean Walk is a long hike from Apollo Bay to the 12 Apostles, where you can camp, take in the scenery of the dramatic coastline, and explore giant eucalyptus forests teeming with koalas, wallabies, and kangaroos.
5. Freycinet National Park
Freycinet National Park is situated on the East Coast of Tasmania and is probably one of the most amazing places for an active holiday in Australia. This makes this area perfect not only for surfing but also for hiking and experiencing the gorgeous nature firsthand. The Wineglass Bay walk will take you over Mount Graham, where you can enjoy a stunning panoramic view of the entire national park, and feel the quartz sandy beach right under your feet.
Freycinet National Park is surrounded by Coles Bay and Great Oyster Bay, as well as the granite mountain known as The Hazards, which tower over the area. Besides hiking, this is also a great kayaking spot.
6. Rottnest Island
Western Australia is home to Rottnest Island – a perfect surfing spot regardless of your experience. Both beginners and advanced surfers are welcome here. Not far from Perth, the island has no less than 63 beaches that offer all sorts of water sports. Salmon Bay, Strickland Bay, and Stark Bay are famous for their surf breaks.
Besides surfing, this is also a destination where you can snorkel, go biking, or simply relax and sunbathe on its beaches. Little Salmon Bay offers an underwater trail for everyone interested in snorkeling and seeing the interesting marine life of the area. Ferries leave for Rottnest Island from Perth regularly and once you arrive, you can rent a bike to travel around, or you can bring your own.
All in all
Embark on a journey to discover authentic Australia and experience some of the best places in the world for an active holiday. No doubt, you will come back for more adventures the first chance you get, since waves, landscapes and people will always welcome you open heartedly.
---
What are you waiting for? Pack your bags and get ready to explore the natural beauty of the Land Down Under. Of course, no trip would be complete without visiting the golden-sand beaches the country is so famous for, so make sure you join a surf camp in Australia to discover its stunning coastline like a local!
If you wish to see what else Nina has been up to lately, follow her on Twitter.